If you love Greek food and/or your idea of heaven is dining at a taverna on one of the beautiful Greek islands, I guarantee you will love Mazi: Modern Greek Food, published by Hachette Australia. The authors, Christina Mouratoglou and Adrien Carre, founded a restaurant called Mazi in London's Notting Hill in 2012, and were immediately showered with praise for their fresh, innovative food.
Up until that time, Greek restaurants in London (and you could probably say the same of many in Australia) had been stuck in the past, with little creativity and innovation. As a Greek and a foodie, it had always upset Christina that she couldn't think of a single place to recommend when friends asked where they could find a good Greek restaurant.
Risotto without rice
The book presents recipes for some of the most popular dishes that have been served at Mazi since it opened. The section on signature dishes, in particular, is worth dipping into for some really innovative dishes such as their Calamari Riceless Risotto with Rocket Pesto. How can a risotto be riceless, you may ask? The calamari is diced very finely to look like risotto; there is no rice in the dish at all.
Another dish, Feta Tempura with Caper Meringue and Lemon Marmalade, was described by one London food critic as: "It sounds absolutely bonkers, but tastes heavenly". Other dishes are more traditional, such as the recipe for meatballs featured here. Served with crisps, these meatballs have been hugely popular with Mazi customers over the years, and they appeal equally to kids as well. They are light, fluffy and wonderfully aromatic, and pair perfectly with tzatziki.
The book's photography is simply stunning: oysters, stuffed zucchini flowers and even cabbage dolmades never looked so good, not to mention the cocktails and heavenly desserts. Mazi greets its customers not with amuse bouche but rather with amuse shots – wonderful little cocktails of lime and mint, winter orange and spice, and other blends. The recipes for these are included in the book too.
Buy your copy of Mazi: Modern Greek Food from Book Depository now, with free delivery worldwide
GRANDMAMA'S MEATBALLS WITH HANDMADE CRISPS
Serves 8 (makes 40 meatballs)
Tzatziki, to serve
Tomatoes, cut into thin wedges, to garnish (optional)
For the meatballs: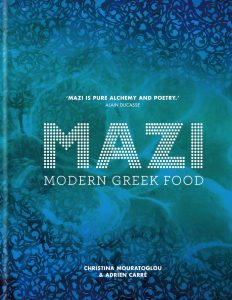 1kg (2lb 4oz) minced beef
1 white onion, finely chopped
90ml (6 tablespoons) extra virgin olive oil
3 tablespoons red wine vinegar
3 garlic cloves, finely chopped
90g (3¼oz) panko breadcrumbs
1 bunch of mint, chopped
1 bunch of flat leaf parsley, chopped
4 teaspoons salt
2 pinches of pepper
1 egg, beaten
drizzle of olive oil
For the handmade crisps:
1 large fluffy-textured potato, such as Maris Piper
sunflower oil, for deep-frying
pinch of salt
pinch of dried oregano
Put all the ingredients for the meatballs, except the olive oil, in a large bowl and mix them together well with your hands. Cover and leave to rest in the refrigerator for an hour.
Meanwhile, for the handmade crisps, peel the potato and then cut into thin slices with a vegetable peeler. Rinse the potato slices in cold water until the water runs clear, then drain thoroughly and pat dry.
Heat enough sunflower oil for deep-frying in a deep-fryer or a large, deep saucepan to 200°C (400°F). Deep-fry the potato slices in the hot oil, in batches, for about 1 minute until golden. Remove carefully with a slotted spoon, drain and place on a plate lined with kitchen paper to soak up the excess oil. Sprinkle with the salt and oregano.
Preheat the oven to 200°C (400°F), Gas Mark 6. Roll the meatball mixture into small balls of 30 to 35g (1 to 1¼oz) each. Place the meatballs on a baking tray, drizzle with olive oil and bake for 8 to 10 minutes. Remove from the oven
and leave them to rest for a few minutes.
Reheat the sunflower oil for deep-frying to 190 to 200°C (375 to 400°F). Deep-fry the meatballs in the hot oil, in batches, for about 1 minute until crispy on the outside. Remove carefully with a slotted spoon, drain and place on a
plate lined with kitchen paper to soak up the excess oil, then serve hot with the crisps and tzatziki, and the tomato garnish, if liked.
Recipe and images from Mazi: Modern Greek Food, by Christina Mouratoglou and Adrien Carre. Published by Hachette Australia and reproduced with the publisher's permission.
This story originally appeared in PS News online.