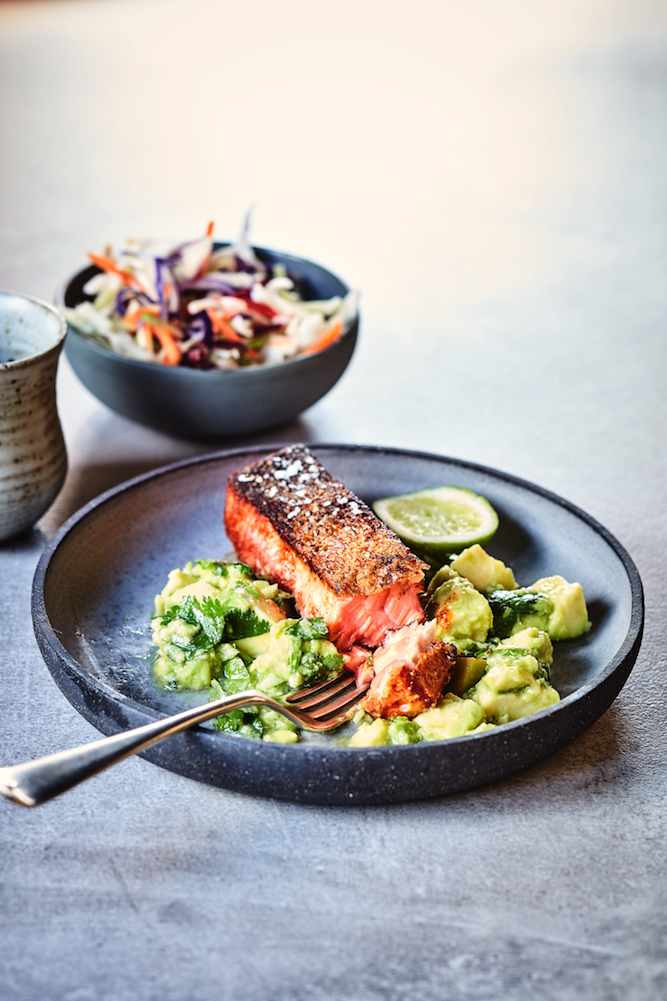 All of the recipes in What The Fat? are LCHF. That's Low Carb Healthy Fat, with an emphasis on the 'healthy' – in other words, the right sort of fat.
We've seen a lot of books focused on the keto way of eating. What The Fat? doesn't make a lot of reference to keto – I spotted a note on the title page about the recipes being "low-carb and keto-friendly". That's about it.
But the message is much the same: cut down on the carbs, make fat your friend, and replace processed foods with food that was recently alive.
The benefits of eating this way are backed by a good deal of high-quality research and scientific evidence, and there's both a "Fat Professor" and a dietitian behind this book.
Grant Schofield is Professor of Public Health, and Director of the Human Potential Centre at AUT Millennium, a charitable trust established to help New Zealanders live longer and healthier lives.
Co-author and dietitian Dr Caryn Zinn tested the recipes, which presumably the other co-author, Michelin-trained chef Craig Rodger was responsible for. Embracing flavours from around the globe, the recipes are easy, delicious and nutritious.
From WTF? Kung Pao Chook and Vietnamese Super Slaw, to Zucchetti Carbonara and a delicious guilt-free Chocolate Mousse, it's an inspirational collection that will appeal to a wide range of tastes. There are even some children's party treats.
This Cuban-inspired dish is perfect to serve up when you're in a hurry but still want something delicious. If you want, you can bulk it up with some extra salad ingredients or an additional vegetable accompaniment. And finally, the ever-popular Banana Bread. Enjoy!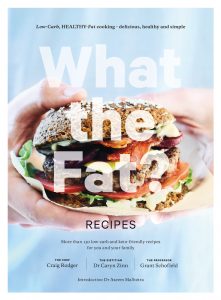 ---
Buy your copy of What The Fat? from Book Depository now (free delivery worldwide).
Buy your copy of What The Fat? from Australian-owned Booktopia.
---
CAJUN BLACKENED SALMON MOJITO
Serves 4
For the mojito dressing:
small bunch of coriander
small bunch of mint leaves
1 clove garlic, finely chopped
½ tsp honey (optional)
1 large avocado, diced
zest and juice of 2 limes
For the salmon and salad:
500 to 600g salmon, cut into 4 pieces (or 4 fillets)
1 tsp smoked paprika
½ tsp ground cumin
1 tbsp olive oil
1 large bag (350 g) slaw or salad mix, without dressing
Finely chop the coriander and mint, keeping them separate. Place most of the coriander in a bowl and set the rest aside for garnish. Add mint, garlic, honey (if using) and avocado to the bowl and squeeze over most of the lime juice (save some for serving the dish). Mix the mojito dressing together, season to taste with salt and freshly ground black pepper and set aside.
Check that there are no bones in the salmon, removing any with tweezers. Dust the salmon pieces with the paprika and cumin and season well with salt and pepper.
Heat the oil in a large frying pan over a medium-high heat. Add the salmon, skin side down, and leave to cook for 3 to 4 minutes until the skin is crispy. Carefully turn the salmon over and cook for a further 2 to 3 minutes. Remove to a plate, cover with foil and leave to rest. If you're adding a vegetable accompaniment, now would be the time to make it.
While the salmon is resting, place the slaw or salad mix in a bowl, add half of the mojito dressing and toss well to coat.
To serve, divide the salad and the vegetable accompaniment (if using) between plates. Top with the Cajun blackened salmon, and spoon over the remaining lime mojito dressing. Squeeze over the reserved lime juice and sprinkle with the reserved coriander.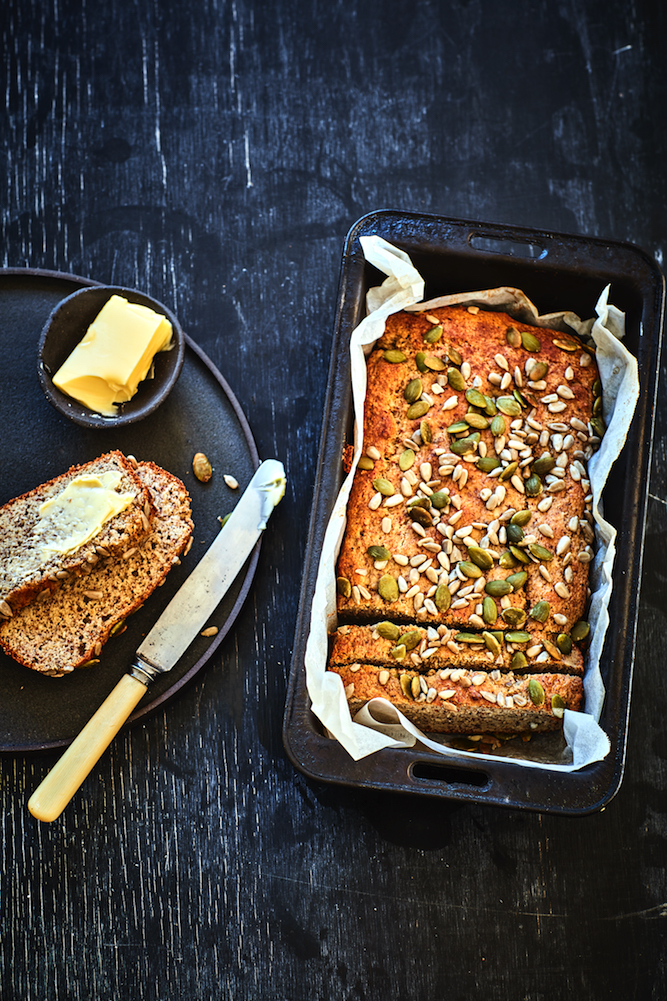 RECIPE FOR BANANA BREAD
Serves 8 to 10
For the banana bread:
1½ cups almond meal
1/3 cup ground psyllium husk
2 tsp baking powder
½ tsp salt
3 eggs
½ cup cream
1 banana
2 tbsp pumpkin seeds
2 tbsp sunflower seeds
1 tsp ground cinnamon
1 tsp vanilla extract

For the top of the loaf:
1 tbsp seeds or chopped nuts
Pre-heat the oven to 160°C fan (180°C regular). Line a loaf tin with non-stick baking paper, or use a non-stick silicone mould (be aware that silicone doesn't transfer heat as well as metal so you may need to cook your bread a little longer).
Place all the banana bread ingredients in a food processor and blend until smooth. Pour into the loaf tin, scatter over the seeds or nuts and bake for 28-30 minutes. Insert a skewer into the centre of the loaf and make sure it comes out clean. If the bread seems a little under-cooked, bake for another 5 minutes before testing again.
Recipes and images from What the Fat? Recipes by Grant Schofield, Caryn Zinn and Craig Rodger, published by Murdoch Books. Images copyright © Todd Eyre Photography. Reproduced with the publisher's permission.
This story originally appeared in PS News.