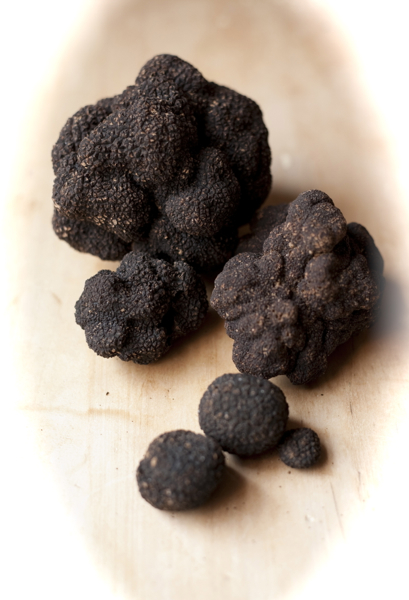 The composer Rossini (clearly also a gourmand) reputedly called truffles "the Mozart of mushrooms". He is said to have cried only a few times in his life, one being when a turkey stuffed with truffles fell overboard during a boat trip.
These knobbly underground tubers could never be described as beautiful in appearance, yet they are part of the lexicon of fine cuisine, fetching anywhere up to a few thousand dollars a kilo. Why so?
Well, for starters, their powerful, sometimes even pungent, aroma translates into a unique flavour. No doubt part of the mystique and the high price tag, however, is because there is no exact science or process for growing them. Traditionally they were sniffed out by pigs; these days, it's usually dogs that are trained to detect the scent.
There are more than 150 truffle growers around Australia now, with plantings everywhere except the Northern Territory. In the Capital Country region (from Jindabyne to Robertson), there are about 30 growers with 16,000 trees in various stages of production.
For a couple of years now, Canberra and the Capital Region has played host to a Truffle Festival and this mid-year event just keeps getting bigger and better. Winter in Canberra is the perfect time to be thinking about extravagant dinners and other indulgences, and there's a great line-up of events on offer as part of this year's festival.
Launching on the Winter Solstice, Thursday June 21 June, and continuing throughout July, there will be truffle hunts, truffle-inspired menus, truffle cooking classes, demonstrations and tastings of the region's prized French Black Truffles.
The events will be hosted by more than 25 of the region's leading restaurants, wineries, cafes, food markets and truffieres.
The Capital Region Farmers Market will host a themed Truffle Day on Saturday, June 23, with truffles for sale, truffle talks from farmers and live truffle cooking demonstrations by resident chef Tom Moore.
Other highlights of the 2012 Canberra and Capital Region Truffle Festival include:
The festival launch dinner at Dieci E Mezzo (Thursday 21 June);
Truffle hunts at a range of truffle farms in the region (throughout festival);
Truffle degustation menu at Pulp Kitchen (Mondays in July);
Truffle inspired goodies at Dream Cuisine and Silo Bakery (throughout festival);
A truffle master-class for the food and catering industry;
Cooking classes at 3seeds (throughout festival), Le Très Bon and Cooking Coordinates; and
Demonstrations and tastings at the Fyshwick Fresh Food Markets on Sunday mornings.
This is just the beginning of a jam-packed schedule celebrating all things truffle, with all indicators pointing to a great growing season.
For a full list of experiences visit www.trufflefestival.com.au
Related post: Truffles: The Ultimate Luxury