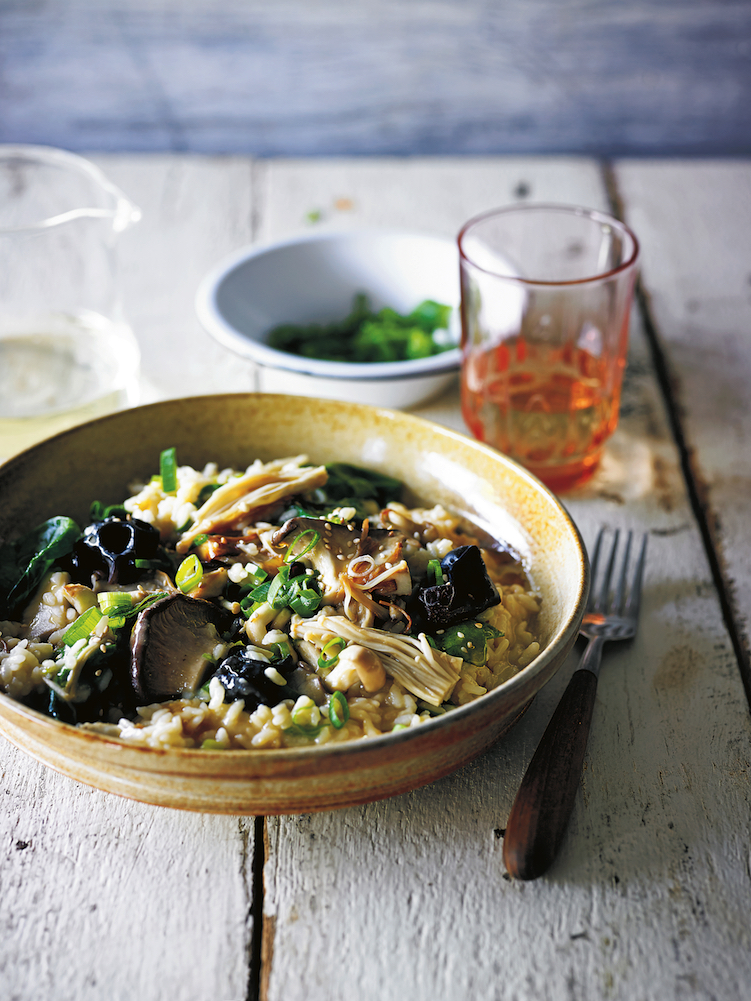 I've always been a great fan of one-pot cooking. Anything that reduces the amount of cleaning up in the kitchen sounds good to me. It's a great way of presenting food, with a single pot in the centre of the table so that everyone can dive in and help themselves. It's also perfect for entertaining, because you can pop the dish in the oven and let it cook while you're greeting your guests and getting them settled.
Slow cookers are also ideal for cooking healthy meals because you start with predominantly fresh, whole foods and very few nutrients are lost in the cooking process. All the goodness is retained in the pot. Slow cookers work differently than boiling vegetables in a saucepan, for instance, because all of the vegetables' natural juices are retained in the dish.
Slow cookers 'equally fantastic' for vegetables
In Slow Cooker Vegetarian, published by Murdoch Books, Katy Holder gives slow-cooker recipes a modern makeover. "Quite often, people think of slow cookers as useful pieces of equipment for cooking tough cuts of meat," she says. "However, they are equally fantastic for vegetables, allowing you to cook them gently and slowly until they are wonderfully tender and juicy – or still firm, depending on the desired result."
Her recipes include meat-free soups, pastas, salads, hearty comfort food and even desserts. Although all the recipes in the book are vegetarian, they don't just use vegetables. Many provide a complete balanced meal with vegetables, beans and pulses, with no need for additional protein.
Slow cookers are also ideal for cooking rice and there are plenty of recipes in the book for rice dishes, such as paella and risotto, including the Butter Miso Mushroom Risotto recipe featured here. Here's a good opportunity to re-discover this wonderful set-and-forget device and create some healthy dishes in the process.
Buy your copy of Slow Cooker Vegetarian from Book Depository now, with free delivery worldwide
BUTTER MISO MUSHROOM RISOTTO
Serves 4
1 tablespoon sesame oil
300 g (10½ oz) sushi rice, rinsed
2 garlic cloves, crushed or finely chopped
2 spring onions (scallions), thinly sliced, white and green parts kept separate
4 tablespoons white miso paste
50 g (1¾ oz) butter
400 g (14 oz) mixed Asian mushrooms, such as shiitake (stems discarded and caps sliced), shimeji and enoki
50 g (1¾ oz) baby spinach leaves
toasted sesame seeds, to serve
Heat the oil in a large frying pan over medium heat. Add the rice, garlic and the white parts of the spring onions and stir for 1 minute until the rice grains are well coated. Transfer to the slow cooker.
Whisk the miso paste with 750 ml (26 fl oz/3 cups) of boiling water until dissolved, then pour into the slow cooker. Cook on high for 1¼ hours, stirring halfway through.
Melt 20 g (¾ oz) of the butter in the frying pan over medium-high heat. Add the mushrooms and cook for 3 minutes until slightly softened. Tip the mushrooms into the slow cooker, along with 185 ml (6 fl oz/ ¾ cup) of boiling water. Stir well, then cook for 15 minutes.
Stir in the remaining butter and the spinach leaves, plus another 185 ml (6 fl oz/¾ cup) of boiling water if needed, and cook for 10 to 15 minutes until the spinach wilts and the rice is al dente. Check the seasoning.
Scatter with the green parts of the spring onions and the toasted sesame seeds to serve.
Note: This versatile risotto can also be made with other vegetables, such as pumpkin and snow peas.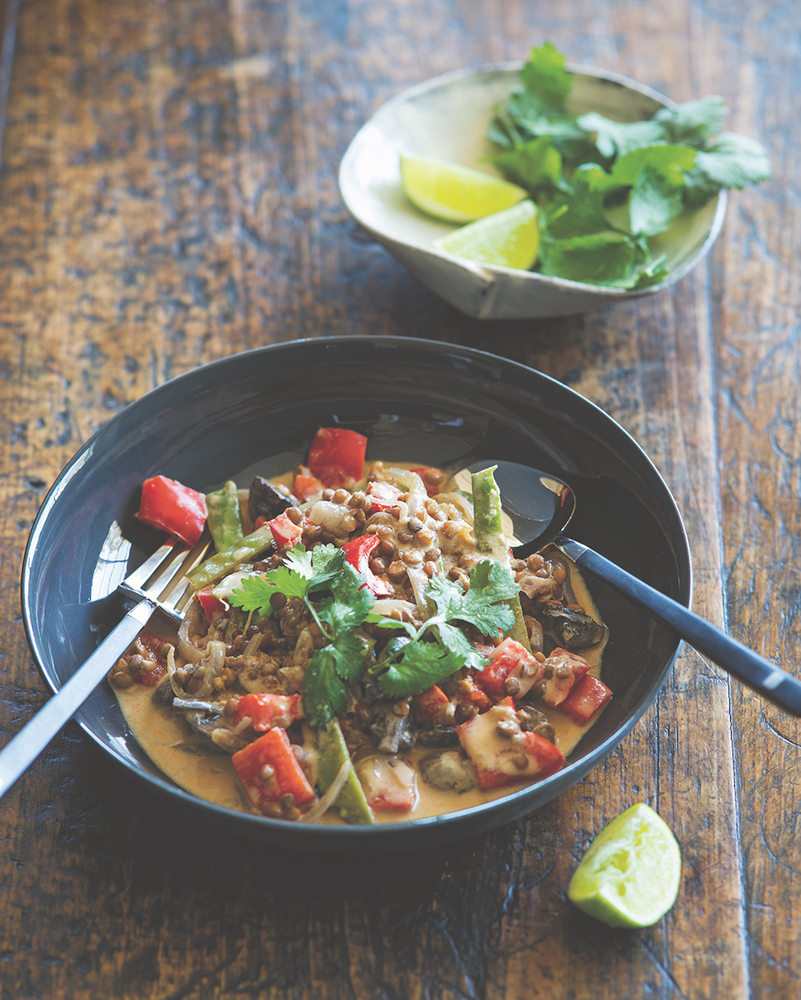 BROWN LENTIL AND VEGETABLE MASSAMAN CURRY
Serves 4
1 small red or brown onion, cut into thin wedges
1 tablespoon finely grated fresh ginger
2 garlic cloves, crushed or finely chopped
1 tablespoon massaman curry paste, or to taste
400 ml (14 oz) tin coconut milk, shaken
2 red or yellow capsicums (peppers), seeds and membranes discarded, coarsely chopped
200 g (7 oz) Swiss brown or button mushrooms, quartered
400 g (14 oz) tin brown lentils, drained and rinsed
125 g (4½ oz) snow peas (mangetout), ends trimmed, halved
1 lime, quartered
1 teaspoon sugar
2 teaspoons soy sauce or fish sauce (see tip)
steamed jasmine rice, to serve
coriander (cilantro) leaves, to serve (optional)
Put the onion, ginger, garlic, curry paste and coconut milk into the slow cooker and stir to combine. Add the capsicum, mushrooms and lentils and cook on low for 3 hours.
Add the snow peas and cook for 5 to 10 minutes until just tender.
Stir in the juice of 1 lime quarter, the sugar and soy sauce.
Taste the curry, adding a little more sugar, lime juice or soy sauce to balance the flavours of sweet, sour and salty.
Serve with rice, with the coriander leaves scattered over and the remaining lime wedges for squeezing over.
Recipes and images from Slow Cooker Vegetarian, by Katy Holder. Published by Murdoch Books and reproduced with the publisher's permission.
This story originally appeared in PS News online.