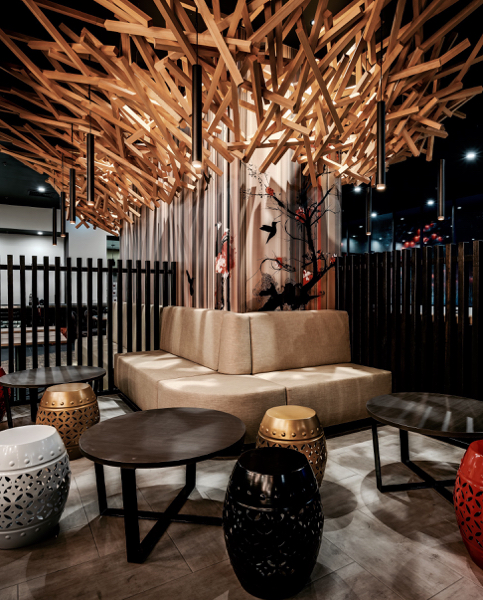 It's a "rooftop to plate" experience at Nest, Brisbane's hot new restaurant and lounge bar on Roma Street. Located on the second level of the Transit Centre, part of the newly renamed Hotel Jen, Nest overlooks the precinct's famous 100-year-old fig tree that is lit up each night with hundreds of red Asian lanterns.
The red lantern is a symbol of good company and festivity, making it an appropriate backdrop for this new venture with its Asian-inspired menu and funky décor. We were impressed with the bold flavours of the dishes, which incorporate honey from rooftop hives and herbs and vegetables picked daily from the restaurant's organic Sky Garden.
Chef Kenneth Ip presents an eclectic selection of Chinese, Malay, Indonesian and Vietnamese dishes with a modern twist. The reasonably priced lunch menu includes the ever-popular pad Thai, rice paper rolls, noodle and rice dishes.
At night, it's stepped up a notch with mains priced around the $19 to $25 mark, from Hainan-style chicken to laksa and fresh Queensland seafood. There's a Queensland twist to the desserts too, with the caramelised banana incorporating Buderim Ginger and Bundaberg rum, and the creme brûlée made with honey from the rooftop hives.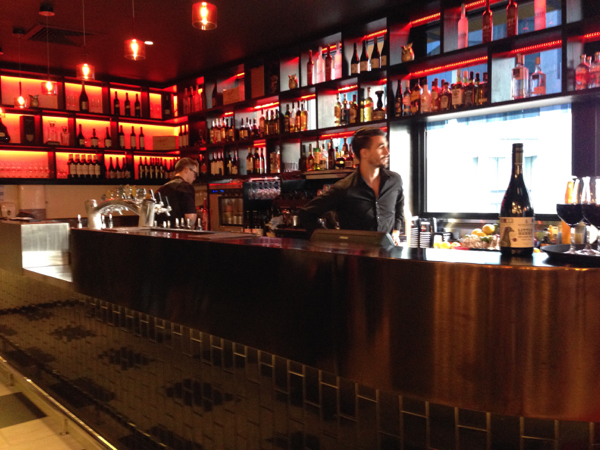 The space that Nest occupies is large but has comfy suede-covered couches and decorative pieces dividing it into intimate nooks. All eyes are drawn to the elaborate wooden nest sculpture hanging from the ceiling in the centre of the room. Doubling as a luxurious cocktail lounge, Nest turns out inventive cocktails including its signature Nest in the City, its own version of a Cosmopolitan.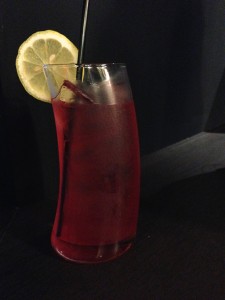 For after-work nibbles, there are plenty of choices including honey-glazed chicken wings, some very yummy barbecued Beijing duck rolls and crispy fried vegetable dumplings. The top end of Roma Street hasn't been known as a dining destination but with good food and drinks served in such glamorous surrounds, Nest is sure to breathe life into the area.
We were guests at the opening and loved the unique invitation cut out from wood in a pattern echoing the ceiling sculpture. We also loved the playful approach to social media with Instagram photos carrying the hashtag #nestbrisbane printed on the spot. ♥♥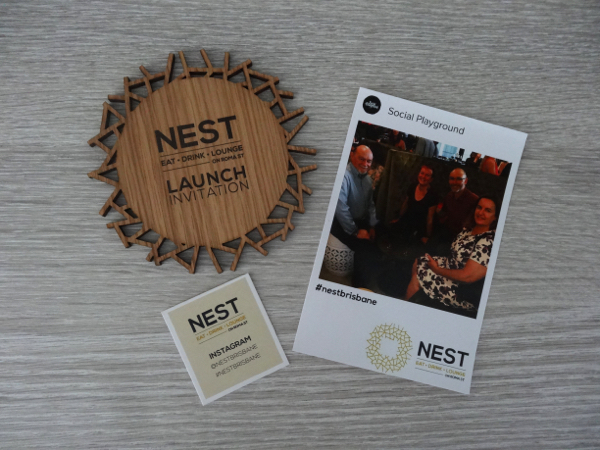 Fact File:
Nest Restaurant and Bar
Second level, Hotel Jen
159 Roma Street,
Brisbane Qld Australia
Tel: +61 7 3238 2269
www.nestrestaurant.com.au
Top photo courtesy of The Red Republic.