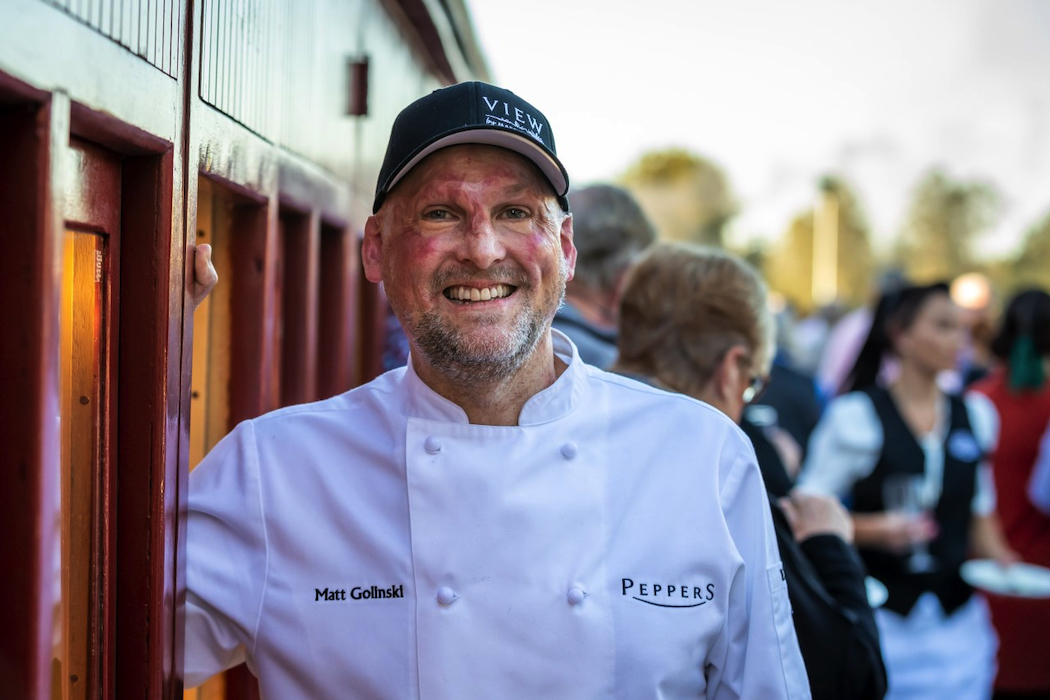 Queensland's historic Mary Valley railway line has always played a role in connecting people with produce. The line dates back to the 1880s when gold and agriculture sparked a population boom. Back then, bananas, pineapples, milk and cattle were transported in huge quantities to Gympie, from where it was distributed throughout Queensland and beyond. As the Mayor of Gympie, Mick Curran, said at this month's launch of the Mary Valley Rattler Tasting Train, the line plays a big part in Queensland's history.
It's fitting then that the railway line should once again be bringing people and produce together. These days it comes in the form of the Tasting Train, with tastings of the Mary Valley's fine produce on board the 'Red Rocket', an RM76 railmotor running from the beautifully restored Gympie railway station to the small township of Amamoor.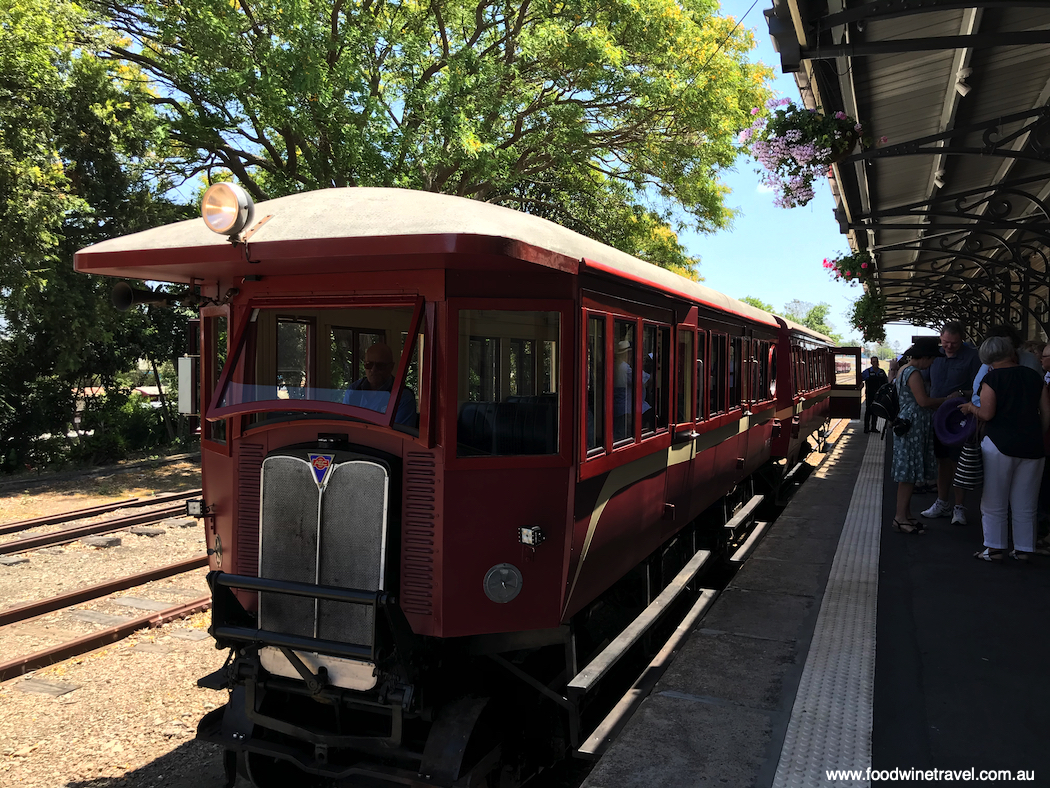 Renowned Queensland chef, Matt Golinski, the Gympie region's Food Ambassador, selected the products that are served on the journey, and clearly had a lot of fun doing so. "This is one of the most fertile farm areas in Australia – you can grow just about everything from meat and dairy to exotic fruits, vegetables and herbs," he said.
On the inaugural run a few weeks ago, Golinski handed out cardboard boxes containing Lindols lemon myrtle macadamias, Piggy In The Middle salami, Kenilworth cheddar cheese, dried Double Creek tomatoes, Lust For Crust sourdough crostini, Trish and Bruno's Italian leaves, CC's zucchini relish, and a scotched quail egg from Queensland Quail. And that was just the start!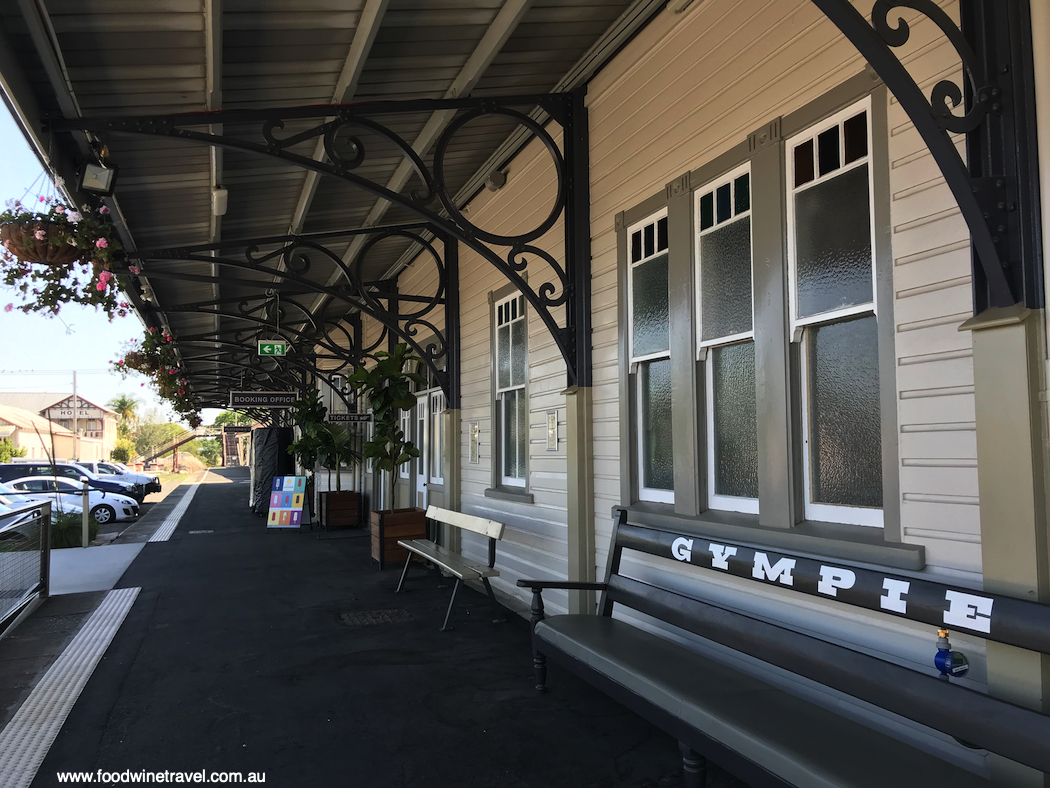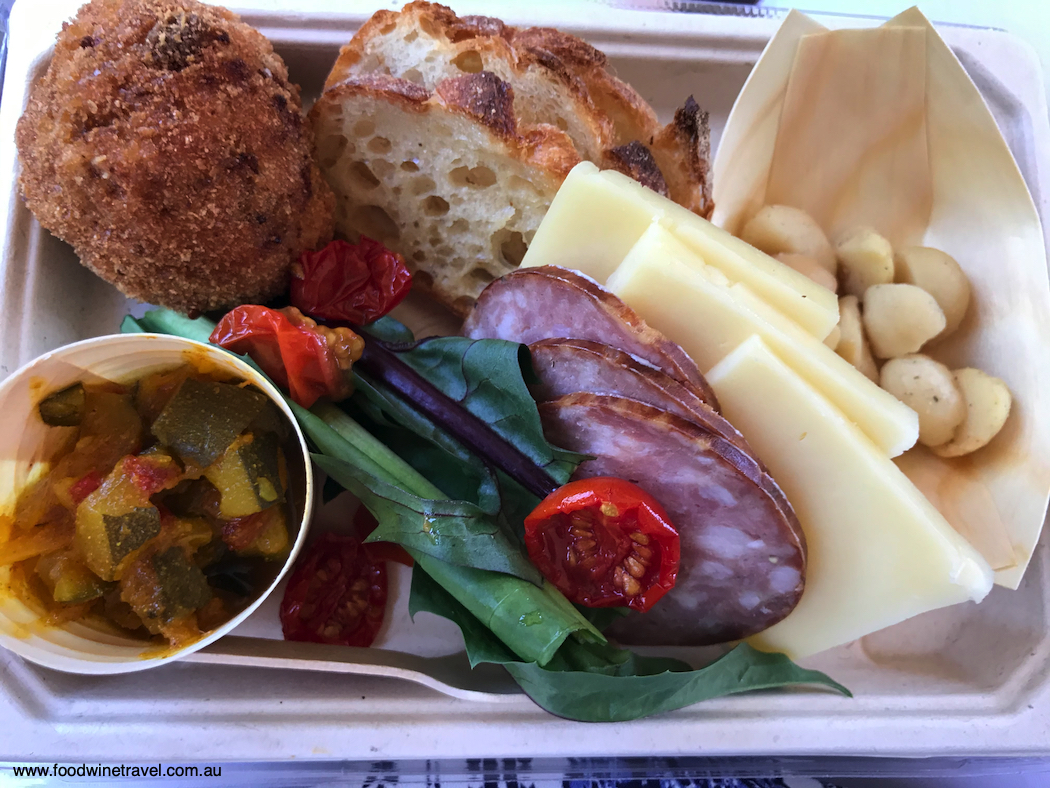 On arrival at Amamoor Station, there was a smorgasbord lunch of beautiful produce: more Kenilworth cheeses ("They're our Russell Crowe because they're from Kenilworth, they're not really quite Gympie but we'll have them anyway," said Golinski), kalamata olives from Murgon ("Once again not quite us, they're our Crowded House I suppose"), greens including dandelion, chicory, cavalo nero and sorrel with a dressing made from local limes, and roasted free-range chicken from Moya Valley poultry. "Once you've tried that you won't go back to eating anything else," Golinski warned.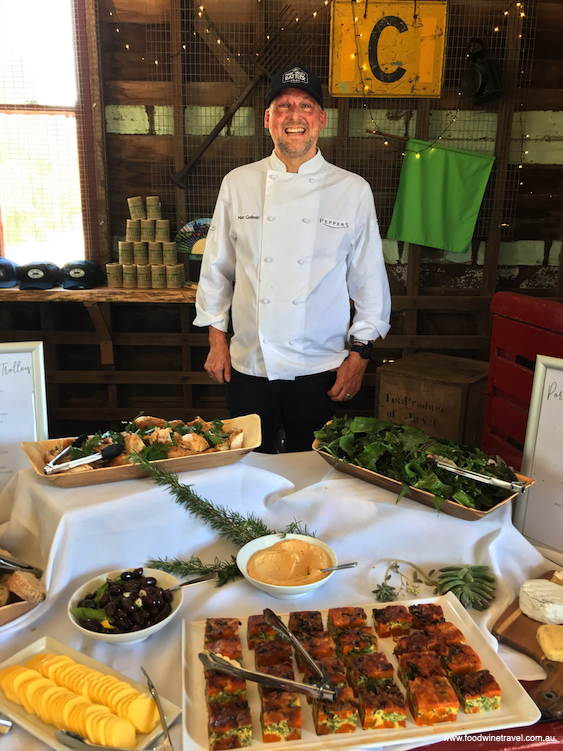 There was also a delicious frittata made from local pumpkin and kale, free-range eggs and cream from the Dagun dairy that we passed on the journey to Amamoor. "(It) produces Jersey milk which makes the most amazing, high-fat Jersey cream and when you whip that cream you end up with the most amazing butter. You can eat it like cheese, that's my recommendation." Unfortunately for our waistlines, we could only agree.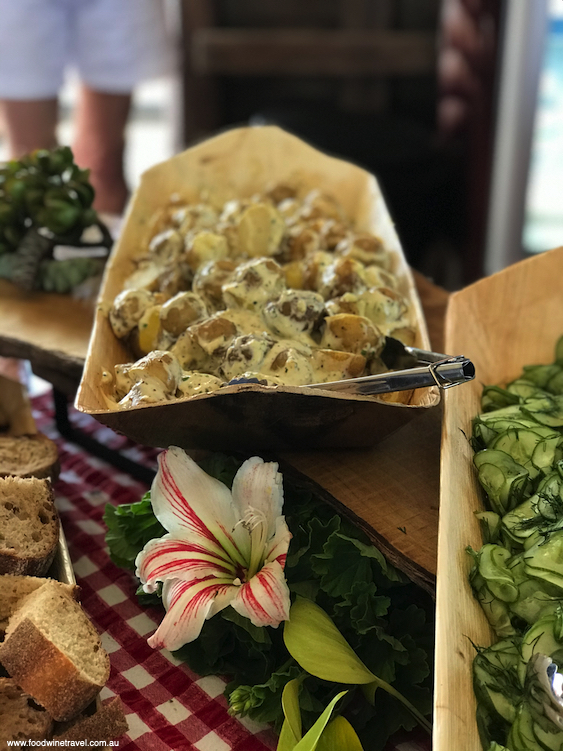 Buttermilk – the by-product from making the butter – was used in the dressing for a potato salad made with local Dutch cream potatoes, freshly dug the day before. There were amazing Roma tomatoes from Double Creek Farm with red wine dressing and capers from the Bunya Mountains, sourdough bread from Lust For Crust, various dips and condiments made from local ingredients, and peaches drizzled with fingerlime honey.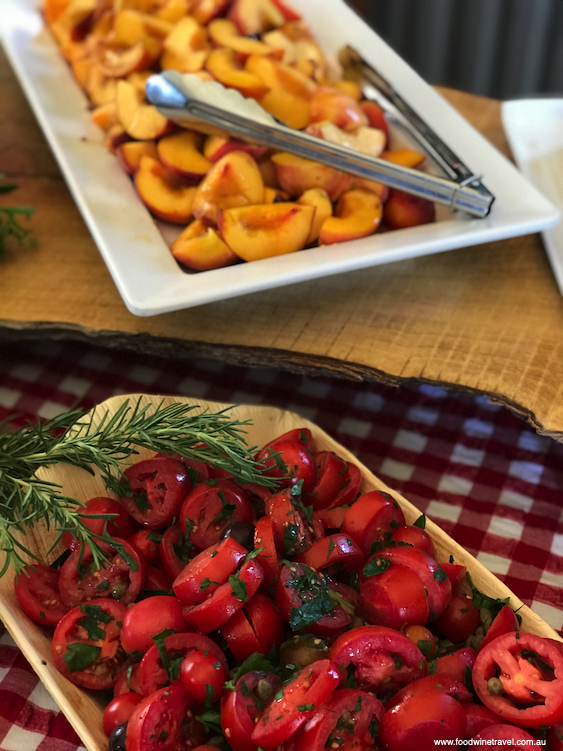 We got talking to peach producer Suzette Olsen, who was almost apologetic about the peaches not being ripe enough, although we found them to be riper and juicier than any sold in supermarkets, and everyone clearly agreed because the entire platter was quickly demolished. Although the peaches are not certified organic, they are spray-free.
The Tasting Train runs every Tuesday, departing from Gympie at 11 am and returning around 2 pm. The 46-kilometre return journey to Amamoor takes about an hour each way, with an hour-long stop for lunch while the train is turned (for train buffs, watching the train being turned on the restored turntable is a thrill).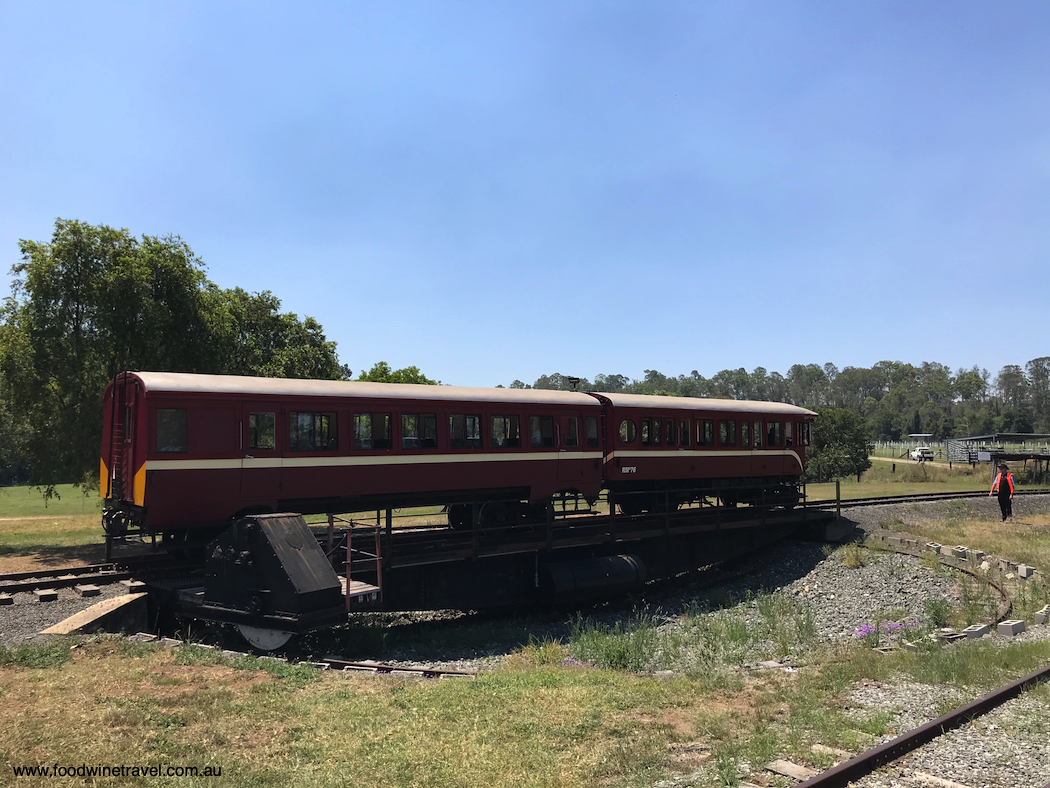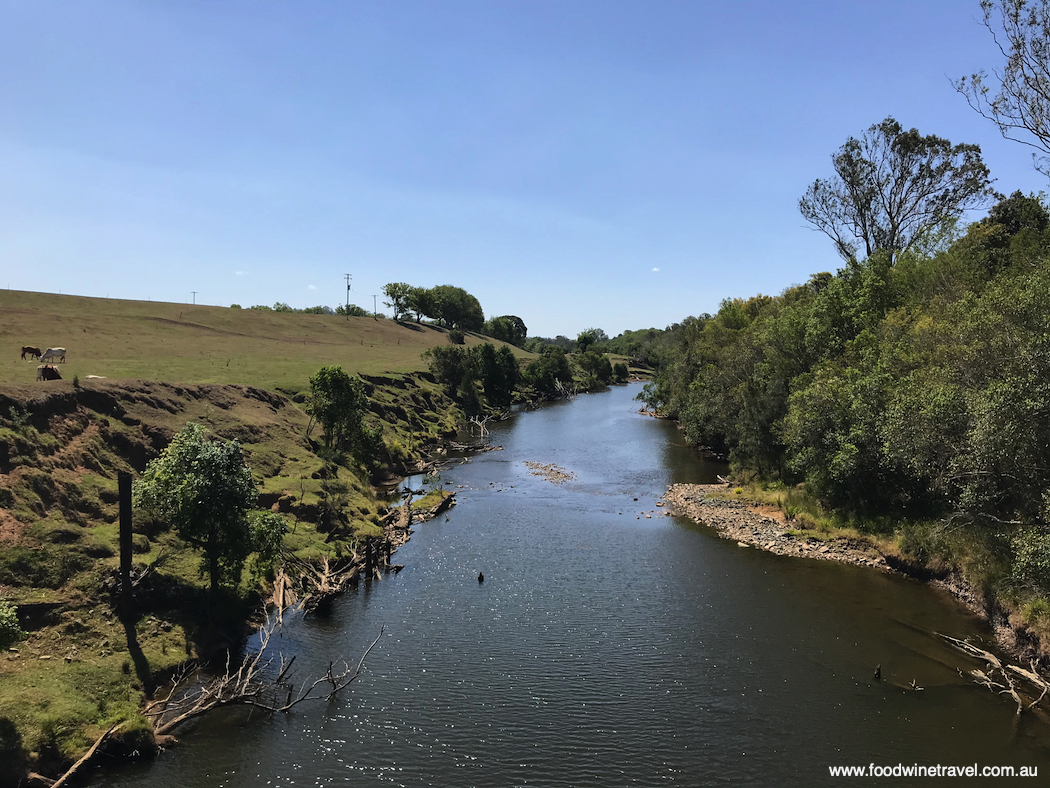 On the way, the original 1934 railmotor passes jacarandas in bloom, cattle grazing, the Cooloola dairy farm, and small country stations like Dagun, one of the best preserved examples of an early 20th century railway station. Passing over Deep Creek on a bridge so high that the trickle of water below looks a million miles away, it's hard to believe the water sometimes laps the bridge.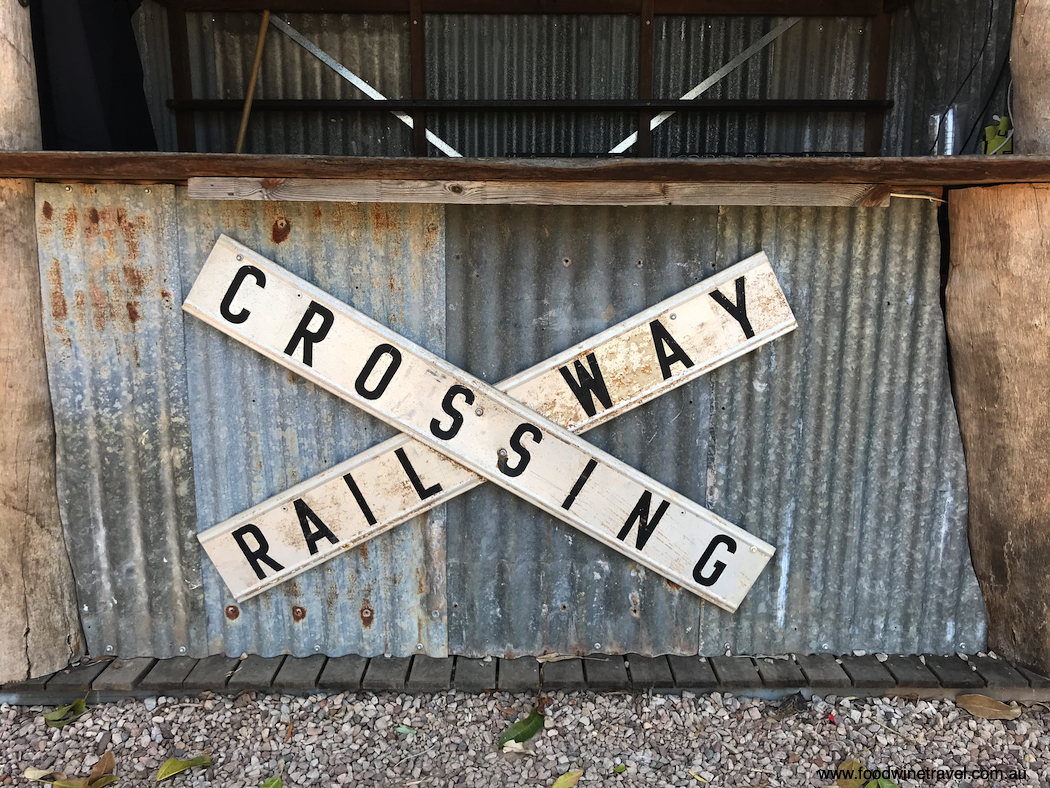 At Lagoon Pocket station, the train stops for a staff change. Train buffs will know what this means but for those who don't, the word 'staff' doesn't refer to personnel, it refers to the baton-like staff that was used to ensure only one train at a time was using the single track. In order to proceed, the driver had to pick the staff up from one station and take it to the next station. If the staff wasn't available, it meant the line was being used. The very old system is still used today on the Mary Valley line, even though no other services use the track.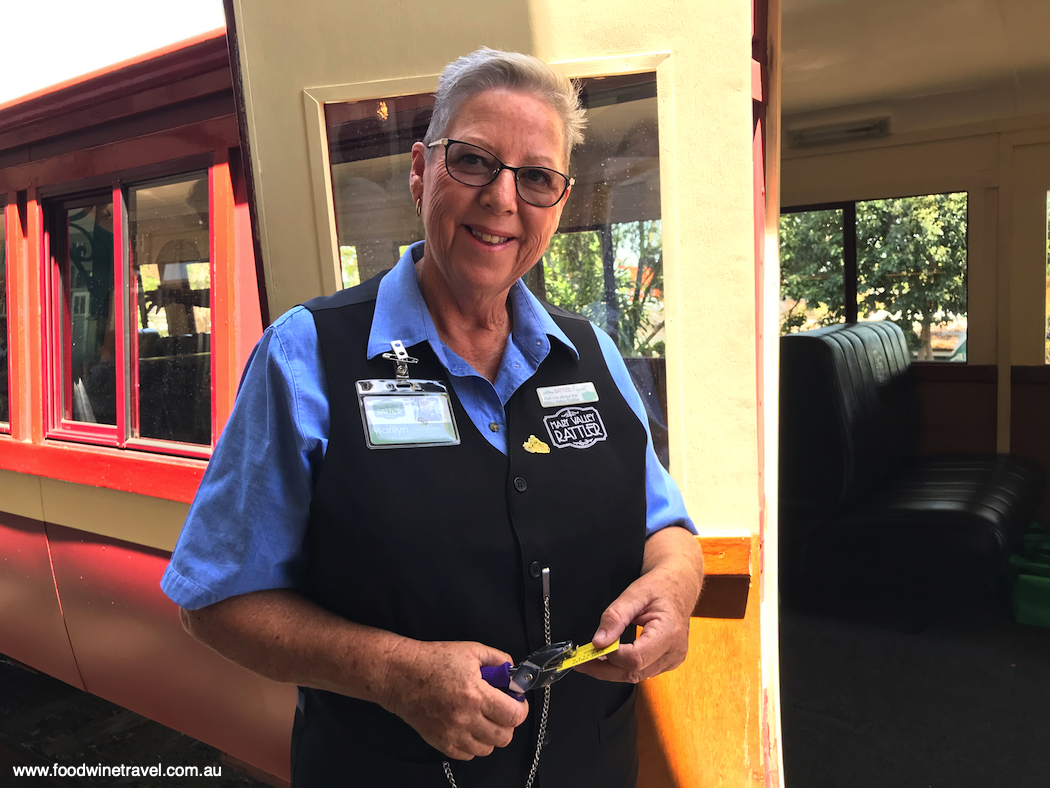 Volunteers give the on-board commentary that provides all this fascinating information. The Rattler is run by a not-for-profit organisation and volunteers were instrumental in getting it up and running again after a six-year hiatus. The original service ran until the 1990s when it was re-launched as a tourist train, but that closed in 2012 prior to a much-needed upgrade of the line.
"It's been meticulously restored," said marketing manager Karen Davis. "While that was happening, the refurbishment of the (station) building was undertaken and the integrity of the period was overseen by architects." (Our 10 cents worth: the restoration of Gympie Station is stunning, and popping into its Platform No. 1 Café for a coffee is a great way to start or end the journey.)
Davis said that although there were a number of paid staff, the refurbishment of the rolling stock had been "pretty much done by volunteers … when we were getting ready to roll, they were sanding and painting".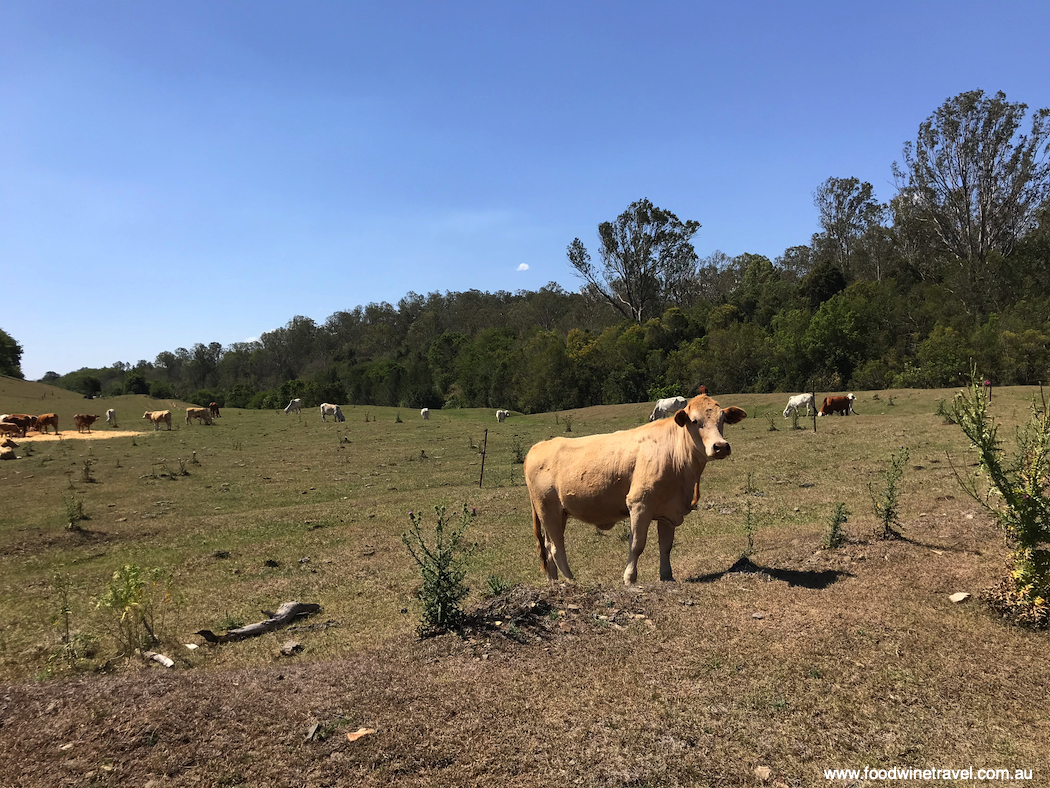 The Rattler returned to the rails just over a year ago. In that time, it has carried more than 30,000 passengers and doubled the number of its operating days from three to six. The original service carried passengers and goods as far as Brooloo; the former tourist train terminated at Imbil. Now it goes only as far as Amamoor, as the cost of upgrading the line beyond that was prohibitive.
According to Andrew Saunders, Tourism Manager for Destination Gympie, that's just fine. "When you look at it in today's tourism trend, it was too long to go to Imbil. People only want a half-day experience. It's terrific for people who are in the Sunshine Coast or Noosa. If it's raining, they can come out here and they're doing something rather than sitting in their room, particularly with kids."
The launch of the Tasting Train means that there are now services six days a week, from Tuesday to Sunday. The Tasting Train on Tuesday and the Picnic Train on Thursday are on the RM76 railmotor. Wednesday, Friday, Saturday and Sunday are Classic services on the C17 steam train (fire bans permitting).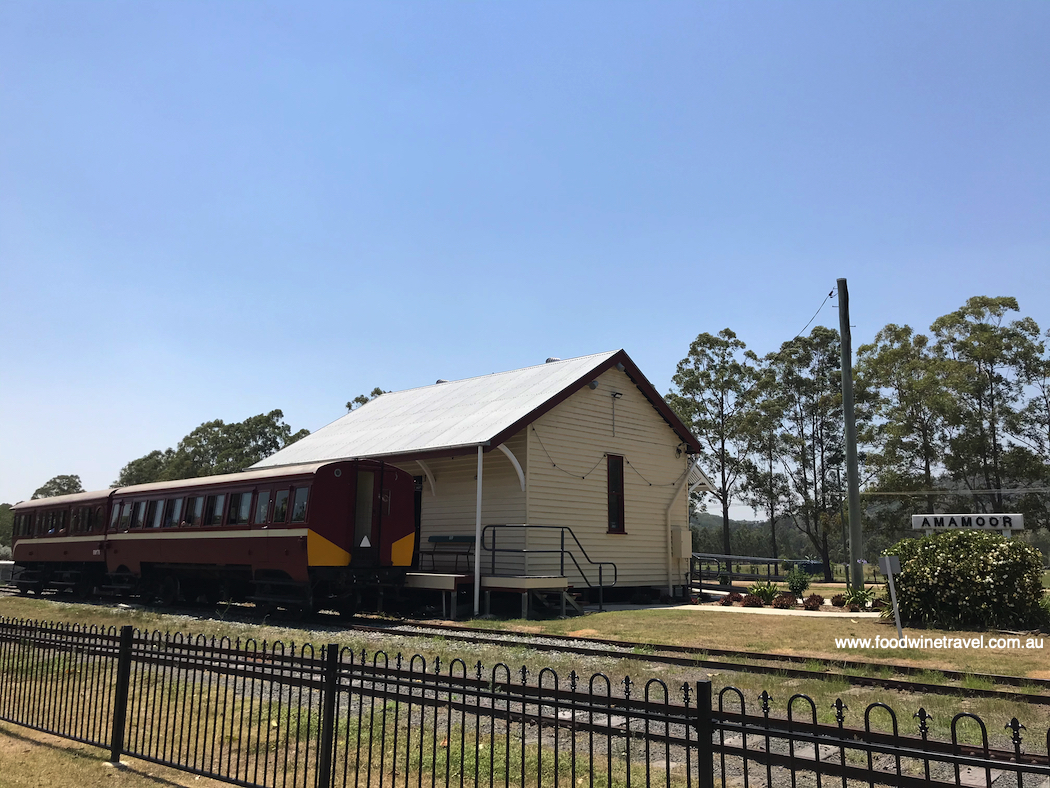 They can also do charters. Karen Davis said that since there was no other rolling stock on the line, they could (theoretically at least) run experiences 24 hours a day if they wanted to. The idea for the Tasting Train was born out of a hugely successful degustation dinner / steam train trip held during The Curated Plate food festival on the Sunshine Coast in August. Golinski and other chefs were involved in that event, which was held over multiple sites and was, in Davis's words, "a very merry event".
"It was super popular and everyone was asking, when are we doing the next one, what else can you do? The feedback we had from that was great and we really enjoyed working with the local producers," said Davis. "We wanted to run another service with the train so we thought, let's wrap it around food."
It's a feather in the cap for the management and volunteers that their hard work was rewarded with a Silver award in the 2019 Queensland Tourism Awards, held recently on the Sunshine Coast. The award was in the New Tourism Business category and the Rattler had been running for just over 10 months when it submitted its application.
Golinski has been Food Ambassador for the Gympie region for five years. "In that time I've had an opportunity to really get to know the region as a growing region, and get to know all the producers, some of whom I consider really close friends now." He believes the Rattler can play a tremendous role in opening up the produce and food experiences of the Mary Valley to new audiences.
"The return of the Rattler is opening up the Valley to wider tourism and that in turn will see more farmgate experiences launched. Tourism and food are natural bedfellows, and I believe the new Tasting Train is a great example of a tourism business linking up with food producers to create a product that really captures the essence of the destination."
---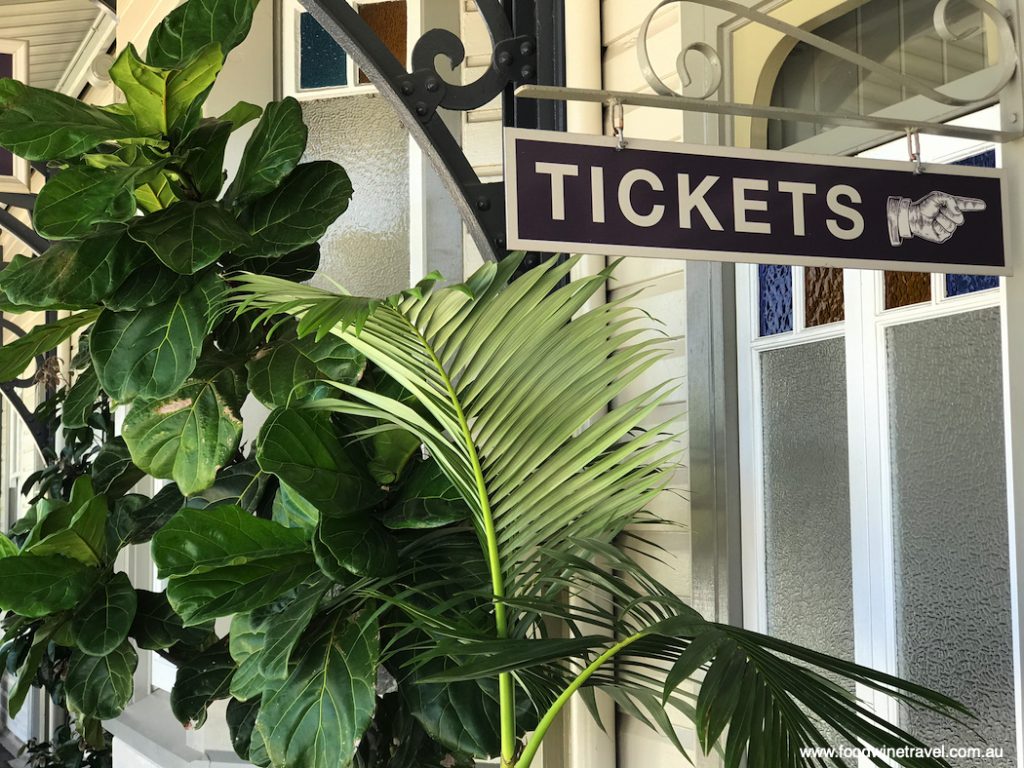 If you go:
The Mary Valley Rattler offers a great day out for anyone visiting the Sunshine Coast. It's a nostalgic step back in time and an opportunity to experience some of the fantastic produce from this south-east Queensland 'food bowl'.
The Mary Valley is dotted with villages that have a great community spirit and exude country hospitality. On most weekends, you can sample and purchase local produce at farmers markets in the region.
We stayed at the delightful Amamoor Lodge, which is perfectly placed for exploring the region. Our Tasting Train experience was provided courtesy of the Mary Valley Rattler.
The Tasting Train journey costs $59 ($49 concession) which includes on-board tastings. It's an extra $20 for lunch at Amamoor. Other options are available at Amamoor if you'd rather go for a walk around the village. Beverages can be purchased at the Platform No.1 Café before departure or at the lunch stop.
Bookings and information: www.maryvalleyrattler.com.au