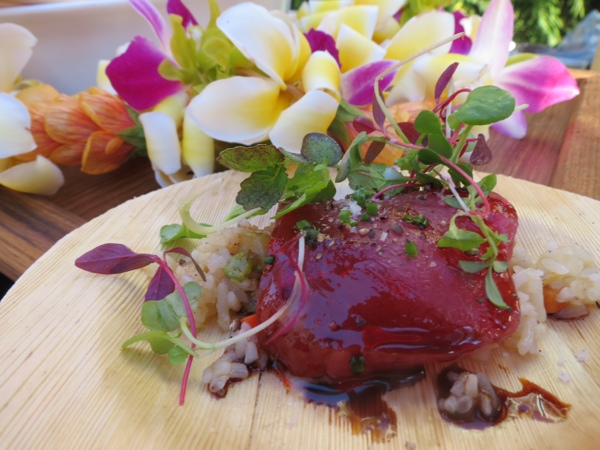 At the Hawaii Food and Wine Festival currently underway in Honolulu, a member of the audience approached presenter Ming Tsai and asked him about his motivation for becoming a chef.
"I was, still am, and always will be … hungry," he said, with a heavy emphasis on the word hungry.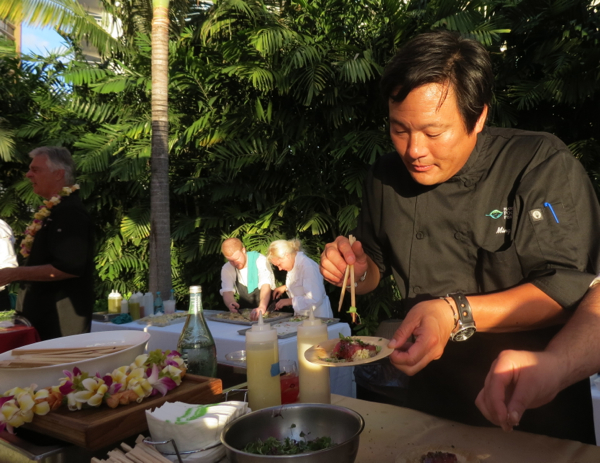 The Boston chef, above, whose face is familiar to television viewers around the world, has done nine seasons of his popular cooking show, Simply Ming, and is about to film his 10th.
I've often watched him on the Lifestyle Food Channel at home in Oz so I was pretty excited to find myself chatting to him at the festival's launch event, as you can see by the photo of me with him.
Ming's hunger should be well-satisfied with everything that's on offer in Honolulu this week.
He's one of a stellar cast that has been assembled for the festival – the talent in the line-up is truly extraordinary.
Australia's own Tetsuya was here, cooking at a signature event at the gorgeous Halekulani Hotel: Chefs Who Have Cooked for Presidents and Royalty. He cooked alongside the likes of Nobu Matsuhisa who, like Tetsuya, is so famous he is better known by his first name than his full name.
That dinner was a sold-out event and – sob, sob – I didn't experience it, but plenty of other celebrities have been coaxed out for the other events.
At the uber-cool Enter The Modern Dragon event, Ming was cooking at a table next to Sydney chef Peter Doyle (below). Ming's own beautiful dish, Sashimi with Foie Gras Rice, can be seen in the photo at the top of this post.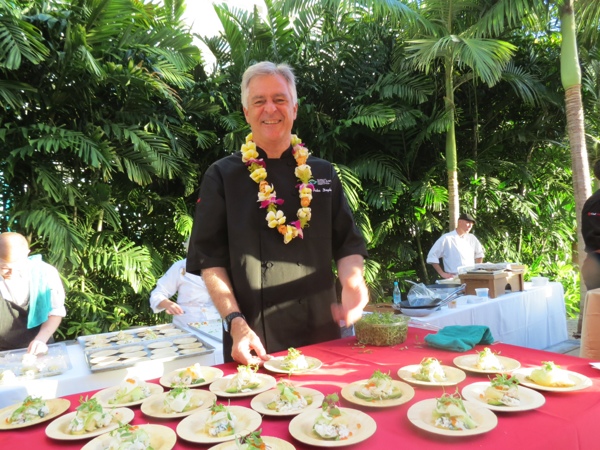 Morimoto, the Iron Chef, below, was drawing huge crowds at the same event around the pool at The Modern Honolulu hotel, and Morimoto got "wild and raw" with Ming at a very funny session during the Mix with the Masters series of talks and demos the following day.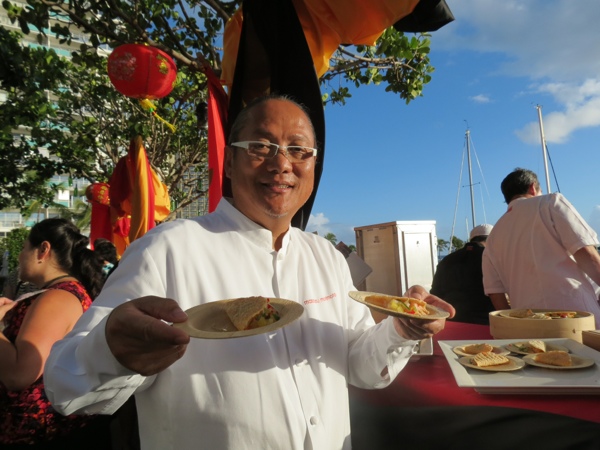 As the sun went down over Waikiki Beach, providing a glorious backdrop for the Farm to Table event in the grounds of the Hilton Hawaiian Village, I spotted Justin Quek who does the most amazing food at Sky on 57 atop the Marina Bay Sands hotel in Singapore.
He was cooking at a table near Todd English, below, a US chef whose foodie travelogues are regularly seen on Lifestyle Food. English was wielding a huge knife when I saw him, just as he was about to prise open a massive fish that he had baked in a salt crust.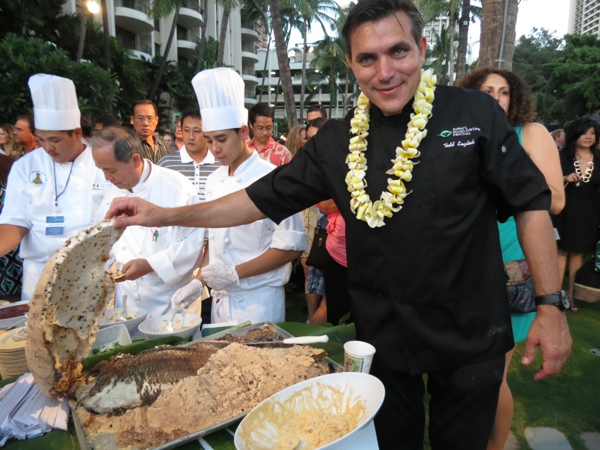 All these names barely scratch the surface – a zillion chefs from leading restaurants on the US mainland and a few from Japan are cooking and talking about food, and let's not forget the homegrown talent and co-founders of the festival, Roy Yamaguchi (below) and Alan Wong.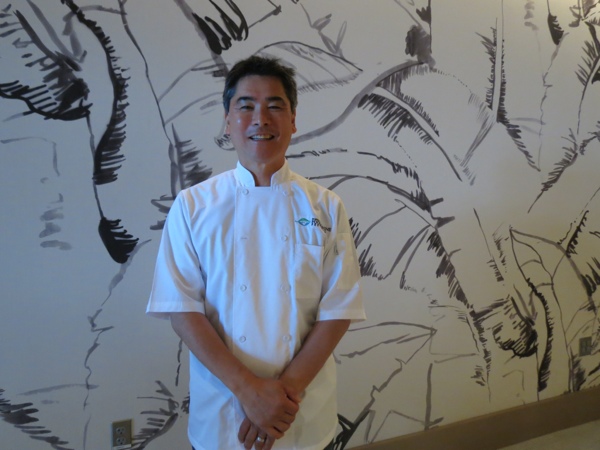 And while I'm name-dropping, I also have to mention Jon Matsubara, chef de cuisine for Azure restaurant in the iconic Royal Hawaiian Hotel.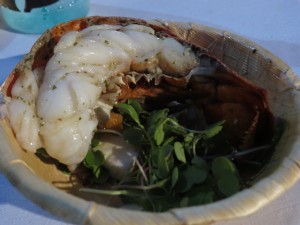 Not only did he do a great lobster dish at the Farm to Table event, I happened to be sitting at a table with his proud parents, his wife and his mother-in-law.
I promised them I'd run a photo of his dish, so this one's for you, J'mi and all the family!
More information: O'ahu Visitors Bureau; Hawaii Food & Wine Festival
Related post: Sheraton Waikiki – Living Walls