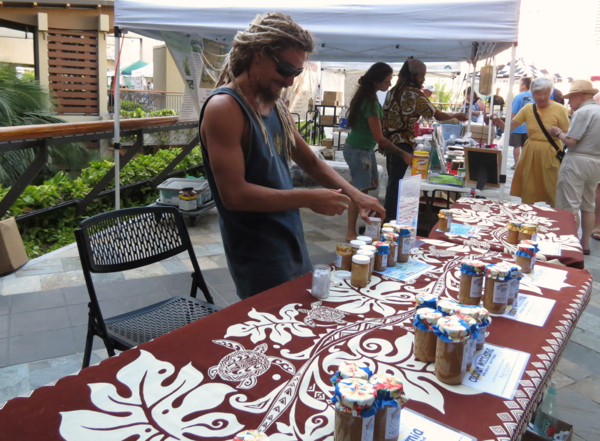 Although it might seem odd to find a farmers market on an urban rooftop, there's a very happy little market on the 4th floor of the Royal Hawaiian Centre in Honolulu every Tuesday from 3pm to 7pm.
(To me, at least, the location is unusual. I envisage a farmers market in a more rustic setting. Perhaps Americans might not see it as odd?)
The Hawaiian Centre is close to Waikiki Beach and the stalls are set up on the uncovered rooftop. Locals and tourists alike shop here, and there's a lovely relaxed atmosphere as you might expect.
It's a small market – perhaps no more than about 25 stalls. Still, there's a great diversity of products and I had a lot of fun working my way through them, chatting to some of the stallholders and sampling what they had to offer.
These are some that I found of particular interest:
Kona Coast Abalone
Sold live at $3.50 a piece. These prized molluscs come from a 10 acre farm on the Big Island of Hawaii: www.bigislandabalone.com They are shipped live to Japan, mainland USA and the other Hawaiian islands. The Kona Coast apparently receives more sunlight than any other coastal location in the USA, which is great for growing the large volume of nutritious red seaweed that is needed to feed the abalone.
Aikane coffee
100% Hawaiian coffee, grown in fertile volcanic soil on a family estate on the slopes of Mauna Loa Mountainin Ka'u. www.aikaneplantation.com
Honomu Jams & Jellies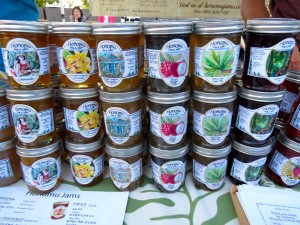 They do a great range of jams including delicious lilikoi (passionfruit), dragonfruit, mango and Tahitian lime. There's also a great range of butters including passionfruit, coconut, Meyer lemon butter and their latest one, coconut coffee butter. The tropical fruits are organically grown at Akaka Falls Farms. Only cane sugar is used: no water or fructose corn syrup. www.honomujams.com
Kahuku sea asparagus
Salty and very nutritious, this delicate vegetable is grown by Dr. Wenhao Sun on Oahu's North Shore. It is grown hydroponically in saltwater ponds. It's said to have a zillion health benefits. Take a look at the website: www.olakaihawaii.com There is also a new product, red ogo seaweed (which I didn't try). It turns from red to green when cooked and is said to offer a wonderful oceanic flavour.
Onopops
I encountered these refreshing water-based and dairy-based ice blocks twice during my stay, once at the farmers market and once at the Hawai'i Food & Wine Festival. They are handmade, all natural and made from ingredients that are either local or organic (or both). They come in great flavours such as salted watermelon, honeydew mint, watermelon hibiscus, mango strawberry, Mexican chocolate, Kona latte and pineapple vanilla. www.onopops.com
Malie Kai Chocolates
I have to admit that I bought up big on these as I love the fact that they are made from cacao that is sustainably grown on Oahu's North Shore. Nathan Sato started the business after years of travelling the world, falling in love with Hawaii and deciding that he wanted to share his love of the islands with the rest of the world. What better way to do that than through chocolate? Various products are available in dark and milk including Milk Chocolate with Hawaiian Cocoa Nibs and Cappuccino Bar. www.maliekai.com.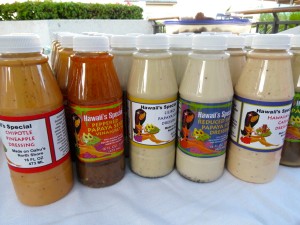 Finally, there was Pipikaula beef jerky from Kahalu'u, and some excellent nougat made from local honey and macadamia nuts.
There was also a great range of sauces made on Oahu's North Shore in flavours such as Passionfruit and red papaya sauce (what an interesting combination!), Chipotle pineapple dressing, Caesar salad, and Peppered papaya seed vinaigrette.
While I was putting this post together, I came across the website for Outrigger Hotels and Resorts which has a brilliant selection of articles on farmers markets in Hawaii and other food topics. I'm not being paid to give them a plug – just telling you because you might find the posts as interesting as I did.
Related posts: In My Kitchen – February 2013; Stellar Cast @ Hawaii Food & Wine Festival; Sheraton Waikiki Living Walls.