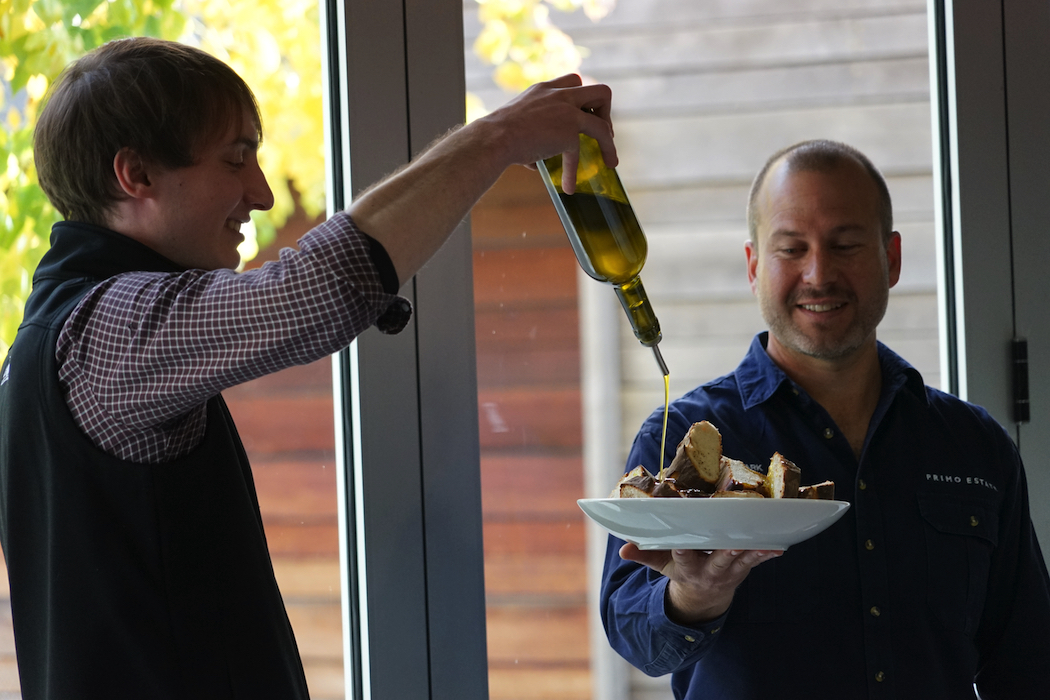 In 2019, South Australian winery, Primo Estate, celebrated 40 years of winemaking and 30 years of producing its JOSEPH Extra Virgin Olive Oil. In the last three decades, Primo Estate owner/winemaker Joe Grilli has, without a doubt, set the standard for Australian extra virgin olive oil.
If you've ever tasted his JOSEPH Cold Pressed Extra Virgin Olive Oil, you'll understand the love and care that goes into every bottle. As the name suggests, the fruit is pressed at low temperatures to ensure purity of flavour, freshness and balance.
The olives are sourced from groves from the Adelaide Hills to Mount Compass in South Australia. For close to 30 years, Grilli has worked with many of the same growers, and during that time has seen the groves ripen to full maturity. The JOSEPH Cold Pressed Extra Virgin Olive Oil uses fully ripened fruit picked during the height of the season in July.
JOSEPH Cold Pressed Extra Virgin Olive Oil 2019
After a hot summer, the 2019 harvest was characterised by a long, cool ripening period – ideal conditions for pristine, vibrant, aromatic fruit. Bottled in August after being allowed to settle for six weeks, the 2019 Cold Pressed is a blend of three varieties: Frantoio, Leccino, and Coratina.
It has intense floral and nutty aromas with a slightly grassy herbacious lift; a smooth, buttery palate; and a peppery finish. The oil is now at its peak freshness and is best enjoyed before October 2020. Don't make the mistake of keeping oils too long. A beautiful oil like this needs to be consumed within the first year.
JOSEPH Cold Pressed Extra Virgin Olive Oil is available for purchase through the Primo Estate website. It costs $35 for a 750ml bottle. This is not an affiliate link – Food Wine Travel gets no commission. We were, however, sent a sample bottle of the oil to try.
Primo Estate also produces a First Run Extra Virgin Olive Oil, the very first run of oil from the harvest's first crop. The oil yield per tonne is very low but the olive fruit characters are at their strongest. The 2019 First Run is sold out. Keep an eye out for the 2020 First Run later this year.
Watch this video of Joe Grilli pressing and blending JOSEPH Extra Virgin Olive Oil: