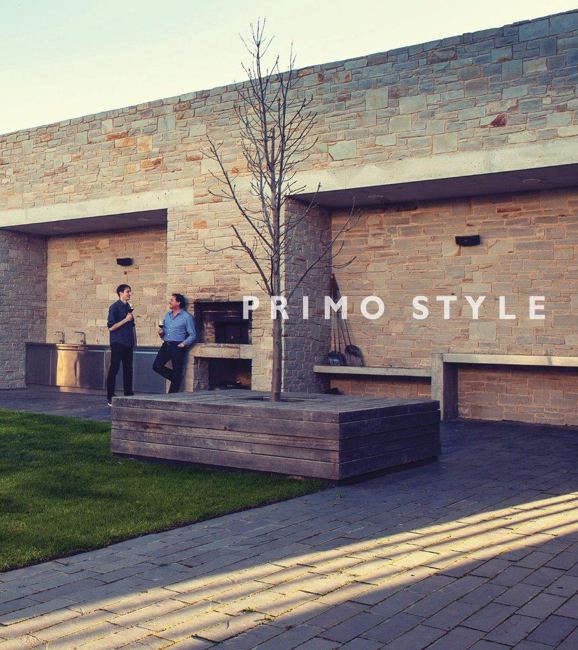 Primo Estate is one of Australia's most beautiful cellar doors, with a real sense of style, reflecting the Italian origins of its owners, the Grilli family. The McLaren Vale cellar door has sleek surfaces of stone, wood and glass, and an Italian-style 'piazza' or courtyard with a large wood oven imported from Umbria that is fired up for special events.
Owner and winemaker Joe Grilli makes a unique range of wines and extra virgin olive oils that celebrate la dolce vita Australian-style. The cellar door is a testament to his late wife Dina's wonderful eye for design, and much of the inspiration for it came from their regular joint trips to Italy. The design incorporates many personal touches such as lights made in Treviso near Venice, where Dina's parents were born.
This beautiful setting offers what is undoubtedly McLaren Vale's most stylish wine tasting experience, where you can enjoy a flight of four premium Joseph wines, accompanied by the latest release Joseph Extra Virgin Olive Oil, Italian Grana Padano cheese and crusty bread from the local farmers' market.
Technical innovation
Joe and Dina were at the forefront of technical innovation in winemaking in Australia in the 1980s, experimenting with double pruning, cordon cutting and botrytis, followed by trials with amarone (open-air drying) and ripasso (refermenting) techniques in the 1990s. The culmination of their passion for excellence is the Joseph range, launched with the first vintage of Moda Cabernet Sauvignon Merlot in 1987. The flagship Moda, a full-bodied wine with amazing longevity, is a blend of Aussie McLaren Vale richness and Italian earthiness.
To mark the release of the 25th vintage of Joseph Moda in 2014, Primo Estate produced Primo Style, a collection of recipes and stories celebrating la dolce vita. The recipe here, from Joe's mum, Santina, is an all-time favourite of the Grilli family. Made with a combination of meats, it can handle a serious red like the Joseph Moda Cabernet Sauvignon Merlot.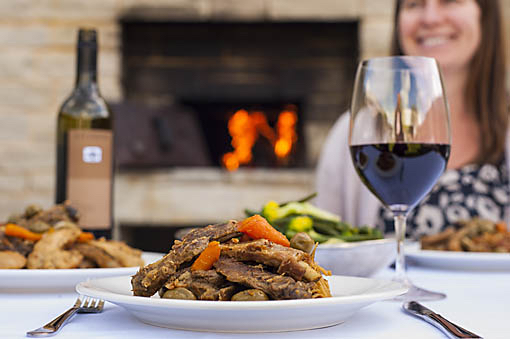 SPEZZATIMO MISTO DI CARNE
Pot Roasted Chicken, Lamb and Pork Rib Pieces
Time: 1 hour.
Serves 4
Ingredients:
1 rack of American style pork ribs cut into single pieces
3 forequarter lamb chops cut in half, trimmed of fat
4 chicken thighs
4 drumsticks
Any favourite meat can be used
Joseph First Run Extra Virgin Olive Oil
10 sage leaves
5 sprigs of thyme
1 carrot roughly chopped
15 green olives
½ – ¾ cup of Primo Estate La Biondina Colombard
2 cloves of garlic, sliced
Salt and pepper
Place mat into a cold pan with a small amount of Joseph Extra Virgin Olive Oil. Cook on medium heat until juices are released. Season with salt and pepper.
Add sliced garlic cloves, sage leaves and thyme. Continue cooking on medium to low heat, covered, until juices have evaporated. Then add carrot, green olives and white wine.
Cook until meat is tender, medium brown and only a few juices remain, remembering to turn occasionally. Add more wine along the way if needed.
Drizzle Joseph Extra Virgin Olive Oil over just before serving.
Fact File:
Primo Estate
50 McMurtrie Road
McLaren Vale SA
Australia
+61 8 8323 6800
www.primoestate.com.au
Recipe and images reproduced with permission of Primo Estate.
This post was originally published in PS News online.