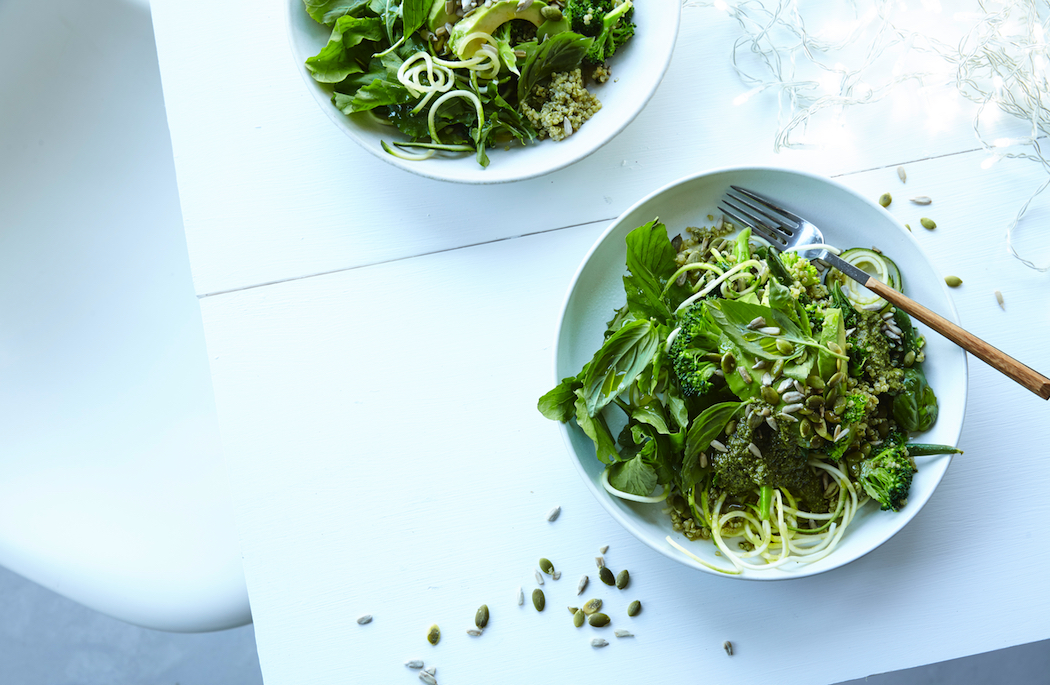 Did you buy that spiraliser we talked about a couple of weeks ago – the kitchen gadget that helps you turn vegetables into noodles with ease? It will come in handy with this recipe, which uses zucchini noodles in a salad bowl fit for a goddess. You can make it without a spiraliser, by simply shredding the zucchini, but such is the raft of cookbooks devoted to the wholefoods/vegan/gluten-free way of eating, a spiraliser comes in handy nowadays.
The latest book in this vein to hit my desk is Hippie Lane The Cookbook, published by Murdoch Books. This beautifully styled book positively glows with goodness as it is filled with Instagram-worthy pics of beautiful bowls, gorgeous salads and sweet treats made with good things. The cover photo, especially, is pure Instagram, with a pair of sun-kissed legs, swathes of fabric and a big bowl of luscious-looking fruit inviting you to dip in. It comes as no surprise that the book's Australian author, Taline Gabrielian, has a huge Instagram following of nearly half a million.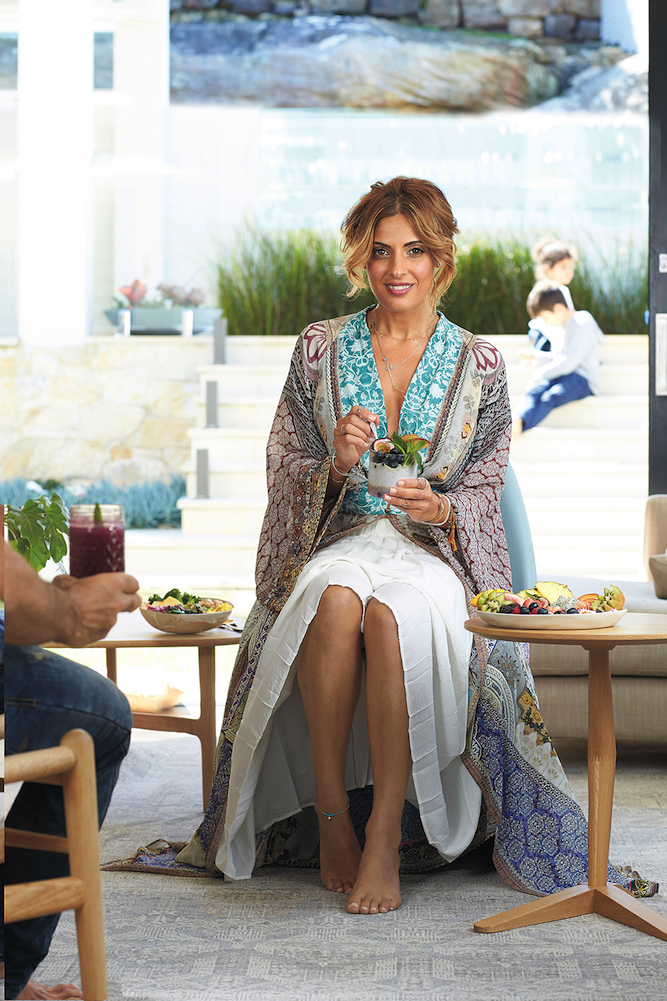 It was Gabrielian's success on Instagram, posting pictures of her plant-based creations, that led her to develop the hugely successful Hippie Lane recipe app. Her wholesale business, supplying treats to cafes around Sydney, was also warmly received, attracting a strong following in the health community. Gabrielian's mission is to present practical, accessible vegan recipes that are free of gluten, refined sugar, dairy and genetically modified ingredients. But it is her effortless blend of health and style that makes her creations so successful.
A tagline on the cover of Hippie Lane The Cookbook says "wholefood goes deliciously luxe" and so it is, with dishes such as quinoa sushi, Mediterranean chickpeas with za'atar, vividly coloured rainbow summer rolls, Neapolitan chia puddings, and the beautiful Green Goddess Bowl here.
There's also a chocolate and caramel peanut snack bar that the online community has declared to be way better than the commercially available sweet that inspired it. Gabrielian's specialty is to take popular foods like this and give it an overhaul. The pictures of her and her children glowing with good health are undoubtedly her best advertisement.
!! Buy Hippie Lane The Cookbook from Book Depository, with free delivery worldwide !!
Food Wine Travel gets a small commission on purchases through this link but it doesn't cost you any extra.
THE GREEN GODDESS BOWL
Serves 2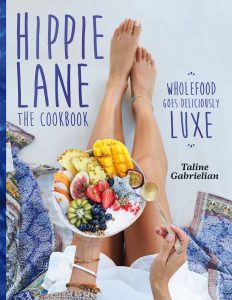 15 g (½ oz/½ cup) shredded kale
6 broccolini stems
10 green beans
2 tablespoons olive oil, plus extra to serve
1 heaped tablespoon Pesto (see below)
300 g (10½ oz/1½ cups) cooked quinoa
juice of ½ lemon
45 g (1½ oz/1 cup) baby rocket (arugula) leaves
1 zucchini (courgette), shredded or spiralised
1 avocado, sliced
1 tablespoon sunflower seeds
1 tablespoon pepitas (pumpkin seeds)
1 tablespoon finely chopped spring onion (scallion)
a few basil leaves
pinch of Himalayan salt
pinch of freshly ground black pepper
2 lemon wedges
Fill a saucepan with water and bring to the boil. Have a bowl of iced water at the ready.
Add the kale to the boiling water and blanch for 30 seconds, then remove with tongs and refresh in the iced water, to stop it cooking further.
Add the broccolini to the boiling water. Leave to boil for 1 minute, or until just tender, then remove and add to the iced water.
Blanch the beans in the boiling water for 30 seconds, then remove and add to the iced water.
Drain the blanched vegetables, then chop the kale and beans and set aside.
Warm most of the olive oil in a large frying pan over medium heat. Add the pesto, spreading it over the pan. Stir in the kale. Add the remaining olive oil, then add the broccolini and beans, stirring briefly. Stir the quinoa and lemon juice through, then remove from the heat.
Divide the rocket and zucchini among two serving bowls. Drizzle with a little extra olive oil, then top with the pesto-tossed greens.
Top with the avocado, sunflower seeds, pepitas, spring onion and basil. Sprinkle with the salt and pepper, add a lemon wedge to each bowl and enjoy.
PESTO
115 g (4 oz/¾ cup) pine nuts
2 garlic cloves, peeled
¾ cup basil leaves, loosely packed
25 g (1 oz/1 cup) rocket (arugula) leaves
½ teaspoon Himalayan salt, or to taste
¼ teaspoon freshly ground black pepper
juice of 1 lemon
250 ml (9 fl oz/1 cup) mild-tasting olive oil
Place the pine nuts in a food processor and pulse until large crumbs form.
Add the garlic, basil, rocket, salt, pepper and lemon juice. Pulse until just combined. Add the olive oil and process until smooth.
The pesto is best made just before serving, but will keep in the fridge for
a day or two in an airtight container, covered with a layer of olive oil to
stop the basil discolouring.
Recipes and images from Hippie Lane: The Cookbook, by Taline Gabrielian, published by Murdoch Books, and reproduced with their permission.
This story originally appeared in PS News online.