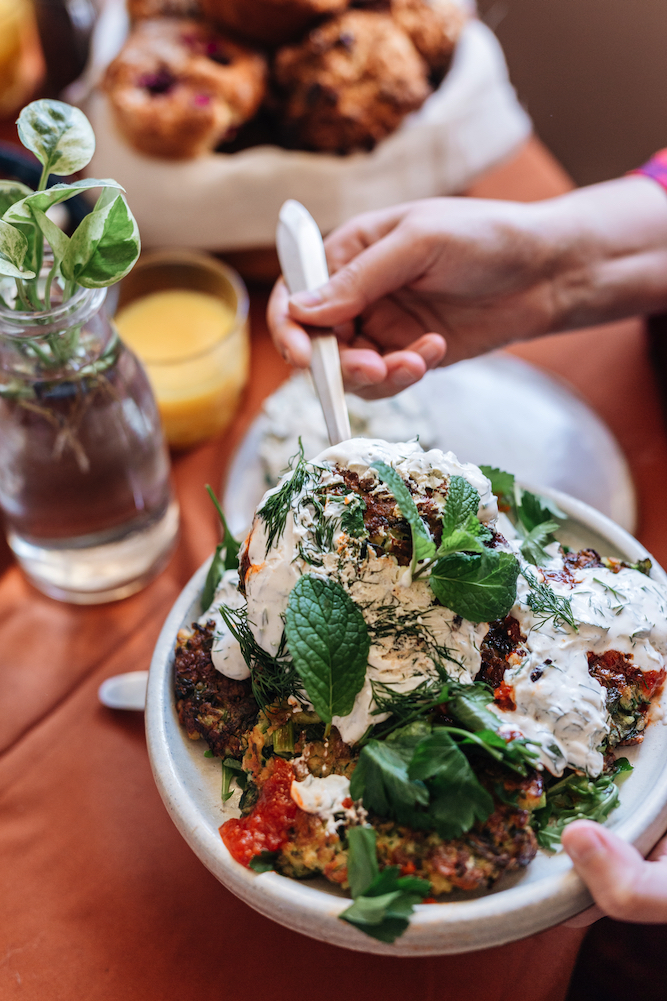 One of the things we've missed most during these past few months of isolation is getting together with friends for shared feasts. Dipping into Clare Scrine's book, The Shared Table, therefore leaves me feeling somewhat wistful. I miss the joy of cooking for people I care about, and I miss the conviviality of conversation around a shared table.
Thankfully, restrictions are easing and it won't be long before we are sharing our table with friends again. Some of our friends are already open to indoor gatherings; others are taking it more cautiously. Everyone is on their own journey, at their own pace.
When gatherings resume, The Shared Table will provide inspiration and pleasure. There's such a joyous spirit to this book. "Food has always been my language of love," says Scrine. "Some people find solace from their stress, loneliness or existential crises in art, music, dancing, or travel. For me, cooking has always been my outlet."
And, she adds, "I think a shared table is the best place to passionately discuss the state of the world, and sometimes – for a small moment – to escape it."
Cooking for a crowd
The book is designed to be a resource for when you're cooking for a crowd or asked to bring a dish to share. "It's a guide to cooking for your community – be they your colleagues, family, mates, housemates or lovers."
Drawing on recipes that she has cooked for gatherings around her home town of Brisbane – and with evocative photography captured in share houses throughout the city's inner suburbs – the book is divided into chapters with distinct themes. There's a breakfast spread, a hangover brunch, a leisurely long lunch, a Mexican-inspired feast, Mediterranean dinner party, pasta night, comfort food, and food to eat with the hands.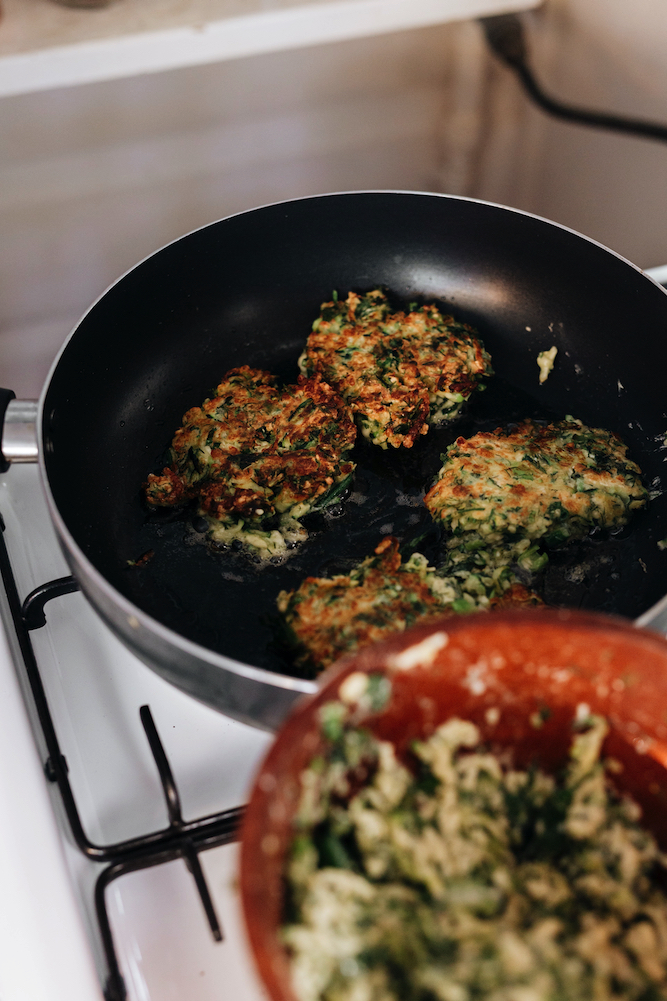 All the recipes are vegetarian or vegan, although Scrine stresses that it isn't a health book and she hopes it will appeal to "meat-lovers, strict vegans and everyone in between". The recipes are economical, practical and fuss-free, like these Haloumi and Zucchini Fritters which are great for breakfast or as part of a brunch spread ("they're even pretty good cold the next day").
Scrine uses a food processor to grate the zucchini and haloumi, which makes it very easy, although a box grater will do fine. She recommends serving the fritters with sour cream and chutney, chilli sauce, or with eggs, rocket, avocado and hollandaise sauce.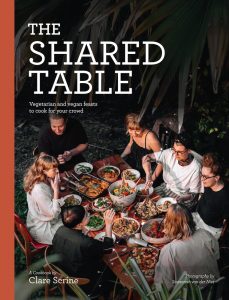 ---
Buy your copy of The Shared Table from Book Depository now (free delivery worldwide).
Buy your copy of The Shared Table from Australian-owned Booktopia.
---
HERBY HALOUMI AND ZUCCHINI FRITTERS
Makes about 15 fritters
3 medium zucchini, grated
250 g haloumi, grated
½ bunch dill, chopped
½ bunch mint, chopped
3 spring onions, finely chopped
zest of 1 lemon
1 tbsp lemon juice
3 eggs, whisked
100 g (2/3 cup) self-raising flour (or gluten-free flour)
1 tsp salt
100 to 200 ml olive oil, for pan-frying
Put all the grated zucchini in a colander. Sprinkle liberally with salt and let it sit for 10 minutes.
Rinse the salt off, then squeeze all the water out of the zucchini; this is essential for crispy fritters. Pat dry with a clean cloth.
Transfer the zucchini to a bowl and add all the remaining ingredients, except the cooking oil. Stir well to combine.
Heat a large frying pan with a big glug of olive oil, enough to cover the pan by at least 5 mm. Once the oil is sizzling hot, add the fritter mixture in heaped tablespoon quantities.
Allow each fritter to fry until golden brown underneath (about 1 to 2 minutes), then flip. Press them down slightly to ensure the middle is cooking. Reduce the heat and cook for a further 2 to 3 minutes. Transfer to a plate.
The fritters are best served fresh and hot but are easily brought back to life in a frying pan or warm oven once chilled.
Recipe and image from The Shared Table by Clare Scrine, published by Smith Street Books and reproduced with the publisher's permission. Photography © Savannah van der Niet.
This story originally appeared in PS News.