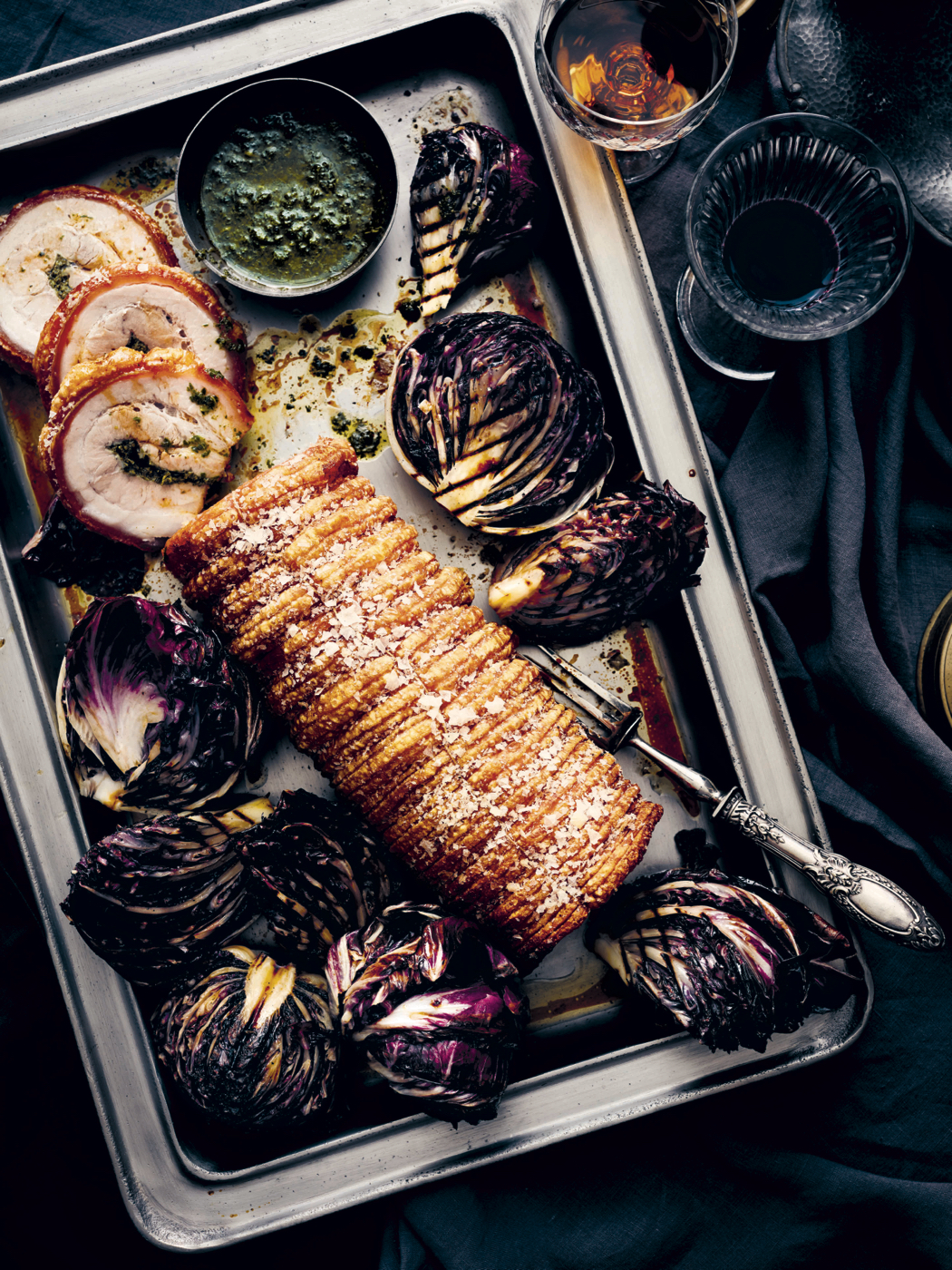 If you could have anyone helping you get ready for a dinner party, it would be the team from delicious, wouldn't it? This leading food lifestyle magazine has all the inspiration you need for entertaining – impressive recipes and lots of wonderful tips that help make light work of cooking for friends and family.
Its latest cookbook, delicious. At Our Table, published by ABC Books, continues in the same vein of providing effortless recipes, but in terms of its presentation, marks an elegant new direction for delicious. publishing. For a start, it's gone to a large format with hard cover and the most gorgeous styling and photography. This is very much a book that you'll want to leave lying around on the coffee table.
It's also drawn on inspiration from up-to-the-minute food celebrities. Look out for recipes such as Matt Wilkinson's spiced sweet potatoes, Ottolenghi's whole roast celeriac and Momofuku Milk Bar NYC pastry genius Christina Tosi's compost cookies.
Take a seat at the delicious. table
The reader is invited to take a seat at the delicious. table and join in celebrations for birthdays, Easter, Christmas in July, and other occasions. There are some great styling tips, menus and drink suggestions. Brunch calls for recipes such as Iced coconut latte and Pancake stack with lime and blueberries, while a garden party is pretty in pink with Turkish delight marshmallows and Strawberry swirl macarons.
Crispy school prawns with green chilli jam, and Chargrilled chicken skewers with almond satay sauce are just the ticket for a summer beach party, while birthday treats include a No-bake strawberry cheesecake slice and "a most excellent chocolate cake". The Crispy porchetta recipe here is designed for the ultimate dinner party, and although it involves a long cooking time, it's very easy to prepare. Effortless entertaining at its best.
**Buy delicious. At Our Table from Book Depository.
Food Wine Travel gets a small commission on purchases through this link but it doesn't cost you any extra.
CRISPY PORCHETTA WITH GRILLED RADICCHIO AND SALSA VERDE
Serves 8
Prep. 3 hours 15 minutes
Cook. 2 hours 30 minutes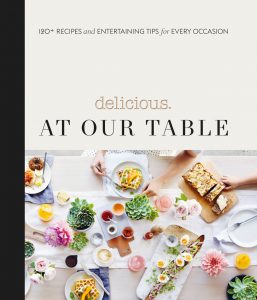 2kg boneless pork belly (skin on)
2kg rock salt
3 radicchio, halved
STUFFING
½ bunch marjoram, leaves picked
½ bunch sage, leaves picked
Finely grated zest of 1 lemon
3 garlic cloves
1 tablespoon extra virgin olive oil
Salsa verde
2 cups flat-leaf parsley leaves
1 cup marjoram leaves
½ cup sage leaves
Finely grated zest and juice of 1 lemon
½ cup (125ml) extra virgin olive oil
Place the pork belly in a deep-sided baking tray, rub with rock salt on both sides, cover with foil and chill for 3 hours to cure slightly.
Preheat the oven to 220°C. Rinse pork well under cold running water to remove salt, then pat dry with paper towel to ensure skin is completely dry. Using a sharp knife, score pork skin at 1cm intervals, being careful not to cut all the way through.
For the stuffing, place marjoram, sage, lemon zest, garlic and olive oil in a food processor and whiz to a coarse paste.
Place pork, skin-side down, on a chopping board. Spread stuffing mixture over the pork flesh, leaving a 1cm border. Season. Roll up belly tightly from the long edge to form a log shape, making sure the skin is on the outside and not overlapping. Tie securely with kitchen string at 2-3cm intervals to ensure pork holds its shape.
Place pork on a wire rack set in a roasting pan. Roast for 30-35 minutes until the skin is golden and starting to crisp. Reduce the oven to 160°C and cook for a further 1-1. hours until the core temperature of the pork reaches 62°C on a meat thermometer and meat is tender and crackling is crisp. Remove from oven and rest, loosely covered with foil, for 10 minutes.
Heat a chargrill pan or barbecue to high heat and chargrill radicchio, turning, for 3-4 minutes until charred and slightly softened.
For the salsa verde, place all ingredients in a small food processor and whiz to a coarse paste. Season to taste.
Slice pork into thick pieces and serve with salsa verde and charred radicchio.
Recipe and images from delicious. At Our Table, published by ABC Books and reproduced with permission of ABC Books.
This post was originally published in PS News online.