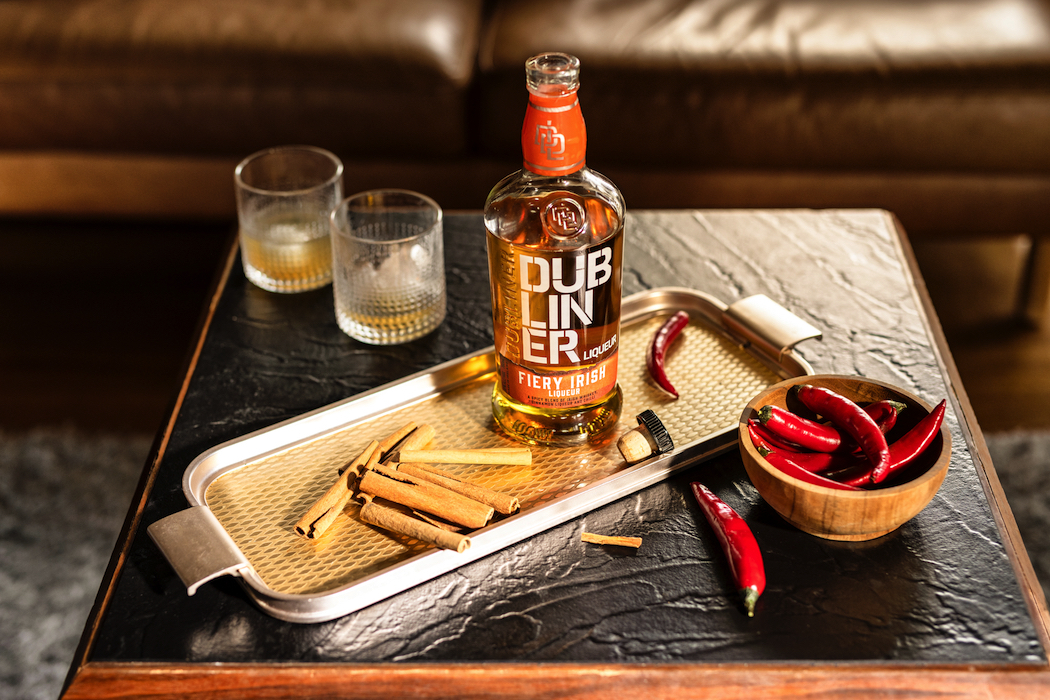 The Dublin Liberties Distillery launch of Fiery Irish liqueur in Sydney's About Time Bar included a live-cross to Dubliner ambassador Stephanie Shen who gave us a very entertaining walk through the new liqueur and two other Dubliner products, Bourbon Cask grain/single-malt blend, and Whiskey & Honeycomb liqueur.
Before we were connected online to Dublin, guests were greeted with a Fiery Mule cocktail, paired with canapés including smoked chilli and paprika dip with flatbread, spicy and succulent About Time Wings with hot sauce, and loaded fries.
Stephanie's tasting and whiskey-appreciation techniques start with a visual homage to the whiskey, noting the speed at which the 'tears' fall down the glass (a measure of its strength and smoothness). Next, Steph advocates a prolonged but progressively closer nosing to alert the olfactory glands to the character of the whiskey – the first sip, hold and mouth-swirl for 10 seconds, followed by a second shorter nosing and sip, hold 'n' swirl.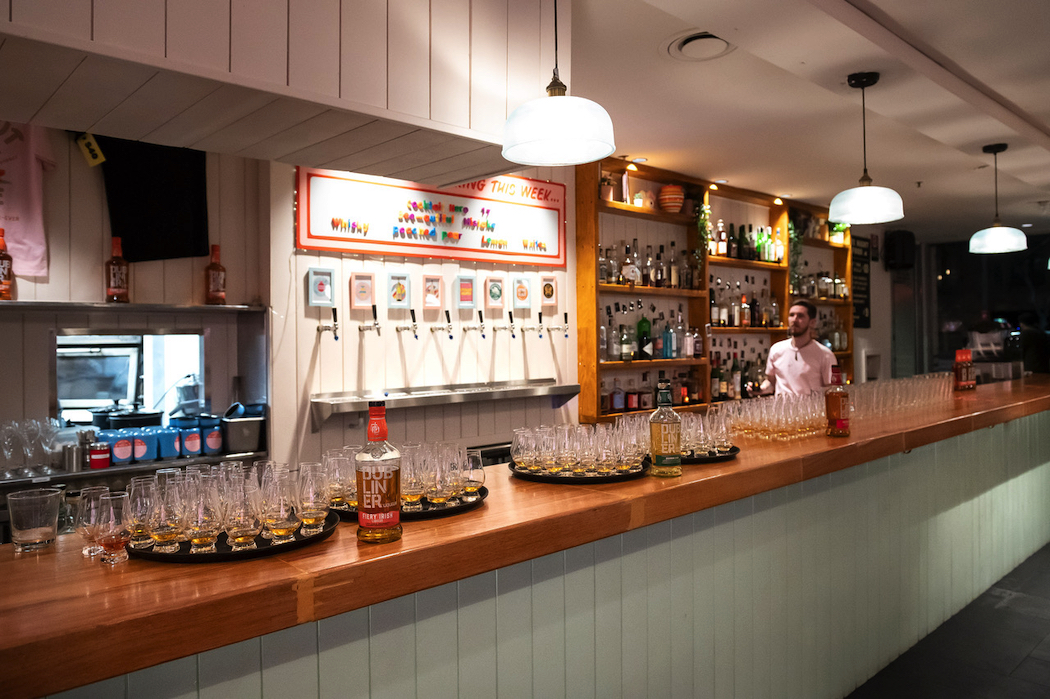 Steph explained that the second taste would be a different experience since on the first taste the brain would shut down half of its processing ability, as it alerts the body to a new and therefore potentially hazardous experience.
The 'tingle-test' is her term for the mouth sensations generated by copious swirling, as the drinker ensures all of the mouth and tongue are coated by the whiskey. Steph also describes this tasting step as a 'sip and squat' (!!) and suggested we relax our bodies in exhalation after the whiskey has been tasted, swirled and swallowed.
Steph's last suggestion in her tasting of the Bourbon Cask was to dilute the remainder with the same volume of water, as she explained that blenders typically test their creations with whiskey diluted to 20% ABV.
I had previously sampled a bottle of Dubliner Bourbon Cask after an online interview with James Di Giulio, an Aussie member of the distilling team. It's a pleasant, easy-drinking, mellow (40% ABV), light and slightly sweet style of whiskey, in the same market segment as other high-volume selling Irish whiskies. If I want to buy a whiskey in that market segment, then my inclination is to go for the Dubliner product. This further sampling of the Bourbon Cask reinforced my earlier opinion and my wife, who is not a regular whiskey drinker, also enjoyed it.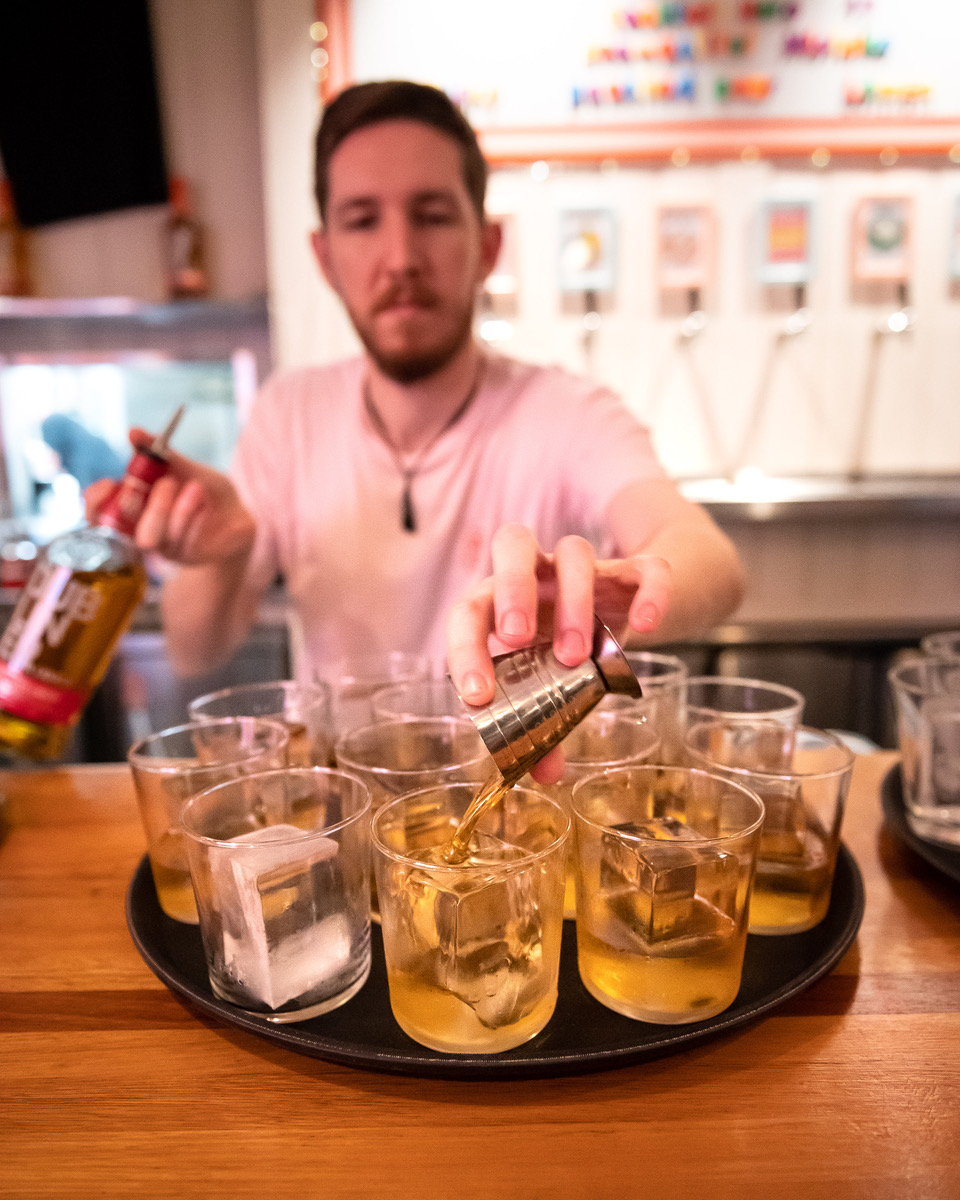 The next product we tasted was the Honeycomb liqueur. The distillery's goal is to produce liqueurs with whiskey as the prime foundational ingredient, and the Whiskey & Honeycomb is indeed a sweet liqueur, a great cocktail base, and a quality ice-cream topping (!).
After the Fiery Mule cocktail and generous tastings, we were ready for more food, and the About Time team didn't disappoint. We enjoyed slow-cooked lamb shoulder, roast pork and trimmings, with vegetarians / vegans also catered for. We then moved onto the star of the night, both in focus of the evening and for me the most interesting drink that we sampled.
The Fiery Irish is indeed a peppery, fiery liqueur and one that reminded me of the cinnamon sweets from my own Irish childhood (albeit alcoholic and stronger). Described by the distillery as "smooth Irish whiskey laced with cinnamon sweetness and chased with a hint of chilli", it's said to "ignite a smooth, sweet and spicy dance in your mouth unlike any before it". We enjoyed the unique taste sensation and thought it an accurate description. It certainly has a bold cinnamon flavour and ends with a chilli kick but it's not a harsh taste, rather a complex and intriguing blend of influences and one that provides a firm foundation for cocktails.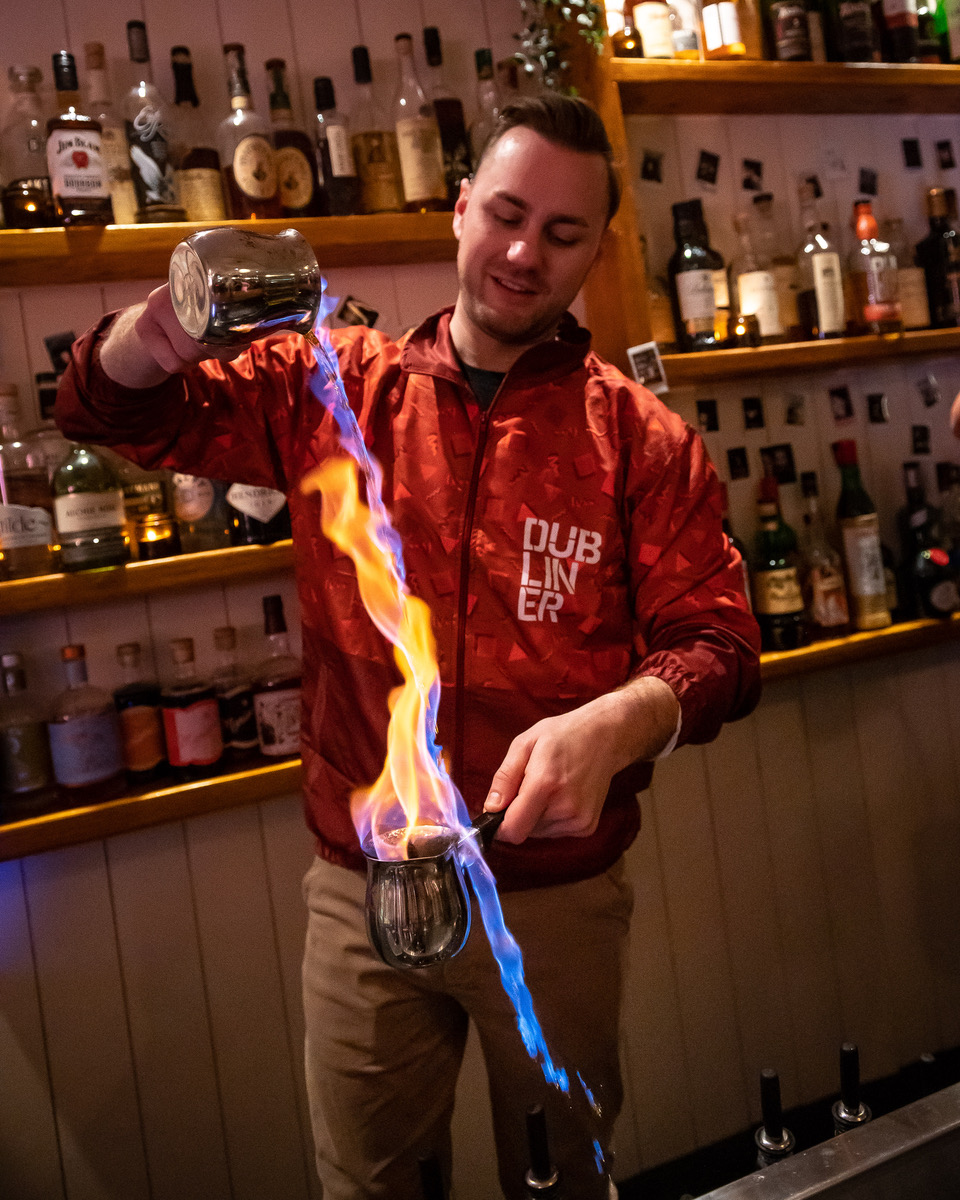 About Time served three cocktails made with Fiery Irish: Fiery Mule, Dubliner Treacle, and Spicy Apple. Fiery Mule comprises 40 ml of Fiery Irish, 90 ml of ginger ale and 10 ml of lime juice. Add ice to a rocks glass, add the ingredients, stir, and serve with a dehydrated lime wheel. Spicy Apple comprises 40 ml of Fiery Irish, 90 ml of an appetizer or cloudy apple cider, with two dashes of aromatic bitters. Add the ice and ingredients to a highball glass, stir and garnish with an apple fan. Dubliner Treacle is an Old Fashioned-style cocktail made with Fiery Irish and cloudy apple juice.
The evening finished on a spectacular note with a Blazer Taster: Fiery Irish pre-blazed and then served hot. I preferred the unheated product as I thought it retained more complexity, but the Blazer Taster was a theatrical and warming end to the evening.
Our thanks to the organisers, including Nicole Moore, marketing manager of GAP Drinks, distributors of Dubliner Whiskey, and to Dublin Liberties Distillery for hosting us at the Fiery Irish launch.