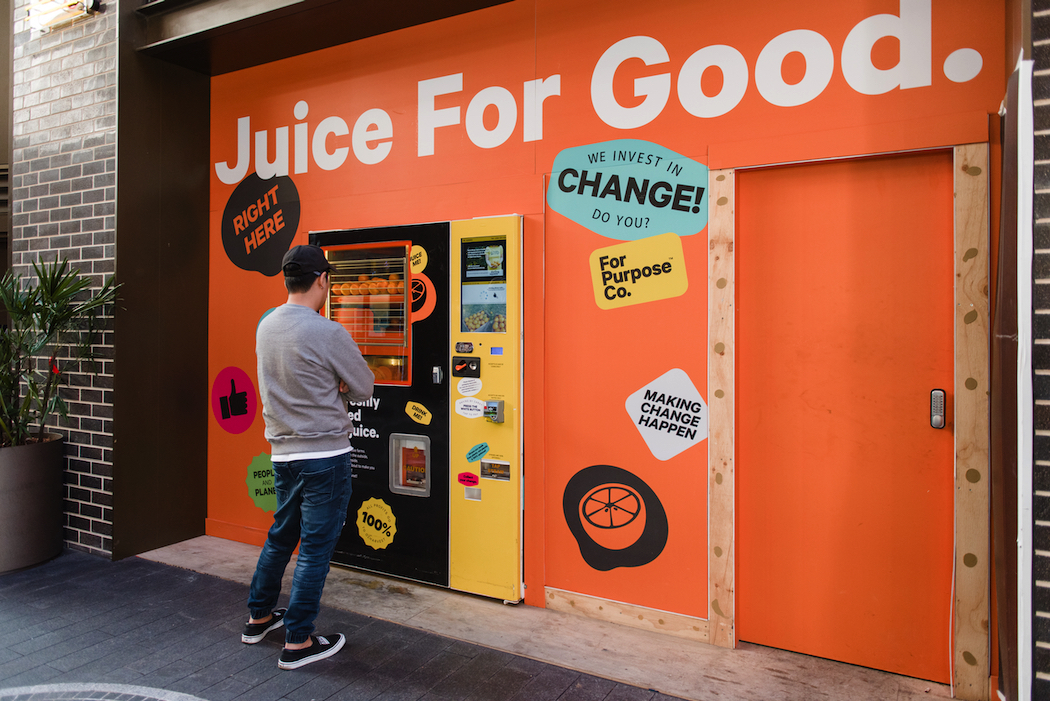 Years ago when we were driving through the Riverland / Sunraysia regions, my heart bled when I saw mile upon mile of orange trees with fruit left to rot on the ground because the growers couldn't sell their product. What sort of world do we live in when quality Australian-grown fruit goes to waste while consumers are offered juice made from imported concentrates?
Nearly half of all Australian-grown fruit and vegetables doesn't make it off the farm, according to the social enterprise, ForPurposeCo. That translates into an awful lot of unloved oranges.
The innovative ForPurposeCo is tackling the issue head-on with the introduction of its Juice For Good vending machines. It rescues the oranges and turns them into freshly squeezed juice, providing a delicious and healthy alternative to the drinks available from most vending machines.
The chilled juice is 100% oranges – nothing else – and comes in a recyclable cup with an eco-friendly straw. You might have seen the machines popping up around Sydney, across the CBD and in locations such as Ashfield, Leichhardt, Macquarie, Campbelltown, Auburn, Lidcombe, Bass Hill, Macarthur Square, Kellyville Plaza, Norwest Marketown, Randwick and Bondi.
Check out the full list of locations on the ForPurposeCo website. There are plans to expand into Brisbane this year.
The juice sells for $4, with 100% of the profits going to OzHarvest to deliver food to people in need and further save good food from going to waste.
The CEO and founder of OzHarvest, Ronni Kahn, also heads ForPurposeCo, a profit-for-purpose enterprise that exists to generate revenue for OzHarvest. It seeks out ground-breaking ideas that create long-term social impact and help eliminate hunger and food waste.
Late last year, Sydney street artist Joel Moore, aka 'Mulga', collaborated with Juice For Good in producing some limited edition cup designs to celebrate saving over million oranges from landfill in its first year of operation.
"I love that profits from Juice For Good support OzHarvest," Mulga said. "I've been a huge fan of their mission and loved the opportunity to help create more awareness around reducing food waste. I have young kids so I'm thrilled to be working with an organisation that cares for our planet and the future generations."
Photos supplied by Juice For Good / Hot Wire Global and used with permission.