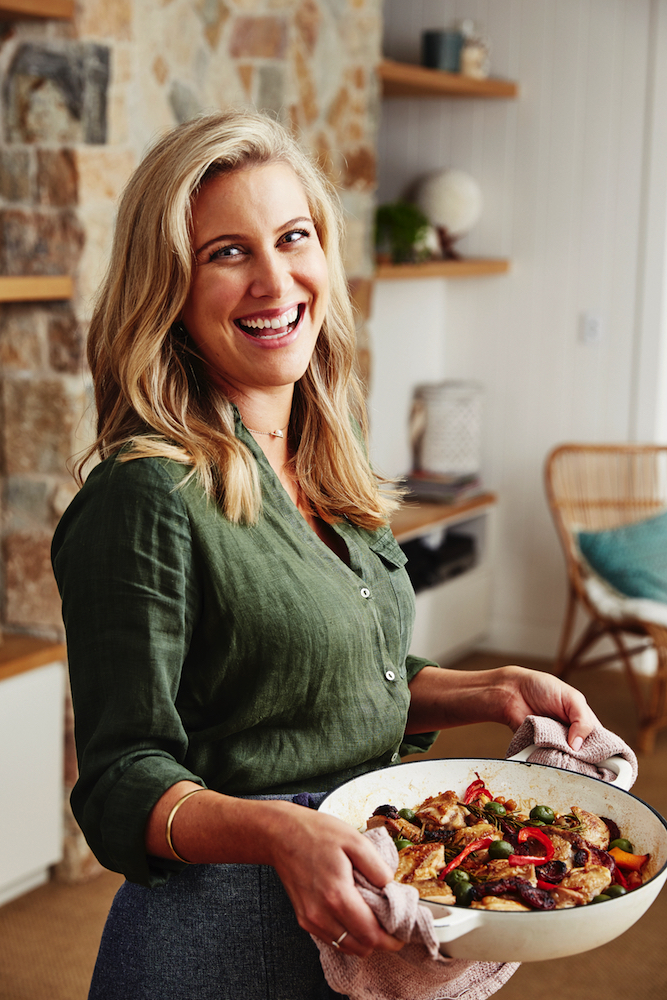 The secret to turning out quick and easy weeknight dinners is having a well-stocked pantry, fridge and freezer, as Justine Schofield demonstrates in The Weeknight Cookbook, published by Plum. Her recipes show how the pantry, fridge and freezer can do most of the work for you, taking all the stress out of preparing weeknight dinners.
The book's 100+ recipes are based on everyday staples, happily drawing on products such as canned fish and tomatoes, frozen spinach and peas, and various shortcuts. The recipe here, for Pork and Peanut Butter Hokkien Noodles, is about the longest recipe you'll find in the book, and even it takes only about half an hour from go to whoa.
Among the dishes which can become your new go-to meals are Easy-cheesy spinach gratin (frozen spinach + breadcrumbs + cheese); Fish and potato cakes with tangy tartare (canned fish + potato + yoghurt + pickles); and a lemony Greek chicken and pea tray bake (chicken + frozen peas + lemons + dried oregano).
Also in the book are various "Cheat Sheets" for pasta combinations, sauces and dressings, egg dishes, and very quick desserts. Schofield shows how you can add some weeknight magic with simple desserts such as Baked apple slippers (apples + puff pastry + sugar) or Tropical rice pudding (rice + milk + pineapple + spices).
Schofield made her TV debut in the first series of MasterChef Australia and since then has made a career of inspiring home cooks. She has had a long-running role as host of Channel Ten's Everyday Gourmet, runs a boutique catering company and is the author of bestselling cookbooks Dinner with Justine (2016) and Simple Every Day (2017).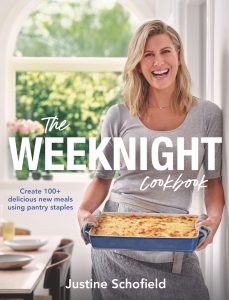 ---
Buy your copy of The Weeknight Cookbook from Book Depository now (free delivery worldwide).
Buy your copy of The Weeknight Cookbook from Australian-owned Booktopia.
---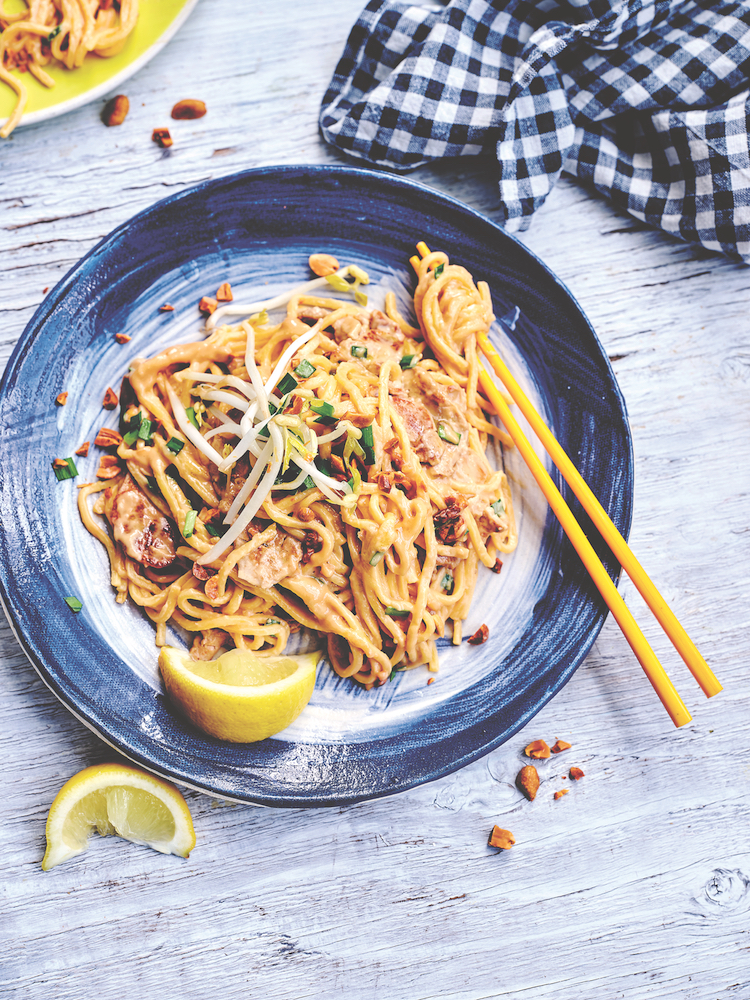 PORK AND PEANUT BUTTER HOKKIEN NOODLES
Serves 4
250 g thin hokkien noodles
1 tablespoon peanut oil
1 x 400 g pork fillet, trimmed and sliced as thinly as possible (about 3 mm thick)
salt flakes
1 small handful of garlic chives, snipped into 2 cm lengths
2 handfuls of bean sprouts
1 handful of toasted unsalted peanuts
lemon wedges, to serve

SAUCE
125 g (½ cup) crunchy peanut butter
2 tablespoons soy sauce
1 teaspoon honey
juice of ½ lemon
pinch of chilli powder or chilli flakes
1 garlic clove, finely grated
To make the sauce, combine all the ingredients in a small saucepan, add 125 ml (½ cup) of water and whisk over medium heat until smooth and the consistency of thickened cream. If the sauce is too thick, add a little extra water. Prepare the noodles as per the packet instructions. Drain and place in a large bowl. Drizzle the oil over the pork, season with salt and massage in with your hands. Heat a large non-stick frying pan over high heat and stir-fry the pork in batches (so the pan is not overcrowded) for 30-60 seconds on each side until nicely charred.
Add the pork, most of the chives, the sauce and 1 handful of bean sprouts to the noodles. Toss until the noodles and pork are coated in the sauce. Arrange the noodle mixture on a serving platter, scatter over the peanuts and remaining bean sprouts and serve with the remaining chives sprinkled over the top and the lemon wedges on the side.
Recipe and images from The Weeknight Cookbook, by Justine Schofield. Published by Plum and reproduced with the publisher's permission.
This story originally appeared in PS News.