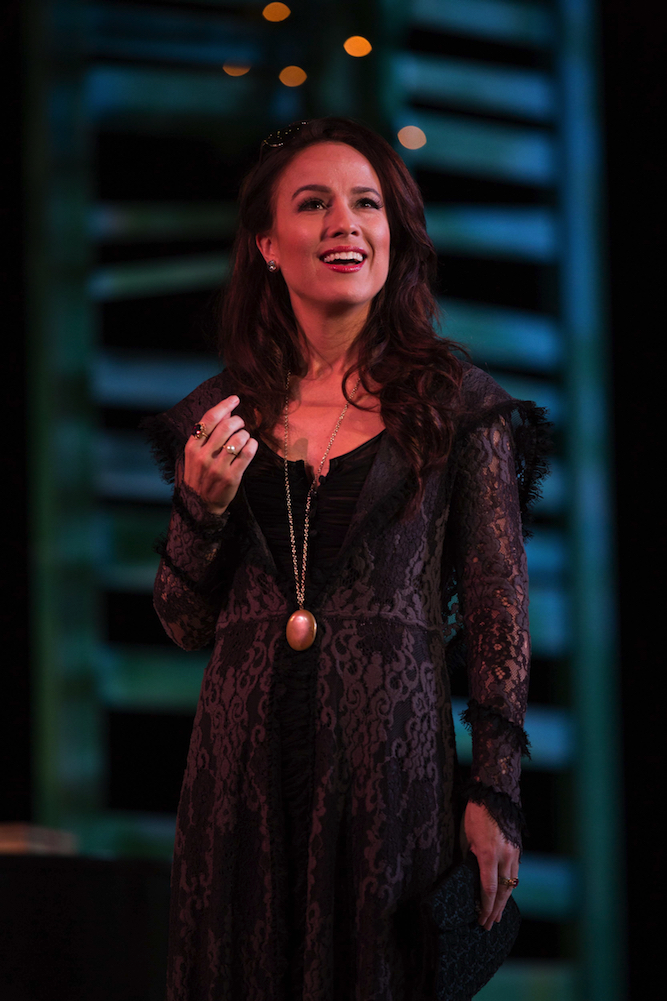 Queensland Theatre in association with Queensland Performing Arts Centre presents Twelfth Night by William Shakespeare.
I had previously seen a performance of Twelfth Night in a traditional setting with traditional costumes, but the Queensland Theatre production is something special and unique. It's twelfth night in a crowded house. In a 'crowded house'? I hear you ask. Yes, because it has the added appeal and benefit of the music of Tim Finn, as well as a clever set that keeps most of the cast on stage in various sections of smaller settings, as the whole thing revolves on an inner circle while actors exit and enter on an independently revolving outer circle. If that sounds confusing, it's nothing compared to the confusion and antics of the actors and the play itself. This set and stage mean that the action is fast and frantic, giving the play the madcap appeal that Shakespeare most likely intended.
Twelfth Night is one of Shakespeare's lesser known works and not performed as often as many of his other plays. It was written as a comedy and a bit of fun to be performed on the twelfth night after Christmas – hence the name. It is a play of mistaken identity, cross dressing and the lunacy of love sickness. For 400 years it's been a model for other plays and stories of bedroom farce and ultimately Hollywood romantic comedies.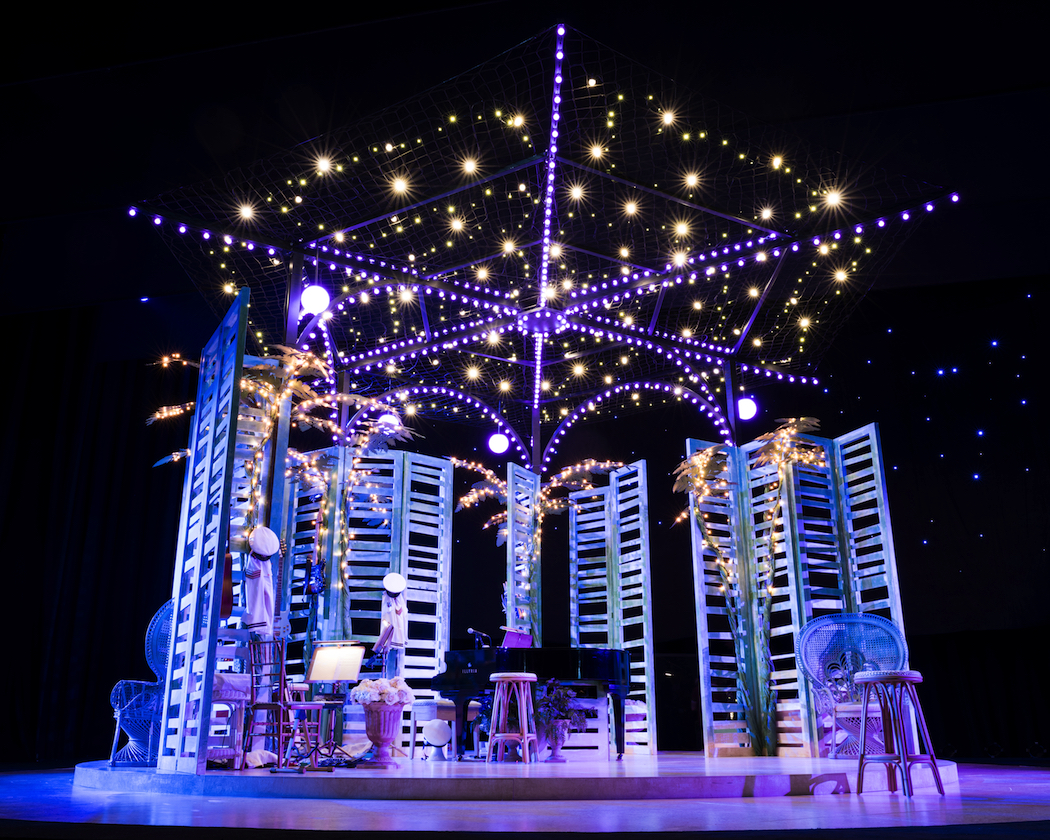 Many of the characters are just a bit over the top, particularly Sir Toby Belch, the drunken uncle of Olivia (Liz Buchanan), played by Bryan Probets, and Malvolia, Olivia's head steward, played by Christen O'Leary. Her characterisation of Malvolia as the self-righteous wowser in a bell hop outfit produces some of the funniest moments of the play. In the original play 'Malvolio' is male, but director Sam Strong has made the character female, further complicating the love triangle between Orsino (Jason Klarwein), Olivia and Viola (Jessica Tovey), disguised as Orsino's servant Cesario. A modern twist maybe, but it adds to the uncertainty of gender and sexuality that already makes this play wonderfully weird.
Our language now contains much of Shakespeare's invented words, expressions and sayings. Probably the best known from Twelfth Night is, "If music be the food of love, play on". This line at the beginning of the play sets a tone and expectation that creates the ideal opportunity for Tim Finn's music. This modern musical addition also gives the play more pace and vibrance. I was lucky enough to catch up with Tim Finn after the performance and he told me that he was very grateful for the confidence that director Sam Strong showed in him to compose the music.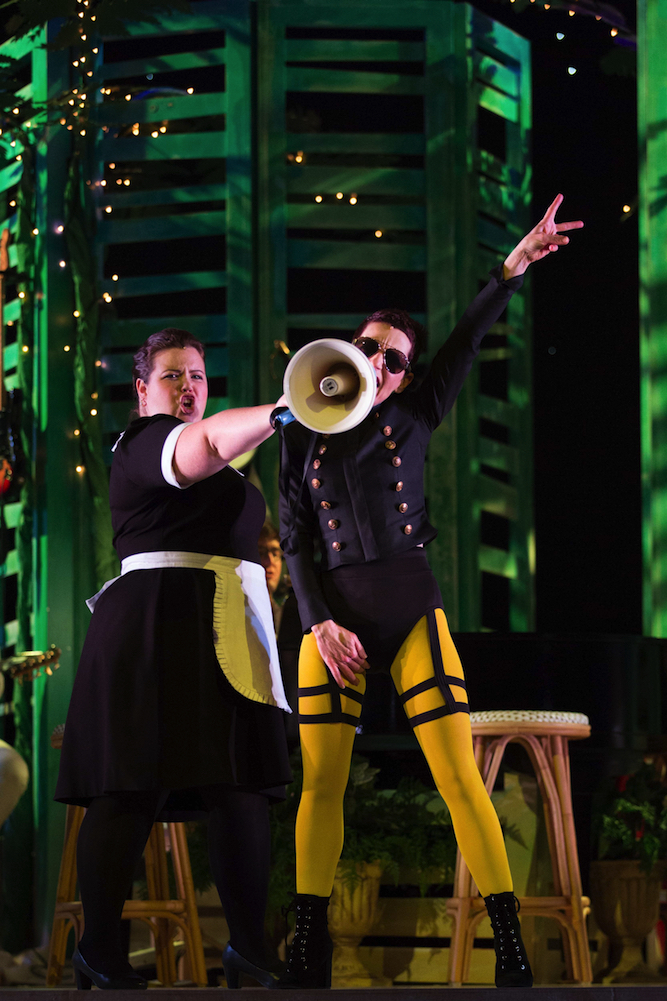 He also thought that Shakespeare and this play in particular has a lyrical sense and a rhythm in the dialogue that lends itself to a musical score. That score is performed by four talented musicians, James Dobinson, Alanna Ritchie, Arun Roberts and Dominic Woodhead, who play on stage as part of Duke Orsino's court. The cast, also including Sandro Colarelli as Feste, Kathryn McIntyre as Maria and Colin Smith as Sir Andrew Aguecheek give full voice to Tim Finn's score in a way that Shakespeare himself would have loved.
Shakespeare is not everyone's cup of mead and if you don't acquaint yourself with the plot beforehand you may have trouble following the action and working out who is who and even who is not who in Twelfth Night. QPAC's production should, however, appeal to many younger people who would not necessarily go to see Shakespeare performed the traditional way. With Tim Finn's music, a clever set, strange costumes and an all-singing all-dancing cast, this is not traditional. It is beautifully wacky.
Twelfth Night is on at QPAC's Playhouse Theatre until May 19.
Photos used with the permission of Kath Rose & Associates. Food Wine Travel was a guest of Queensland Theatre.