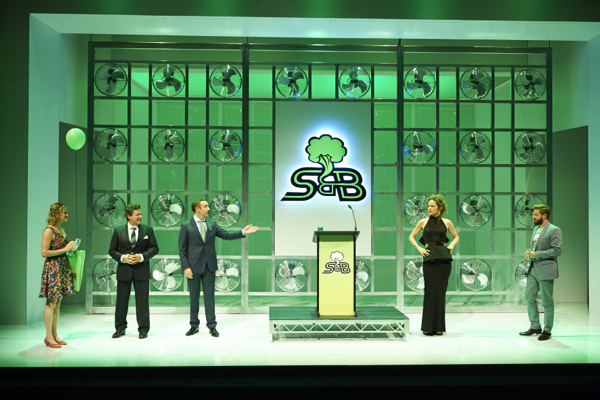 Gasp! is a blast of fresh topical air that will leave your head spinning. It's a very clever rework of Ben Elton's first professional play, Gasping, originally performed in London in 1990 and masterfully adapted to the socio-political landscape of 2014's Team Australia.
If you're wondering where the mining lobby will go after most of Australia is dug up and exported to China, then take a deep breath because you're about to be paying for your fresh air courtesy of Chifley Lockheart and Lockheart Industries (bigger than Gina and Clive put together).
Directed by Wesley Enoch, Gasp! is a joint production between the Queensland Theatre Company and the Black Swan State Theatre Company. It has a superb cast including Caroline Brazier, Damon Lockwood, Steven Rooke, Lucy Goleby and Greg McNeill as the non-PC, totally profit-oriented Chifley Lockheart.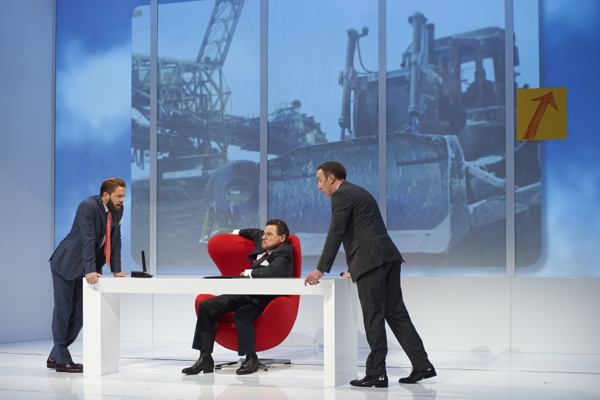 Damon Lockwood plays the part of Phillip who along with his corporate rival Sandy (played by Steven Rooke) are Chifley's top two corporate schemers. Pushed for solutions to the declining mining boom, Phillip is inspired by his girlfriend Peggy's asthma attack to acquire rights to the Suck n' Blow machine which, promoted by advertising guru Kirsten (Caroline Brazier), becomes a force 10 success and as indispensable as a mobile phone.
Peggy (Lucy Goleby) has serious moral reservations as Phillip and Lockheart get right off the Beaufort Scale with a monopoly on clean air. Disaster looms.
Christina Smith and Penny Cullen have done a superb job in keeping the set and audio visuals right up there with the very fast moving action and cyclonic script.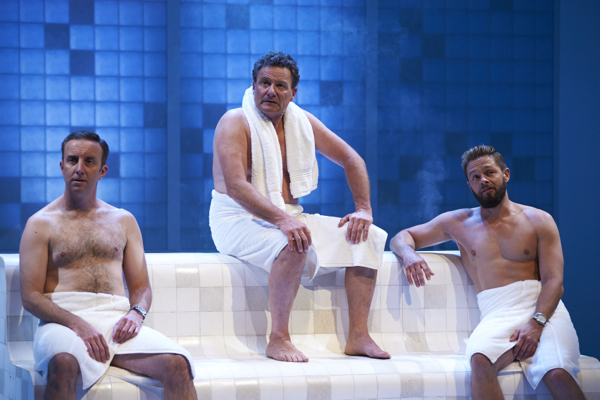 The Food Wine Travel team saw the premiere of Gasp! courtesy of the Queensland Theatre company. Christine worked very late the night before and wasn't sure she'd be able to stay awake. My job was to give her a nudge if she nodded off. I was too busy laughing and so was she and, judging by the audience reaction, the topical references to Australia's current political climate were spot on. Gasp! is not just mildly amusing – it's bloody funny.
We were delighted to see Ben Elton at the theatre enjoying the play. (Is enjoying the right word? It's probably excrutiating watching your own script being performed.) He made a surprise appearance on stage for the curtain call.
This play is a great end to the Queensland Theatre Company's 2014 season and looking at what's coming up for the 2015 season it may be wise to start marking some dates.
Gasp! is on at the Playhouse, Queensland Performing Arts Centre, until December 7.
Details: queenslandtheatre.com.au
With thanks to Kath Rose & Associates for the first 3 images.