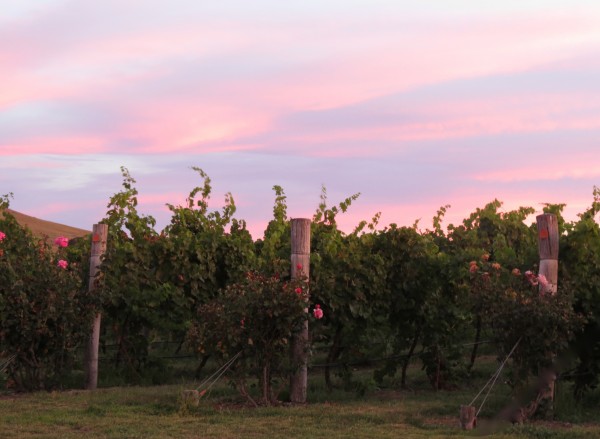 If Four Winds Vineyard had held its Bicycle Short Film Night a week earlier, it would have been a washout.  A ferocious hailstorm passed through the area, sparing the vines but causing huge damage to a couple of nearby vineyards.
On this Saturday just past, it was a totally different story – the day was warm and sunny, and even after the sun went down, it was very pleasant indeed. What's more, we were rewarded with the most spectacular sunset over the vines.
This was the second year that the Lunney family has held their Bicycle Short Film Night. It looks set to become an annual event.
The night is held as part of Donate Life Week, a cause that is close to their heart after losing their son Tom two years ago while he was on the waiting list for a heart-lung transplant.
All the family were involved in the film evening, including Graeme and Suzanne's daughters, winemaker Jaime Crowe and business manager Sarah Collingwood; Jaime's winemaker husband Bill, and Sarah's husband John, who manages the vineyard.
Their easy-drinking Alinga 2009 Sangiovese went down a treat with pasta, which we ate while sitting on hay bales, watching the sun go down. I also really love Four Winds' 2011 Riesling. The variety thrives in this region and the result is a crisp, elegant wine with lively citrus notes.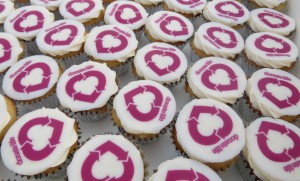 There were cute little cupcakes, courtesy of Donate Life, and fabulous chocolate brownies, freshly baked in the Lunney kitchen to a recipe that Suzanne has been perfecting for years.
I can't begin to tell you how good the Brownies were, and if you scroll through to the end of this post, you'll find the recipe.
A few keen souls arrived at the vineyard in Murrumbateman by bike – fitting, as the films were all bicycle-themed.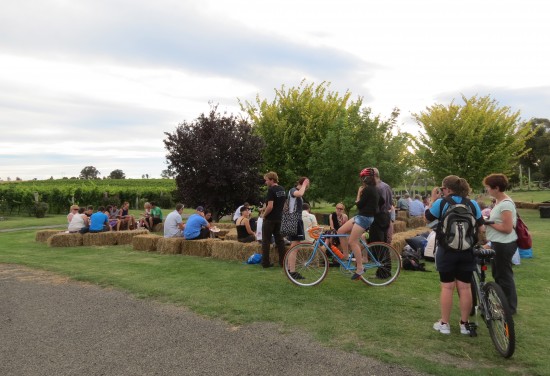 Among the films were Smile for Future, which follows two BMX riders as they bring joy to kids in Japan's tsunami affected region; a mountain bike flick called Follow Me; Little Green Bike from the Toward CarFree Cities Conference; and a short doco on Deadly Treadlies, a project that provided bikes for Indigenous communities in central Australia.
As we watched the films on the big outdoor screen, the sky was streaked with ribbons of pink, gold and red. Here's how it changed over the course of an hour.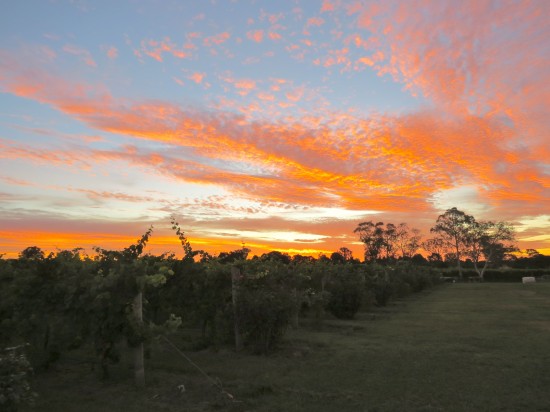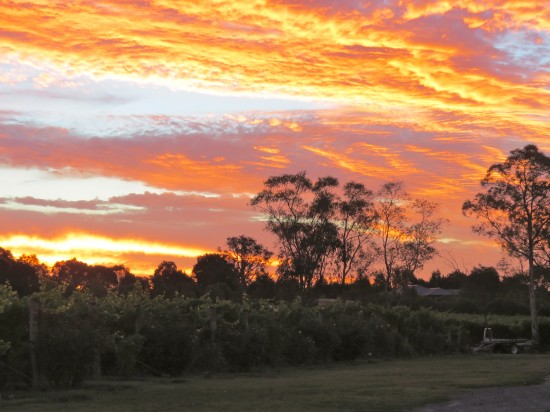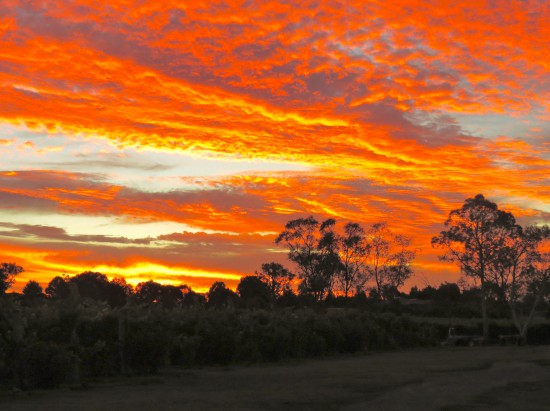 Now isn't that just something? We really are blessed with beautiful sunsets in this part of the world.
Sarah reminded us that while Australia is a world leader for successful transplant outcomes, it has one of the lowest organ donation rates in the developed world.
That's why it's so important to register on the Australian Organ Donor Register and to make your wishes known to your family. See www.donatelife.gov.au for more details.
Four Winds Vineyard is at 392 Murrumbateman Road, a half hour drive north of Canberra. www.fourwindsvineyard.com.au
CHOCOLATE BROWNIES
190g butter
280g dark chocolate, chopped
1½ cups caster sugar
3 tsp vanilla essence
3 eggs
1½ cups plain four
¾ cup chopped walnuts
Grease a deep 19cm square cake pan, line base with paper; grease paper.
Melt butter and chocolate in a saucepan over hot water.  Transfer mixture to a large bowl.
Stir in sugar and essence then eggs, sifted flour and pecans.
Pour mixture into prepared pan, bake in moderate over for about 30 minutes, cool in pan.
Recipe courtesy of Four Winds Vineyard.