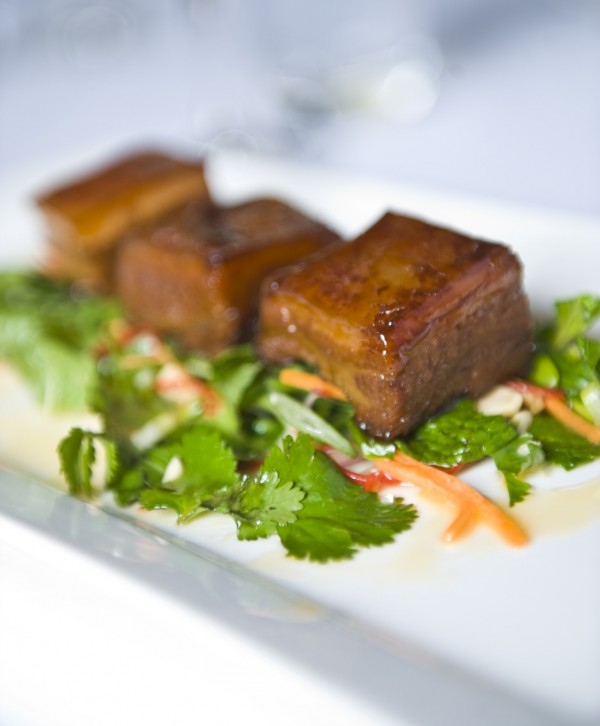 In the early 1800s, when European explorers were assessing South Australia's McLaren Vale region for future farming, they noted that the "wide valley … gave promise of much beauty and fertility".
They were right on both counts, for it would have to be one of the country's prettiest wine regions, with rolling hills and the sea as a backdrop.
The Mediterranean-like climate of cool winters and hot, dry summers tempered by cooling breezes from the sea ripens not just grapes but a great array of produce such as almonds, olives, avocados, stone fruits and berries.
Woodstock Estate proprietor Scott Collett continues a winemaking tradition started by his father Doug more than 30 years ago.
The winery's Coterie restaurant nestles among century-old gum trees, with rammed earth walls and glass windows and doors framing the native garden.
Executive chef Nigel Munzberg has worked at various 5-star hotels and iconic restaurants in South Australia, including Magill Estate, Blake's Restaurant at the Hyatt and Grange Jetty Kiosk.
Scott Collett is responsible for Woodstock's fortified wines, and assists winemaker Ben Glaetzer in making the table wines, including their superb flagship Shiraz, The Stocks.
Munzberg has provided the following recipes for dishes from his contemporary Australian menu.
The Sticky Pork Belly is a labour of love but oh so worth it.
More information: www.woodstockwine.com.au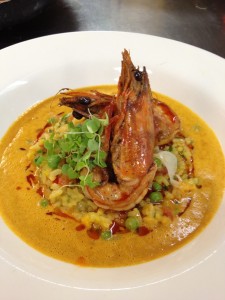 FOAMED PRAWN BISQUE SAUCE
Serves 10-12 at 60ml per serve
100ml olive oil
300g prawn heads (shells washed/oven roasted)
12 shallots, peeled & sliced
1 leek washed, cleaned & sliced
1 stick celery, washed & finely chopped
2 carrots, peeled & finely chopped
4 tomatoes, diced
4 tbs tomato paste
2 tsp Cognac/Brandy
200ml Woodstock Chardonnay/White Wine
1000ml fish stock
500 ml thickened cream
1 bay leaf
pinch of saffron threads
sea salt & white pepper to taste
Heat half of the olive oil in a saucepan and sauté the prawn heads and shells, until they are golden in colour. Put to one side.
In another saucepan, heat the remaining olive oil and add shallots & leek. Sauté until golden in colour then add the celery, carrot and the tomato and continue to sauté until the vegetables achieve the same colour.
Add the tomato paste, prawn heads/shells, bay leaf, pinch of saffron threads and sweat off until the paste starts to stick to the bottom of the saucepan. At this point, de-glaze the saucepan with the Cognac/Brandy. Once the pan has been de-glazed, add the white wine and fish stock & simmer to reduce to a third.
Add thickened cream and bring to the boil. Reduce to desired consistency.
Using a stab mixer with a sharp blade, puree until it starts to look like a sauce.
Strain through a coarse sieve and then a fine sieve to remove any shell so you are left with a smooth creamy sauce.
Place back into a clean saucepan; bring sauce to the boil, season to taste, blitzing with a stab mixer just before serving to aerate the sauce.
STICKY PORK BELLY
Serves 4
1 kg piece of pork belly
3 litres Asian stock
1 quantity sticky soy caramel
1 quantity lime and chilli dressing
500ml peanut or sunflower oil
Asian Stock
3½ litres chicken stock
1 large knob of ginger (about 50g), peeled
6 garlic cloves, smashed
2 star anise
2 green chillies, split
2 cinnamon sticks
Zest of 4 oranges
400ml Chinese Shao Xing rice wine
500ml light soy sauce
500ml dark soy sauce
300g palm sugar
Combine all the ingredients in a large casserole dish or saucepan and bring to the boil. Reduce the heat and allow to simmer uncovered for 20 minutes.
Check taste balance: add more soy sauce if you prefer it saltier, more sugar if it should be sweeter or add more Chinese wine for a more aromatic flavour.
Remove from the heat, allow to cool in an ice-filled sink, and then strain into a suitable container. Refrigerate for up to 1 week, or freeze for up to 1 month.
Sticky Soy Caramel
Makes 125ml
125ml light soy sauce
125ml fish sauce
500g palm sugar
75ml water
1 tbs chilli  flakes
Place all ingredients into a saucepan, bring to the boil and cook down to a caramel-like consistency. Remove from the heat and pass through a fine sieve into a suitable container and refrigerate for up to 1 month.
Lime and Chilli Dressing
Makes about 250ml
250ml peanut oil
3 garlic cloves, thinly shaved
30g dried shrimps
Juice of 15 limes or 275ml lime juice
5 bird's eye chillies
1 bunch of mint
300g caster sugar
1 tbs fish sauce
Heat oil in a wok or suitable pan to 180˚C. Line a tray with paper towels.
Once the oil is the correct temperature, shallow-fry the garlic on a spatula or spoon until almost golden, then remove. Fry shrimps in the same way.
Combine garlic and shrimps with lime juice, chillies, mint, sugar and fish sauce in a food processor and liquidise. Adjust seasoning if necessary and pass through a fine sieve. Refrigerate dressing if required.
Thai Herb Salad
½ green papaya, peeled and finely sliced
1 large carrot, julienned
75g peanuts
Salt and freshly ground black pepper
2 long red chillies, deseeded and julienned
2 red onions, halved and finely sliced
1 bunch spring onions, finely sliced on the angle
½ bunch Thai basil leaves, diced
½ bunch mint, leaves only
½ bunch coriander, leaves only
Cook the pork the day before you intend to serve the dish. Cover the pork belly with the prepared Asian stock in a heavy-based roasting tray. Place greaseproof paper with a small weight on the top to keep the pork submerged during the cooking process. Bring to the boil. Simmer very gently for 3 to 4 hours in the oven at 160˚C. When cooked, the pork should be very soft and gelatinous to touch.
Drain the pork (reserving the stock in the refrigerator for future use) and put it onto a tray. Place a sheet of greaseproof paper on the top on the pork, followed by another tray and heavy weight. Allow to cool then refrigerate overnight. This ensures the pork cools flat and evenly, which will enable you to cut it into even portions.
Prepare the Sticky Soy Caramel and Lime and Chilli Dressing.
Lightly roast the peanuts in peanut oil in a frying pan over a constant low heat until golden-brown. Drain, season and chop finely.
Heat the Sticky Soy Caramel in a saucepan over a medium heat until the consistency will coat the back of a spoon. Keep warm, covered with a lid.
Remove the pork from the refrigerator and trim any fatty excess from the sides, so you are left with a perfect rectangle. Cut the pork into cubes, about 3 to 4 per person.
Baste the pork with the caramel and place skin side down on a non-stick pan, then into a hot oven for 8 to 10 minutes.
Toss together the carrot, chillies, onions and herbs with the Lime and Chilli Dressing and place on long narrow serving plates.
Place the pork skin side up on top of the salad, then sprinkle with the roasted peanuts and drizzle over a little more Lime and Chilli Dressing.
Enjoy with 2009 Woodstock Cabernet Sauvignon.
Recipe courtesy of Nigel Munzberg, inspired by the Botanical Restaurant, Melbourne.