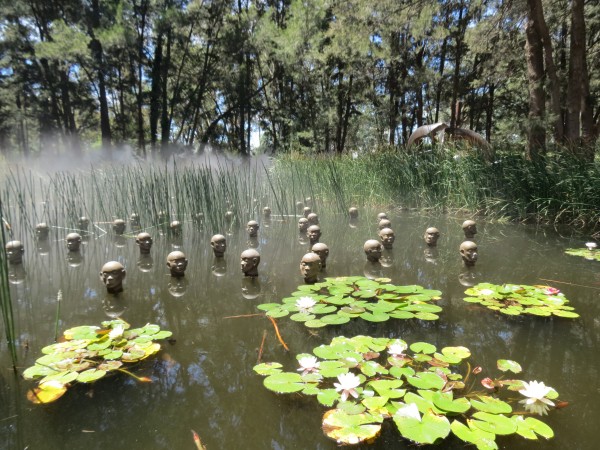 The view over the reed pond at the National Gallery's Sculpture Garden Restaurant is one I never tire of.
It was a perfect setting for the launch of James Kidman's Renaissance Table cookbook, produced in conjunction with the Gallery's Renaissance exhibition.
Sadly, it's a view that Kidman is leaving behind as he finishes up next month with Ten and a Half Caterers, the company that has the catering contract for the gallery.
Kidman will undergo knee surgery and take a break with his partner and baby before exploring new opportunities.
But before he takes to the road, he will oversee two very special dinners, which sound truly sumptuous, if you can come up with the $250 ticket price ($235 for gallery members).
The dinners will be held in the Gallery's very grand Gandel Hall on Saturday, March 3, and Saturday, March 10 March.
For those who love both art and food, it will be a chance to combine both passions, with an evening viewing of the Renaissance exhibition, followed by an Italian-inspired three-course dinner with fine Italian wine.
At the launch of the cookbook late last month, Kidman's team cooked some of the dishes from the book. Here's what we dined on and the wines we enjoyed:
Aperitivo
Risotto of stinging nettles, Castelrosso, pinenut praline
Grilled scampi wrapped in lardo
Gnocchi, burnt sage butter and hazelnuts
Marinated olives
Grissini with sea salt
2010 Silvano Follador Prosecco di Valdobbiadene DOC- Veneto, Italy
2009 Tenuta delle Terre Nere Etna Rosato DOC (Nerello Mascalese) – Sicily, ItaIy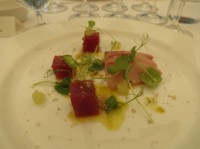 Crudo
Tuna & kingfish with cucumber & lemon pepper dressing
2011 Nick O'Leary Riesling – Canberra District
Pesci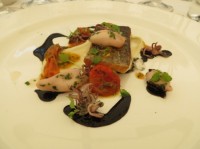 Mulloway with bottle squid
2010 Mac Forbes Gruyere Chardonnay – Yarra Valley
Carne
Rolled leg of lamb with spinach and pear puree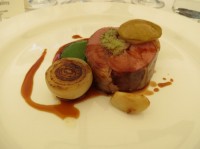 2008 Antinori Tignanello  Toscana IGT (Cabernet Sauvignon Sangiovese Merlot) – Tuscany, Italy
Contorni
Buckwheat polenta with burnt sage butter
Snow pea tendril and orange salad
Dolci
Dark chocolate semifreddo with peanut icecream
2003 lsole e Olena Vin Santo dei Chianti Classico DOC (Malvasia Trebbiano)  – Tuscany, Italy
***
It was a divine menu – the lamb beautifully cooked, the polenta deliciously buttery and, well, what can I say about the yummy semifreddo. It's definitely worth trying at home. The recipe is reproduced below.
The Sculpture Garden restaurant is a "pop-up" restaurant that operates in conjunction with major exhibitions at the Gallery, and for special functions. It provided a glorious backdrop for Kidman's beautiful food.
Renaissance closes on April 9, 2012.
For Renaissance tickets and dinner bookings: 132 849 or www.ticketek.com.au
Information about the Enlighten festival: www.enlightencanberra.com
Related blogposts:
Renaissance exhibition, National Gallery of Australia
More recipes from James Kidman's Renaissance Table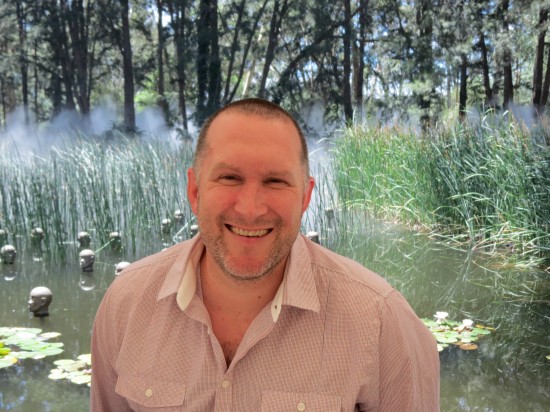 DARK CHOCOLATE SEMIFREDDO WITH PEANUT ICECREAM
Serves 6
Step 1
450 g dark chocolate
95 g butter
Step 2
100 g egg yolks (about 5 yolks)
50 g sugar
Step 3
500 ml thickened cream
Step 4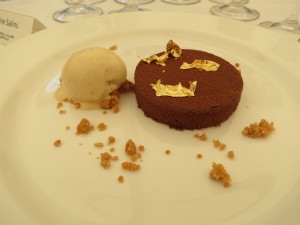 180 g egg whites (about 5 whites)
350 g sugar
80 ml water
1 tablespoon glucose
Chocolate coating
100 g dark chocolate, chopped
100 g cocoa butter
To garnish
1 sheet gold leaf
To serve
peanut icecream (see below)
To create the frosted chocolate effect you will need a paint spray gun, available from hardware stores.
For the semifreddo:
Step 1: Melt the chocolate and the butter over a simmering water bath.
Step 2: Whisk the egg yolks with the sugar until light and pale.
Step 3: Whisk the cream until soft peaks form.
Step 4: Whisk the egg whites until firm peaks form; meanwhile place the sugar, water and glucose in a saucepan and cook on a high heat until it reaches 114°C. Allow the sugar mixture to cool slightly, then
pour into the egg whites and allow them to incorporate. Divide the mixture between six 8 cm moulds and freeze.
For the chocolate coating:
Remove the frozen semifreddos from their moulds. Melt the dark chocolate with the cocoa butter in a bowl over simmering water. Place the mixture in a paint spray gun and from approximately 50 cm
distance spray the semifreddos until completely covered. This will create a lovely outer texture. Return to the freezer until ready to serve.
To serve:
Place each semifreddo on a plate, put a little gold leaf on top of each, using a palette knife or tweezers to give a touch of added elegance.
Serve with peanut icecream.
VANILLA ICECREAM
Serves 6
500 ml milk
500 ml cream
2 vanilla pods, split
12 egg yolks
300 g sugar
Heat the milk, cream, vanilla pods and half the sugar in a saucepan to just below boiling. Stir continuously until the mixture coats the back of a spoon. Remove  from the heat.
Whisk the egg yolks and the remaining sugar together until pale. Slowly pour in the milk and cream mixture and incorporate fully. Allow to cool and churn in an icecream machine.
PEANUT ICECREAM
Serves 6
The crunchy peanut butter gives a delightful texture to this dessert.
1 litre vanilla icecream mixture, unchurned
4 tablespoons crunchy peanut butter
Combine the ingredients and churn in an icecream machine.
Recipes from James Kidman's Renaissance Table. Published by National Gallery of Australia, 2012.