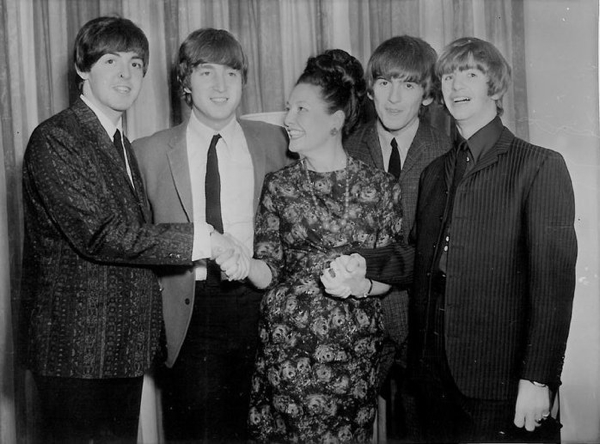 This week we've been experiencing Beatlemania. Earlier in the week, we watched When the Beatles drove us wild, a one-hour documentary on the ABC about the band's one and only trip Down Under in June 1964. It's hard to believe that it's 50 years since the Fab Four set foot in what was then a sleepy and socially conservative backwater (and, dare I say it, one that our current prime minister seems hell-bent on taking us back to).
In Adelaide, half the population turned out to welcome them. In Melbourne, fans queued for three days to buy tickets. In Sydney and Melbourne, the army was called in to maintain the peace. Although the Beatles' appeal spans the generations, anyone who remembers those times is – big gulp – old. Young at heart perhaps, but old! And so there were a lot of ageing rockers at the National Film and Sound Archive last night for The Beatles Down Under Special in The Vinyl Lounge.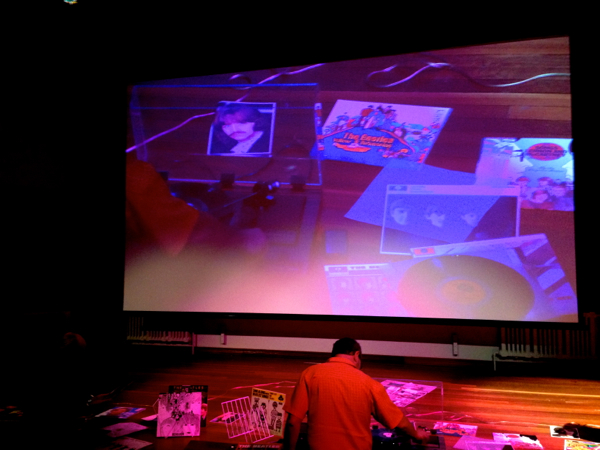 Anyone who hasn't discovered the NFSA's Vinyl Lounge doesn't know what they are missing out on. Normally held on Sunday afternoons and an opportunity for vinyl lovers to groove along to their favourite records, it's held in the NFSA Theatrette, a gorgeous space with tiered seating, art deco fittings and beautiful woodwork.
In celebration of 50 years since The Beatles landed in Australia, the NFSA hosted a special Vinyl Lounge last night where fans could listen to their records, hear archival interviews, see rare newsreel and television footage of the tour, and reminisce.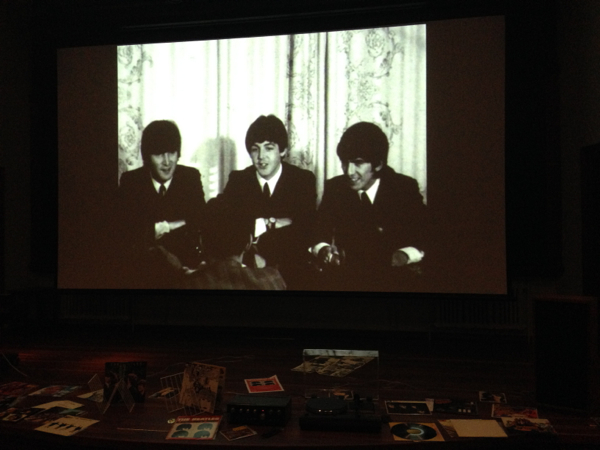 There were some who couldn't remember the 60s – either because they weren't old enough or because the 60s had passed them by … I am the egg-man, I am the walrus, goo goo g'joob … Others reminisced about visiting The Cavern Club, where The Beatles got their start.
One man told the story behind Norwegian Wood – on good authority, he said, because as a young man in England he had sat around a table drinking with a lot of now very famous people. He refused to be drawn on who the famous people were but was adamant that the song referred to John Lennon's unrequited love for a woman living in the apartment above.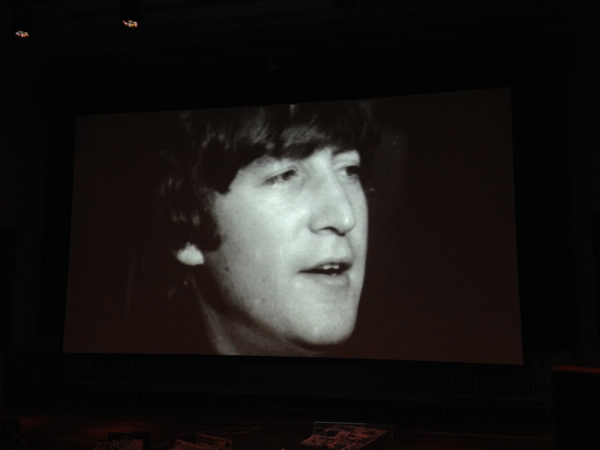 To mark the anniversary of The Beatles' tour, the NFSA has published a previously unheard, unedited Binny Lum interview with three of The Beatles, recorded in London in April 1964. Have a listen to it on the NFSA website.
On Friday, June 20, at 2pm, the NFSA will screen Good Ol' Freda, a documentary with Liverpool's Freda Kelly looking back on her long career as The Beatles' secretary. It's one of the Silver Screenings in the NFSA's Arc Cinema, which as many Food Wine Travel readers might know from an earlier post, is one of our favourite Canberra institutions. What you might not know is that a lot of changes are currently underway at the National Film & Sound Archive and in my humble opinion, it's very sad.
I'm particularly devastated that the cinema program at Arc is being wound down, as it is truly one of the country's finest cinemas. The NFSA shop, where I often bought gifts, is also closing and will now only operate online. With this, and last year's closure of the NFSA's quirky, cinema-themed café, there's a generally despondent feel about this much-loved institution.
So please, if you want to see the National Film & Sound Archive retain a vibrant public face in Canberra, make your voice heard and come along to see Good Ol' Freda on June 20 as a show of support.
Related post: NFSA's Arc Cinema: Heaven In The City.
Top photo: Australian broadcaster Binny Lum with The Beatles at the Southern Cross Hotel, Melbourne, June 14 1964. (Bauer Media)