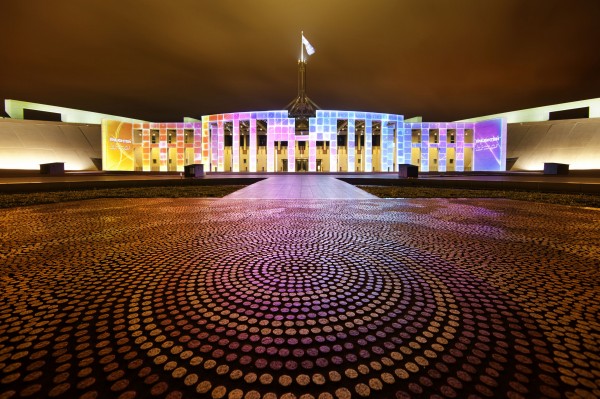 Canberra is in party mode. It's not a significant birthday – that comes next year when it celebrates its Centenary. But with many new attractions and a great line-up of things to do over the coming months, the National Capital is kicking up its heels.
The Canberra Festival has hit its straps this year, with 17 days of fabulous experiences (fingers crossed the weather will continue to behave). Incorporated in the festival is Enlighten, with spectacular projections illuminating various Parliamentary Triangle landmarks.
Visitors are being invited to "see Canberra in a whole new light" and I think you'll agree with me that this is the old girl as you've never seen her before.
When I look at the long list of things to do in the next few months, I know exactly why it is that I love living here.
Happy birthday Canberra
The Canberra Festival features more than 50 events between March 2 and March 18, including the city's 99th birthday bash, Celebrate in the Park, on March 12.
Free events include the Australian Ballet celebrating its 50th birthday with Ballet in the Park on March 16, and Symphony in the Park – Hollywood Hits with the Canberra Symphony Orchestra on March 11.
Another highlight is the Balloon Spectacular, from March 10 to 18, proof that the corridors of Parliament House are not the only place for hot air. Watch dozens of hot-air balloons being launched from the lawns of Old Parliament House.
To check that the balloons are going up, call 13 22 81 from 6am or tune into a local radio station.
Festival enquiries: 13 22 81. www.canberrafestival.com.au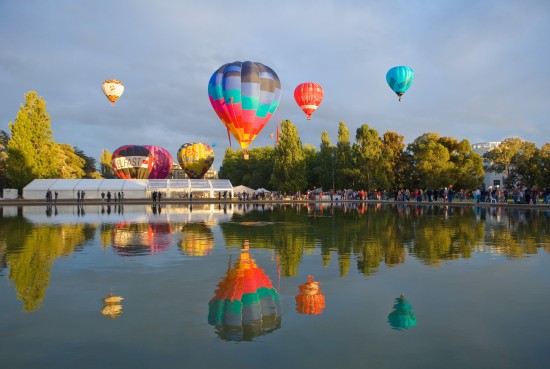 Stop and smell the roses
One of Canberra's loveliest and least known attractions is the Old Parliament House rose garden, where many an outdoor party was held during a more gracious era.
The historic garden has been beautifully restored with the addition of seating pavilions, pergolas and rose arbors.
It's worth a visit at any time but on March 9 it will be the setting for 12 short films in Lights! Canberra! Action!
The budding filmmakers are finalists in a competition in which they were given 10 days to produce a seven-minute film themed around the centenary of Walter Burley Griffin's winning plan for Canberra.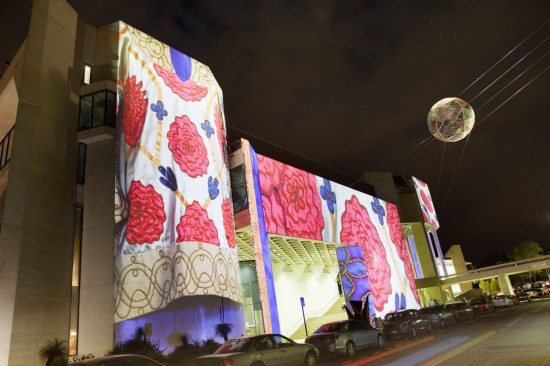 A Renaissance of the Arts
The National Gallery of Australia has developed a formidable reputation for its blockbuster exhibitions. It would be hard to beat the 2010 summer exhibition, Masterpieces from Paris, when the crème de la crème of modern art dazzled visitors.
Nevertheless the gallery is having a good shot at it with Renaissance, featuring splendid 15th and 16th century works by Raphael, Botticelli, Titian and Bellini.
If that isn't enough to entice you, the Gallery is holding two very exclusive dinners on March 3 and 10 when its executive chef, James Kidman, formerly of Otto in Sydney, will prepare three courses of Italian-inspired food, matched with Italian wine.
The evening includes a viewing of the exhibition, a talk by head curator Christine Dixon, and Kidman talking about his new cookbook, Renaissance Table.
The dinners are among 35 events at 11 venues that are being held as part of the Enlighten program on March 2, 3, 9 and 10.
Many of the events have free entry, and seven major attractions will open at night.
Among the ticketed events are some magical dining experiences. These will see tables popping up in secret locations throughout the Parliamentary Triangle, with surprise menus created by award-winning restaurants Sage and The Ginger Room.
The Australian story
When the National Library held its Treasures exhibition a decade ago, people camped overnight and the Library opened around the clock to meet the demand.
Its success was the inspiration for the Library's permanent new Treasures Gallery, displaying some of the Library's finest books, manuscripts, photographs and objects, many of which have never been displayed before.
See James Cook's Endeavour journal, Edward Koiki Mabo's papers, Patrick White's glasses, William Bligh's list of mutineers, the original manuscript for Waltzing Matilda and more. Woven together, they tell the Australian story.
The Treasures Gallery could keep you occupied all day, but if that's not enough, the Library also has Handwritten, until March 18. This exhibition from the Berlin State Library spans more than 1,000 years of manuscripts, letters, sketches and musical scores written by major figures in history, including Galileo, Mozart and Einstein.
Handwritten will open over four nights during Enlighten; the tickets are free but you need to book as a timed entry applies. And here's a treat: pianists Anthony Smith and Adam Cook will play Beethoven's Symphony No.5 in C minor in the foyer of the Library, before you go into the exhibition to see Beethoven's sketch material for the work.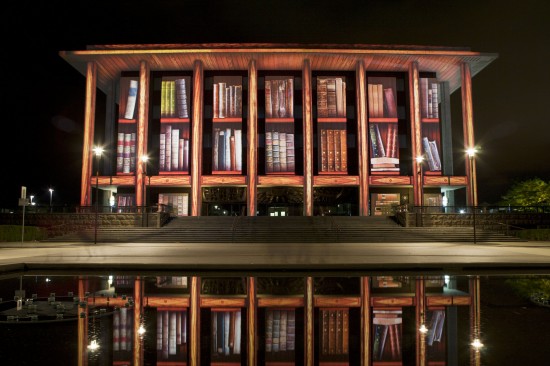 Shake your family tree
Canberra is ideal for searching out your place in the Australian story. For anyone researching their family history, the Australian War Memorial, the National Library and the National Archives all hold records that are easily accessed.
On March 31, the National Archives will hold its annual open day where you can take part in seminars, tours and online searches to unearth your family history.
It is also the setting for Antarctic Soundscape, a free evening event on March 9 and 10 in which you can view archival footage while experiencing the guttural snorts of elephant seals and the sounds of ice sheets stretching.
On the same nights, Antarctic Inspirations is a ticketed event in which harpist Alice Giles shares music and imagery of her journey to Antarctica (she took her harp with her).
Tel: (02) 6212 3600 or www.naa.gov.au
Bush capital
At various times of the year, you can breakfast with the birds at the Australian National Botanic Gardens, but over four evenings in March, you can discover the magic of the gardens at twilight.
Although ribbons of bush wind their way through the entire city, giving it its moniker of the Bush Capital, the rainforest gully at the Gardens is a particularly special place to escape to.
During Enlighten, you can embark on a Family Adventure tour, with guides helping you search for creepy crawlies on the forest floor, shine a light into the tree tops and spy for nocturnal wildlife.
Tel: (02) 6250 9540. www.enlightencanberra.com.au
Call on the Governor General
If you happen to be in Canberra at the right time, it's a lot of fun to check out The Lodge and Government House on some of the rare days that they are open to the public.
Government House Open Day on March 18 will raise funds for The Smith Family and allow you to have a peek into the reception rooms at the Governor General's official residence.
Afterwards, you can wander in the grounds, enjoy a picnic and take in some entertainment. There'll be market stalls selling food and wine, arts and crafts, a storytelling tent, celebrity cook-offs and craft workshops.
Entry is $10 ($8 concession, $25 family). www.thesmithfamily.com.au/ghod
To market, to market
Canberra has some great markets, including the Capital Region Farmers Market, on Saturday mornings at Exhibition Park. It's one of the busiest and best farmers' markets in the country.
The Old Bus Depot Markets, every Sunday in Kingston, are a wonderful showcase for the region's arts, crafts and food. They regularly have themed days. International Day on March 18 will see stalls selling everything from Ottoman jewellery, Italian ceramic plates and Burmese textiles to Vietnamese lanterns, Afghan lapis jewellery and Japanese kimonos.
www.capitalregionfarmersmarket.com.au
Sample a top drop
Canberra is fast becoming known for its fine cool-climate wines and these days it is not hard to find a cellar door with a busy restaurant, a picturesque view or both.  More than 30 cellar doors and cafés will celebrate their harvest on the weekend of April 14-15.
During the Canberra District Wine Harvest Festival, see the vineyards at their best, enjoy special wine tastings and winemaking talks, listen to live music and indulge in some food and wine matching.
One of the great things about visiting the Canberra wineries is that most are boutique producers where there's a high chance you'll get to talk to the winemaker personally.
Listen to the music
There are folk festivals galore but the National Folk Festival, from April 5 to 9, is the one that tops the lot. The breadth of talent is extraordinary, and there's always a great vibe.
If classical, jazz and contemporary music is more your scene, the Canberra International Music Festival from May 11 to 20 offers an exciting program of international and Australian performers, often in settings with great ambience, such as embassy buildings, the art deco Albert Hall or against the backdrop of a beautiful landscape.
National Folk Festival: 1300 235 849. www.folkfestival.org.au
Canberra International Music Festival: (02) 6230 5880. www.cimf.org.au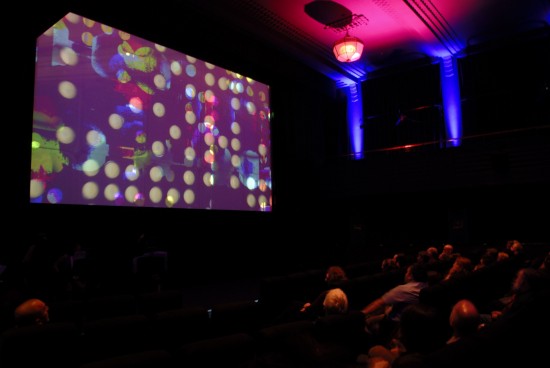 Pick of the flicks
Blending heritage design with state of the art technology, the art deco National Film and Sound Archive is home to Arc, one of Australia's finest cinemas. It offers a constantly changing program of movies and documentaries from all genres.
Every summer, there are outdoor screenings in the courtyard, and from March 3 to 12, it is hosting the Autumn Silents film festival, focused on early polar cinema heritage in celebration of the centenary of Sir Douglas Mawson's Australasian Antarctic Expedition.
In Autumn Silent's Shadows on White Ice program, audiences can see rare films of the early 20th century polar expeditions of Ernest Shackleton, Douglas Mawson and others that are less familiar.
The program also  includes the Australian premiere of The Great White Silence: the British Film Institute's restoration of Herbert Ponting's 1924 film of Captain Robert Scott's tragic 1910 'Dash to the Pole'.
The NFSA café, Teatro Fellini, is one of Canberra's quirkiest little cafés, with comfortable lounges and a cinematic theme.
Tel: 1800 067 274. www.nfsa.gov.au
Capturing the moment
In a triumph of architectural preservation, the early 20th century industrial building containing the Kingston Powerhouse was transformed into the Canberra Glassworks, a striking showcase for contemporary glass art.
As well as a shop and café, you can see glass artists at work, take a free tour on weekends, and on the first weekend of every month, take classes in glass making.
Until March 15, see Transition – A Captured Moment, a series of works by artist in residence Masahiro Asaka. It's his first solo exhibition and the pieces have an ethereal beauty.
Tel: (02) 6260 7005. www.canberraglassworks.com
Fulfilling a vision
The National Arboretum taking shape just 6km from Canberra's CBD has more than 22,000 trees planted on a 250 hectare site. They include Australian natives and rare and endangered trees from around the world, complementing an existing stand of 5000 Himalayan cedars and an historic cork plantation.
This is a scenic spot for walking or cycling, and on the second Sunday of the month there is an open day allowing you to drive your car on site.
The arboretum is still being developed but it has already been the setting for a spectacular outdoor concert, Voices in the Forest, and it looks set to be one of the city's finest assets.
The concept for the arboretum was born out of the bushfires that ravaged Canberra in 2003. Walter Burley Griffin envisaged such a project and it is fitting that 100 years after his plan for Canberra was adopted, this grand project should finally be taking shape.
www.nationalarboretum.act.gov.au
Fact file:
Canberra tourist information and accommodation packages: 1300 852 780