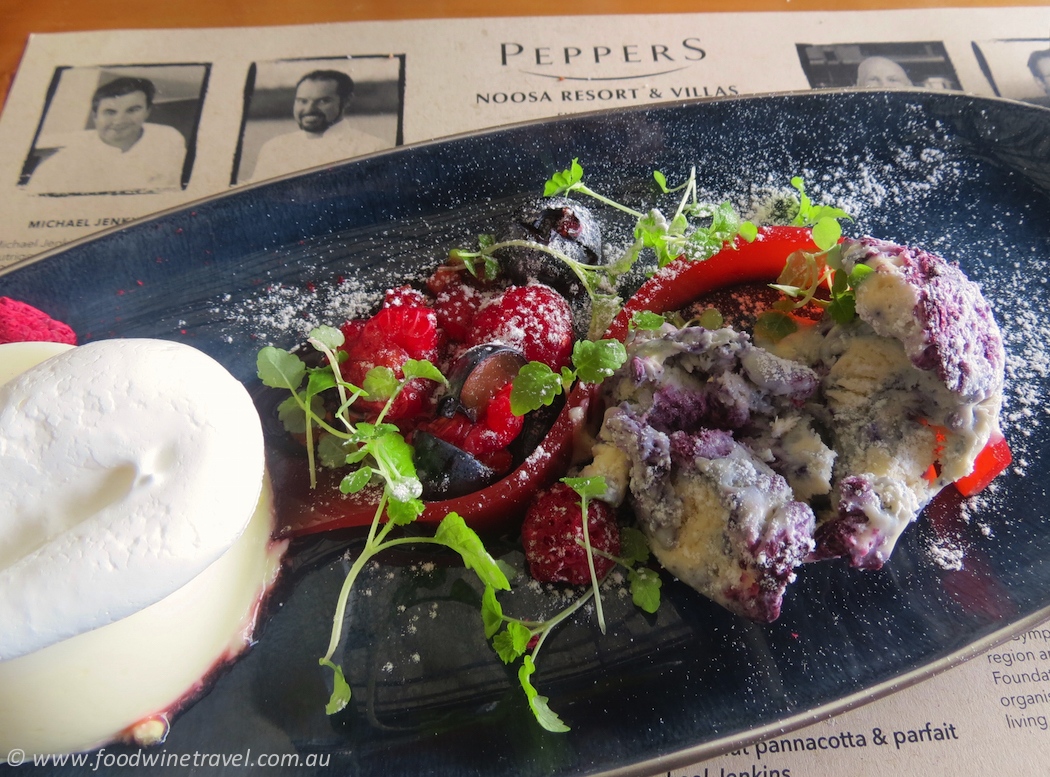 Michael Jenkins adores his backyard. "Noosa's fantastic. I was in the Mornington Peninsula previously where it was six degrees on Christmas day. I love the warmth and the ocean of Noosa," he said.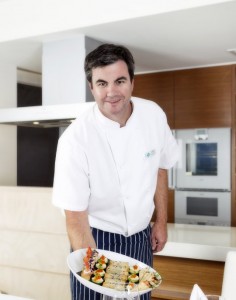 The executive chef for Peppers Noosa Resort & Villas loves working in regional areas such as on Queensland's Sunshine Coast, "where you're amongst all the farms, particularly here where you have a two-week winter … we're just blessed".
Jenkins (pictured at right) was head chef for Outrigger Little Hastings Street for four years before being appointed executive chef for the resort, which was rebranded Peppers on July 1.
He's particularly excited about its new menu which focuses on regional produce, small plates and lighter dishes, some of them Japanese-inspired.
At a lunch in the resort's View Restaurant to celebrate the official launch of Peppers Noosa Resort & Villas, Jenkins was joined by two other renowned local chefs, Shane Bailey and Matt Golinski.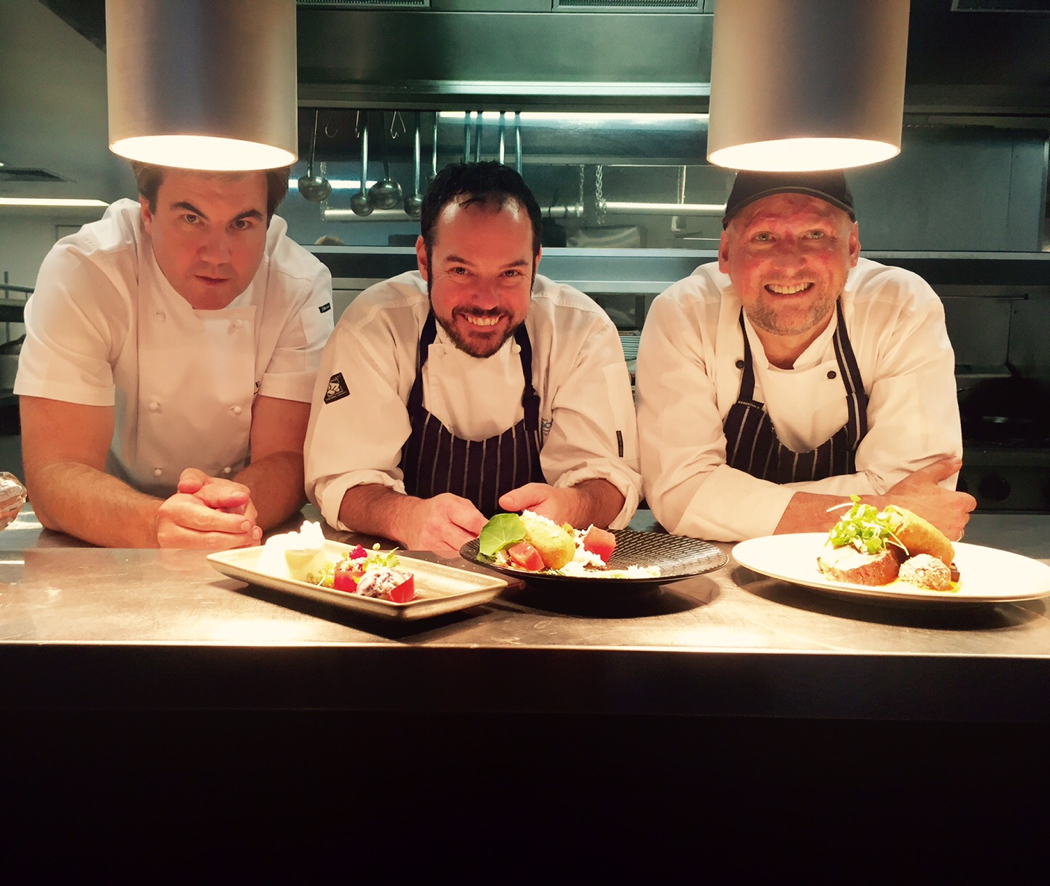 Bailey, who is executive chef of the iconic Noosa Boathouse, created the entrée, a beautiful melange of Fraser Island spanner crab, compressed watermelon, avocado, prawn croquet, preserved lemon, graprefruit from a friend's farm and elderflower picked from his own garden that morning.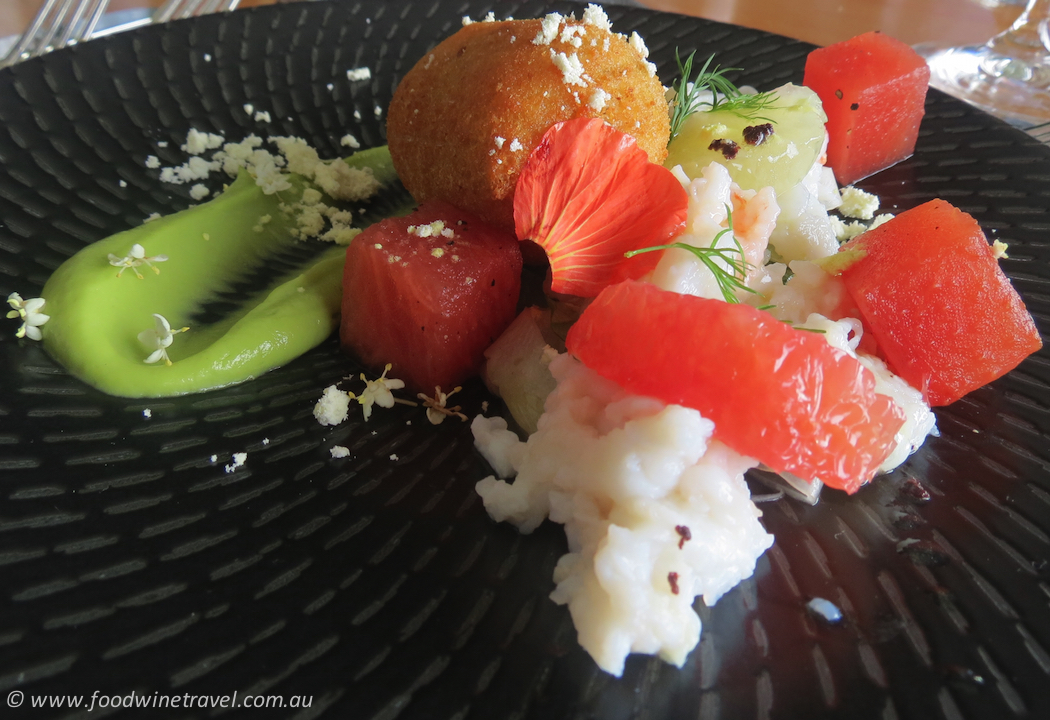 The delicate, sweet spanner crab was the hero of the dish. Bailey was introduced to Fraser Island spanner crab when he moved to the region 12 or 13 years ago, and has just one word for it: "sensational".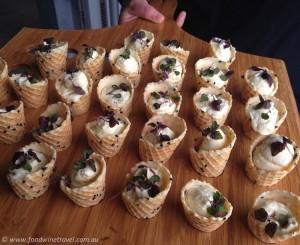 All the dishes served at the launch were matched with Vasse Felix wines, Michael Jenkins' canapés with a fresh, crisp 2012 Blanc de Blancs, and the entrée pairing beautifully with Vasse Felix 2014 Filius Chardonnay.
Golinski has worked at some of Queensland's leading restaurants and is well known as one of the original team members of the TV show, Ready Steady Cook. He created the spiced rump main dish, drawing his inspiration from some "beautiful little eggplants" grown by a local farmer.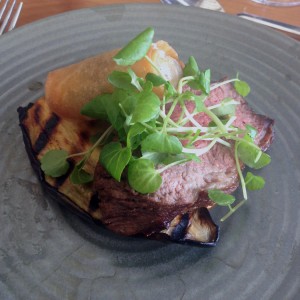 Once he'd ordered the eggplants, he set about creating a dish around them, coming up with tomatoes, capsicums, harissa and Nolan's beef. "Nolan's has been in Gympie for 80 years and is the biggest employer in Gympie after the council," he said.
Using Kenilworth Yoghurt, "another great regional success story", Golinski made labneh and incorporated that into the dish as well. Vasse Felix's Sydney-based ambassador, Scott Baker, described the 2012 Cabernet Sauvignon served with this dish as "probably one of the best wines we've ever produced". Certainly there weren't any complaints from our end of the table.
But it was the Vasse Felix 2013 Cane Cut Semillon that really had me enraptured, its gentle sweetness making it the perfect dessert wine. The cutting of the vines at the end of the growing season naturally dehydrates the vines, intensifying the sugars. Jenkins' dessert of locally grown Cooloola berries with vanilla and coconut pannacotta, dusted with icing sugar, was as pretty as a picture.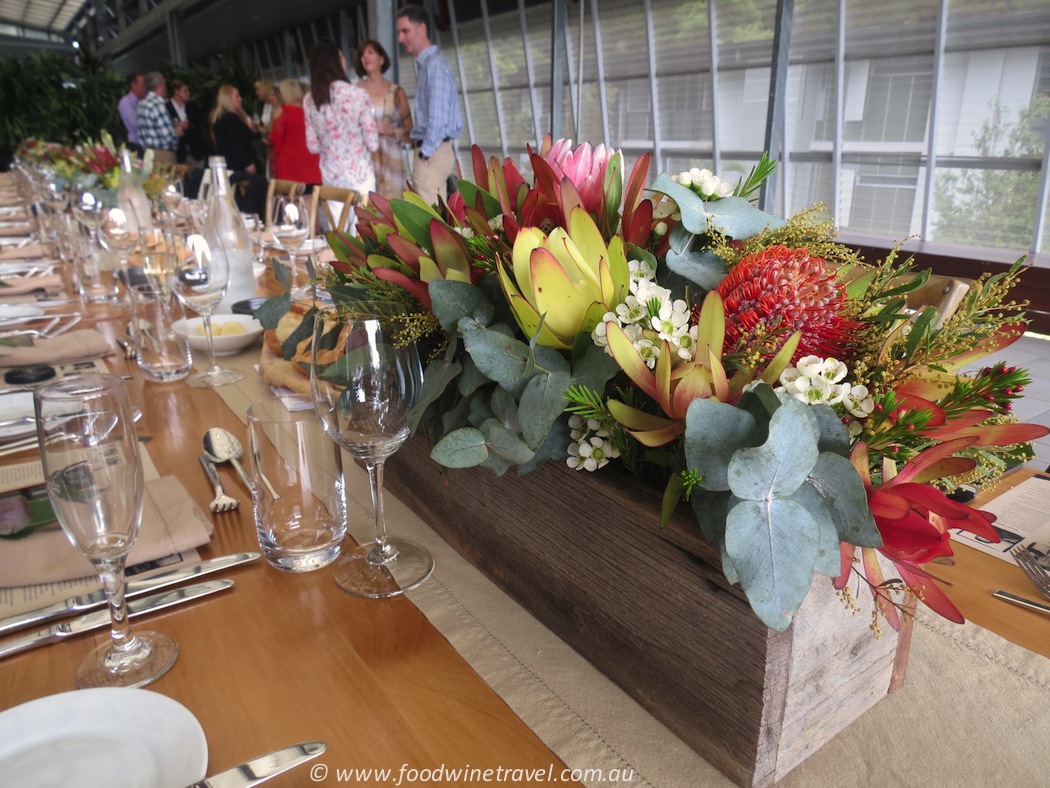 View Restaurant is a vast, open space with views over Laguna Bay and the surrounding bushland. A refurbishment of the restaurant is planned for later this year and it will apparently feature more intimate spaces. In the meantime, kick back and enjoy some of Queensland's finest produce in a serene and peaceful setting.
If you go:
View Restaurant
Peppers Noosa Resort & Villas
33a Viewland Drive
Noosa Heads Qld Australia
Tel: +61 7 5455 2200
www.peppers.com.au
Christine was a guest of Peppers Noosa.