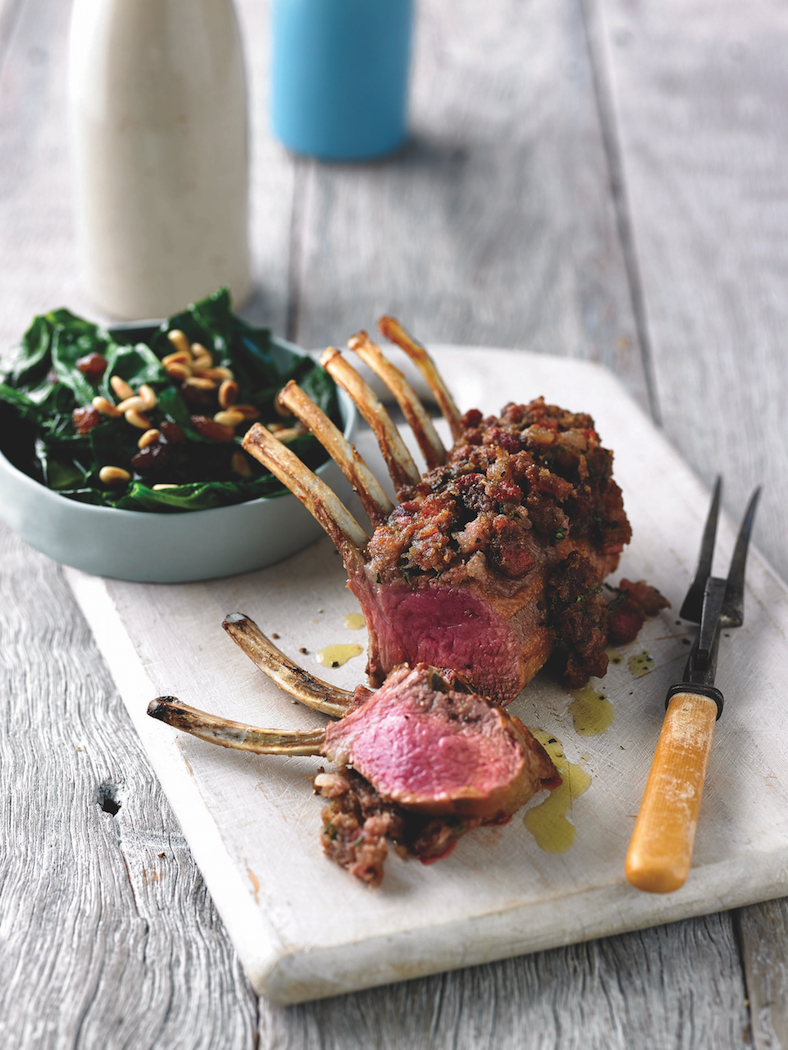 If you ask Luca Ciano what he misses about Italy, he'll most likely say it's the four seasons.
"It's a must for me to think of specific foods, ingredients and cooking styles applied to each season," he says in Luca's Seasonal Journey, published by New Holland.
"Living in parts of the Southern Hemisphere like Australia, I miss the four very well structured seasons of Italy. I felt different and had a different state of mind in each season and I used to look forward to each new season for different reasons, especially when thinking of food."
The Milan-born chef, who worked in Italy and London before coming to Australia, says the best place to find seasonal produce is at a farmers market.
"Today, we live in an 'international' world where we can have pretty much any ingredient at any time of the year. However, consumers pay more for 'out of season' foods and I think taste can be sacrificed," he said.
"Why pay twice as much to have strawberries at all cost when they aren't in season? They don't taste as good and they're twice as expensive. Buy them when they're in season. Call me old-fashioned but I would rather have Mother Nature work her magic."
Recipes for seasonal produce
There's plenty of that magic in Luca's Seasonal Journey, which is divided into the four seasons, with Spring featuring luscious recipes for asparagus, zucchini flowers, pineapple etc; Summer with berries, eggplant, figs etc; Autumn with mushrooms, chestnuts, bananas, pears etc; and Winter with fennel, pomegranate etc.
Every recipe highlights this beautiful produce. In Spring, there's Asparagus, smoked chicken, tomato pesto and toasted hazelnut salad; in Summer, there's Honey roasted figs and prosciutto bruschetta; in Autumn, there's Chestnut gnocchi with sultanas, spinach and goat's cheese; in Winter, there's a hearty Beef braised in red wine with polenta, or for something lighter, Fennel and pomegranate salad with lemon and mint dressing,
Some of the most tempting recipes are for cakes and desserts. How good does Carrot, almond and olive oil cake sound, or indeed Pear, clove and chocolate cake? Or Pineapple sorbet with pineapple crisps, or even a simple Banana icecream?
It's often said that most people cook only a handful of recipes from each of their cookbooks. I can honestly say there isn't a single recipe in Luca's Seasonal Journey that I wouldn't be happy to have on my table. This is one journey I am happy to go on.
**Buy Luca's Seasonal Journey from Book Depository.
**Buy Luca's Seasonal Journey from Amazon
.
Food Wine Travel gets a small commission on purchases through this link but it doesn't cost you any extra.
PANCETTA AND ROSEMARY-CRUSTED RACK OF LAMB WITH SPINACH, SULTANAS AND PINE NUTS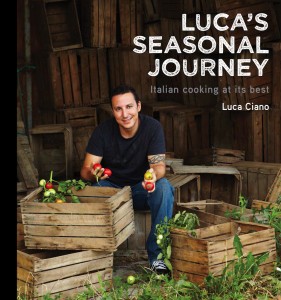 1 teaspoon olive oil
2 x 500 g (16 oz) racks of lamb
100 g (3½ oz) flat pancetta, roughly chopped
2 cloves garlic
1 tablespoon thyme, finely chopped
20 g (¾ oz) butter
40 g (1½ oz) sultanas
500 g spinach
30 g (1 oz) pine nuts, toasted
Preheat oven to 210˚C (425°F).
Heat oil in a large frying pan on high. Cook lamb racks one at a time, for 2–3 minutes, turning until browned all over. Remove from heat and cool.
Place pancetta in a food processor and process until a paste forms. Transfer to a bowl. Add garlic and thyme and mix well. Press mixture over the upper side of lamb. Bake for 20 minutes for medium-rare or until cooked to your liking. Cover loosely with foil and rest for 5 minutes.
Meanwhile, melt butter in a large frying pan on high heat. Add sultanas and cook for 1 minute. Add spinach and cook for 2 minutes, until wilted. Season well and stir through the pine nuts.
Carve lamb into cutlets and transfer to serving plates. Drizzle over with pan juices and serve with sultanas, spinach and pine nuts mix.
Recipe and images from Luca's Seasonal Journey. By Luca Ciano. Published by New Holland and reproduced with permission of New Holland.
This post was originally published in PS News online and was my 400th column for PS News – quite a journey, don't you agree?!