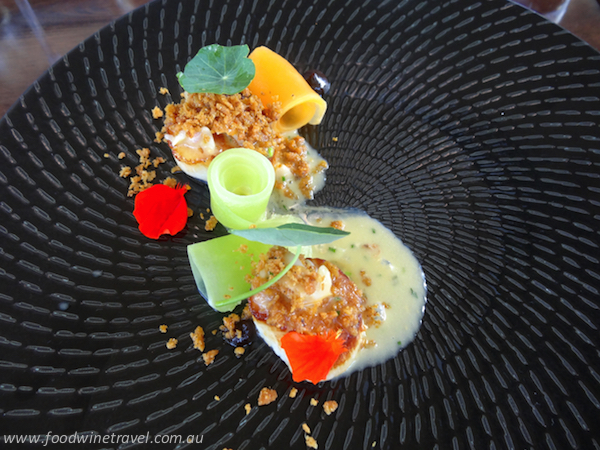 I first had the privilege of dining at Muse not long after it opened in 2009 and recognized then that it was the start of something good. I was right.
Muse is now one of the most esteemed restaurants in the Hunter Valley. Its young owners, Troy and Megan Rhoades-Brown, won their first chef's hat in The Sydney Morning Herald Good Food Guide 18 months after opening. They have since gone on to open a second, more casual, venue, Muse Kitchen, in Keith Tulloch Winery.
The original Muse is a fine-dining restaurant in the Hungerford Hill Winery, a striking space with soaring ceilings, massive stone fireplace and lots of timber, stone and glass.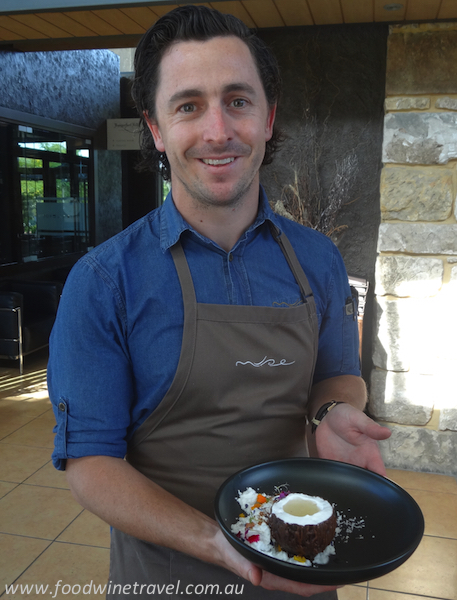 Troy was just 24 when he took the reins. The couple had few savings, no financial backer and limited knowledge of business. On the flip side, Troy had worked for acclaimed Hunter chef, Robert Molines, and in 2005 won the prestigious Brett Graham Award, which gave him invaluable experience in Europe.
The couple opened Muse in the midst of the global financial crisis but perseverance, passion and talent paid off. The thing that struck me about Troy's cooking was not only its finesse but also how innovative it was – not in a 'throw everything together and hope it works' kind of way but in a clever, sometimes playful, manner where each of the elements is raised to new heights.
Recently I had the privilege of dining at Muse again, and it was terrific to see how far this restaurant has come. There are not enough superlatives to describe the dishes we had in a media preview of a lunch being held at the restaurant on Sunday, June 14 as part of Hunter Valley Wine & Food Month.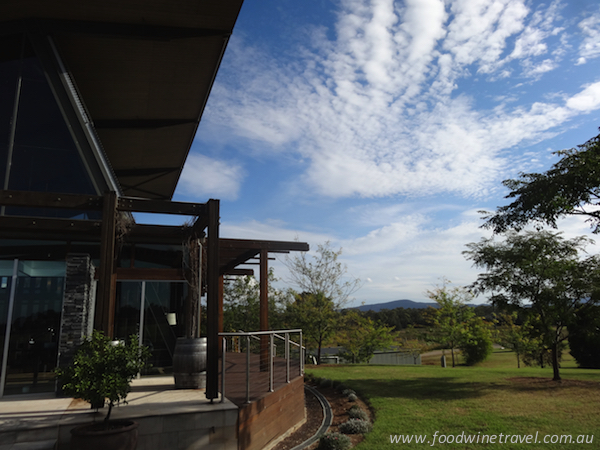 The Dine with the Dynamic Duo lunch sees Troy's masterful cooking paired with Briar Ridge wines, made by another bright young Hunter talent, Gwyn Olsen. Troy was the recipient of the Electrolux Appetite for Excellence Young Restaurateur of the Year award in 2014. In the same year, Gwyn took out the prestigious Gourmet Traveller Wine Young Winemaker of the Year award.
These two are definitely a force to be reckoned with and, having tasted what they have in store for the June 14 lunch, I can assure you it's an event not to be missed.
We started our tasting with canapés on the terrace and a knockout bubbly, 2012 Briar Ridge Sparkling Pinot Noir Chardonnay, made from Hunter and Orange fruit. One taste of the canapés and we knew we were in for a treat: Crisp trout skins with rillettes and preserved lemon aioli, Macarons spiced with ras el hanout and filled with Udderfarm yoghurt, and Pork crackle with pickled watermelon rind.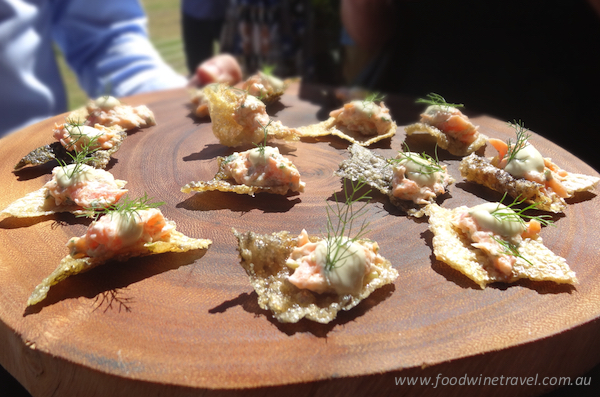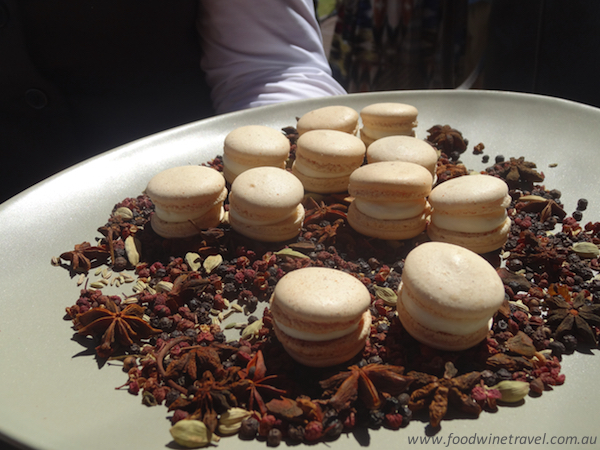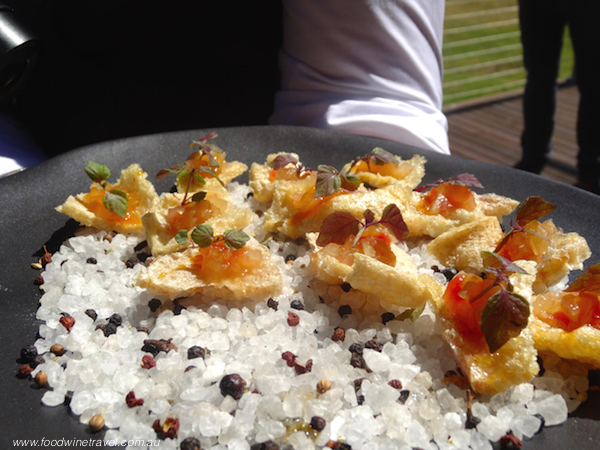 Once seated inside, the bread came out – a choice of sourdough bread, sesame bread or caramelized onion brioche. It came with little pots of black garlic and olive oil butter, whipped till it was very light and creamy, and so utterly delicious it would be enough to make anyone a glutton.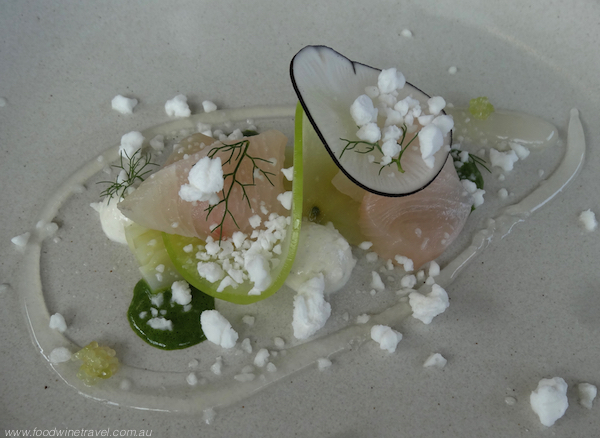 The photo of the first course, Sashimi of Hiramasa kingfish, doesn't do it justice. The kingfish is complemented by slices of fennel and apple compressed in Muse's own verjuice, an oyster and tarragon emulsion, Udder Farm yoghurt and organic wasabi from New Zealand, Lovedale fingerlime, and a liquid nitrogen verjuice "snow" spooned on at the table for maximum impact.
The 2014 Briar Ridge Dairy Hill Semillon is precise and elegant with notes of lemongrass and kaffir lime that complement but don't overwhelm the delicate kingfish. Semillon is often a great match with apple, and it is certainly so here.
Before the next course came, Gwyn served The Briar 2014 Vineyard Blend, a savoury, textural wine with a hint of oak. She describes it as coming from a "dyslexic" block in which Semillon, Verdelho, Chardonnay, Vermentino and Sauvignon Blanc were all planted together.
"When I came on board, the owners said we need a point of difference, and I said I'd really like to make a field blend out of that block," Gwyn said. "It's one of those wines that showcases the vineyard."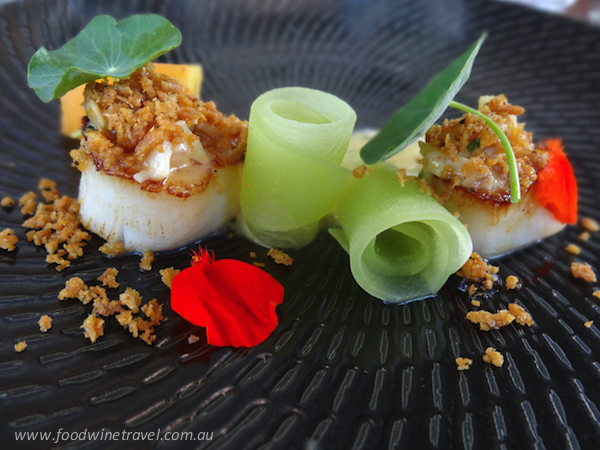 The second course was the most colourful of all, the perfectly seared scallops topped with a "fishbone crumb" made from salted bonito smoked in hay and dried for a week. The crumb added crunch and texture and there was a scattering of melon and nasturtiums.
The scallops were served with Briar Ridge's 2014 Single Vineyard Chardonnay, which hadn't been released at the time and was on its first outing. What a treat! Gwyn is a great fan of Chardonnay and says it is her "go to wine when I need to have a drink".
"I love Chardonnay. For me, Chardonnay should be about expression of fruit but it should also have balance and complexity," she said. "It should be able to speak of place as well." Briar Ridge's Mt View Vineyard is defined by acid and there are lovely stonefruit characters that sit nicely with the scallops.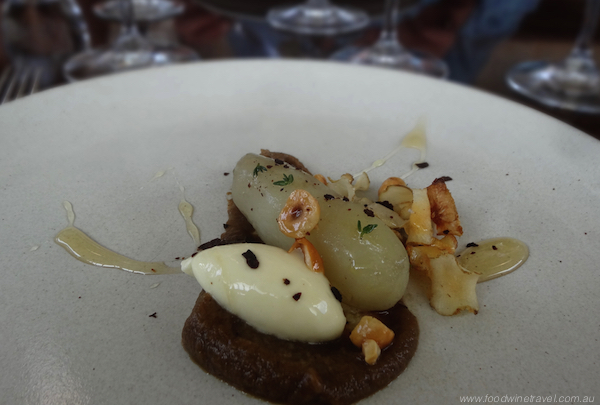 Don't be deceived by the earthy, neutral-looking Jerusalem artichoke dish. It was nothing short of sensational. The artichokes were peeled and confited in brown butter and hazelnut oil, roasted and turned into a caramelized puree, and the skins lightly fried and served as chips. Served with hazelnuts and creamy Brie, who would have thought a humble tuber could taste this good?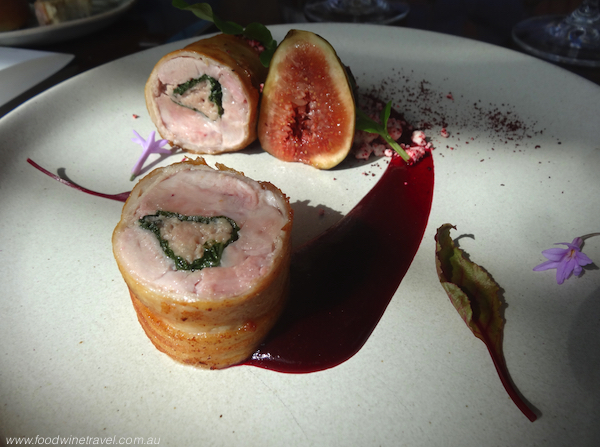 Partridge, beetroot and fig – now that could be my new favourite combo. Partridge mousse, made from the thigh of the bird, was stuffed into breast meat, wrapped in Berkshire pork belly and salt-baked, the crisp, salty pork complemented by the earthy beetroot and creamy Binnorie goats cheese.
Two contrasting Shiraz wines were served with the partridge. The 2013 H.R.B. Shiraz Pinot might sound like an unusual blend but in the 1950s a similar blend was produced under the Hunter Valley Burgundy moniker and Gwyn believes people are interested in revitalizing their heritage. She made a Shiraz Pinot while working at McWilliam's in 2011 and says a few others are doing it now too.
This one is 52% Shiraz, quite light with floral and berry notes, in contrast with the fuller, more savoury 2013 Dairy Hill Shiraz.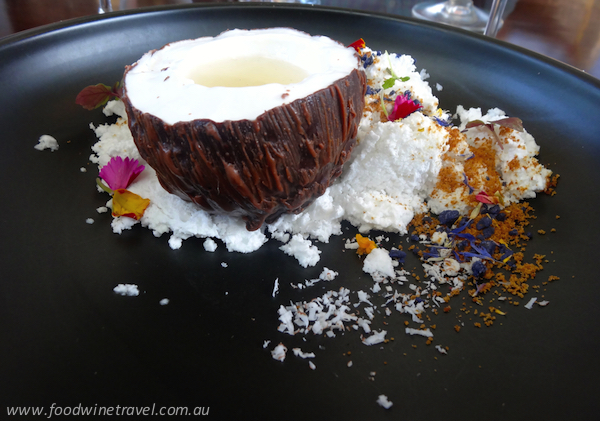 The Briar Ridge 2014 Late Harvest Gewürztraminer, sweet but not overly so, comes to the table along with a hush followed by gasps. Troy's coconut dessert is like being knocked over with a feather. Not only is it stunning to look at, it tastes amazing too. The coconut is actually roasted coconut chocolate husk filled with coconut mousse and vanilla scented coconut water, sitting on a base of coconut sugar, crystalized flowers and other bits and bobs.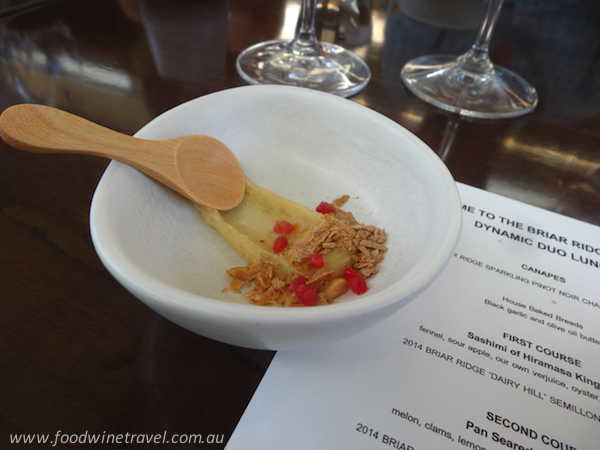 Instead of petit fours with our coffee, Troy plays a little joke on us, with a smear of raw cookie dough, "one of my most favourite things to eat when I was a kid".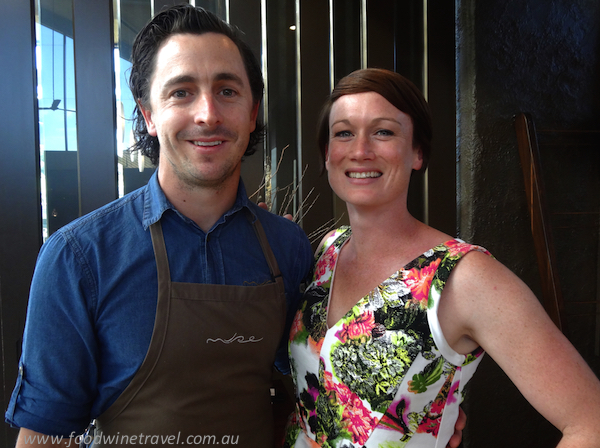 Just as I was putting this post together, it was announced that Troy Rhoades-Brown and Gwyn Olsen had been jointly named 2015 Rising Star of the Year in the Hunter Valley Legends Awards. Announced by the Hunter Valley Wine and Tourism Association last weekend, it continues a dream run for this dynamic duo. One can only wonder at where the adventure will take them next.
NSW TrainLink and Destination NSW are offering "Food & Wine Escape" packages throughout June. Phone 13 72 45 for details.
For the full calendar of Hunter Valley Wine & Food Month events, visit www.winecountry.com.au
Go to www.visitnsw.com for more information on things to see and do in the Hunter Valley.
Fact File:
Muse Restaurant
@ Hungerford Hill Wines
Broke Rd, Pokolbin NSW
Australia
+61 2 4998 6777
www.musedining.com.au