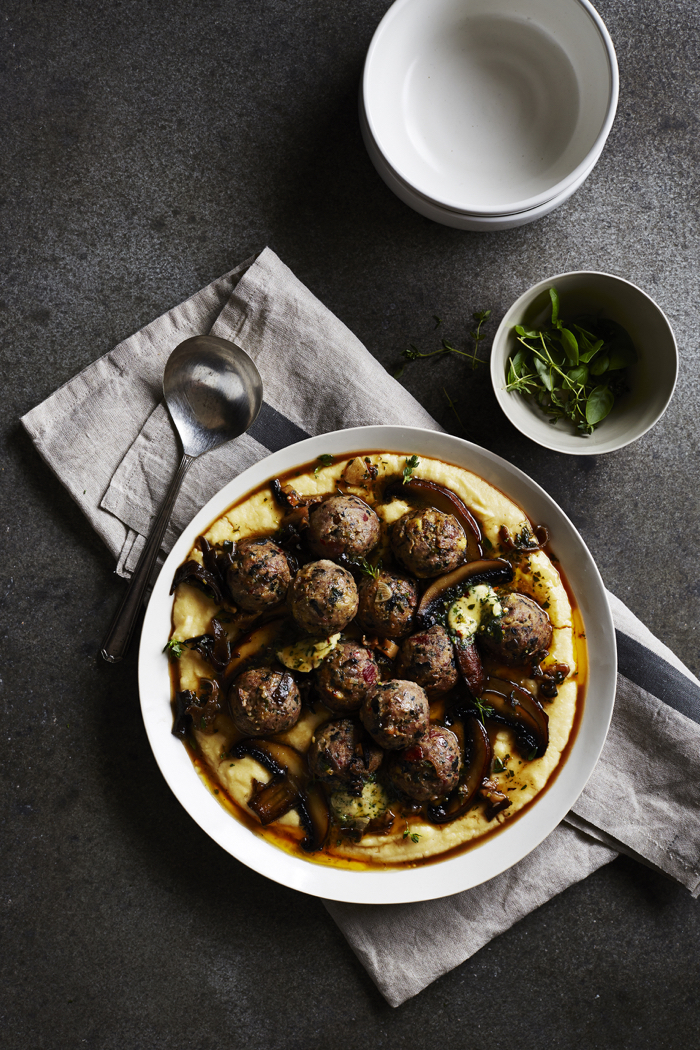 Who would have thought you could create so many different types of meatballs? Dipping into Matteo Bruno's book, Meatballs: The Ultimate Guide (published by Murdoch Books), it's clear that meatballs ain't just meatballs.
The 60-odd recipes in this book have an incredible array of deliciously tempting flavours, from lobster, rabbit, duck, turkey and cranberry, and honey-glazed chicken, to chicken, pistachio and muscatel, and pork, ginger and lemongrass. Meatballs will never be the same again.
Bruno is a film and television producer who has worked on a number of food shows, including Ask the Butcher, and Stefano's Cooking Paradiso with Stefano de Pieri. He descends from a family of French and Italian cattle farmers and grew up with a strong appreciation and knowledge of food and where it comes from.
Inspired to do something with food himself, he set up what is believed to be Australia's first meatball restaurant. He now has three Meatball & Wine Bars in Melbourne, together serving around 10,000 meatballs every week. That's a lot of meatballs!
Since good food calls for good wine, in 2012 he launched Flinders Lane Food & Beverage Company and he now imports Italian wine and represents celebrated Italian and Australian winemakers.
The recipes in Bruno's book will take your appreciation of the humble meatball to the next level. And because what the meatballs sit on is equally important, there are about 20 recipes for sotte palle ("underneath the balls") from creamy polenta and wasabi slaw to pea, mint and ricotta salad.
Thanks to the chunks of polenta, the veal and pork meatballs here make a hearty meal, even on their own. They could also be served with creamy polenta and an Italian-style veal jus.
VEAL AND PORK MEATBALLS WITH POLENTA AND MUSHROOM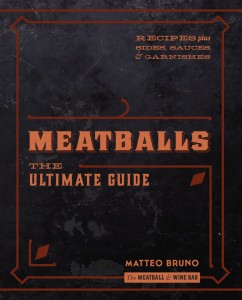 Makes 20 meatballs
65 g (2¼ oz) polenta (cornmeal), plus extra for coating
100 g (3½ oz) pancetta pieces
200 g (7 oz) portobello mushrooms, diced
70 g (2½ oz) butter
2 garlic cloves, finely diced
½ fresh red chilli, finely chopped
olive oil
200 g (7 oz) minced (ground) pork
200 g (7 oz) minced (ground) veal
2 teaspoons freshly grated nutmeg
pinch of truffle salt
zest of ½ orange
25 g (1 oz/¼ cup) finely grated parmesan cheese
10 sage leaves, chopped
olive oil spray, for baking
Cook the polenta according to the packet instructions and set aside to cool until it becomes firm.
Add the pancetta to a dry frying pan and cook for several minutes over medium heat, then add the mushrooms, butter, garlic and chilli and a small drizzle of olive oil. Cook until the mushrooms take on a nice deep-brown colour and are soft to touch. This will take around 8 minutes. Set the mixture aside to cool.
Preheat the oven to 160°C (315°F) and add a small ovenproof saucer of water to the back of the oven to create humidity.
Break up the cooked polenta into small chunks.
Season the pork and veal in a mixing bowl and add the rest of the ingredients, including the polenta and the cooled pancetta mushroom mix. Combine thoroughly and form 50 g (1¾ oz) balls, then roll the balls in the extra (uncooked) polenta.
Carefully place the balls in a baking tray and gently spray them with olive oil spray. Bake in the humid oven for around 8 minutes.
CREAMY OR GRILLED POLENTA
Serves 4
800 ml (28 fl oz) milk
200 ml (7 fl oz) chicken stock
240 g (8½ oz) polenta (cornmeal)
80 g (2¾ oz/¾ cup) finely grated parmesan cheese
100 g (3½ oz) butter, cut into cubes
truffle oil (optional)
pinch of ground nutmeg,
to taste (optional)
Warm the milk and chicken stock in a deep saucepan over medium heat. Just before boiling point, add 1 teaspoon of salt and the polenta, stirring continuously with a whisk. Keep whisking until the polenta is cooked (it's ready when it's no longer grainy). This process should take 45 minutes.
Remove the saucepan from the heat and stir through the parmesan and butter. The final consistency should be thick and creamy. Add a drizzle of truffle oil and a sprinkling of nutmeg if you want.
To make grilled polenta, add 100 g (3½ oz) extra polenta to the hot milky stock and whisk until fully cooked. Spread the polenta out on a tray and put in the fridge until firm. Cut the polenta into any shape you'd like, dust with a little more polenta, then fry in a hot pan with some olive oil until golden.
ITALIAN VEAL JUS
Makes 800 grams (1 lb 12 oz)
250 g (9 oz) dried porcini mushrooms
warm water, for soaking
olive oil
1 onion, finely diced
1 garlic clove, finely diced
1 celery stalk, finely diced
100 g (3½ oz) tomato paste (concentrated purée)
200 ml (7 fl oz) white wine
200 ml (7 fl oz) veal stock
zest of 1 lemon
2 tablespoons freshly chopped flat-leaf
(Italian) parsley
1 thyme sprig, leaves picked and finely chopped
Soak the dried porcini mushrooms in the warm water until they become soft and rehydrated. Slice the porcini mushrooms and set aside.
Heat a good drizzle of olive oil in a heavy-based saucepan over medium heat and start cooking the onion and garlic. Add the celery and cook for several minutes until golden. Add the mushrooms, stir in the tomato paste and cook for a few more minutes. Add the white wine and reduce for a minute or two.
Add the veal stock and the lemon zest, and simmer gently for at least 30 minutes. Finish by adding the parsley and thyme and season with salt and pepper. Continue to simmer for another 3–5 minutes.
Recipes and images from Meatballs: The Ultimate Guide by Matteo Bruno. Published by Murdoch Books. Reproduced here with permission of Murdoch Books.
This post was originally published in PS News online.