While everything about the Hotel Grand Windsor Auckland is beautiful, it's the first impression that counts, and we very quickly discovered that this is a hotel that knows how to put out the welcome mat. From the concierge to the reception staff, everyone was overwhelmingly friendly, helpful and polite.
Our luggage was whisked away and we were directed to a plush velvet lounge for a deliciously refreshing lemon and elderflower drink. Even more impressive was that our cousins who were with us got exactly the same treatment, even though we had told the staff they weren't staying at the hotel.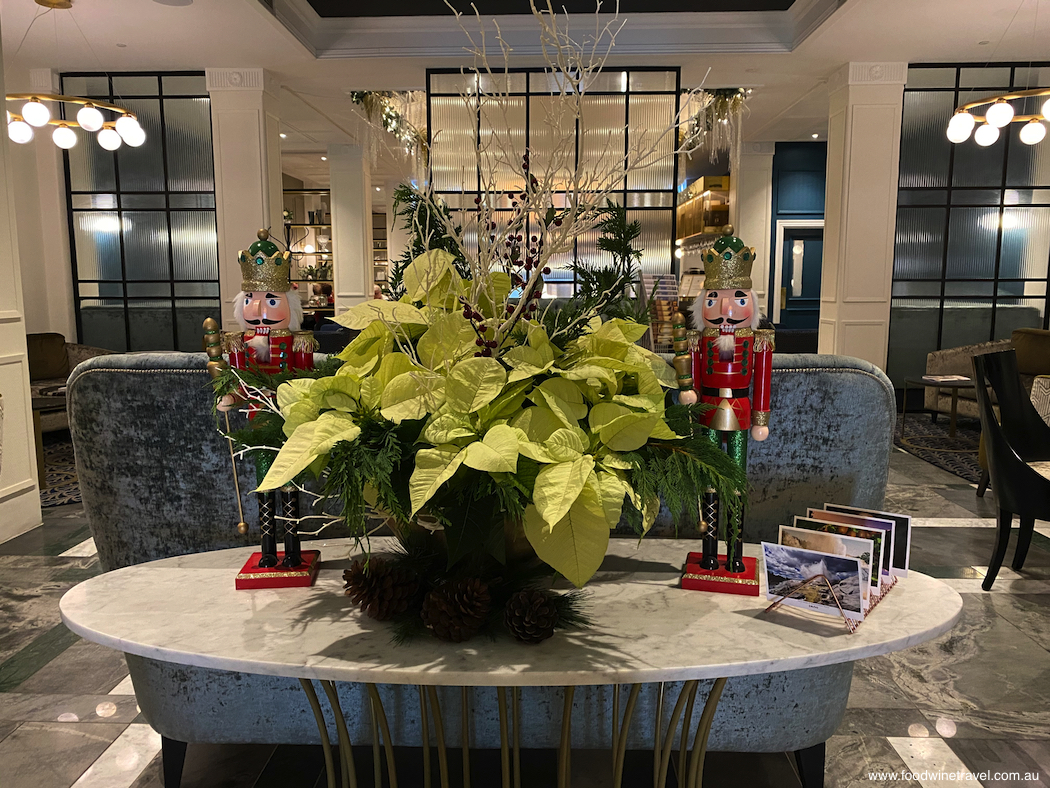 And while ours was a hosted stay (see declaration below), I don't believe we received special treatment. In fact, I'm sure of this as the receptionist was unaware we were being hosted. While that little hiccup with the booking was being sorted, we relaxed in the lobby, a gorgeous, classic elegant space with the reception at one end and Cooke's Restaurant and Bar at the other.
Each section of these public areas is defined by Art Deco glass panels and decorative features that hark back to the hotel's past. Built in 1928 for W. R. Cooke & Son Ltd, the 10-storey building known as Windsor House was the maximum height allowed at the time. By today's standards it's a small building and that's part of its charm as a hotel, as being a small luxury hotel assures a more personalized service than you might find in larger properties.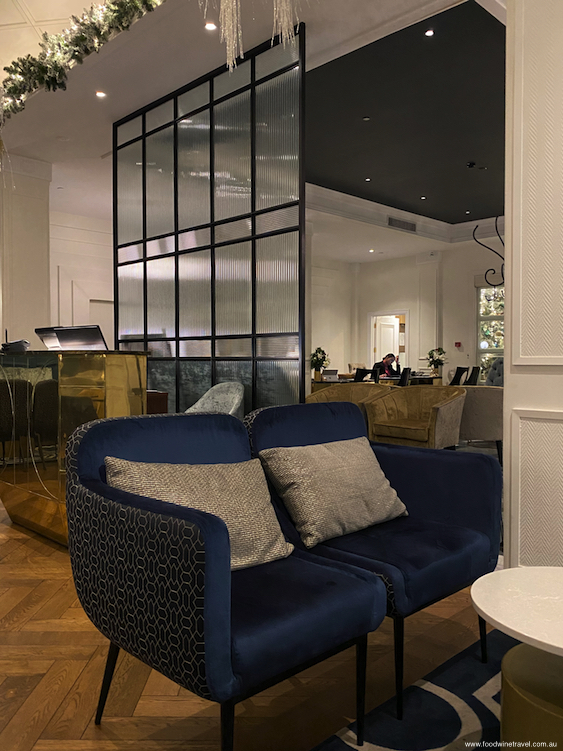 Back then, however, it was considered to be Auckland's first skyscraper and it was a popular drawcard for both locals and visitors. On the ground floor was a tearoom and soda fountain, the latter hailed for its therapeutic properties. A grill restaurant on the first floor served 3-course meals, while the upper floors housed bakers, confectioners and icecream makers using what was then state of the art machinery.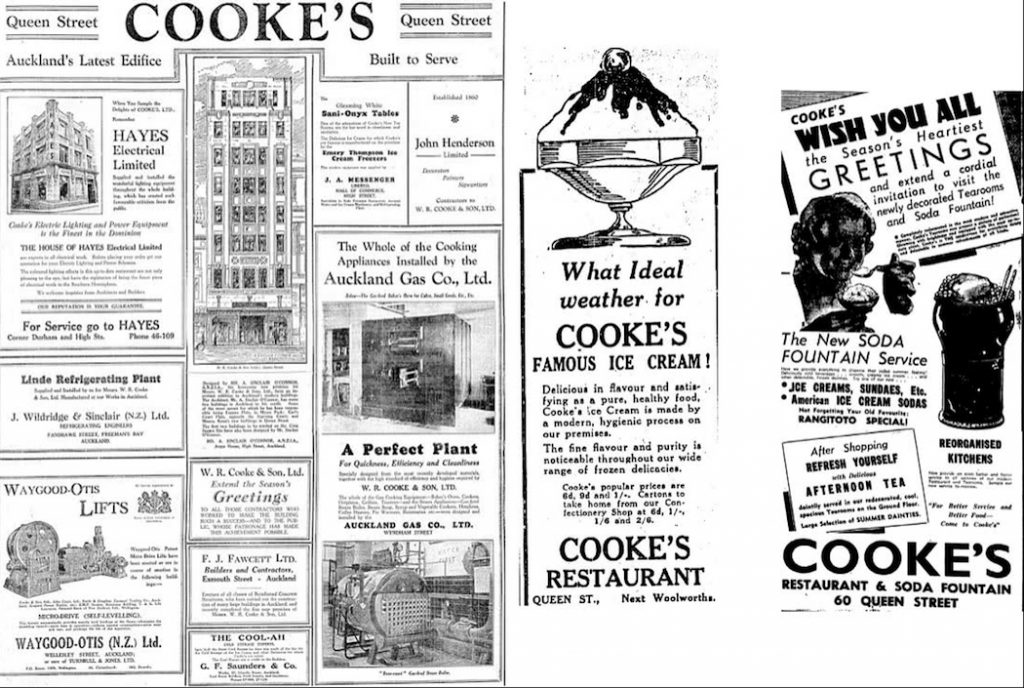 The whole set-up was an important part of Auckland's social, cultural and architectural history, representing an era of elegance and economic prosperity before the Great Depression. Only in the last few decades was the building transformed into a hotel, and then in 2017 it underwent significant restoration to become part of the MGallery by Sofitel collection.
There's always something special about MGallery hotels – they're generally boutique but always with their own distinct character – a focus on literature or culture, or an ode to a bygone era or a spectacular landscape perhaps.
In the case of the Hotel Grand Windsor there's a regal element in that the design of the 79 guest rooms was inspired by the jewels that the Duke of Windsor, Edward VIII, gave to his wife, Wallis Simpson. Each room is said to reflect one of four gemstone colours – emerald, aquamarine, amethyst and tourmaline.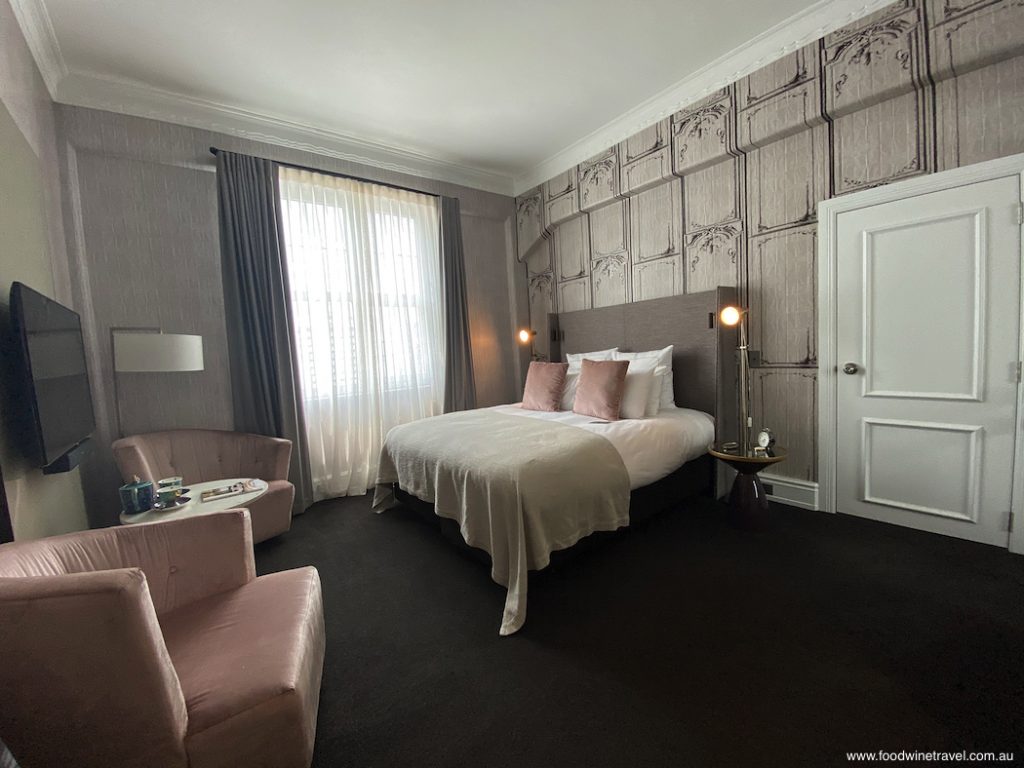 The quiet elegance of the Lobby with its marble floor, velvet lounges, and striking floral arrangements continues through to the upper floors, where we were greeted by the perfume of beautiful fresh lillies as we stepped out of the lift on the 7th floor.
A marble-topped nook housed a DeLonghi espresso coffee machine, a very flash electric jug and an assortment of T2 teas. There was a small table set with vibrantly coloured T2 teapot and matching cups, and hooray, not just one, but two chairs to sit on! (If this sounds like a miracle, it is – you wouldn't believe how many hotel rooms we've stayed in with just one chair, as though two occupants don't want to sit down at the same time.)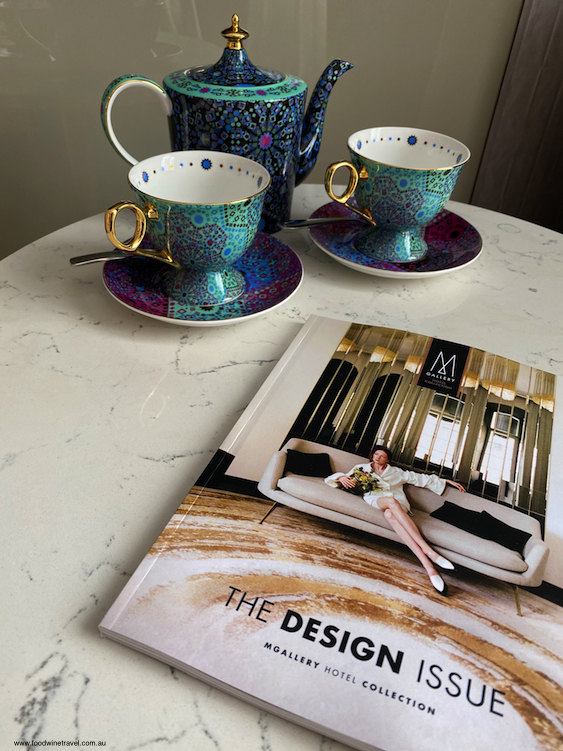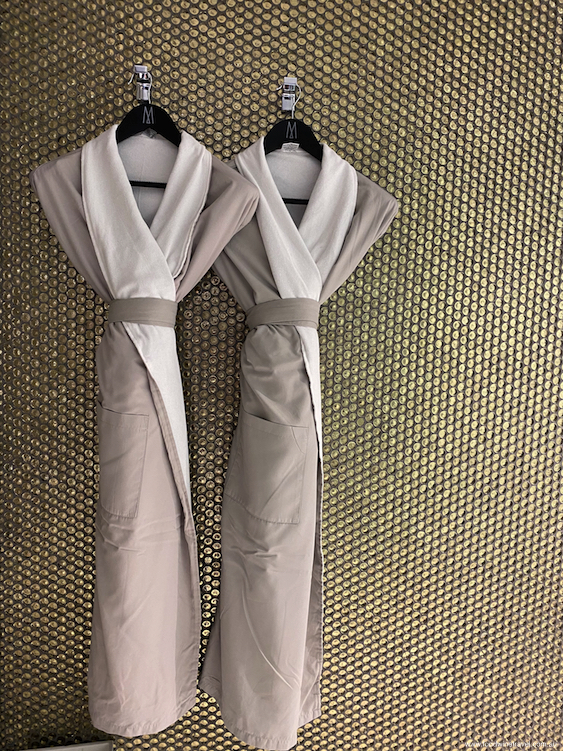 Our Superior King Room was spacious with a king-sized bed and a pillow menu for those wanting something other than the super comfy pillows provided. The plush-top Sofitel MyBed was divine; it's apparently available for purchase (care for a takeaway, anyone?)
We didn't turn on the smart TV (complete with Bose speaker) nor did we have time to avail ourselves of Pressreader, a hot spot that enables guests to enjoy thousands of magazines and newspapers from around the world. But we did log in to the WiFi which was good and fast with no log-in required. We really liked the fact that the hotel has various sustainable practices in place including a bag provided in each room for guests to recycle their travel brochures and packaging.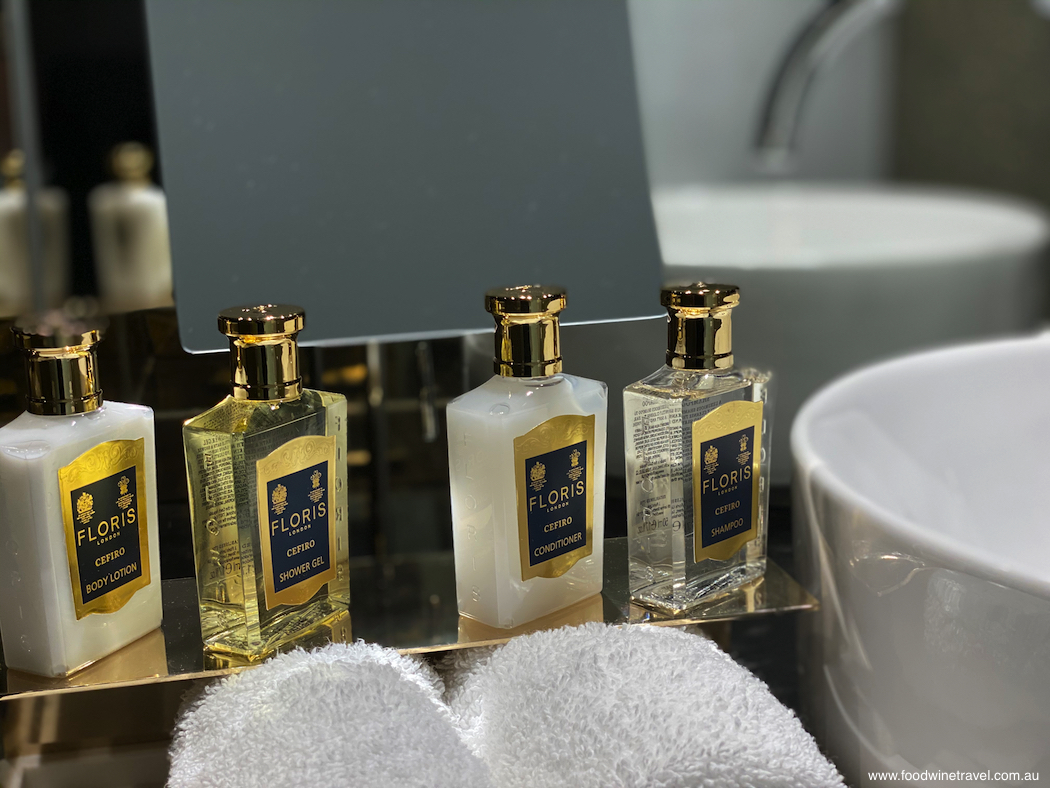 The bathroom was stunning, with marble surfaces and a dramatic bronze/gold wall with two stylish robes neatly arranged on it. An excellent make-up mirror was provided (tick of approval from this short-sighted guest) along with a range of Floris of London toiletries.
The hotel has a state-of-the-art gym and it also has a hot tub and sauna that guests can book in advance to have exclusive use of. This is a nice touch, especially as it is complimentary.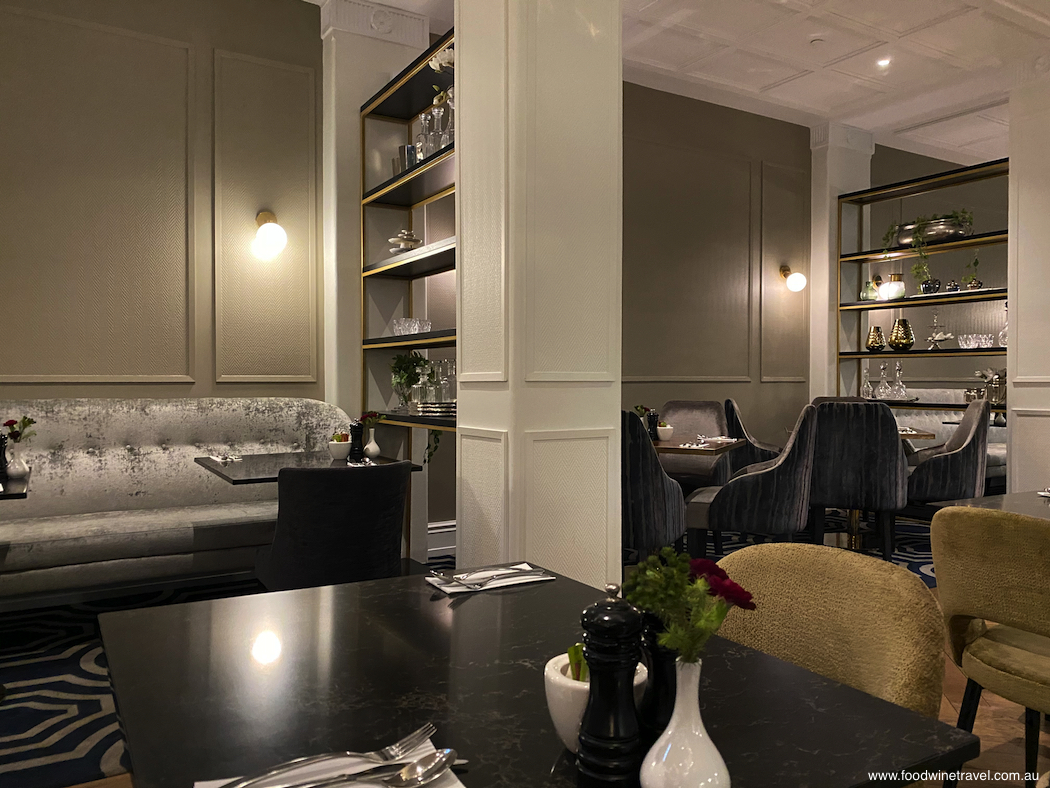 We enjoyed dinner and breakfast in Cooke's Restaurant and Bar, which we've written about in a separate post, but we particularly loved the High Tea, which made us feel very grand and very regal. If you book breakfast in advance, you get it at a discounted rate of $28.
Apart from being a lovely hotel, one of the best things about the Hotel Grand Windsor is its location. It's right in Queen Street, Auckland's main street, surrounded by shops, restaurants and wine bars, close to public transport and just a hop, step and a jump from the harbour. For anyone getting on or off a cruise ship, it's perfect. If you have a rolling suitcase, it's a very easy walk to the ferry terminal.
If you go:
Hotel Grand Windsor Auckland – MGallery by Sofitel
58-60 Queen Street
Auckland 1010
New Zealand
Tel: +64 9 309 9979
www.hotelgrandwindsor.com
With thanks to the Hotel Grand Windsor Auckland for hosting our stay. We stayed in Room 705, a Superior King Room.