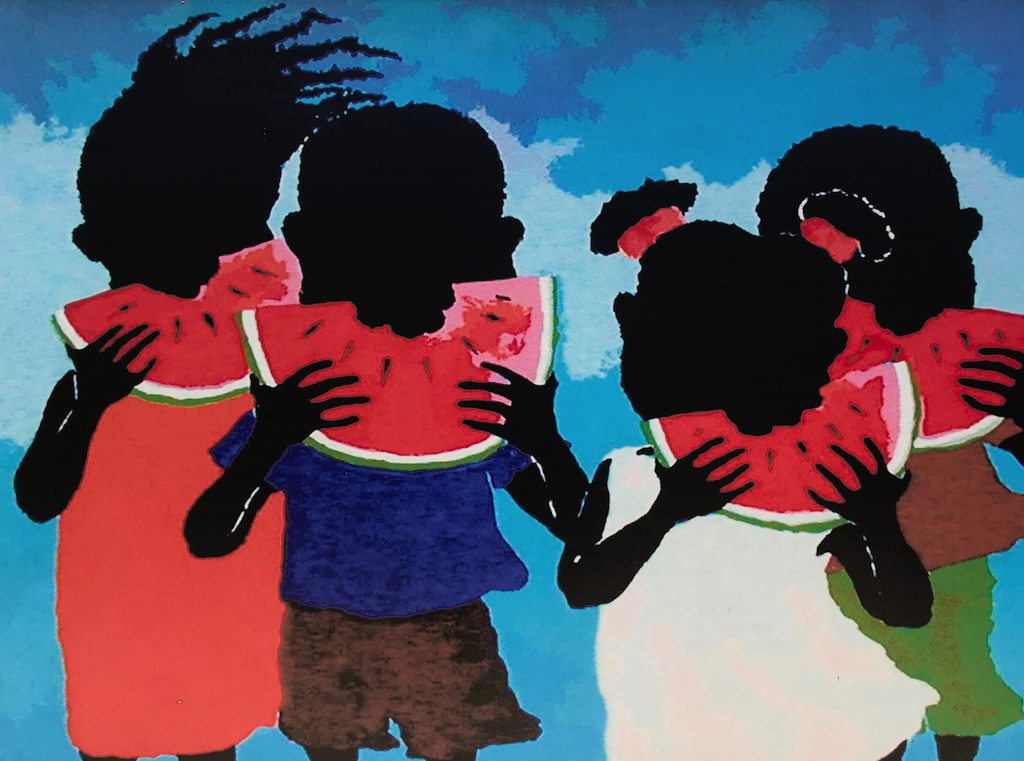 At first glance there doesn't appear to be many tourist attractions in Puerto Limón (Port Limón), Costa Rica. You can cover the main highlights in a walk of about half an hour depending on how long you linger in particular places. Unless you happen to be there at carnival time, there's the cathedral, the tower of which is the highest point in the town, the historic and shady Parque Vargas, the mercado (market), few buildings of architectural interest and some cafés and bars with local food and music.
Although a Caribbean cruise port, this is not a particularly touristy town, but what you do see is Costa Rican life without the tourist hard sell and the razzmatazz that you get in other places. It's a place where people are just going about their daily life and it's a life that's relaxed and friendly.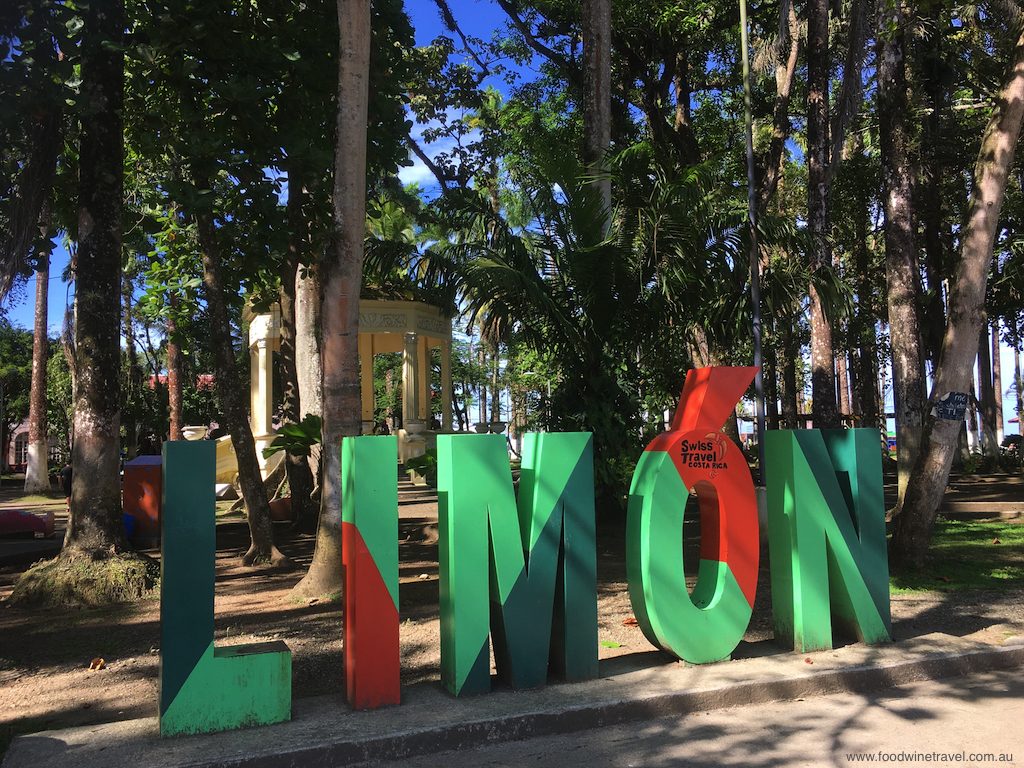 The city was founded in 1854 and developed as a port from 1870. Just offshore and clearly visible from the port is Isla Uvita, the small island where Cristobel Colon (better known to us as Christopher Columbus) landed in 1502. He named it "costa rica" or "rich coast", and for visitors who want to see wildlife and lush terrain, this is still the place.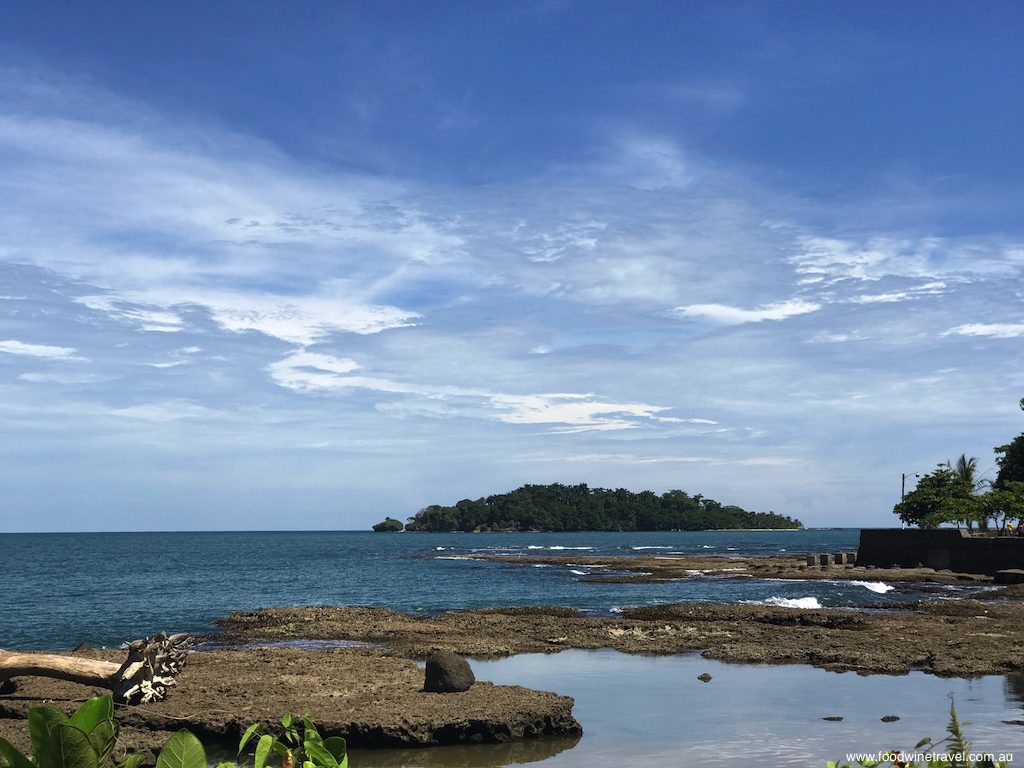 Costa Rica contains 5% of the world's biodiversity and is rich in flora and fauna, making it one of the top eco-tourism destinations. There are 5 active volcanos in Costa Rica. The country has a very high rainfall and just about anything can grow there. Puerto Limón has a year-round average temperature of 25 degrees Celsius but the humidity is always in the 80s.
The main produce is sugar cane, bananas and coffee and Costa Ricans claim to have the best coffee in the world. The Colombians dispute that claim, but the Costa Ricans just smile and say "taste both and see". Costa Rica has a coastline on both oceans, the Pacific and the Atlantic and Port Limón was developed as a port for the export of agricultural products to Europe and the east coast of America.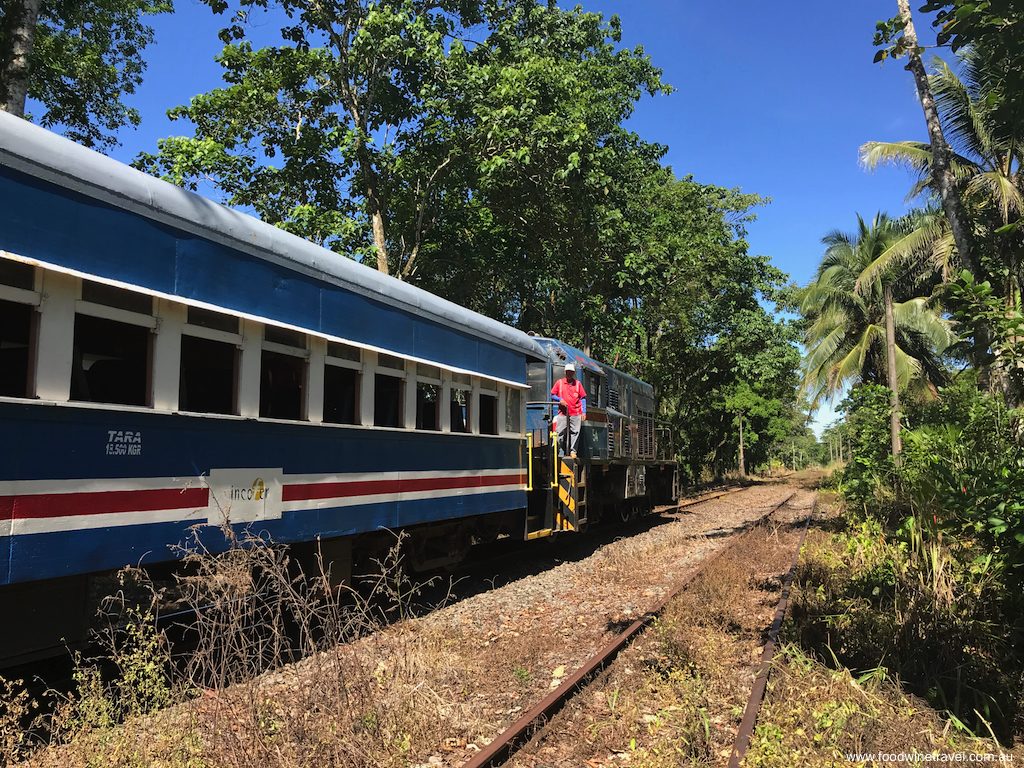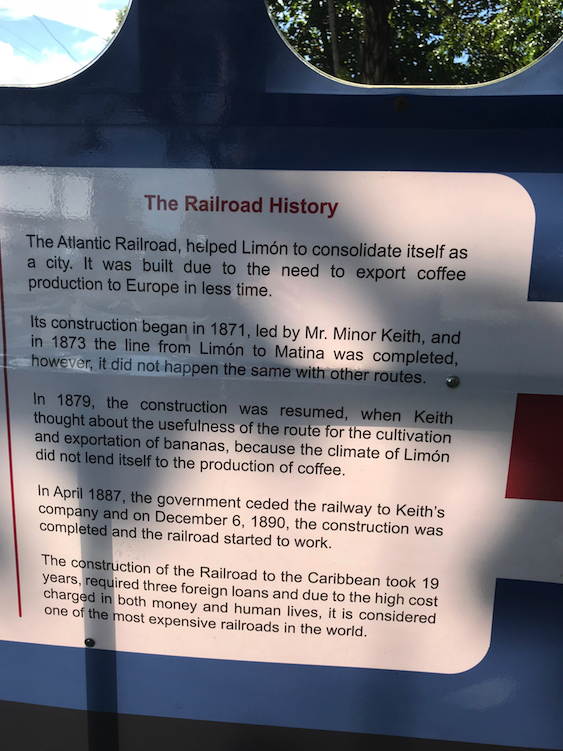 To get that produce to the port they built a railroad, which basically ceased to function after the massive 1991 earthquake, which recorded 7.5 on the Richter scale and caused massive damage and loss of life. Apart from wrecking most of the railroad, coral rose up out of the sea and actually extended the shore line.
Part of that railroad is now a tourist attraction and we took a ride on the historic banana route railway with its 65-year-old carriages weaving around through the jungle where you can see sloths and howler monkeys up in the trees. Those monkeys get their name from the fact that they actually howl with a call that echoes through the jungle and sounds a bit like the roar of traffic.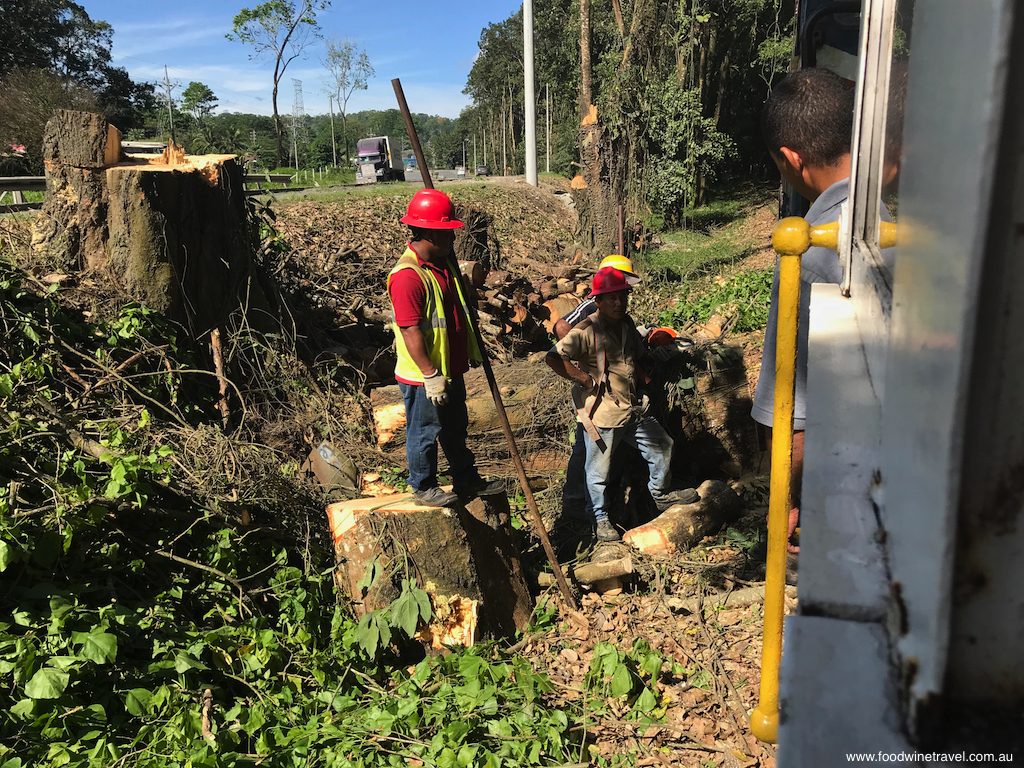 At one point we waited while a fallen tree was cleared off the line. On the train we bought some patties from the lovely Lilda, who had got up at 4am that morning to make them to sell to the passengers. She was one of the most cheerful and friendly people you could meet anywhere, making a living from selling a delicious little snack, similar to empanadas but locally referred to as patties and sold in some of the cafés around town.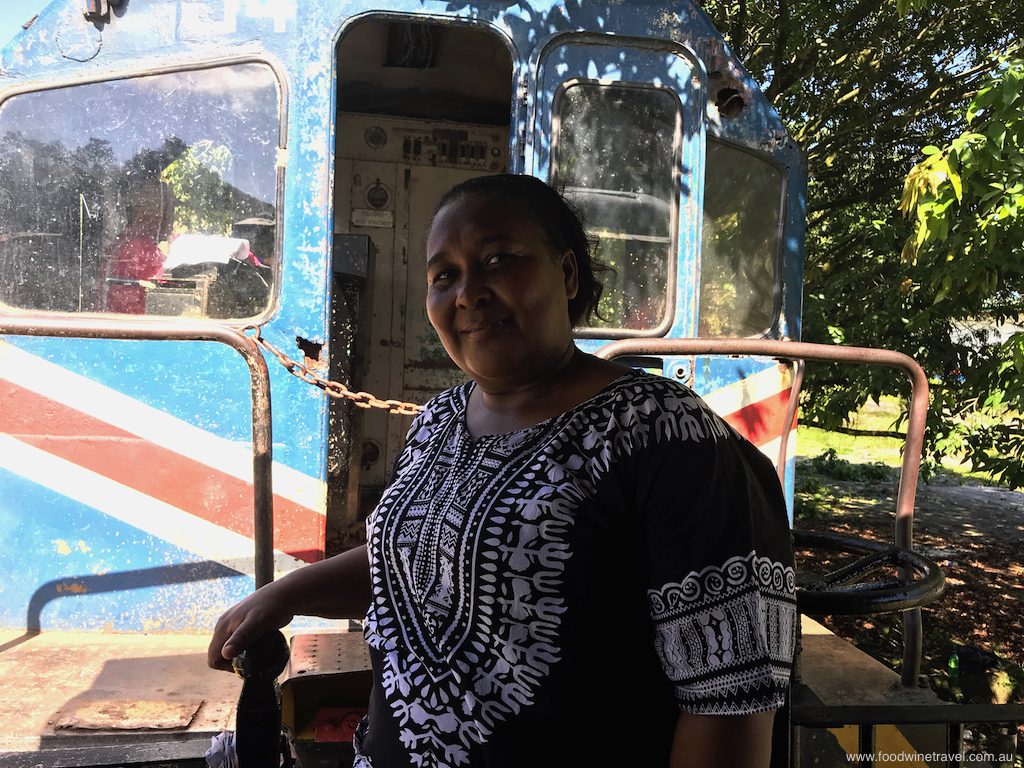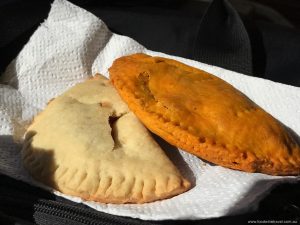 They were also on sale in the central market (mercado) in Puerto Limón, where you can wash them down with a horchata – the cold drink made with ground rice, cinnamon and condensed milk. As a matter of fact, everything is available at the mercado: meat, fish, fruit, vegetables, clothing and all kinds of household items.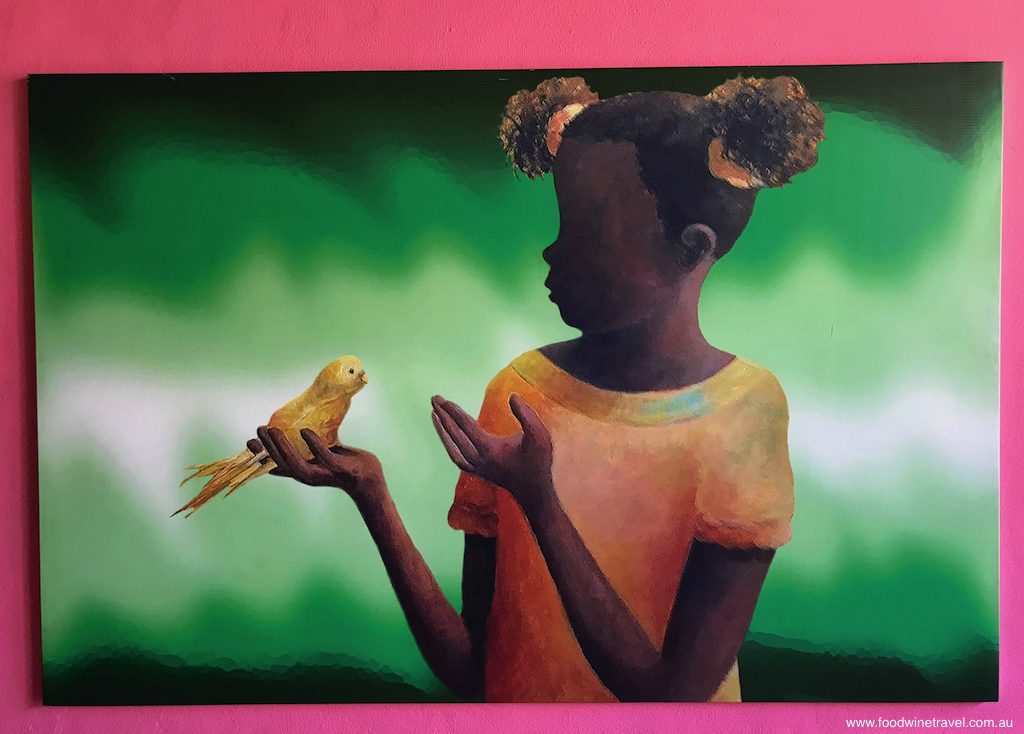 While visiting the Mercado, we were approached by a dapper old bloke who introduced himself with the unlikely name of Daniel Sargent. He wasn't trying to sell us anything but simply realised that we were tourists and thought that he would engage us in conversation. His name came from the fact that his parentage was a combination of English and Spanish with a bit of indigenous Costa Rican Indian in the background. He was a sprightly 87 and had, in his own words, been a "jack of all trades". One of his "trades" turned out to be running what he referred to as a "whore house". It seems that the owner was a friend of his who needed a manager at the time. He was very proud of his heritage and his Costa Rican culture and nationality.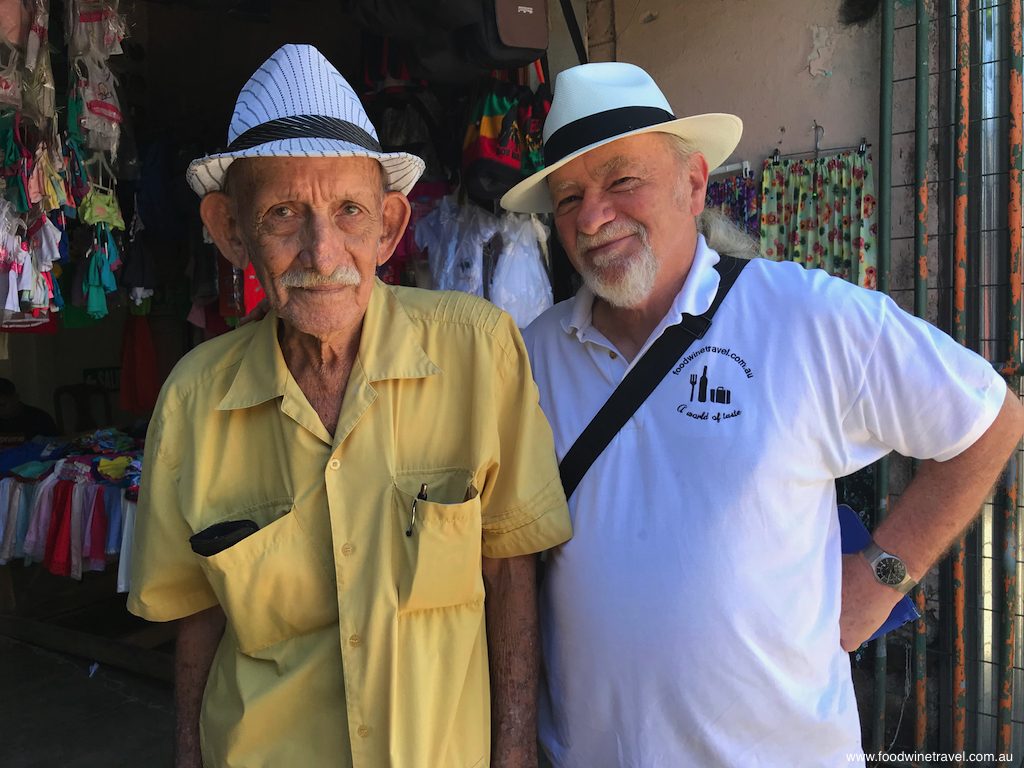 Limón is one of Costa Rica's seven provinces and has a diverse cultural mix of Afro-Caribbean, native Indian, Hispanic and Chinese. The majority Afro-Caribbean population speak English and came to Costa Rica from Jamaica and other British West Indian countries to build the railroad and work on the plantations in the late 19th century. Although they came as free workers (slavery was abolished in 1824), they were not given citizenship rights or allowed to leave the province until 1948 – an unfortunate fact but one that has kept their culture intact and unique.
The next person that we met in Port Limón also had a connection with the mercado, but we met him downtown, opposite the Balvanero Vargas park, where we were strolling after a very good cup of Costa Rican coffee and a lemonade. He was sitting outside a café and jumped up calling, "Sir, sir can I talk with you a moment please?"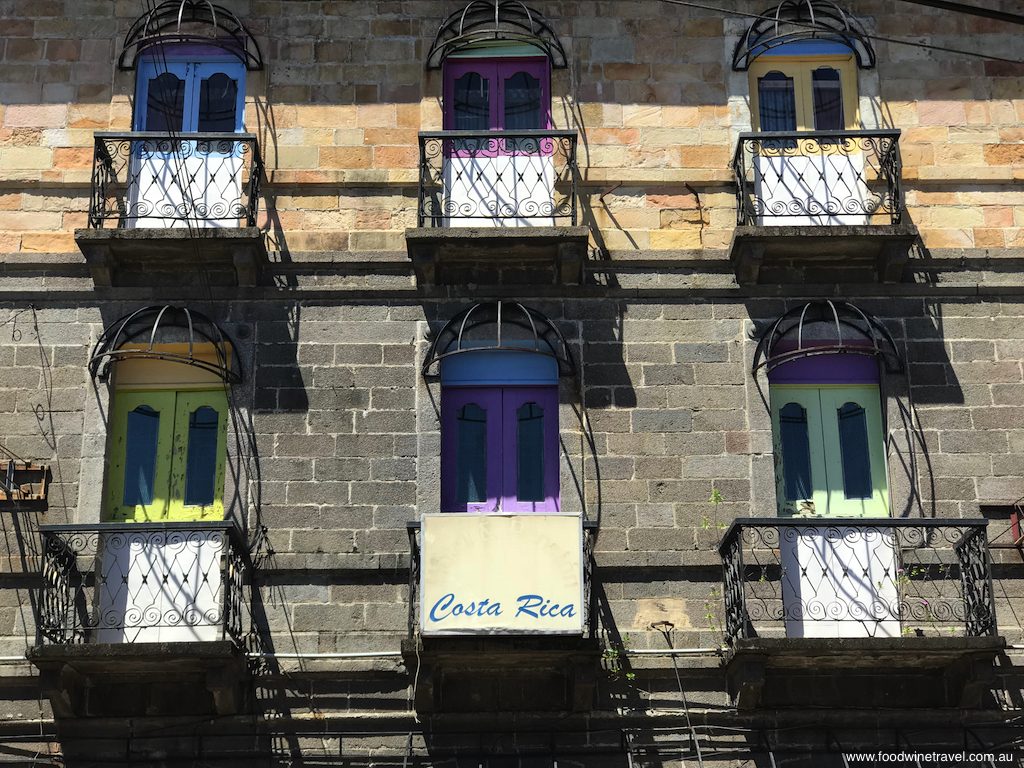 I immediately thought, 'here we go, what's he selling?" Well, he wasn't selling anything, and actually wanted to just talk. He told me that he had seen me earlier in the mercado and had admired my Panama hat. The day before we had been in Panama and, well …. where else should you buy a Panama hat? The real answer to that question is Ecuador.
He introduced himself as Burt and what followed was a detailed and very technical discussion about hats. Like myself, Burt turned out to be somewhat of a hat aficionado and like Daniel, a man of many hats. He was decrying the fact that you could not buy a good hat of the 'Panama' type in Puerto Limón and he had been looking online but was surprised at the prices. He was also surprised when I told him that I had paid $US35 for mine as he thought that a hat of such quality would be at least $100.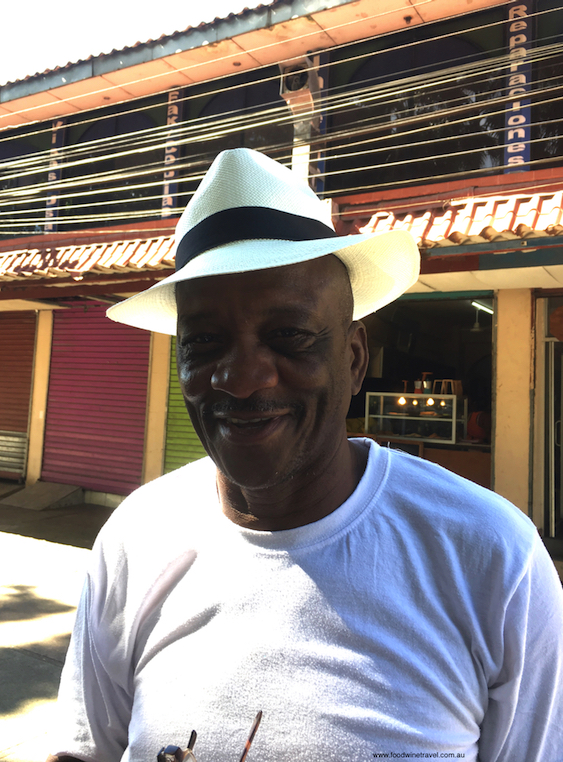 For those who are not necessarily hat aficionados, let me tell you that the genuine Panama hats are actually made in Ecuador (which mine is) and got their name from the fact that they were generally sold through Panama, a much busier trade centre than Ecuador. The name Panama was reinforced further when Teddy Roosevelt visited Panama in 1906 to see how the canal was going and was reported by the American press as wearing a 'Panama' hat.
That hat, like all genuine ones, was made in Montecristi in Ecuador and that's a bit of information you can keep under your hat. These days unfortunately many of them are made in China. The one thing that I have learnt while travelling is that hats start conversations.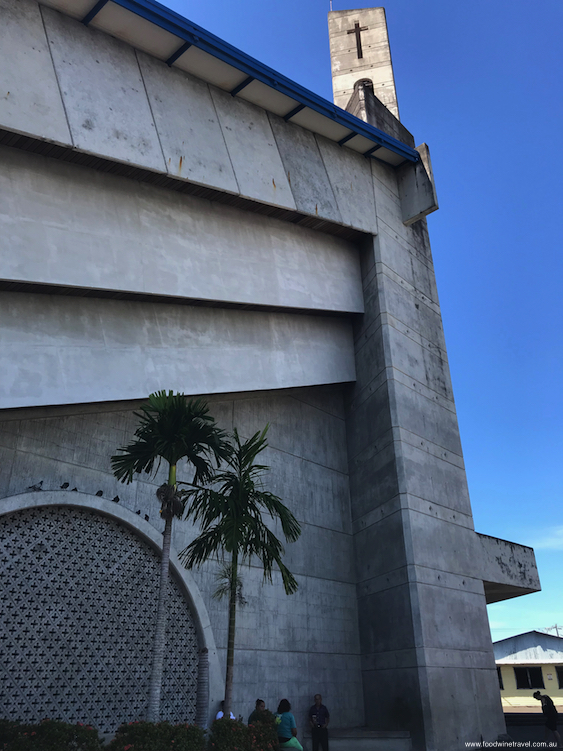 As it turned out, Burt was originally from Seattle but preferred to live in Puerto Limón where his girlfriend ran the café. He liked the climate, the people and the easy and inexpensive living in Costa Rica. Burt was the sort of character who you could talk to all day and he was full of information about Costa Rica and comparisons with the USA. I let him try on my hat which he seemed pleased about although he really needed a bigger size.
Lilda, Daniel and Burt made the experience in Puerto Limón memorable. They were happy to talk about themselves and their country and they showed that wherever we come from, we all share a basic humanity. I left Puerto Limón with a warm Costa Rican glow having made some new friends and not bought any tacky souvenirs or left a footprint apart from being impressed and maybe even making a small impression. As the sentimental bloke once said, I dips me lid.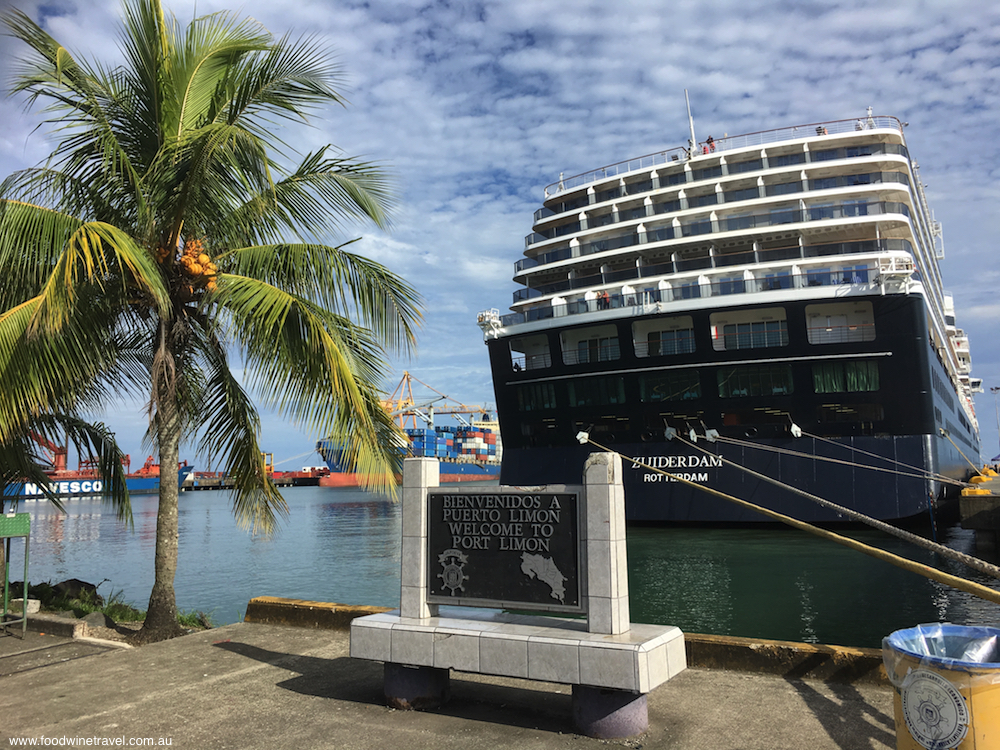 We visited Port Limon on an 11-day Panama Canal Sunfarer cruise on Holland America's Zuiderdam, for which we paid our own way. We did a half-day Holland America shore excursion (Caribbean Train, Countryside & Tortuguero Canals) then spent a few hours exploring Port Limon on foot.