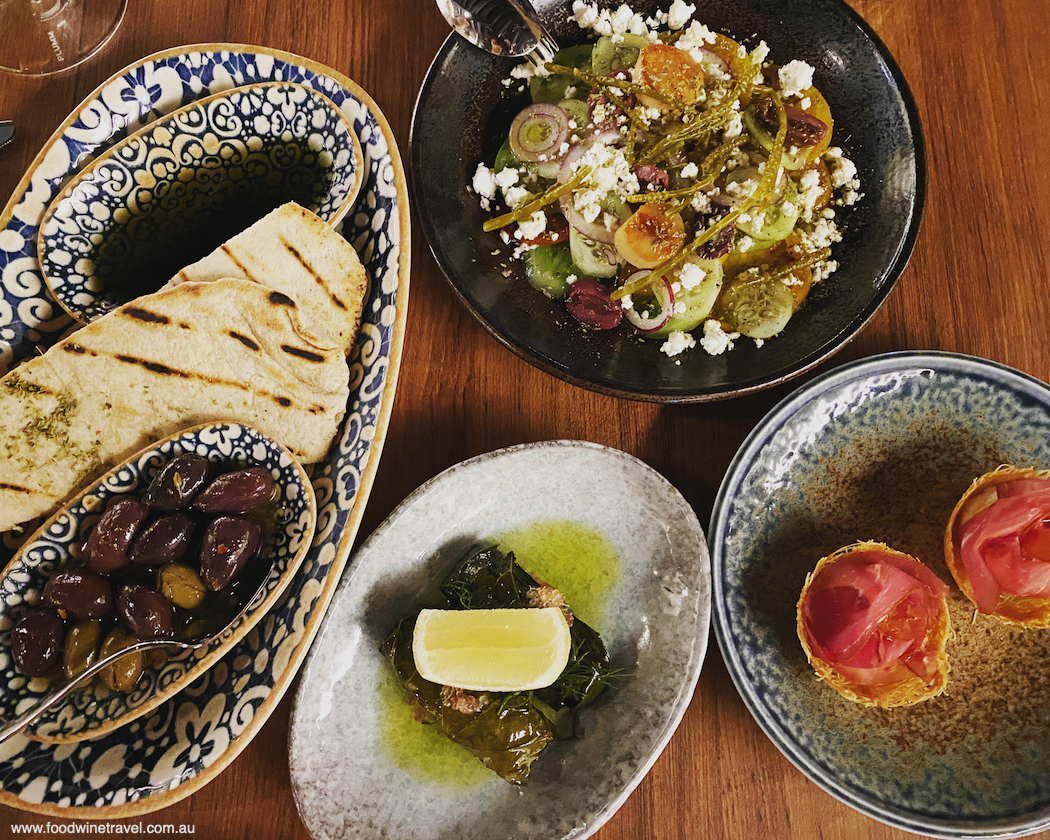 It's a brave soul who opens a restaurant in uncertain times but that's exactly what Peter Conistis did, opening his gorgeous new Sydney waterfront restaurant, Ploós, back in January. As a pioneer of Greek cuisine in Australia, he's probably more equipped than most to take such a leap of faith.
And judging by the number of people dining there when we visited a few weeks ago, this new venture is already hitting the spot. The outdoor area with its luxurious lounges and tables overlooking the harbour was full to the brim, but dining inside is equally lovely, as we discovered on our visit.
It's a good-looking restaurant, located in Campbell's Stores on the waterfront in The Rocks. The heritage-listed warehouses have undergone a stunning transformation, the interior elegant in its simplicity.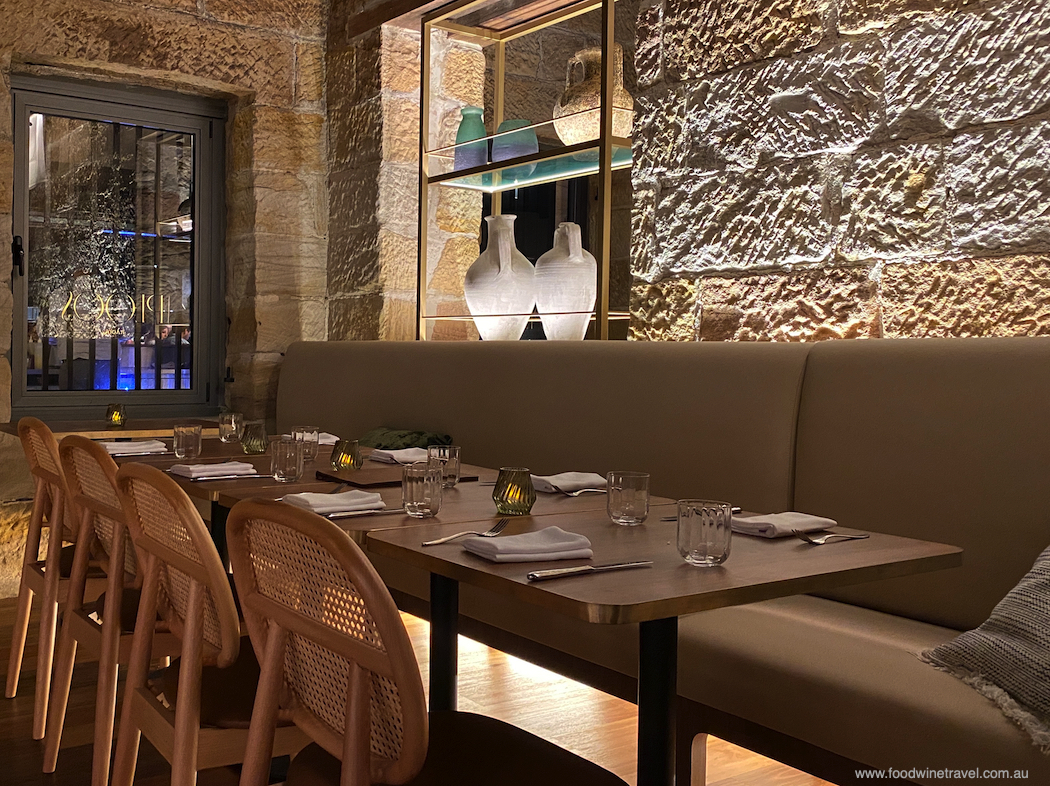 Timber rafters and the natural tones of the original sandstone walls provide a warm backdrop for oatmeal-coloured banquette seating, bare timber tables and timber/rattan chairs. A small number of beautiful ceramics, reminiscent of the Aegean, adorn the walls, along with natural linen bunting creating the feel of a ship about to sail. A long white bar, edged in brass and finished with marble, adds to the nautical effect.
It's all quite beautiful — classy but casual and inviting. The menu is flexible. You can come for cocktails and share meze plates, choose from the enticing mains, sides and desserts, or do as we did and indulge in the full pikilia menu which costs $80 and requires a minimum of two guests to order. The pikilia menu includes about a dozen dishes, some quite small (like marinated olives) but others surprisingly large. By the end of it, we were well and truly stumped.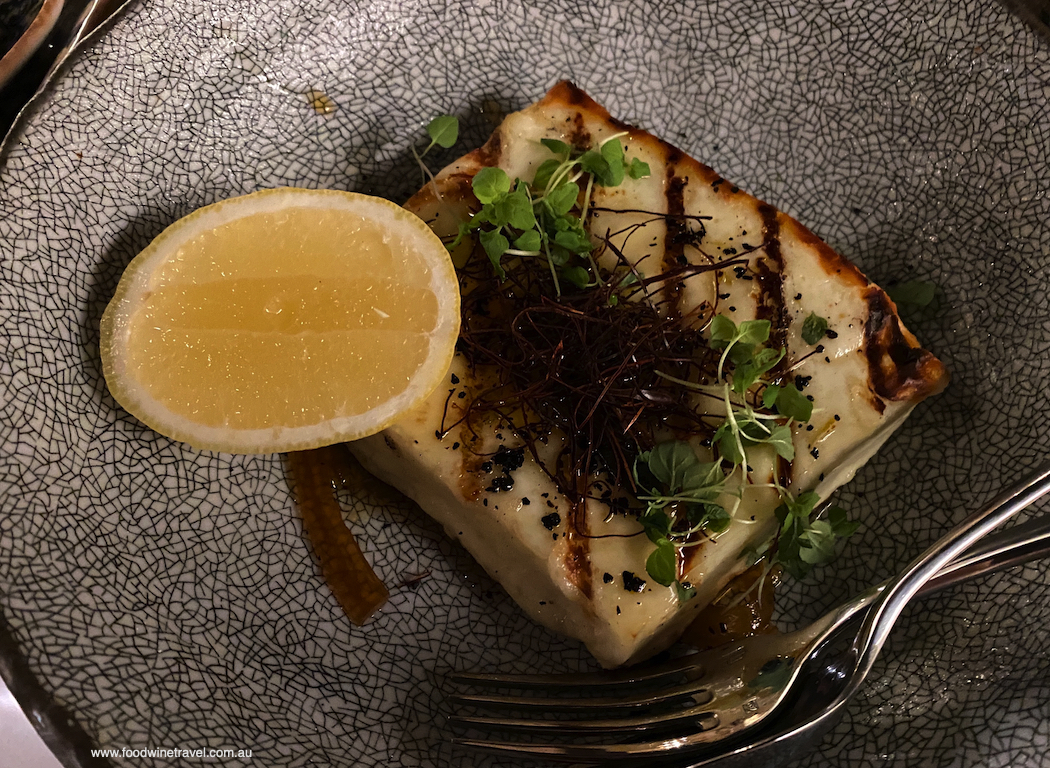 The dolmades yiaprakia were probably my favourite dish of all, because they were such a revelation, the vine leaves stuffed with almonds, chamomile and finger lime – delicious, subtle flavours in a combination I could never have imagined. We loved the myriad of textures – the crunch of the nuts, the pop of the finger lime, the tender vine leaves.
The sourdough pita bread came with black olive oil and wild oregano, while the olives were marinated in mahlepi citrus and rosemary (mahlepi, if you're wondering, is a Greek spice made from the seeds of a particular species of cherry).
Conistis has been behind some of Sydney's finest Greek restaurants over the past few decades, among them Cosmos, Eleni's, Alpha and Omega. At Ploós, he has shifted his focus away from the Greek mainland to the South Aegean. Taking inspiration from Cyprus, Crete and nearby Middle Eastern cuisines, he embraces the essence of the South Aegean islands while adding his own unique perspective.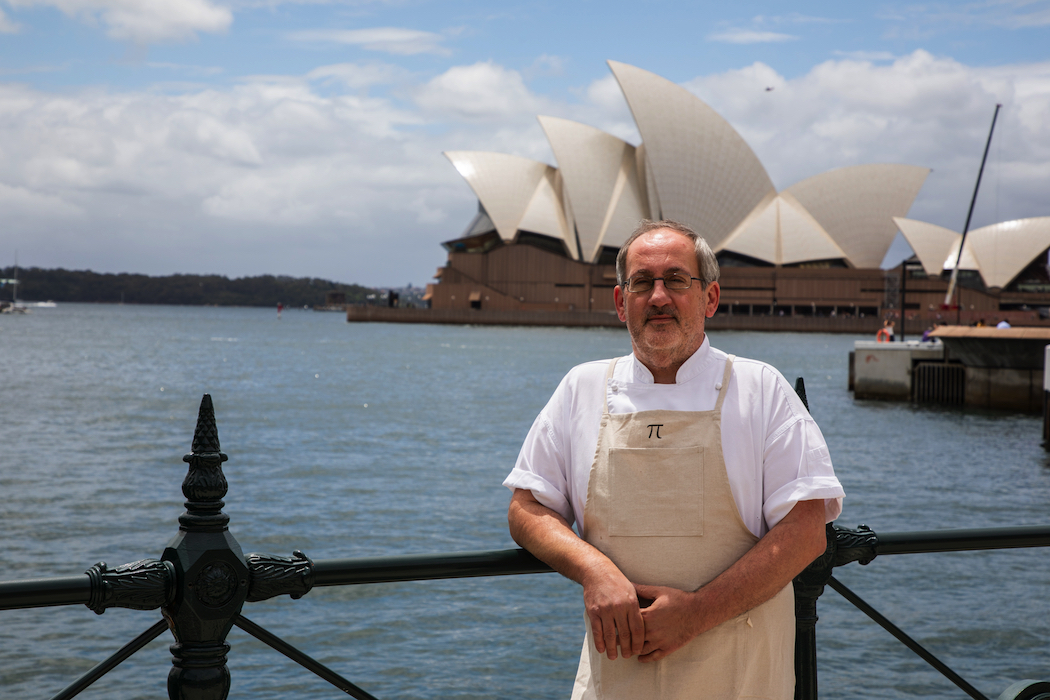 He draws on artisanal cheeses, cured meats, single-origin olive oils from Crete, and spices from the mountains of Crete and Cyprus. Combining these with fine Australian produce, including organic chicken, Berkshire pork and quality seafood, it's a playful take on South Aegean cuisine – not authentic but certainly creative.
Next to the dolmades, the halloumi was another favourite. Grilled with sweet caramelised fennel, lemon and isot pepper, it was exquisite. Dainty lamb shank 'cigars', along with kataifi tarts filled with pastourma and candied eggplant, were other meze we enjoyed.
Conistis's interpretation of the classic Greek nissiotiki salad (nissiotiki meaning island style) combines heirloom tomatoes and cucumbers with pickled samphire and seared sea scallops, while massive prawns from Queensland's Gulf of Carpentaria were grilled with lemon and olive oil and served with slices of peach.
The $80 menu came with grilled chicken and almond skordalia, but for an extra $15 you could add honey-roasted lamb ribs with braised artichoke. The whole lot was served with super-cripsy potatoes (done with red wine, coriander and rosemary) and peas braised with tarragon and coconut feta. Delicious.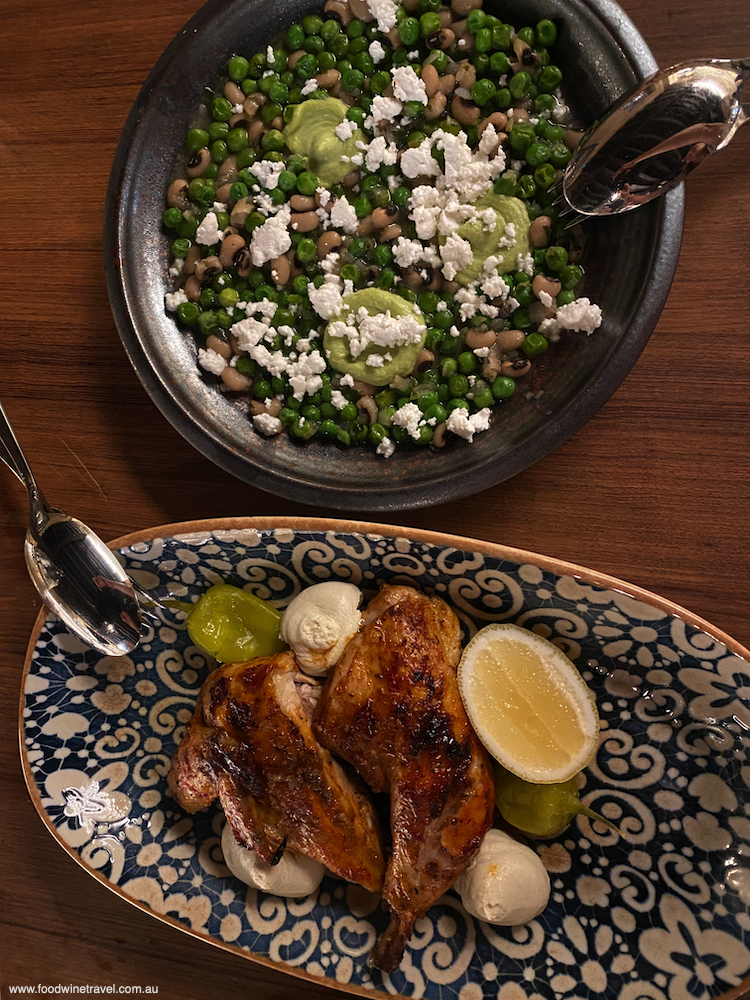 Dessert was really interesting. The chickpea baklava was a single large square flavoured with cumin and candied lemon, topped with halva icecream, an unexpected combination that worked beautifully although we were well and truly struggling by this stage.
The wine list has a comprehensive selection of both Australian and international wines, along with interesting cocktails and, not surprisingly, lots of ouzo and Greek spirits.
As Greek wines are not something we get to try every day, we sampled three Greek wines by the glass: 2020 Papagiannakos Assyrtiko, a crisp and flinty white with citrus notes; 2020 Zafeirakis Limniona Rosé, a dry Rosé made from the rare indigenous Limniona variety; and 2017 Voyatzis Estate Kthma Xinomavro, a vibrant, earthy red with hints of spice. All paired beautifully with different dishes on the pikilia menu.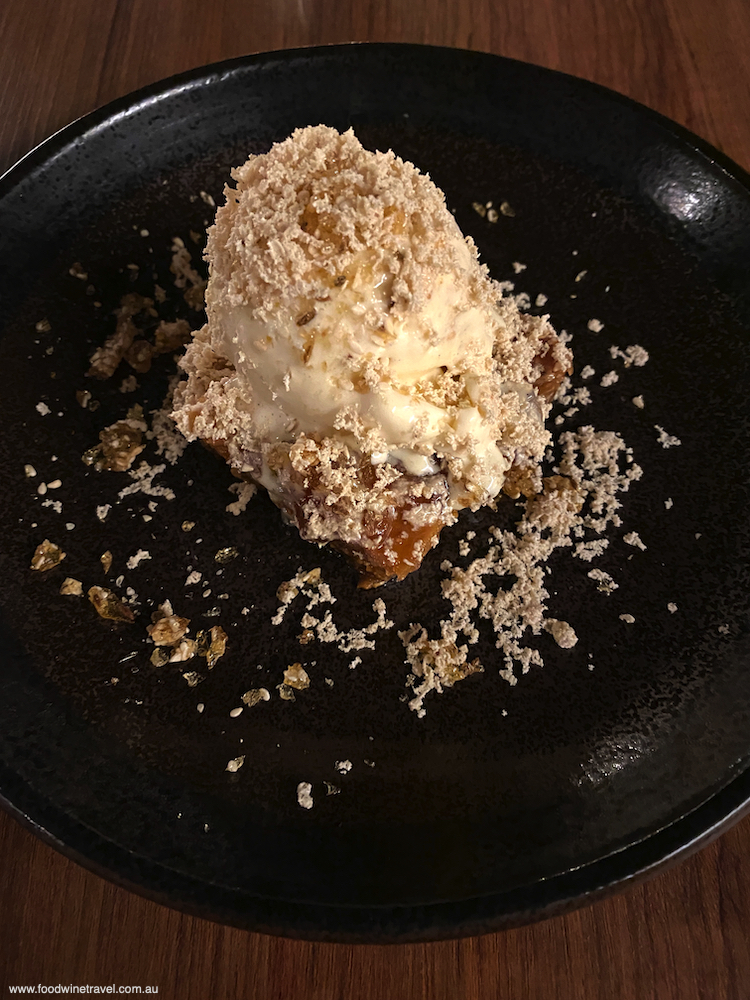 The stunning location and décor, fine cuisine and well-considered drinks list surely sets the scene for success for this lovely new restaurant. Ploós (pronounced plews) is a Greek word for voyage or sailing, and we certainly felt transported to an Aegean paradise for one evening.
If you go:
Ploós
Bay 7, 7-27 Circular Quay West,
The Rocks, Sydney NSW
Australia
+61 (0)2 8231 4890
www.ploos.com.au
With thanks to Peter Conistis and his team for such a beautiful dinner. Christine and Maurie dined as guests of Ploós. All photos are our own except for the photo of the chef in front of the Opera House. It was supplied by Wasamedia and is used with permission.