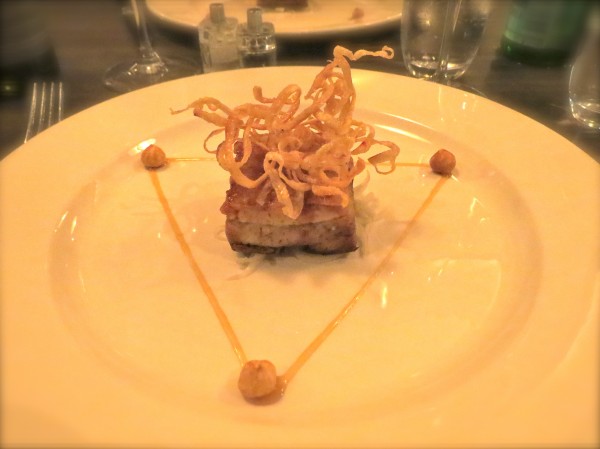 I am most definitely NOT an ABC* wine drinker. I love Chardonnay – always have, always will.
It's one of the most versatile varieties (the menu here is proof of that) and I love it in all its guises – with tropical fruit or apple/pear notes; when it is nutty, creamy or a little buttery; when it is simple and straight-forward or when it has layers of delicious complexity.
I'll happily drink it anywhere, any time, any place, so when I saw Artisan was offering a special menu matched with four different Chardonnays, I was on the phone to the restaurant in a flash.
There was no time to dilly-dally. The menu was on offer only during the month of February and the end of the month was just a few days away.
Artisan, in the Canberra suburb of Narrabundah, seems to find a happy balance between being comfortable and casual, and having a bit of class about it.
The food is prepared with love and care, with a respect for ingredients and flavour combinations.
The four-course Chardonnay menu was printed on the label of an empty wine bottle that was sitting on our table when we arrived – a quaint touch.
The regular menu was available too, but I was on a mission, so we were off and running with our entrée of ocean trout poached in olive oil (see photo below).
It was sitting on bintji potato salad with a drizzle of balsamic vinegar, and was beautifully complemented by a glass of 2009 Michel Bouchard Chablis (France), served at a perfect temperature.
So many restaurants serve white wine far too cold, making it difficult to appreciate the wine's true character. Artisan managed to get it just right.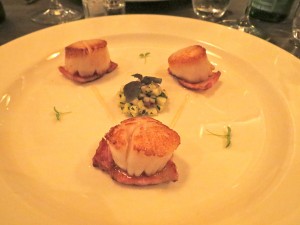 Next up were three pan-seared scallops served on discs of spec with a dainty mound of apple salsa and a sherry reduction drawn on the plate in a triangle.
It was matched with 2010 Cape Mentelle Chardonnay, a Margaret River beauty.
What's with the triangles? The next course, maple-brushed pork belly had one too (see photo at the top of this post).
The pork was slow-braised in Gyspy pear cider and sat on some shredded witlof with a couple of hazelnuts scattered about.
The pork was a little overcooked on one corner but the flavours were a lovely match for the 2009 Cloudy Bay Chardonnay (Marlborough, New Zealand).
The finale was a dessert of vanilla-bean custard with a disc of burnt sugar (toffee) on top and some spiced pineapple and pistachio below.
This was perhaps the finest pairing of all, as the 2009 Spy Valley Noble Chardonnay (Marlborough, NZ) was bursting with tropical fruit flavours that matched the acidity of the pineapple.
Artisan's co-owners, Sam McGeechan and David Black, plan to have more of these special food and wine months. They will probably hold another one in a few months' time, most likely matched with Champagne. It will surely be one to look out for.
*Anything But Chardonnay
The Artisan Restaurant
16 Iluka Street, Narrabundah, Canberra.
+61 2 6232 6482
www.theartisanrestaurant.com.au