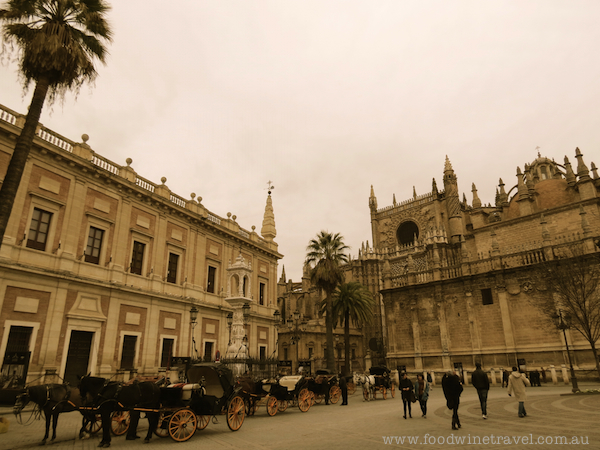 Two weeks of travelling by train in southern Spain and Portugal rekindled my love of train travel. It's a good few years since I travelled by train in Europe – in recent years, I've done it by plane, car, bus and cruise ship. For travelling between big cities, however, I don't think you can beat trains for comfort and convenience.
Our itinerary was put together for us by Railbookers who handled all the travel and accommodation bookings for a 13-day journey ticking off a couple of places that we've always wanted to visit – the Alhambra in Granada being prime among them.
We started in Malaga, for no reason other than that was where our EasyJet flight delivered us from the UK. From there, we took trains to Cordoba, Granada and Seville (above), spending around two nights in each.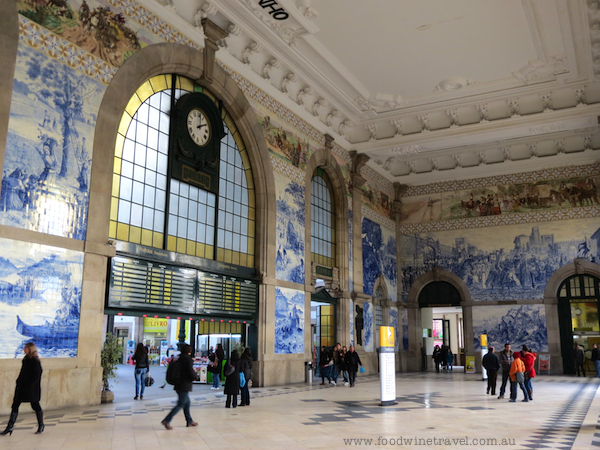 From Seville, we took a bus to Faro in southern Portugal before catching the train to Lisbon. There was a small glitch with the service from Lisbon to Porto as an accident the night before resulted in the closure of the line. (The blessing is that we weren't on that train.)
Thankfully a woman in the ticket office in Lisbon explained in clear and precise English how we would need to take a bus to detour around the affected line. The disruption meant out arrival in Porto was half an hour late, the only delay we had in 13 days of travel.
From Porto (above), we took a bus to Salamanca in Spain, and then the train from Salamanca to Madrid, past lush green fields with snow-capped peaks in the distance.
If only airline travel was as comfortable as train travel. All the journeys were very pleasant and most of the trains had refreshment cars.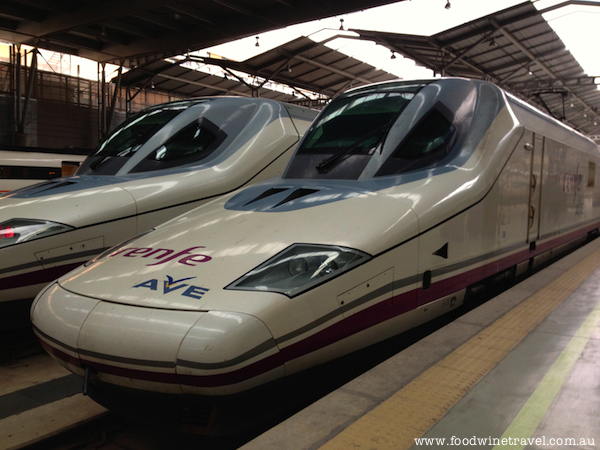 The high-speed Renfe train from Malaga to Cordoba was the most luxurious of all, with reclining lounge seats, tray table, oodles of legroom and a Sherlock Holmes movie being screened (with headphones given out freely).
Railbookers booked seats for us on all the sectors, and this was invaluable. It was reassuring to know that we always had an allocated seat.
It wasn't quite as easy to find our seats in Portugal as it was in Spain, as the Portuguese carriages didn't carry numbers on the outside. On the train from Salamanca to Madrid we had to sit backwards, not ideal but not overly bothersome.
Railbookers had clearly put a lot of thought into selecting hotels within walking distance of the main attractions. Most of the hotels were centrally located and an inexpensive taxi ride from the railway station.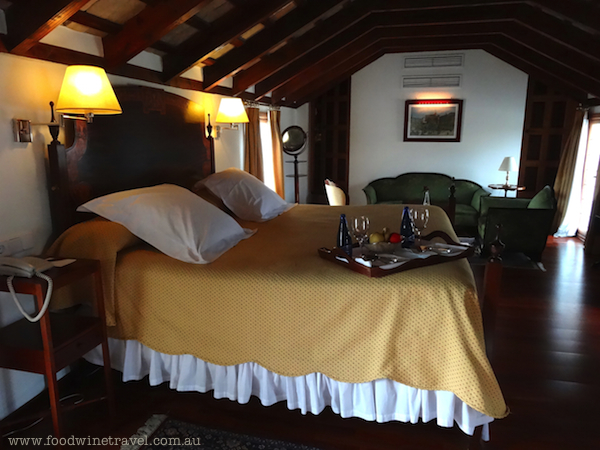 Our favourite hotels were Las Casas de Juderia in Seville (above) and the Hotel Britania in Lisbon. Las Casas de Juderia has loads of historic charm as it is comprised of a number of centuries-old villas connected by courtyards, terraces and an underground tunnel. Our suite here had a private tower with great views of the old Jewish quarter.
The Hotel Britania had a warm and dignified ambience. It provided a free afternoon tea for guests and a superb breakfast. Indeed, all the hotels except two had wonderful breakfast buffets with an amazing array of hot and cold dishes. In Spain, they know how to eat …
As for the destinations on our itinerary, it would be hard to choose a favourite. Visiting the Alhambra in Granada (below) ticked all the boxes. It helped that it was a glorious sunny day and, being the middle of winter, there weren't many visitors.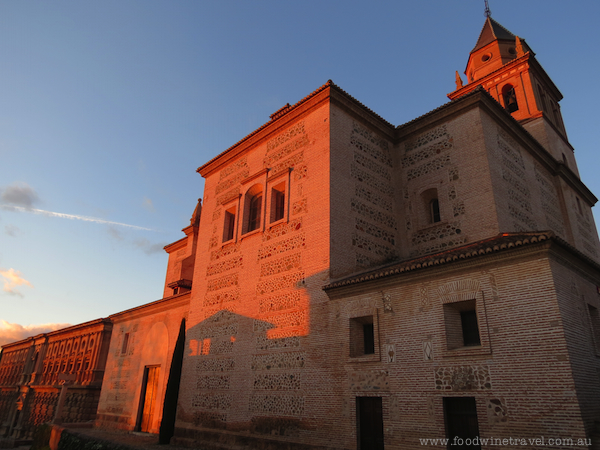 The Alcazar in Seville and the Mezquita Cordoba were other highlights, as was the walking tour in Granada that gave a great insight into the Moorish occupation of Spain. We fell in love with Fado, the music of Portugal, and enjoyed a lively flamenco evening in Granada.
We ate the world's best Portuguese tarts and drank Portugal's favourite cherry liqueur, Ginjinha, in Lisbon and drank Port, of course, in Porto. The best restaurant meals we had were in Lisbon (Restaurante 100 Maneiras) and Salamanca (El Alquimista).
The best tapas were in Malaga which, to our surprise, was not just a beach resort over-run by Brits but had plenty to keep us occupied including historical attractions, quirky shops and great little cafés and bars.
For once, the Australian dollar was in our favour and we dined well without it costing a fortune. With travel and accommodation sorted before we went, the only other expenses were cab fares and entry fees. Most of our sightseeing was done on foot.
Exploring the narrow and winding cobbled streets convinced us that we had done the right thing in travelling by train – who would want to negotiate them in a car?
And despite the fact that we went to Europe mid-winter because of a family wedding, we're pleased we visited in the off-season when we were able to experience it without the hordes.
Railbookers is a holiday/tour operator specialising in tailor-made itineraries for the independent traveller across Europe.  Visit: www.railbookers.com.au or phone 1300 938 534.
Related posts: Hard Rain in Portugal; El Cabra, Málaga: When The Stars Align.