Let me introduce guest blogger and whisky aficionado David McIlroy, who had the great privilege in meeting world-renowned whisky expert, Martine Nouet, at a dinner at La Scala restaurant in Canberra.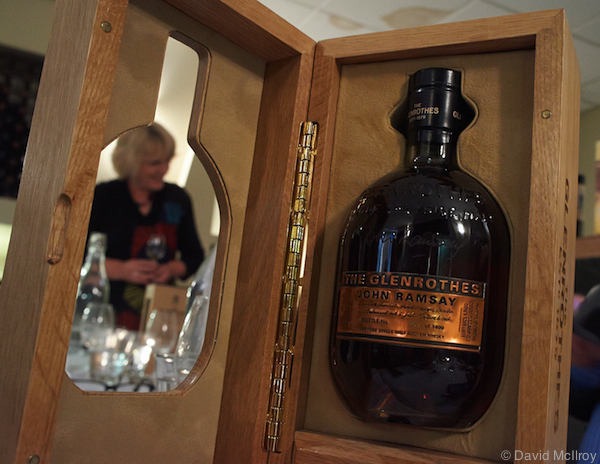 Visiting Australia for the first time, Martine Nouet is a relaxed and charming hostess who speaks with Gallic passion about her love of whiskies and her life on the Scottish island of Islay with its eight distilleries. She tells of growing up in rural Normandy, where as a young girl she gained a taste for spirits by furtively sampling the dregs of Calvados in the bottom of sweetened coffee cups!
Martine pleaded for her first chance to do a wine/spirits write-up, then a bastion of male domination in the French food writing industry. Now she is a widely published author, columnist and whisky judge. She presented six whiskies for tasting at La Scala in Canberra as part of the Whisky Live events being held in a number of Australian cities.
Caol Ila 12 Year Old
First course was a carpaccio of eye fillet, accompanied by a 12 year old Caol Ila peated from Islay, actually one of my favourite Islay peated single malts. As such I had no difficulty savouring both the whisky and the fairly delicate taste of the eye fillet, drizzled with olive oil and thinly sliced cheese.
Glen Moray 16 Year Old
The next dish, scallops accompanied by a 16 year old Glen Moray, was magnificent. The whisky was very smooth, sweet and relatively complex and was more popular with the diners at my table than the lovely-to-me Caol Ila.
The Glen Moray is 70% aged in American oak bourbon casks and 30% in sherry casks. Martine found the scallops and the carrot purée went very well with the bourbon component and the mushrooms with the sherry maturation, and I'd certainly agree.
Hellyers Road 10 Year Old
Hellyers Road is a 10 year old unpeated whisky with a relatively high 46% alcohol content. It's made in Burnie, Tasmania, by a distillery owned by a group of dairy farmers. Its nose was very grassy, slightly resinous but very smooth. Both nose and taste were redolent of mashed bananas, so quite different but very appealing! I rarely agree with nosing or tasting notes describing a whisky as grassy, but this one fitted the description well. This whisky accompanied the exquisite mushroom risotto so very well. The porcini mushroom risotto was outstanding, very creamy and subtle … the best I have ever tasted.
Glenrothes 1991
Bottled as a vintage of certain ages of whisky, this whisky has a high percentage of ex sherry casks. Only 10 cases of the 1991 vintage are available in Australia. It had a fruity citrus spicy nose; Martine noted a coconut aroma and I also nosed raisins. The lamb rump served with it was a little tough for some of my fellow diners but the flavour was satisfying, even though lamb isn't a personal favourite.
Glenlivet Nadurra 16 Year Old
Nadurra is Gallic for natural and this whisky is strong at 54.3% alcohol. It is aged in first-fill bourbon casks and is a sweet, aromatic drink with some coconut influences like the Glenrothes 1991. La Scala served it with a very rich and delicious pannacotta desert containing some orange peel.
Nant 4 Year Old
We finished the dinner with coffee and Nant whisky, from a very small central Tasmanian (Rothwell) distillery. It uses brewers' barley, not a distillers' barley, giving it a nutty taste with a muddier base distillation.
Nant is a single cask whisky, and in post-production, water is slowly added to bring strength down to 43%. It is aged in small 100 litre American oak sherry casks. We had one with a Sherry Wood expression (in oak that had been filled with Australian sherry previously).
It had a great toffee taste and was amazingly refined and smooth for a 4 year old whisky. 30% of Nant consumers are women and the range is being marketed through whisky bars and whisky cocktails. All in all, a very pleasant dinner.