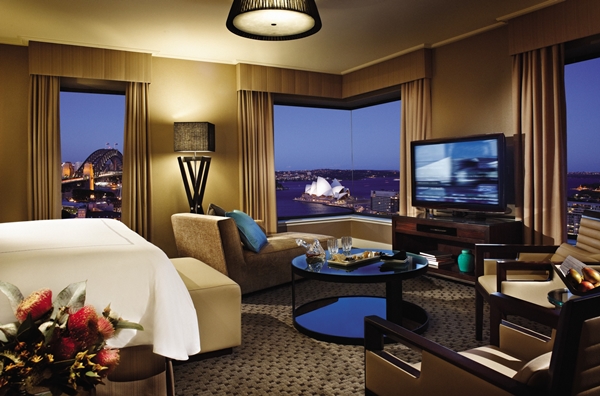 Regardless of how you might put yourself into the right frame of mind to tackle Sydney traffic, the experience of driving in the city is never one you'd call fun.
And there's certainly nothing grand about the roads that lead you to the door of the Four Seasons Hotel at the northern end of George Street, hemmed in by the Cahill Expressway and the City Loop railway line.
Yet there's a lot that is reassuring about this stalwart of the city's hotel scene. Despite having opened in 1982 and lacking the modern edge (read: hard furnishings and stark interiors) of many newer hotels, it remains remarkably fresh in style and ambience.
It's a hotel that pulls you in – in the nicest possible way – thanks to its bustling lobby, enthusiastic doormen and inviting lounge that beckons you in for a drink.
Better still, ditch the car – which one of the doormen will valet park for you – and check in to one of the hotel's 530 rooms, and you'll find that the hotel is a quiet haven that rises above the madness of the CBD.
Even on a grey, overcast day like it was when we visited, the jaw-dropping views of Sydney Harbour were enough to make my Sydney-born partner want to pack his bags and return.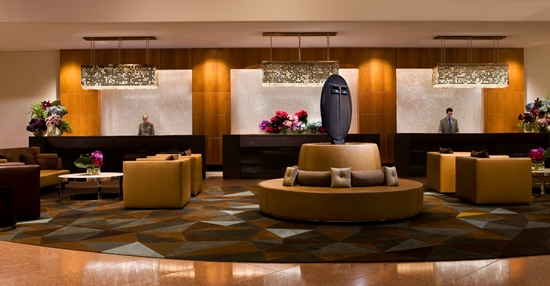 Our Premier Harbour View room offered a panorama stretching from the Harbour Bridge to the Opera House and beyond. From the wonderfully soft king-sized bed in our spacious room, it was possible to take in one of the world's great views without getting out of bed.
We didn't turn on the flat-screen TV once during our stay; the view was entertainment enough. My partner could look across to Lavender Bay and almost pick out the spot where his childhood home was.
The room had lots of welcome touches, such as a huge desk and good magazines on the coffee table, including a couple of glossy travel magazines. The spacious bathroom had a separate tub and toilet, and the toiletries were lovely L'Occitaine products.
With entry to the executive club, we were able to take advantage of free Internet access and a wide range of magazines and newspapers.
Evening drinks and a good selection of hors d'oeuvres are on offer in the executive club every day from 5pm to 8pm, but it's the club breakfast that is really outstanding.
It includes a cooking station for omelettes and eggs whichever way you like them, as well as lots of fresh fruit, quality yoghurts (I had pomegranate and strawberry), and a great line-up of hot and cold items.
The executive club has a bird's eye view of historic Observatory Hill. Indeed, the hotel has a huge amount of history on its doorstep, being a hop, step and a jump from where Captain Arthur Phillip landed with the First Fleet on January 26, 1788.
The hotel is in a great location for strolling around The Rocks on foot, especially on weekends when the markets are on.
Some of the convicts who arrived in the fledgling colony pitched their tents on the spot where the hotel now stands. One of them was Henry Kable after whom the hotel's flagship restaurant, Kable's, is named.
Kable's this week plays host to Macanese Food Week, with two guest chefs from sister property Four Seasons Hotel Macao, Gary Wong and Alex Lim, overseeing the menu.
The event is being held in partnership with a colourful Macau festival that was held at Daring Harbour at the weekend.
If it's at all possible, get yourself along to Kable's for either lunch or dinner this week, and experience some traditional Macanese cuisine.
It's an exotic blend of Portuguese, Chinese, Indian and African flavours, and when I went to the launch on Friday, I was hugely impressed by dishes such as Bacalhau a Bras (shredded cod with scrambled eggs and fried potato) and African chicken (curry-roasted chicken).
Many people would be familiar with the egg tarts that are a hallmark of the cuisine, but there are other lovely desserts too, such as Leite Crème (egg custard with cinnamon) and Serradura (whipped cream layered with biscuit crumbs).
As if dining on these specialities for lunch wasn't enough, we enjoyed dinner at Neptune Palace Restaurant, a hidden gem of the Sydney dining scene.
It's just up the road from the hotel, on the first floor of a building overlooking Circular Quay, where it has been operating for over 17 years.
The food is Chinese/Malay and distinguishable both by the quality of the produce used, and the innovative approach to many of the dishes. The restaurant also has an amazing wine list, with more than 330 listings.
There's something for all tastes at the Neptune Palace with around 140 meat, vegetarian and seafood dishes on the menu, not to mention specials such as the delicious Scampi grilled with butter and garlic, and Lamb Cutlets with an Asian dressing, that we enjoyed on the night of our visit.
It would be hard to choose favourites from the great line-up of dishes we tasted, but let's just say the Steak in Honey and Black Pepper, Dry Curry Soft Shell Crab, Rusty Motorbike (marinated beef mince wrapped in Malay bread), Steamed Coral Trout with Ginger and Shallot, and Kapitan Chicken (breast fillets in coconut milk with chilli), are worth crossing town for.
Thankfully, we had only a short walk up the road (with a quick detour around The Rocks, including a stop at the wonderful Ariel bookshop) before reaching the Four Seasons and the comfort of a divine bed with deliciously plump, soft pillows.
Fact file:
Visit www.fourseasons.com/sydney or phone +61 (0)2 9250 3100.
Related post: Four Seasons Hotel Singapore