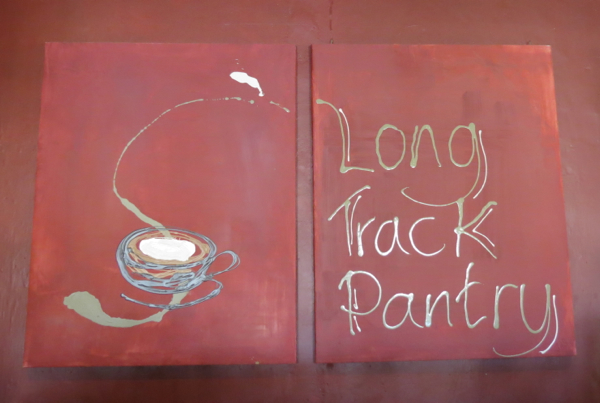 Some places are worth detouring off the highway for and Jugiong, NSW, is one of them. That's because it has the Long Track Pantry, the best pit stop for miles.
Since Jules Lenehan and Juliet Robb opened the café in 2006, a steady stream of cars has beaten a path to their door.
It's just a few minutes off the Hume Highway and the food is fresh, seasonal and wholesome. The ambience is pleasantly rustic, with a long wooden table where you can relax and read the papers.
There's a great selection of cakes, coffee from Premium Coffee Roasters in Wagga Wagga, and light dishes such as Slow-cooked Lamb Curry.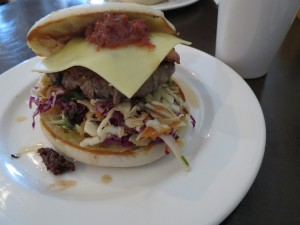 On a previous visit, I enjoyed the Lunch Plate with smoked trout pate, marinated feta, chicken and pistachio terrine, artichokes and toasted Turkish bread ($20).
This time around, we enjoyed burgers with pancetta, coleslaw and tomato relish ($17). (pictured at right)
While we were waiting for them to be served, we browsed amongst the kitchenware, preserves and cookbooks for sale. The café holds cooking classes too.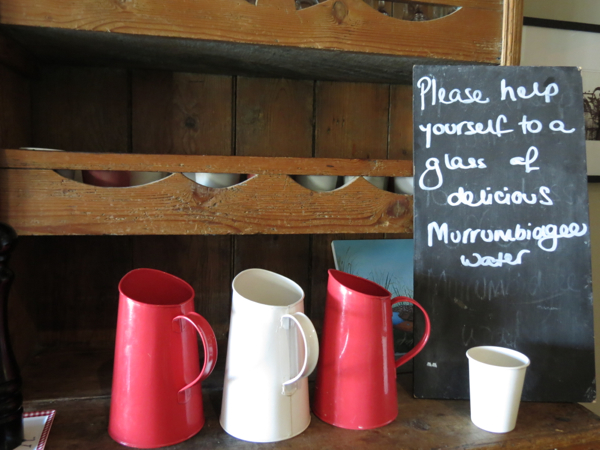 Long Track Pantry‎
Riverside Drive
Jugiong NSW 2726
Australia
+61 (0)2 6945 4144
www.longtrackpantry.com.au
Related post: Jugiong, NSW