Got To Go Guide: Exploring Wine Country Tasmania. By Trudie Michels. Road Trip Publishing, $39.95, softcover, 227 pages.
This guide to one of Australia's most bountiful food and wine regions is self-published but what immediately strikes you is what a high quality production it is.
Slickly organised with superb photography and quality entries about the food, wine, accommodation and attractions in the island state make this an essential travelling companion for anyone planning a Tasmanian sojourn.
Ian Parmenter, who wrote the forward for the book, describes Tasmania as not just the Apple Isle but the Total Gourmet Isle, because of its incredible array of produce, from mushrooms, seafood, edible seaweeds and truffles, to manufactured products, cheeses, wine, beer and even whiskies.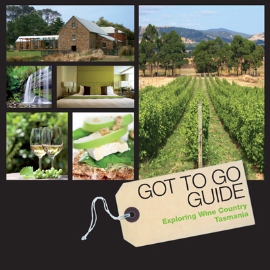 It also boasts some exceptional chefs, as well as superb wines which are most definitely under-rated in the marke
Trudie Michels was well-poised to write about Tasmania's gourmet offerings, having been involved in tourism, hospitality and marketing for more than 20 years.tplace.
A Melbourne-based food and wine consultant who has travelled extensively in wine regions around the world, she is a keen photographer and was responsible for most of the images in the book.
While it is attractive enough to sit on the coffee table, it is also an extremely informative and functional book, and it seems Michels has thought of everything, right down to the inclusion of a bookmark which can be detached from the inside back cover.
The book is organised by region, with each section kicking off with the essentials and a snapshot "sense of place".
There are maps and suggested itineraries, details of opening times and useful contacts.The topics covered vary for each region but generally include listings of food producers, events, restaurants and cellar doors, suggested walks, historical notes and other snippets.
Importantly, none of the businesses have paid to be included in the book, but nor was there any intention to rate or review them.
The reader is merely presented with as much information as possible, and left to decide which ones accord with their own food and wine preferences.
Some of the author's top picks are provided in breakouts throughout the book.
Road Trip Publishing plans more Exploring Wine Country books including Victoria, South Australia, New South Wales, Western Australia and Queensland, and if they are as well-researched and presented as the Tasmanian edition, Michels is clearly onto a winner.