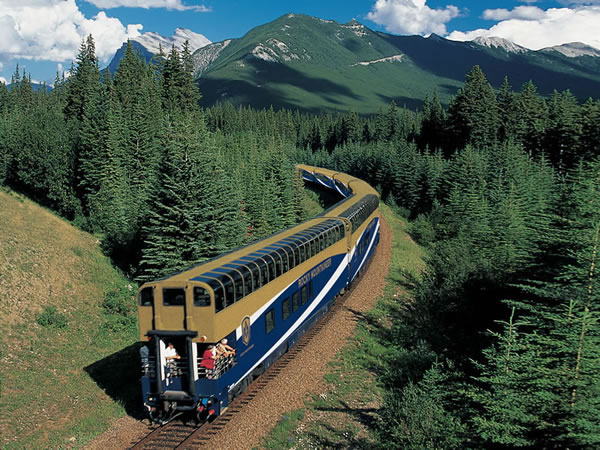 Working in a kitchen that is just over a metre wide must present challenges but the crew on board Canada's iconic Rocky Mountaineer train handle it with aplomb.
I've recently returned from Canada, where I was able to cross one of the world's great rail journeys off my travel wish list.
We did the Rainforest to Gold Rush route, the train's newest route, which runs from Whistler via gold rush country and an overnight stop in the sleepy little town of Quesnel, ending at Jasper, in the heart of the spectacular Canadian Rockies.
All travel is done by day, and the GoldLeaf service provides a two-level coach, with a glass-domed ceiling and super-comfortable passenger seating on the top level, and a well-appointed dining area on the lower level.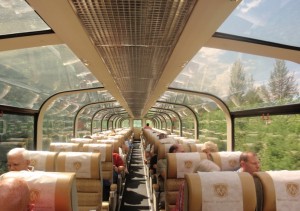 Across the four Rocky Mountaineer rail routes, a culinary team of 85 has the task of turning out fabulous breakfasts and three-course à la carte lunches for more than 100,000 guests a year.
The ingredients are drawn from British Columbia and Alberta, two of Canada's most bountiful regions, with an emphasis on the wonderful local produce.
At breakfast, the scrambled eggs come with smoked British Columbia Wild Salmon, while the lunch menu features dishes such as slow-cooked Alberta beef short-ribs with garlic whipped potatoes and seasonal vegetables.
One can never have too much Canadian smoked salmon and so the scrambled egg recipe is shared here, perfect not just for breakfast but also for a light lunch or supper dish.
We also enjoyed dishes such as an omelette filled with mozzarella, asparagus, potatoes and Canadian smoked ham; and Alberta pork tenderloin with a confit of sweet onions, whipped garlic potato and parsnip chips.
There's something very luxurious indeed about dining on good food that is beautifully presented with crisp white linen and gleaming silverware, while spectacular scenery rolls by.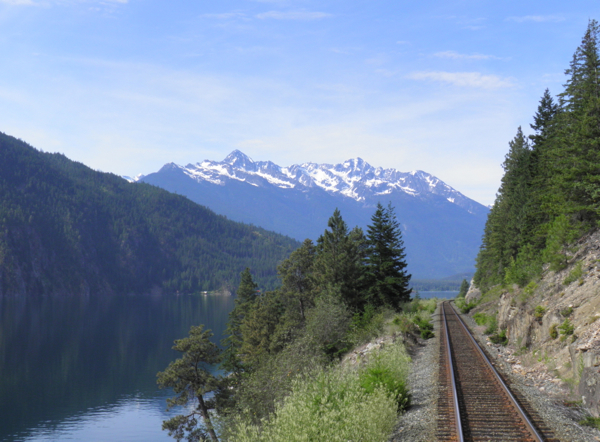 Canada's West is rich in history and natural attractions, with mountainous peaks, endless lakes and a wild beauty that is a photographer's delight.
There's also the occasional treat of a black bear, mountain sheep or elk foraging at the edge of the forest – we were lucky to spot all these and more.
I thought I could cross this great journey off my list but it's only whetted my appetite for more. Now the Vancouver-Kamloops-Jasper "Journey Through The Clouds" route has been added to the list.
Related posts: World Oyster Invitational, Going Local In Vancouver
SCRAMBLED EGGS AND SMOKED SALMON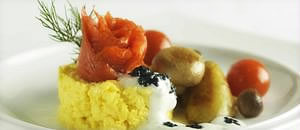 Serves 4
12 eggs
500g smoked salmon, thinly sliced
1 cup crème fraîche (see recipe below)
2 cups fresh fruit salad, finely diced into small cubes
28g caviar
1/4 cup fresh dill, finely chopped (reserve four sprigs for garnish)
Fresh mint leaves for garnish
1 teaspoon vegetable oil
Salt and pepper to taste
1 tbsp butter
Rub the inside of four small bowls, or medium ramekins, lightly with vegetable oil. Line each bowl evenly with smoked salmon, covering all areas but being careful not to layer too thick.
Refrigerate for 30 minutes (it can be made in advance and refrigerated overnight. If so, allow 10 minutes out of the fridge to remove and chill before adding cooked eggs).
Crack eggs into a bowl and whisk. Scramble lightly over medium heat in a sauté pan with butter, salt and pepper until eggs are medium firm.
Fill salmon-lined bowls immediately with eggs, pressing into a firm mould. Turn bowl over and lightly remove mould, serving flat side down.
Drizzle with 1/4 cup dill crème fraîche per plate and spoon caviar on top. Garnish with dill sprig. Serve with 1/2 cup fruit salad over mint leaf and hash brown potatoes.
To make the Dill Crème Fraiche: Mix 1 cup whipping cream with 2 tablespoons of buttermilk. Mix well and pour into a glass jar and cover. Let stand at room temperature for eight to 24 hours, or until thickened. Stir well and refrigerate. Use within 10 days. Remove from fridge 10 minutes before serving. Stir in chopped fresh dill.