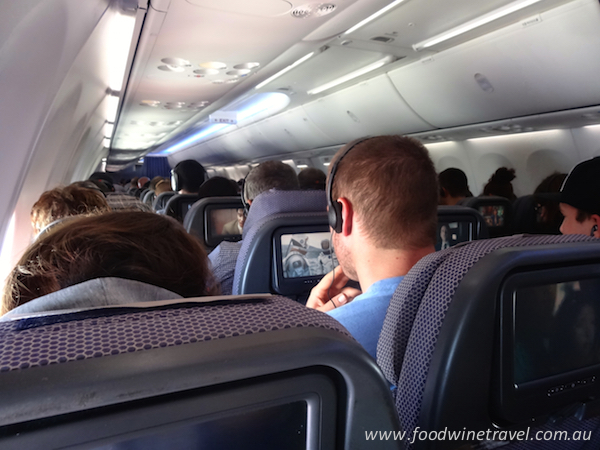 There are around 160 seats on the Qantas 737-800 flying me from Brisbane to Perth and every one of them is in the upright position except the one in front of me. Well, that's probably an exaggeration but that's how it feels. Although it's broad daylight and we're on a very civilized 11am flight, the lass in front of me needs to sleep. She must be tired, poor dear, because as soon as the seatbelt light went off, she reclined her seat as far as it could go, till it was about 30cm from my face. (That's her snoozing in the bottom left corner of the picture above.)
I know it's always a tight squeeze in economy – airline travel is not meant to be fun, unless of course you're lucky enough to be travelling at the pointy end of the plane. But the seating on the 737-800 does seem particularly intimate. Or perhaps it just feels that way having spent five hours with a seat 30cm from my face. I'd like to be charitable and think that she came off a connecting flight and was very tired. But more likely she'd had a big night or is just plain selfish.
I'm inclined to think the latter, because after an initial kip, she spent a lot of the flight watching movies, giving herself an impressive amount of space since the passenger in front of her kept his seat in the upright position.
My other half and I know there are a couple of certainties when we travel – things that we have a 99.9% strike rate with. For him, it's being picked out for the explosives test just as you pass through security. He's tried every trick in the trade – trying not to make eye contact with the security officer, taking a long time to put his belt back on so that someone else gets chosen – you name it, he's tried it, but they get him every time. Still, it's harmless enough stuff, a minor inconvenience in a traveller's day.
Me? My misfortune is to get the traveller who reclines his seat as far back as he can, for as long as he can, without any warning. So I've just pulled out the laptop and settled in to do a bit of work, and next minute, bang! Back goes the seat and there it stays for the rest of the flight. If I'm lucky, I'll have grabbed the laptop screen just in time to stop it shattering. Thank god I'm not jiggling a baby on my lap!
With plenty of time to kill on today's flight to Perth, I did some research. Of the 160 or so seats on the plane, all of them occupied, you could have counted the number of fully reclined seats on one hand. One of them, of course, was the one in front of me. And no, she didn't put it up while we were eating lunch. And no, I didn't ask her to, although I probably should have.
But it got me thinking: do we really just have to grin and bear it? And is a passenger's right to recline more important than their neighbour's comfort, even when it results in a gross invasion of someone's space?
A lot of these issues came to a head last year when a couple of flights in the United States were diverted after quarrels broke out between passengers over reclining seats. Flight attendants are generally supportive of people's rights to recline their seats and are reluctant to take a stance. If it's available, you can't stop someone using it, right? But as airlines cram more and more people into their economy sections, why should it be up to individual passengers to sort out the niceties?
One Arizona man offered an interesting take on the issue in this article in USA Today a few months ago. He welcomes confrontation with fellow passengers and says there should be more of it. He reasons that if enough people clash over shrinking space, airlines might do something about it.
For those who are firmly in the "yes to recline" camp, note that there can be a happy medium. You can read, stretch out, perhaps even snooze just by tilting your chair back slightly; you don't have to recline it to the max. The Independent Traveller website has a handy guide to the etiquette of seat backs and elbow room.
Normally I would have opted for an aisle seat on a long flight as it feels less claustrophobic. But it's a long time since I've done the east-west haul across our vast continent and I thought it might be fun to look out the window. And it was. Although wedged into a space that really wasn't fit for a human being, I tried to focus instead on the awesome views. It's views like this that make the discomfort of air travel worthwhile.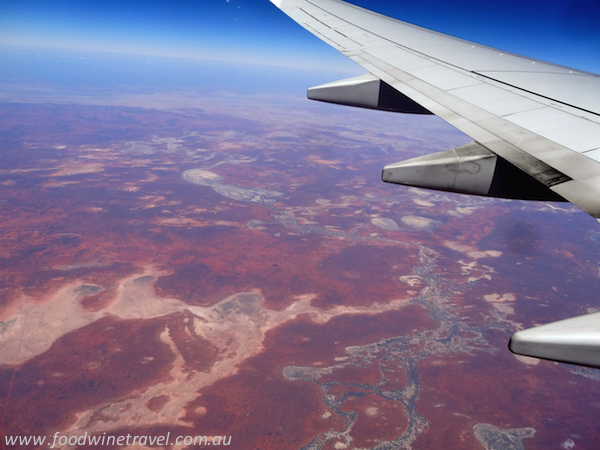 What do you think? Should passengers be allowed to fully recline their seats on daytime flights? I'd love to hear your thoughts.