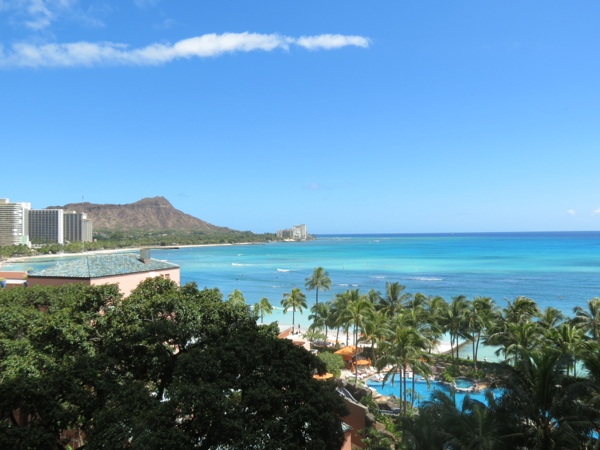 It wasn't the best start to a trip. I had a 3 hour transit in Sydney on my way to Hawaii and I needed every minute of it.
Could the Hawaiian Airlines check-in have taken any longer? I doubt it. I stood in that darned queue for nearly one and a half hours. (The worst thing about travelling alone is that you can't go off and do something else while someone holds your spot in the queue.)
What followed was the world's longest Customs queue and lots of congestion at the security check. So by the time I settled into my seat for a 9pm departure, all I wanted was a mai tai or some other exotic Hawaiian cocktail.
Instead, all I got was a woman in the exit row in front of me who reclined her seat the minute the seatbelt sign was turned off and didn't put it back up until Waikiki was coming into view, a young lad behind me who kicked the seat every few minutes just to make sure I was staying awake, and a father and son who took a window seat each and had vacant seats next to them while little old me and a family of three were crammed into a middle row of four.
Fortunately some soothing Hawaiian melodies started shifting me into a different head space and the cabin crew were just so damn cheery the 9-hour flight wasn't quite the ordeal it might have been.
Aloha and welcome to Hawaii!
Hawaiian Airlines is stepping up its presence in Australia, having introduced the Airbus A330-200 on the Sydney-Honolulu route earlier this year which has increased capacity by 210 seats a week. Later this year it will begin direct flights from Brisbane.
There are some very competitive packages available and you've got to love an airline whose flight attendants wear floral shirts and flowers in their hair, and who repeatedly say delightful words like Aloha (hello) and Mahalo ( thank you).
Apparently Aussies have taken to the flights enthusiastically and the number of Australian arrivals is sky-rocketing. All of which means you hear a helluva lot of Aussie accents while walking down Kalakaua Avenue in Waikiki.
And so here I am, looking out from my spacious and very comfortable room in the Sheraton Waikiki to the glorious view pictured above. It's the sort of view that convinces me it's okay to be jettisoned across the world like a sardine in a can.