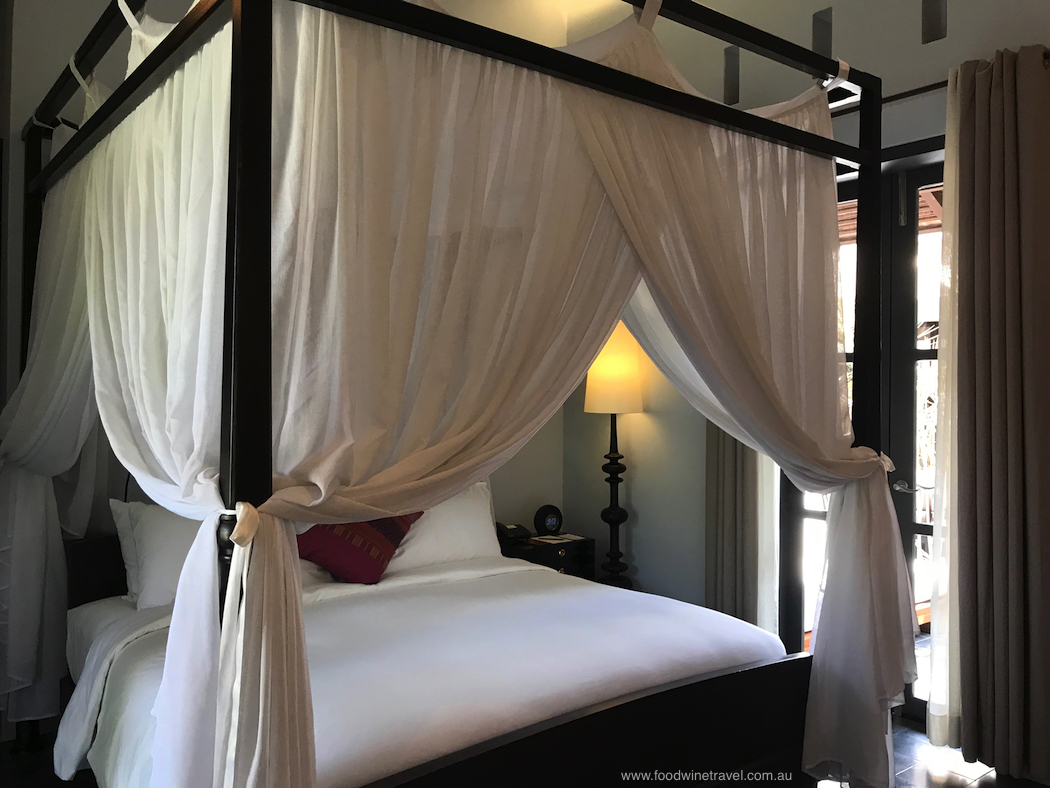 Sofitel Luang Prabang is memorable for a lot of reasons, not least being that it is located in a building with historical provenance. But perhaps the real reason why I fell so utterly in love with it, is that the lovely fellow who showed us to our room gave us a foot bath. (Hopefully this is a service offered to all guests and it wasn't because he thought we had smelly feet!) Anyone who travels independently in Asia and knows what it is like to arrive with hot, aching feet, will know what a treat it is to be pampered like this.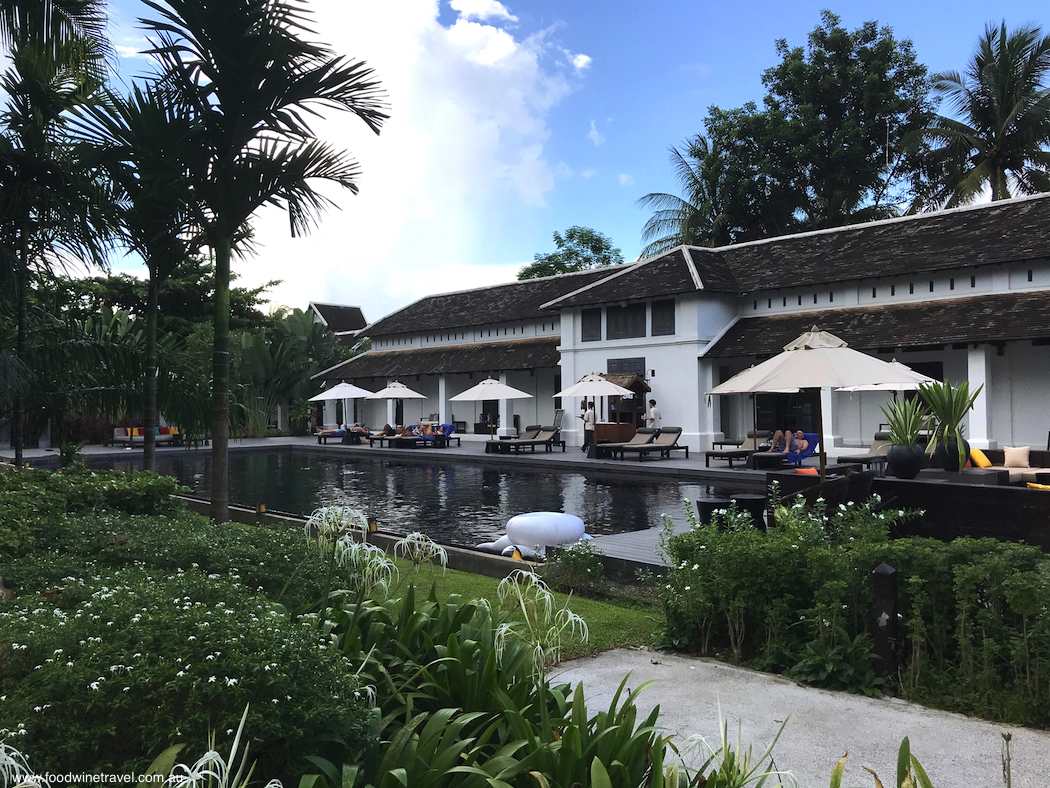 Life slows down in Laos, and our welcome at the Sofitel Luang Prabang was perfect for easing us into this slower pace. ("Laos people don't rush," observed the driver of the hotel courtesy vehicle.) Our hearts sang when we were shown to our Garden Suite with its gorgeous four-poster bed. Having spent the previous week in Hoi An, Vietnam, we were looking forward to a restful night's sleep. Hoi An is picturesque but jam-packed with tourists and we stayed in a hotel with beds as hard as concrete, next to a construction site where work started at 6am, weekends included.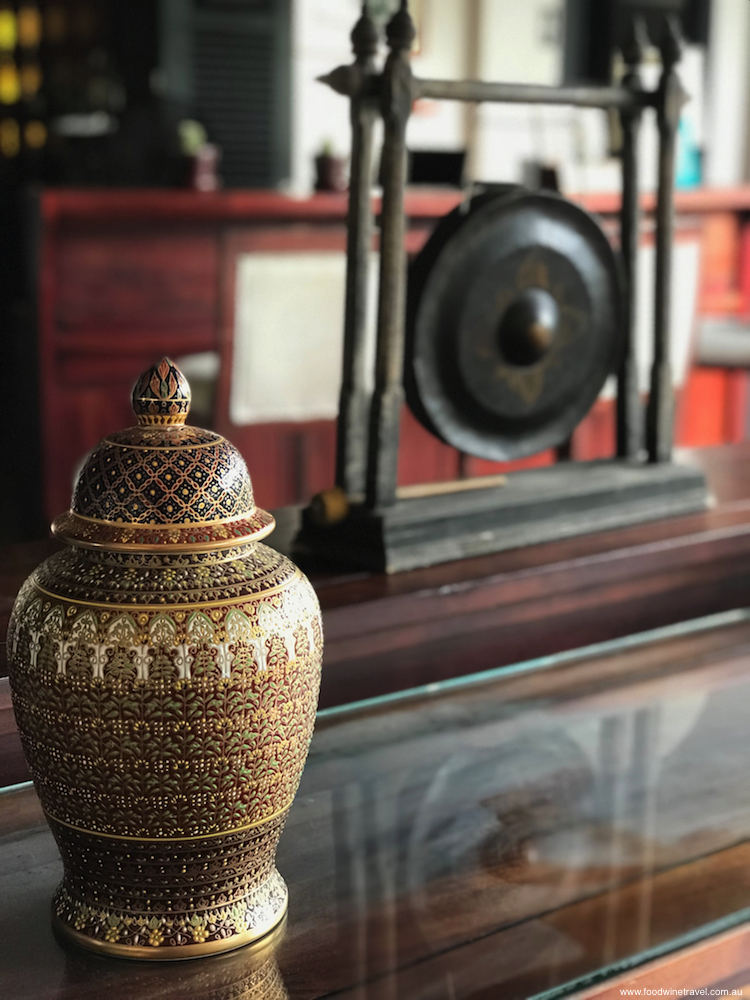 We'd come to the right place with the Sofitel Luang Prabang our first port of call in Laos. Luang Prabang is one of the most beautiful cities in Asia and the Sofitel is one of its most beautiful hotels. A century-old colonial mansion surrounded by lush, manicured gardens, it was built as the governor's residence and reflects a bygone era in the same way that Raffles does in Singapore and the Metropole does in Hanoi. All three fine hotels are part of the ever-expanding Accor group.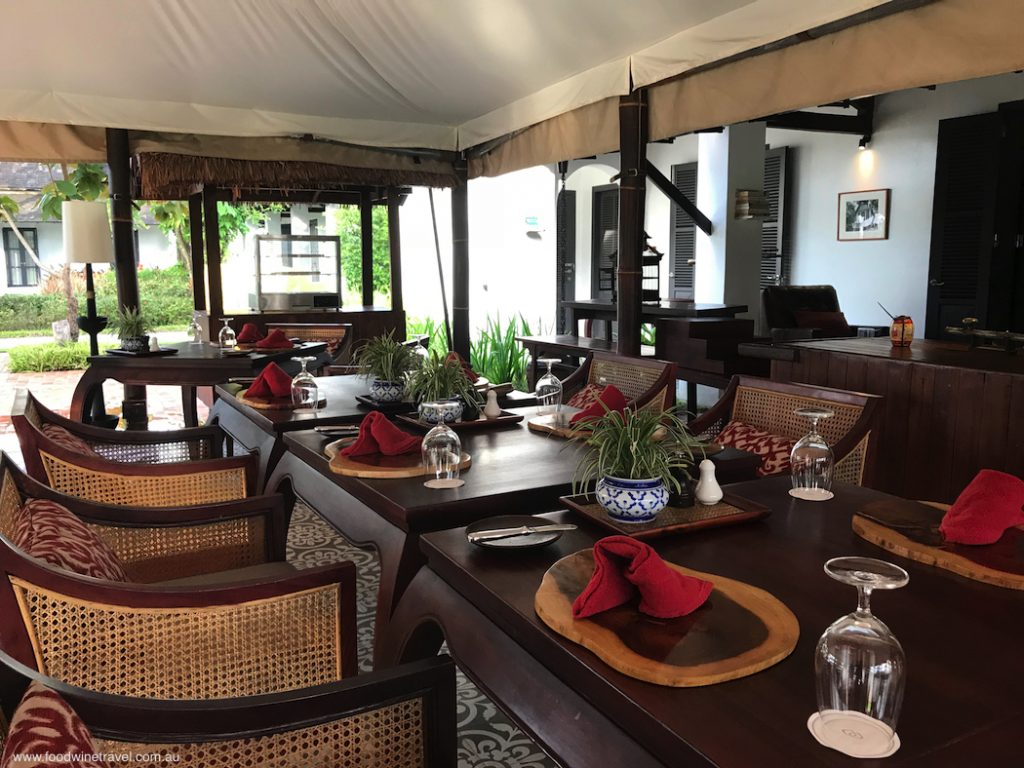 The mansion was restored to its original glory in 2015 to celebrate the 20th anniversary of Luang Prabang's designation as a UNESCO world Heritage site. It is one of the oldest hotels in the Sofitel collection and with 25 suites, also one of the smallest.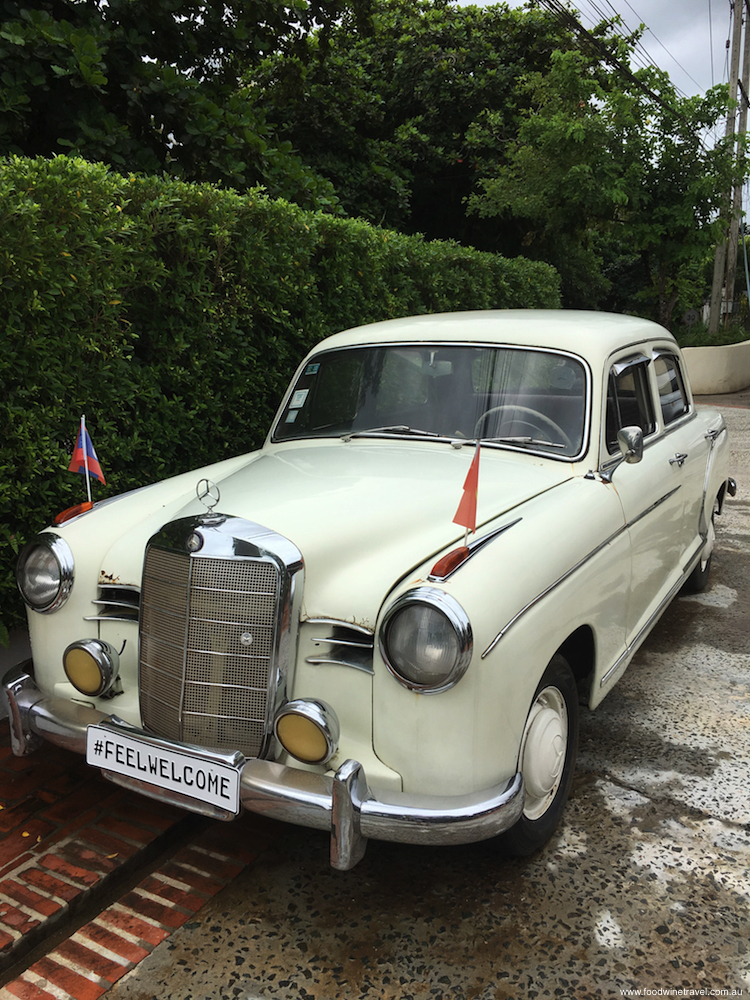 Everything about the hotel is an expression of Lao tradition: the exquisite furnishings, the hand-woven textiles and Lao artifacts that adorn the public spaces and guest rooms, the staff uniforms that are inspired by Lao traditional dress. Two enormous statues of elephants stand sentinel on either side of the steps leading up to the open-air reception pavilion, where a large brass gong provides a striking welcome.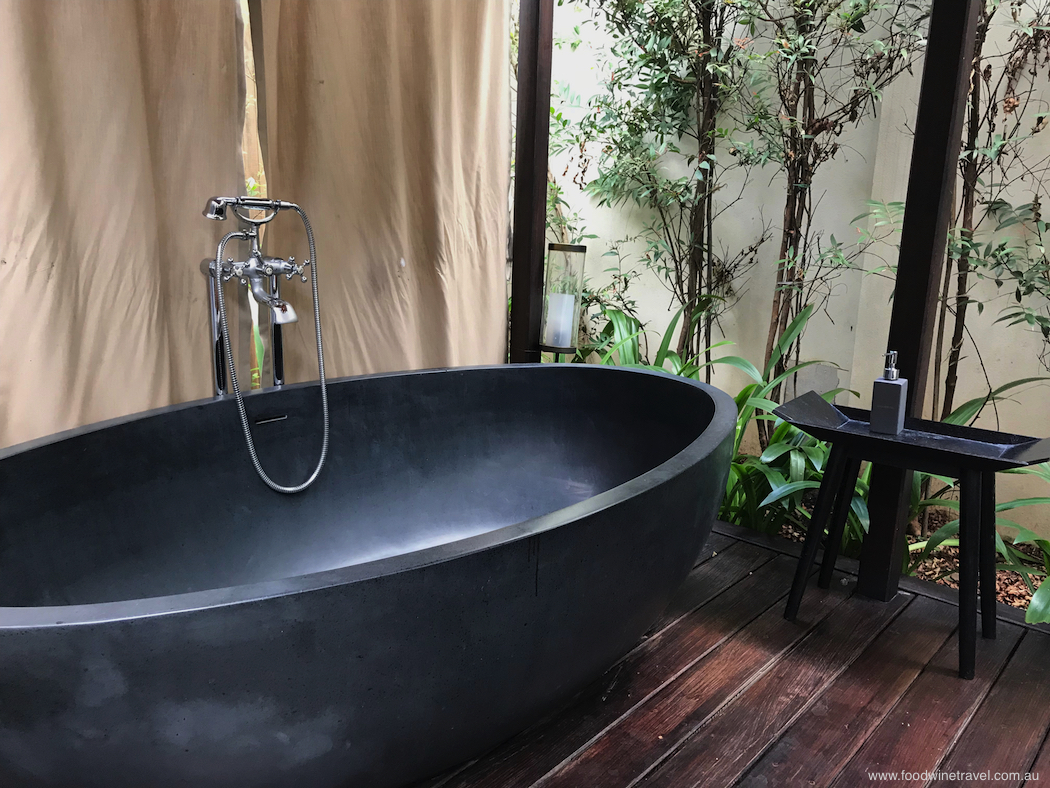 Suites range in size from spacious to the positively palatial 120 m² Signature Governor's Residence. Our 55 m² ground-level Garden Suite has a gorgeous wooden four-poster bed, a sitting area, and French doors opening to the veranda in front and a private back garden with a gazebo and outdoor tub. One of the suites (sadly not ours) has a private plunge pool. Our bathroom is huge with a walk-in shower (including both a rain shower and hand-held hose), dual sinks, and a separate bath tub sunk into the floor so that you don't have to climb into it.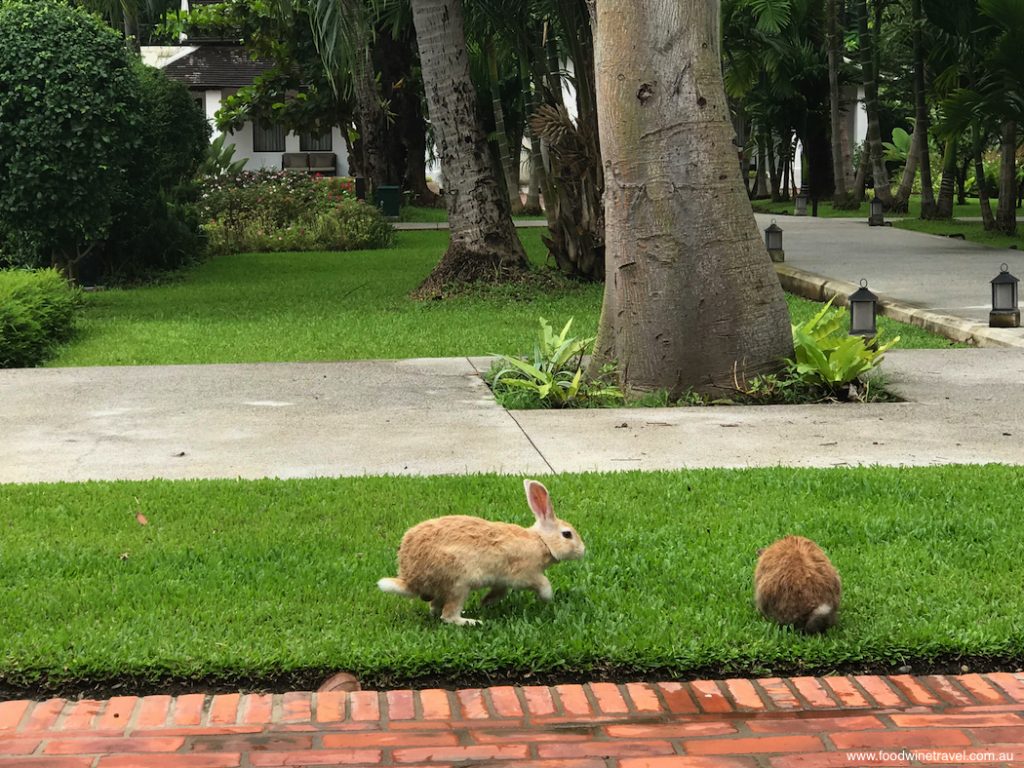 Our suite has every convenience you can think of, and then some more: 42-inch flat-screen TV, a safe large enough to store our laptop computer, excellent reading lights, complimentary wi-fi and handy USB ports. Yet nothing intrudes on the serenity, which is emphasised in beautiful Lao touches like the silk weavings on the walls, and evocative black and white photography of Lao people. There are at least four different types of leaf tea provided, and a generous supply of purified water. We are welcomed with a plate of fresh fruit, chilled fruit kebabs, a couple of little pastries and refreshing cool drinks. A selection of delicacies is also provided with the evening turn-down service, so we have snacks galore.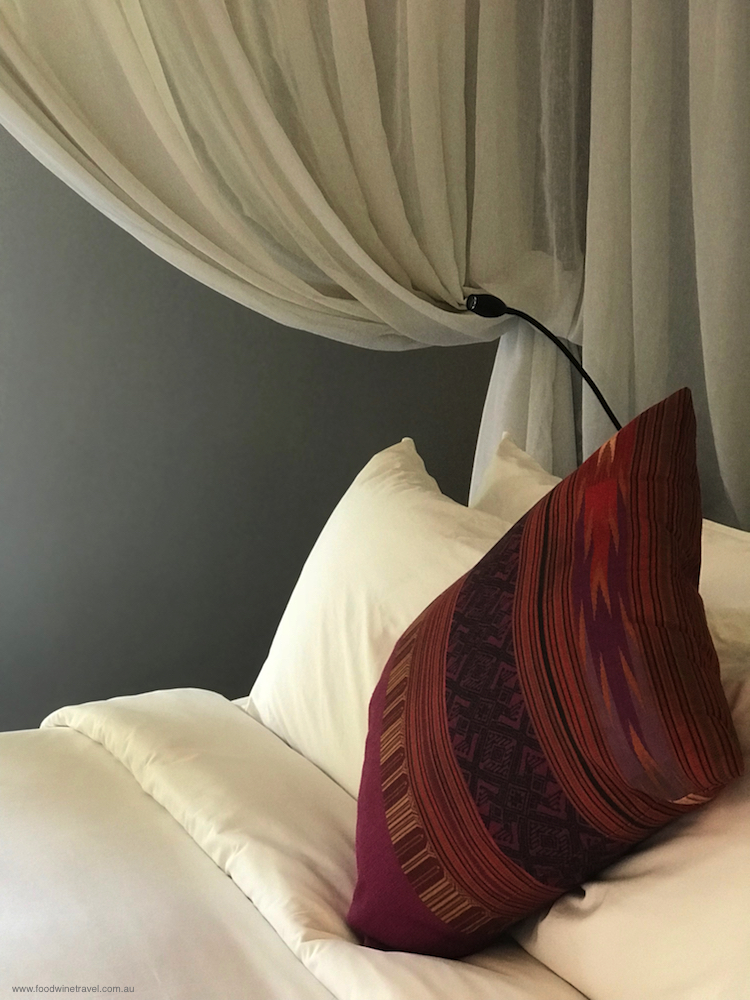 Thoughtful touches that express Lao culture abound throughout the property. Even the amenities box in our bathroom is Lao, while in the Governor's Grill restaurant, breakfast items are displayed in gorgeous woven baskets and even wooden bird cages. So cute. The open-air Governor's Grill is a lovely spot for breakfast with soft music playing quietly while we watch two rabbits playing on the grass in front of us.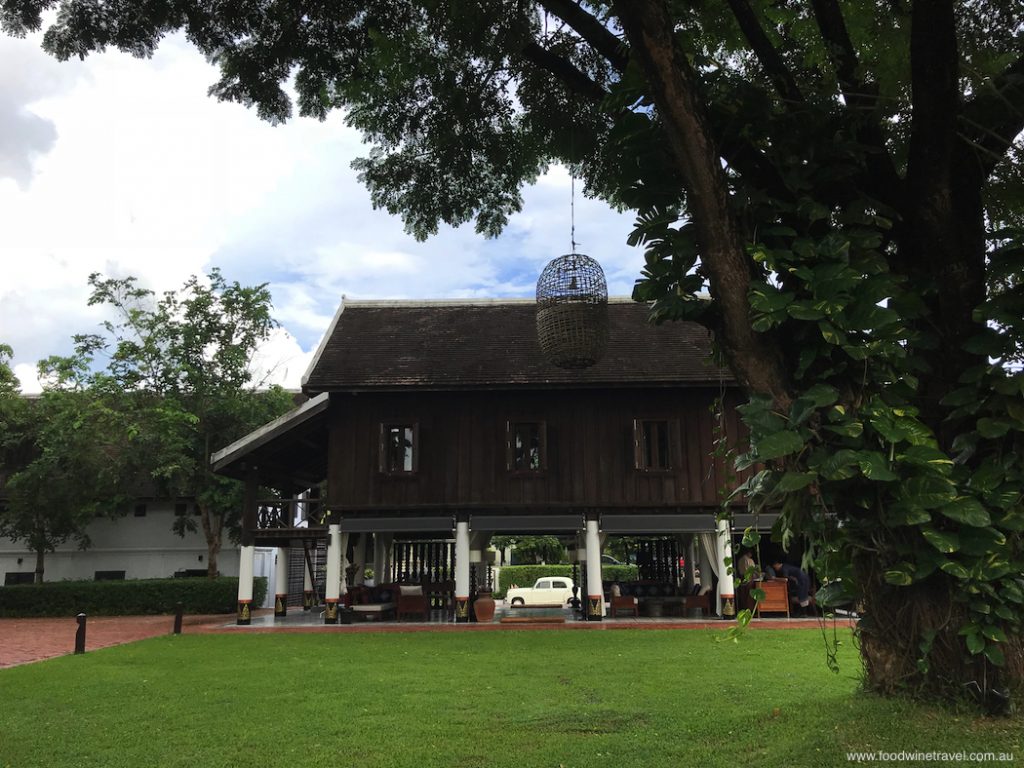 The Governor's Grill offers a contemporary menu throughout the day and evening, with a special tasting menu of buffalo meat which sounds interesting, but we opt to eat at the hotel's sister property, 3 Nagas, which serves more traditional Lao dishes. A free shuttle operates between the hotel and 3 Nagas, an M Gallery Hotel set in three colonial buildings downtown. On our second night, we dine at Manda de Laos, an exceptional restaurant within walking distance of the Sofitel.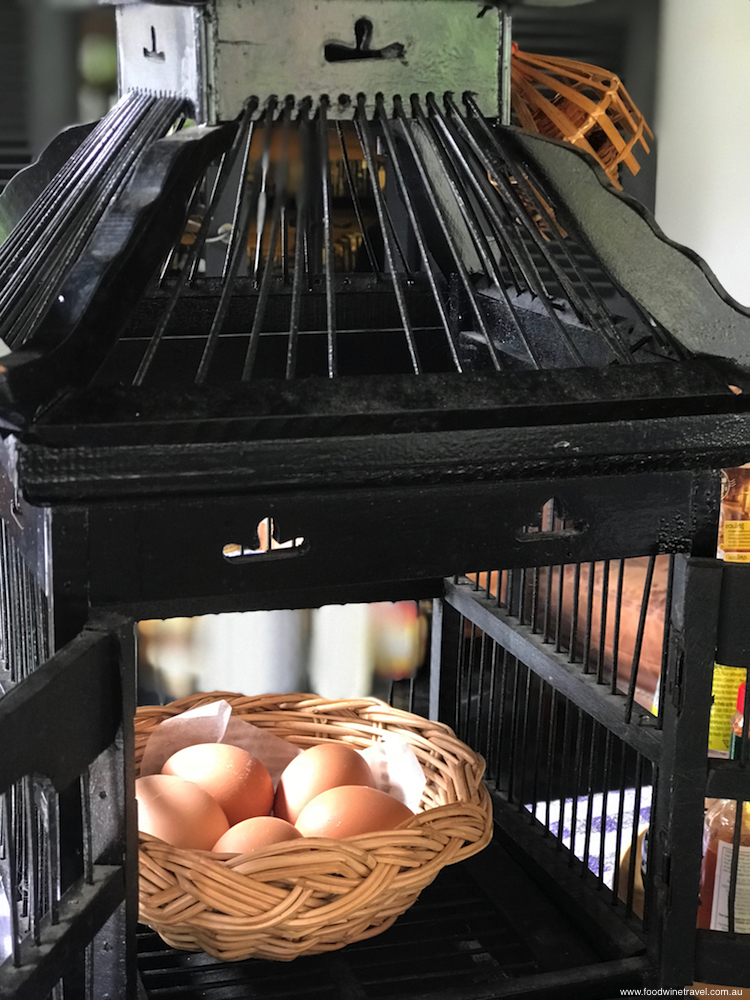 Room service is available for those who want to dine in. Other amenities include a 25m outdoor swimming pool, fitness centre, cooking school, spa, bar, and meeting rooms. There's also a stylish and cosy library stacked floor to ceiling with books and leather couches where you can read quietly or enjoy a cocktail. There are also lots of spots in which to relax throughout the grounds, including hammocks and lounges around the pool.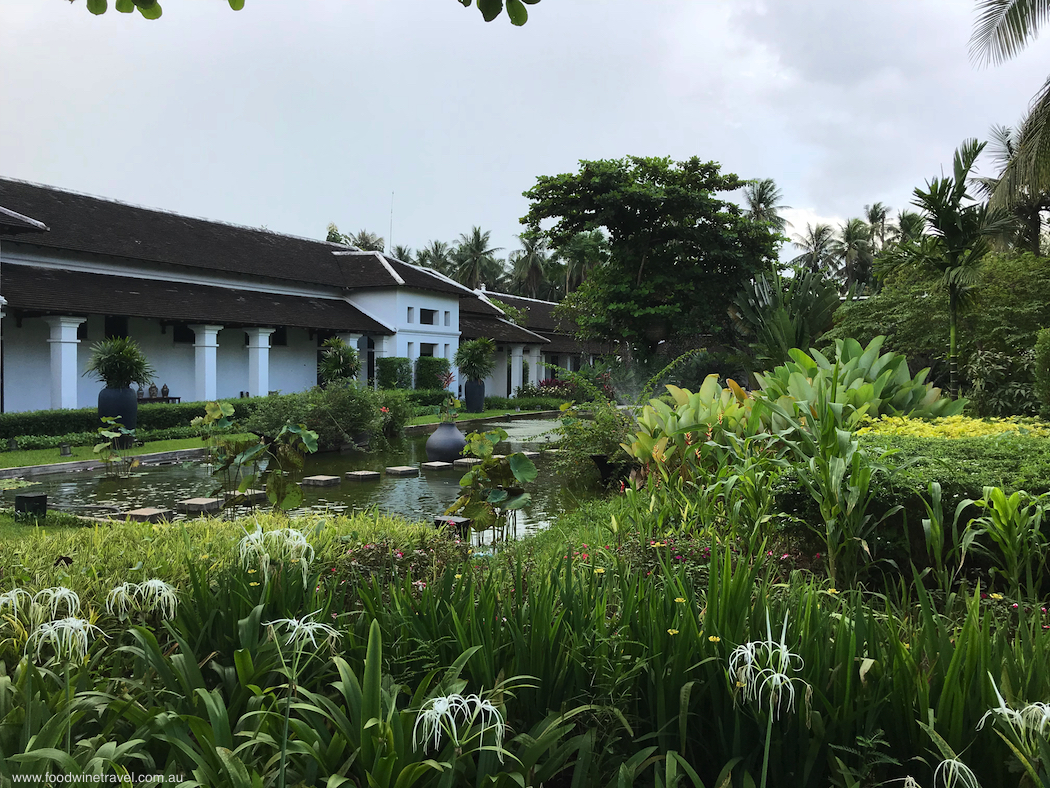 The hotel does a free afternoon tea every day at 4pm, and we didn't even need to move from our chairs near the pool – the beautiful wait staff bringing us big pots of Earl Grey tea, and pandan waffles drizzled with chocolate.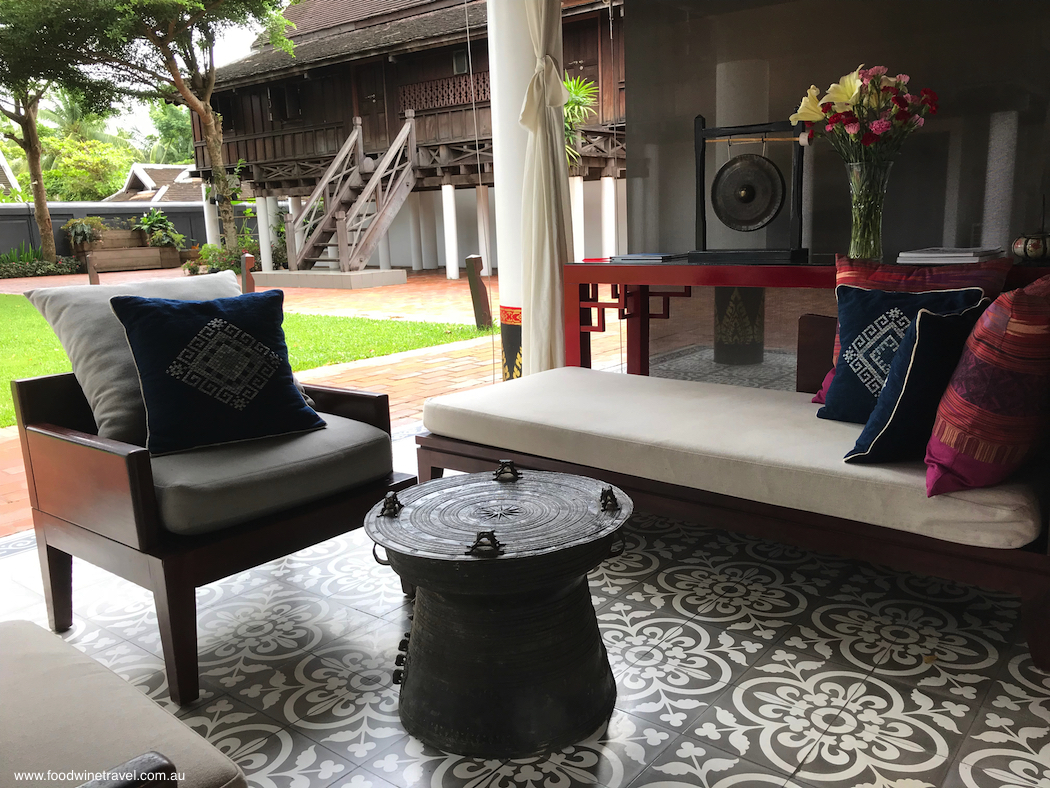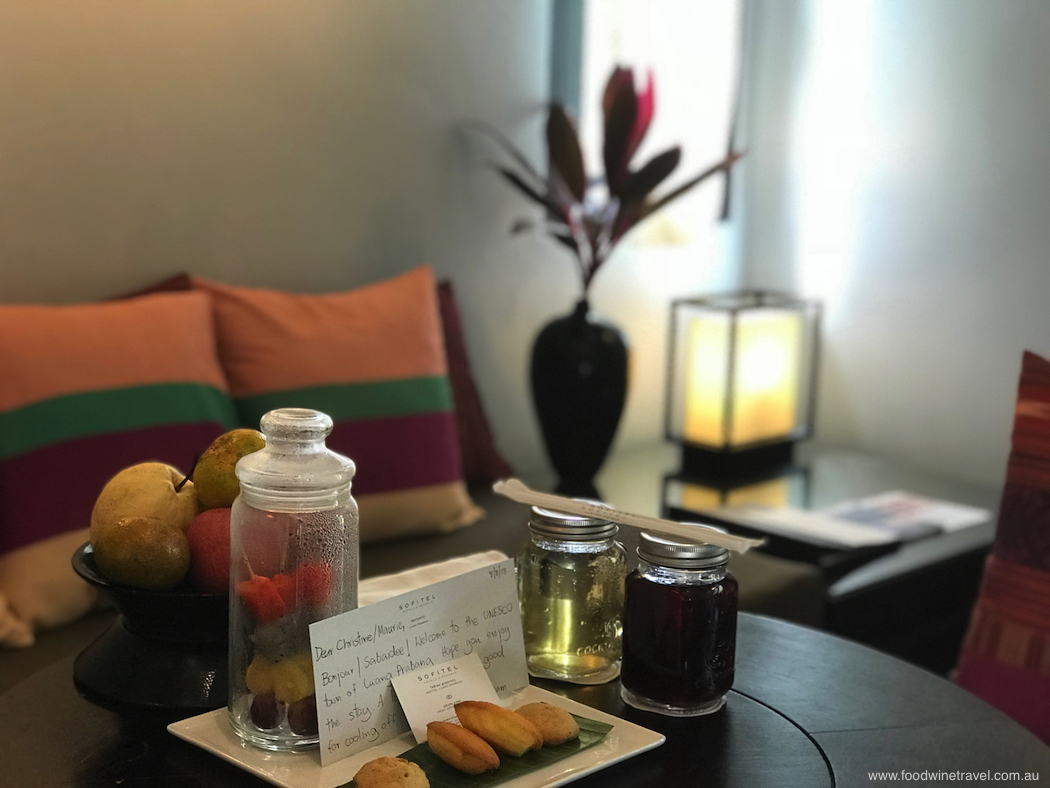 Since it is located in a quiet residential quarter, the hotel is incredibly peaceful, yet it is just a short drive by tuk tuk or complimentary hotel shuttle to the Night Market, Royal Palace, museums and other attractions. Bikes are available for complimentary use. It cost us just over $AUD8 for a shared minivan ride from the airport to the hotel, a journey of about four kilometres. Getting around in Laos is more expensive than Vietnam.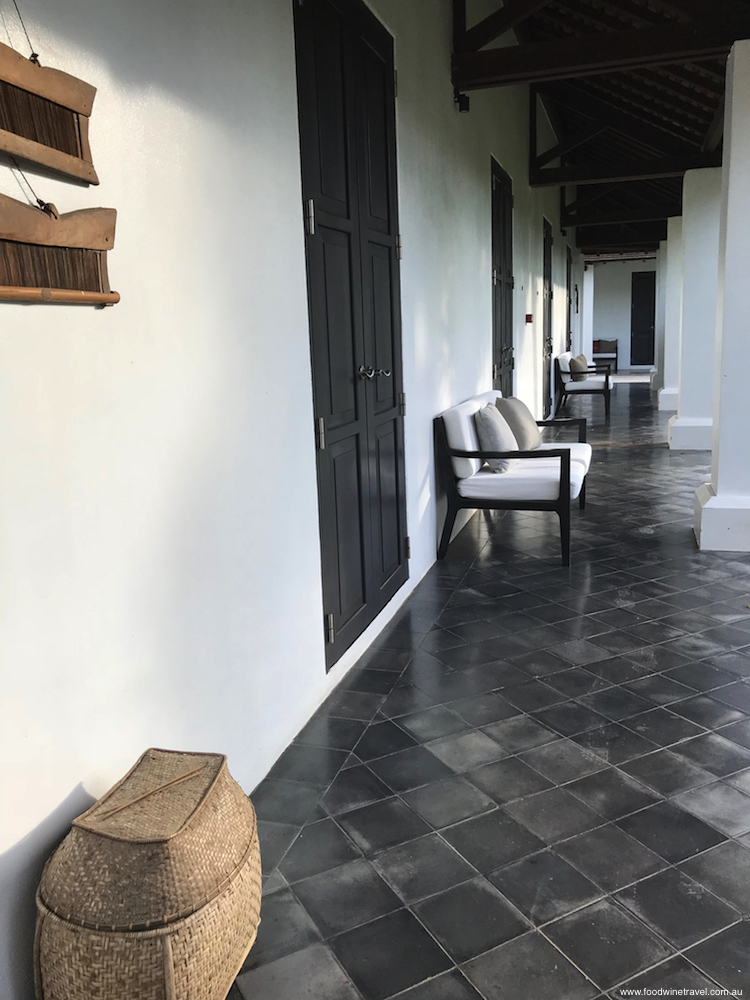 We use Luang Prabang as a starting point for a bus trip to the incredible Plain of Jars (also a UNESCO World Heritage site), and an afternoon excursion to Kuang Si waterfall. But mostly we just settle back and enjoy this beautiful hotel and a town where time seems to have slipped by unnoticed. In 1909, French writer Marthe Bassene referred to Luang Prabang as the "Refuge of the Last Dreamers". The same may well be said today.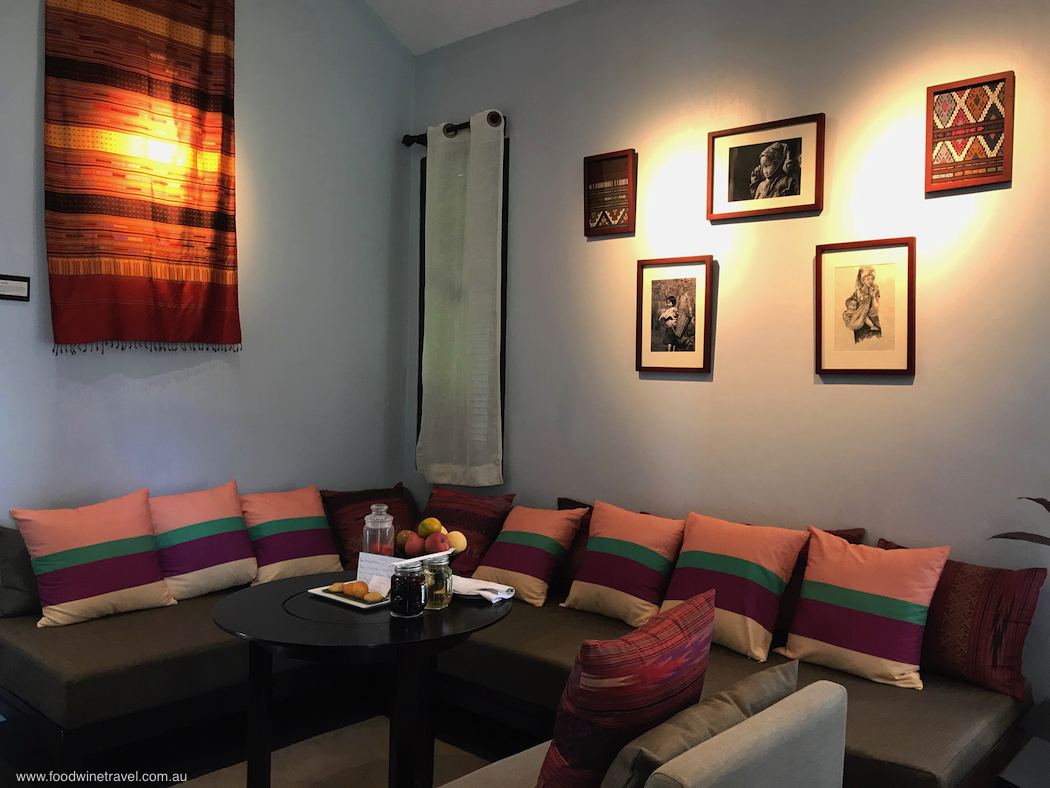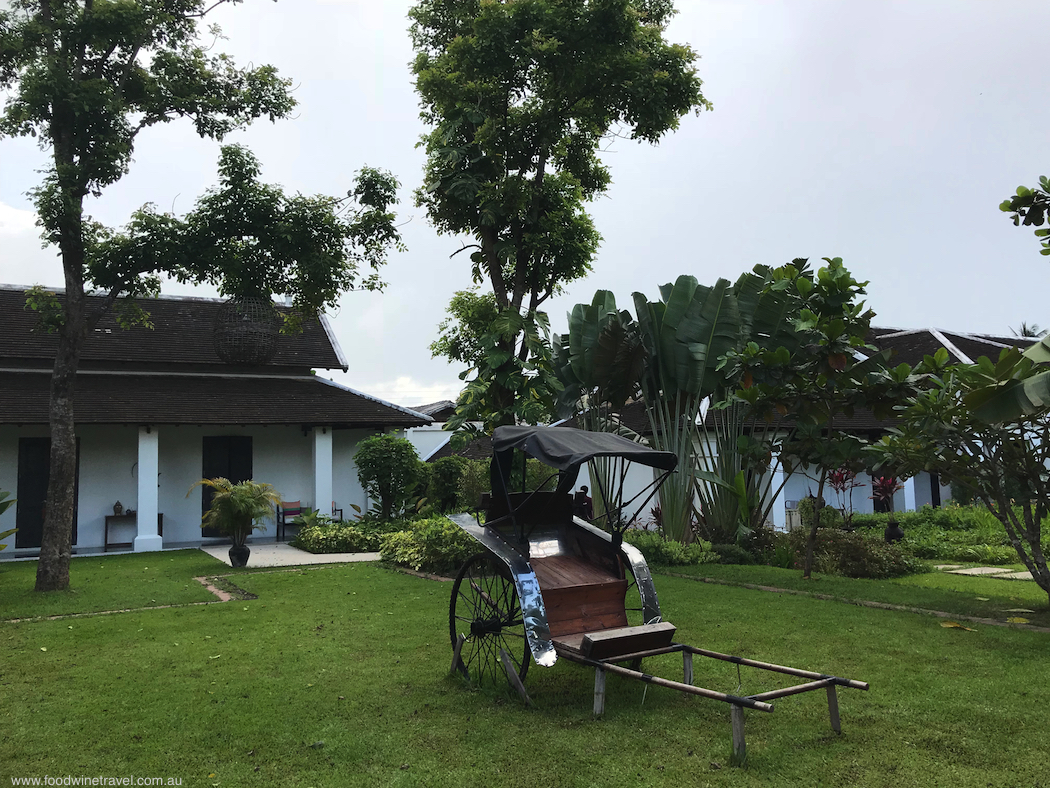 If you go:
Sofitel Luang Prabang
Ban Mano
0600 Luang Prabang
Laos
Tel: +856 71 260777
Visit the hotel website.