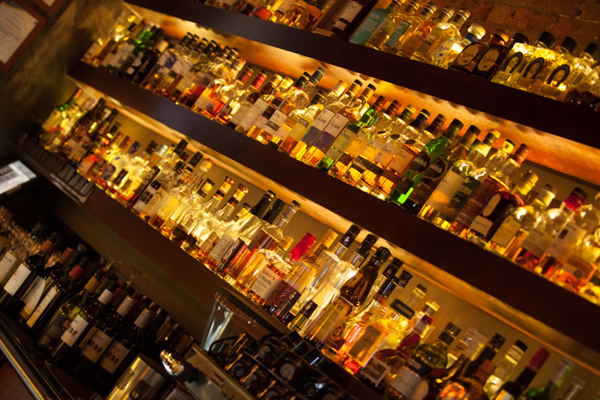 Hands up if you agree that Brisbane's first Good Food Month has been an unqualified success. From the Night Noodle Markets to pop-up parties, exclusive dinners and set-price lunches, there's been a delicious array of events to satisfy Brisbane's appetite for good food.
And the party's not over yet! Among the celebratory dinners still to come are a Venetian sensory degustation at Bacchus tomorrow night and a Great Gatsby Champagne and truffle dinner party at Blackbird Bar and Restaurant on Thursday.
One of the things I love about events like Good Food Month is the opportunity it gives chefs to come up with something really special. Scallops finished off with a blowtorch and accompanied by outrageously expensive truffle on the side – yes! 'Pearls' of olive oil – who would have thought? Venison served with wickedly rich chocolate sauce – why not?!
Americo Fernandes was definitely having a lot of fun when he came up with the menu for the Hats Off dinner at Malt Dining. (For those who don't know, the Hats Off dinners were a series of dinners where chefs from hatted restaurants in the Brisbane Times Good Food Guide threw out their regular menus for one night and indulged their culinary fantasies.)
The dinner was held in the cellar of Malt, a dimly lit space with an old-world ambience that is about as far from Brisvegas as you can get. Perhaps it's the wine nerd in me, but I always love dining in a space where I'm surrounded by wine bottles.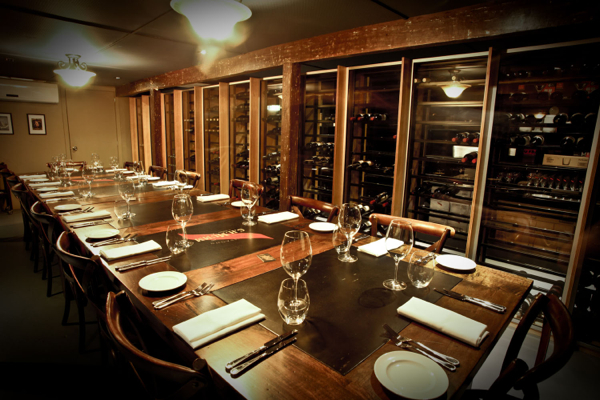 Americo is of Portuguese descent but grew up in Paris and came to Australia in 2004 when he transferred from Sofitel Paris to Sofitel Melbourne. A move to Sofitel Brisbane followed, and from there he has worked in some of the city's top restaurants including Belle Epoque (now Tartuffo), Urbane, Euro, C'est Bon and Bacchus.
He's been at Malt for just a few months and has already put his stamp on the place, although manager Lucy George was quick to point out that the famous Malt brownie won't be leaving the menu. It's been added to my "must try" list.
The idea behind the Hats Off dinner was to showcase the best Queensland produce and the wines from Witches Falls were a perfect fit. I've long been a fan of their Wild Ferment Chardonnay and it's earthy, buttery notes went beautifully with the beautifully creamy scallops.
Likewise their 2012 Wild Ferment Grenache was an inspired match for a duo of duck liver parfait and crispy duck, a slice of duck breast cooked sous vide and then pan-fried to crispen the skin. It was served with sour cherry, pickled beetroot and gorgeous little pearls of olive oil, made in-house.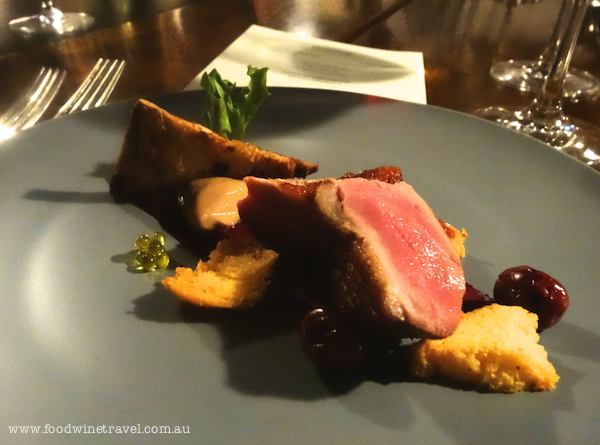 Witches Falls' winemaker Jon Heslop believes his 2012 Prophecy is the best Cabernet Sauvignon he has made, and its rich chocolate notes complemented the Crows Nest venison with pumpkin and chestnut 'surprise' – looking somewhat like arancini, it was sliced open to reveal a rich chocolate sauce.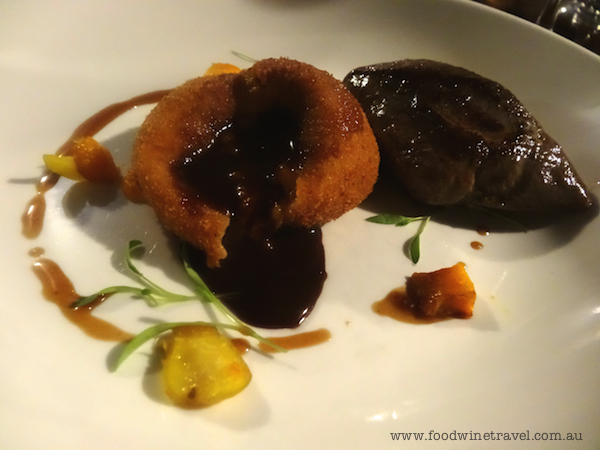 Next up, Le Superbe Gruyere from Tasmania was presented with a little disc of apricot and pistachio paste and a glass of 2004 Classic Solera Muscat. Then it was back to a lighter style of wine with a glass of chilled 2012 Moscato, a nice match for the Balsamic watermelon with goat's cheese mousse, mint granite and pistachio tuile. Am I making you hungry?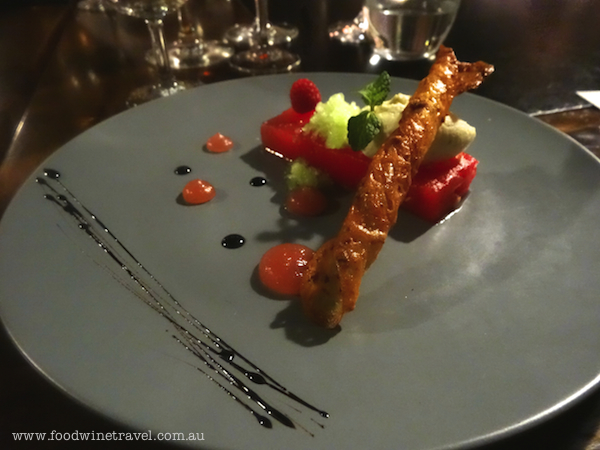 Yes? Good Food Month has just a few more days to run. Download the full program here.
More posts on Good Food Month: Good Food Guide Awards; Good Food Month; Winter Harvest Mondo Organics; Gerard's Bistro: A Winning Formula; Night Noodle Markets; Champagne High Tea @ Customs House.
Food.Wine.Travel is delighted to be an official blogger for: