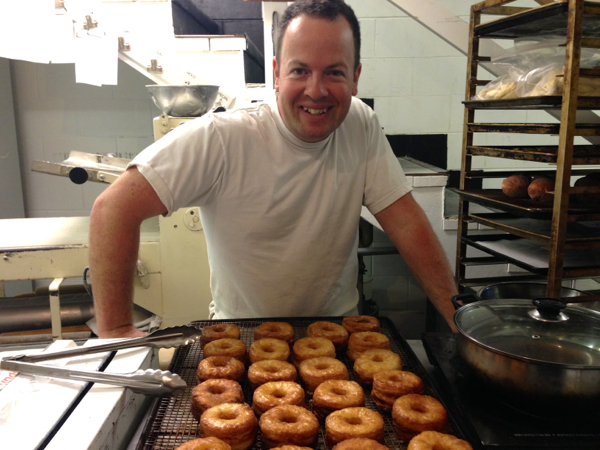 While in Vancouver Island recently, we were delighted to catch up with Tom and Crystal Moore at Crust, their new bakery in Victoria, capital of British Columbia. Tom and Crystal relocated a couple of years ago from Australia, to be closer to Crystal's family in Canada.
Tom was very active in the food scene in Canberra, having run several high profile restaurants such as Sage and Grazing, and most recently, Knead, a bakery in the Belconnen Fresh Food Markets. We were regular patrons of Knead, and have to admit to buying way more chocolate ganache tarts than we should have. OMG they were good!
Tom (pictured above) has assembled a good team at his bakery in Victoria and transformed an old-fashioned bakery into a modern, bright and cheerful space.
The cabinets are filled with wonderful goodies such as Almond Croissants, Pain au Chocolate, Blackberry and Custard Danish, Apple Rhubarb and Strawberry Crumble, Berry Cheesecake, Maple and Walnut Tart, Lemon and Passionfruit Slice, Gluten Free Orange Syrup Cake and Tom's interpretation of the hugely popular Cronut (pictured at right).
Check it out if you are heading to the island. You won't be disappointed.
Crust Bakery
730 Fort Street
Victoria, BC V8W 1H2
CANADA
www.crustbakery.ca