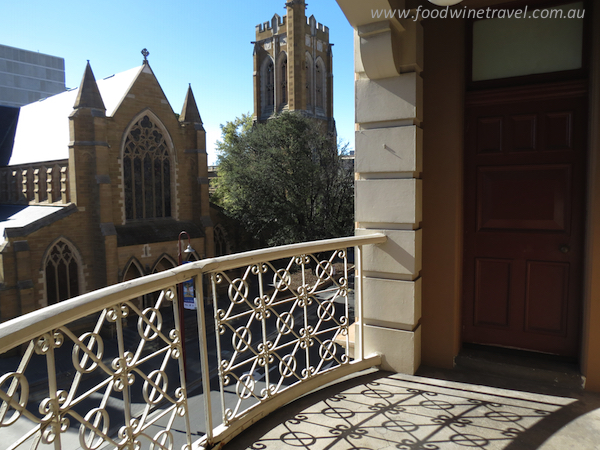 Roald Amundsen noted in his diary that he was "treated like a tramp and given a miserable little room" when he checked into Hadley's Orient Hotel in 1912. After a shave and a wash, the Norwegian strolled up the road to the Hobart post office to send telegrams announcing his triumph in reaching the South Pole first.
If he could have returned a century later and stayed in the suite that bears his name, Amundsen would have been pleasantly surprised. To say that Room 202, the Amundsen suite, is enormous is an understatement. They just don't build hotel rooms as big as this anymore.
The suite is in fact two rooms, a lounge/dining room and a very grand bedroom, separated by glass French doors. Each room leads out onto a curved sun-dappled balcony with wrought-iron balustrade overlooking the sandstone edifice of St David's Cathedral. Take the steady stream of cars out of the picture and you could well be looking at 19th century Hobart.
One of Australia's oldest continually operating hotels and certainly the oldest in Tasmania, Hadley's was built by convict labour and is now classified by the National Trust. It opened as the Golden Anchor Inn on October 2, 1834. The hotel was later bought by John Webb, a pardoned convict who had been convicted of housebreaking and who had become the official caterer to Government House after his release.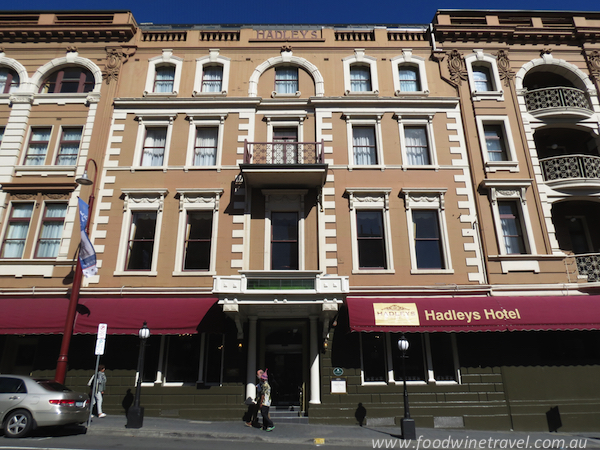 The hotel became known as Webb's Hotel and its proprietor's reputation as a caterer spread rapidly. The hotel drew in many of Hobart's fashionable citizens during the 1850s, as nearby Salamanca was getting a bit sleazy. Nowadays, Salamanca Place is a respectable hotspot of shops, restaurants and watering holes, all within a short walk for Hadley's guests.
The entrepreneurial Webb added a ballroom and an ice-skating rink at the rear of the hotel, and he even had an icehouse on Mt Wellington where he carted ice to the hotel twice a day. After Webb's death in 1881, J C Hadley bought the hotel and renamed it Hadley's Orient Hotel. The Hadley family operated it for another 55 years, installing electric lights in every room, telephones on every floor and one of Australia's first electric elevators.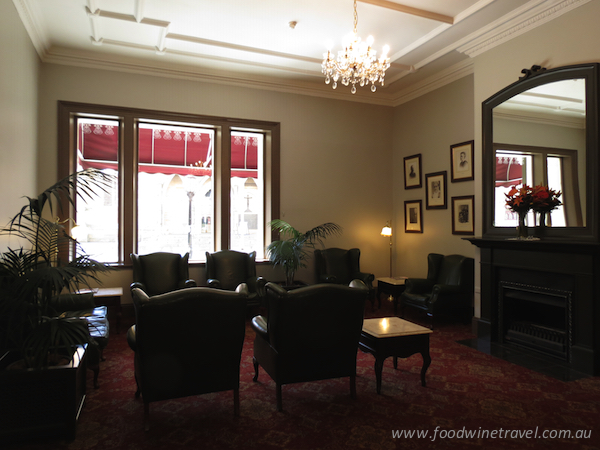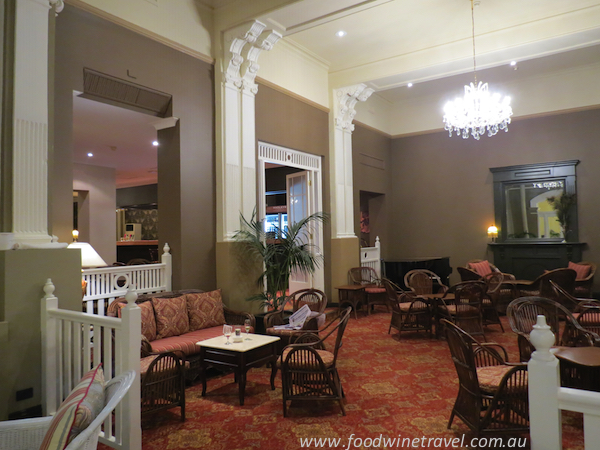 Amundsen is one of many famous guests who have graced the hotel with their presence. Gladys Moncrieff, Dame Nellie Melba and actor Errol Flynn, born in Hobart in 1909, are among others who have stayed. But the hotel had become somewhat dilapidated in recent years and a team of heritage experts was called in to give the grand old building a $2 million facelift. What miracles they have worked while still retaining the genteel charm and heritage significance of the 71-room hotel.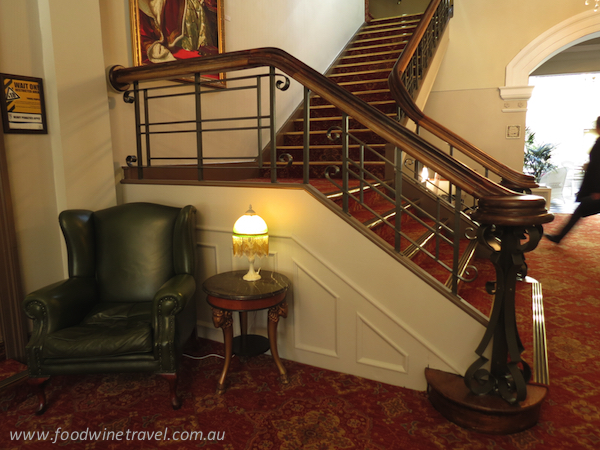 Stepping into the foyer, our eyes are immediately drawn to the polished wooden balustrades, the potted palms, the heavy wooden furniture and the painting over the reception desk of a very young Queen Victoria and her family.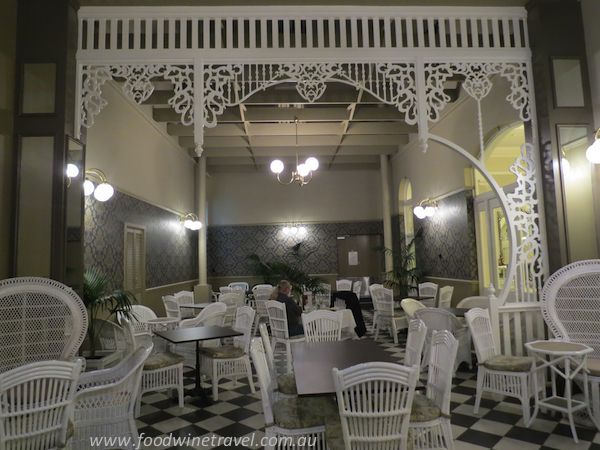 The foyer leads into a bright conservatory-style space with white wicker chairs, the perfect atmosphere for one of the hotel's very popular high teas. Served from 2pm to 6pm daily, high tea comes with a tiered stand of cucumber and smoked salmon sandwiches, macarons, tarts, chocolate eclairs, and scones with jam and cream. If only Amundsen had partaken of such a repast, he might not have found the hotel quite so miserable.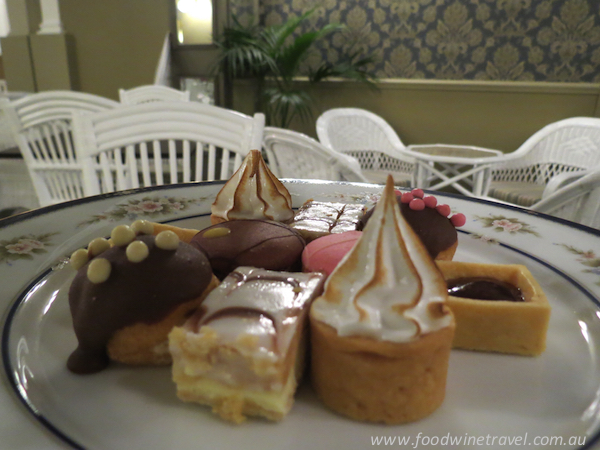 We really didn't want to leave Room 202. The ornate plaster cornices, heavy drapes and patterned Axminster carpet in the deliciously warm Amundsen suite provide a backdrop for studded leather couches and dark polished wood furnishings, including a vintage dressing table, wardrobe and dining table.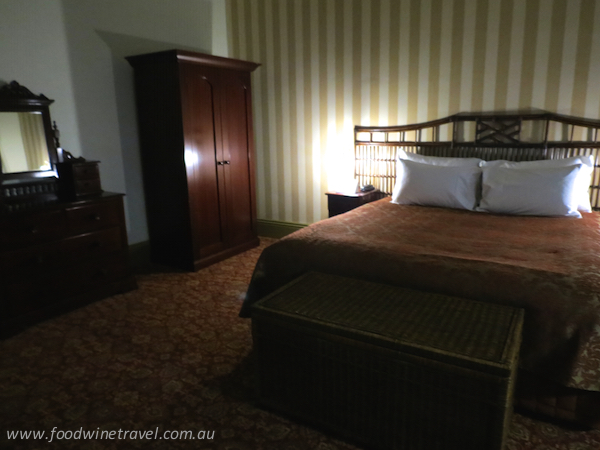 The king-size bed is one that you really don't want to leap out of, and there are flat-screen TVs in both the bedroom and the lounge if indeed you don't. There's an espresso machine that's easy to use, and tea equipment on a silver tray. If there's any fault at all, it's just a small one, and perhaps dictated by the building's age: to boil the jug, the power points are at floor level on a dark brown skirting board that makes it nigh on impossible to see where the plug needs to go.
Hadley's has a great location in Murray Street, right in the centre of Hobart, making it the perfect base for a Tasmanian holiday. Like me, you probably won't want to leave.
Christine and Maurie were guests of Hadley's Orient Hotel.
Fact File:
Hadley's Orient Hotel
34 Murray Street,
Hobart Tasmania Australia
Tel: + 61 3 6237 2999
www.hadleyshotel.com.au