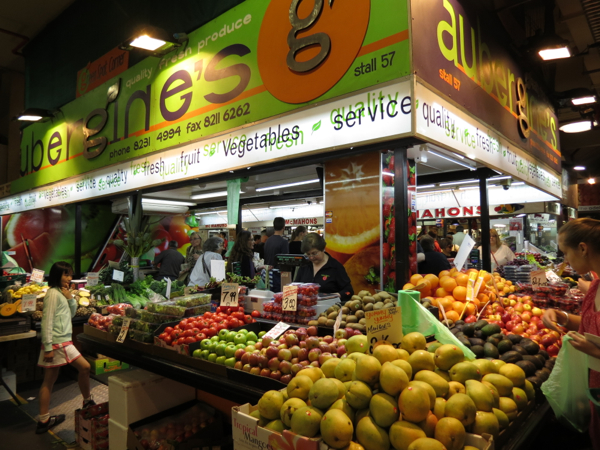 How lucky are Adelaide folk to have the wonderful Central Market smack bang in the middle of their CBD?
"It's the beating heart of South Australia," says stallholder Mark Gleeson, who tells everyone who'll listen to him what a treasure it is. "Eight million people a year visit the market, and it's been operating for 150 years. It's a showpiece for South Australian produce."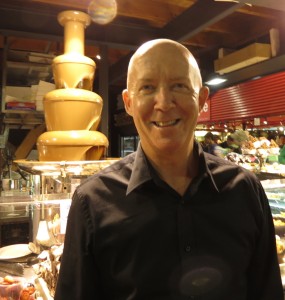 Mark (right) hosts a very popular Central Market Tour and is forthright in his views about how the City Council-owned market should be run.
He is determined for it to remain true to its roots, so he also does a lot of banging on about the need for a diversity of stallholders selling ethical, sustainable produce.
He's big on local produce with his own stall, Providore, which sells a fabulous selection of sweet and savoury goods made by local home cooks.
Providore's apricot and almond dacquoise has been made for them by the same woman for 20 years. The apple crumbles and apple pies are made by an Adelaide Hills woman who grows the apples and makes the pastry from scratch. Providore's killer Sicilian apple cake is made by a local Italian man from caramelised apple, lemon, pinenuts and sultanas.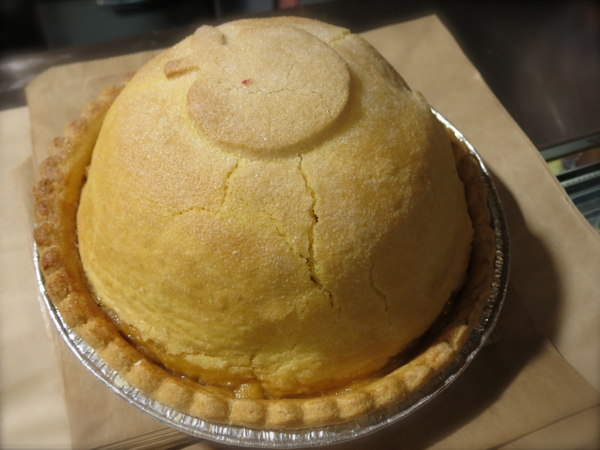 On a whistle-stop tour around the market during Eat Drink Blog 2012, I met some of the stallholders who, like Mark, are very passionate about their market.
The Yoghurt Shop opened in 2004 and was Australia's first fresh yoghurt store (it now has nine stores across Adelaide and a wholesale department that sells state-wide). Their yoghurt is goodness in a cup – free of artificial colours, flavours, sweeteners, preservatives, additives and thickeners.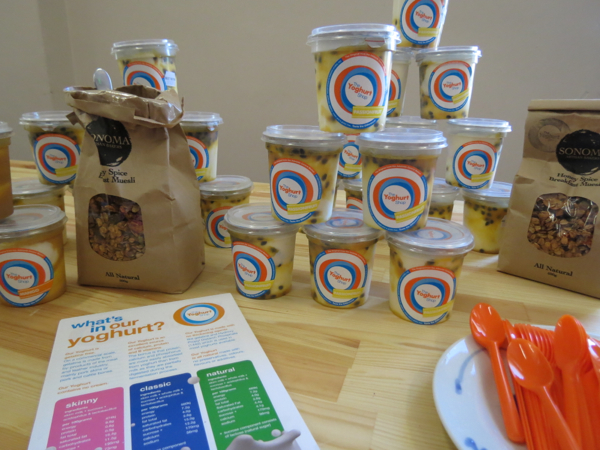 We tasted succulent Thai pandan chicken bites from Vegas Poultry, and eyed off their chicken, spinach and pinenut sausages. Roaming free in spacious country paddocks and fed with local grains, the chickens are very happy when they go to meet their maker.
Gourmet To Go owners Paul and Irene Noakes sell vegan and vegetarian products wherever possible, and they like to concentrate on boutique producers, preferably from South Australia. They sell bread from the famous Apex bakery in Tanunda, Brezel Bakehouse in Mount Barker and Rheinland Bakery, all of which deserve a generous dollop of the superb cumquat marmalade we sampled.
Paul and Irene manage to squeeze more than 170 products into their tiny shop, including sauces, jams and chutneys, mustard, tea, cordial and one beverage that really kick-started the day … "Bling", a no-alcohol sparkling muscatel.
The thing that I've always loved about the Central Market (other than that it's all under one roof and has a great sense of community) is the incredible array of cheese and smallgoods on offer. Leo's Cheese Bar sells more than 120 types of cheese and is a proud supporter of local producers such as Woodside and Udder Delights.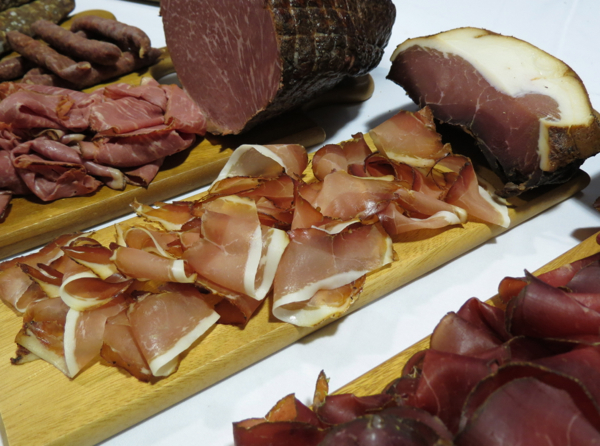 O'Connell and Sons had the most amazing ham for tasting, while Barossa Fine Foods was proudly showing off its duck terrine, smoked wagyu, Dutch smoked beef and bauernschinken (above). Co-owner Barbara Knoll says they pride themselves on making everything from scratch, including boning chickens and making their own stock.
Portuguese-born Jose Coutinho and his partner Pascaline Marchi (below) use traditional artisan methods to produce their San Jose Smallgoods, and their dedication is rewarded with a swag of show medals. Their chorizo, aged for five weeks, is renowned in South Australia and their melt-in-the-mouth jamon takes 12 to 14 months to produce. They use only female South Australian pork in all their products.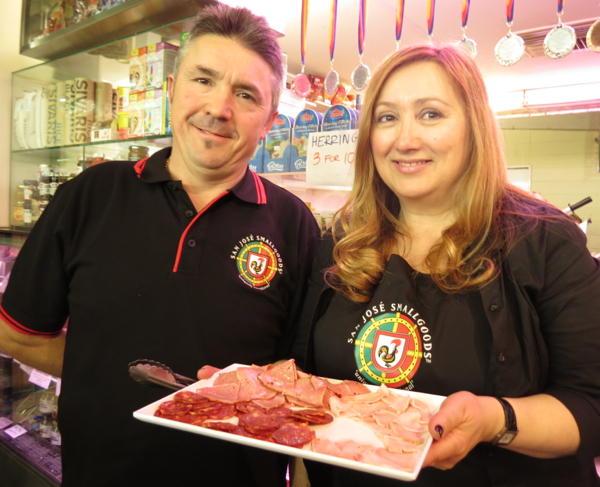 Lucia's Pizza & Spaghetti Bar was established in 1957 and is said to have served the first pizza in Adelaide – now that's some history. And history was made by the Mushroom Man last year when Australia's first wild porcini mushrooms, harvested in the Adelaide Hills, were sold at the market.
Marco Marinelli, the Mushroom Man, comes from a family that have had a stall in the market for decades, and I have to put in a plug for their fantastic porcini salt (they do a truffle salt as well).
My whistle-stop tour comes to an end with Aubergines, which has been selling quality fruit and veg in the market for more than 25 years. They offered tasting samples of luscious mango, rockmelon and blueberries.
Now I realize this blog post is getting very long – so many wonderful people to write about! – but I can't sign off without leaving you with a recipe. Nick Finn, head chef at The Highway Hotel, cooked a huge Seafood Paella using ingredients from Aubergines, San Jose Smallgoods, Cappos Brothers and Lucia's Fine Foods.
It was a huge hit amongst those of us at Eat Drink Blog and I'm sure it will be for you at home too.
Fact file:
Adelaide Central Market
44-60 Gouger St, Adelaide, South Australia
+61 (0)2 8203 7494
www.adelaidecentralmarket.com.au
Related post: Eat Drink Blog 2012
SEAFOOD PAELLA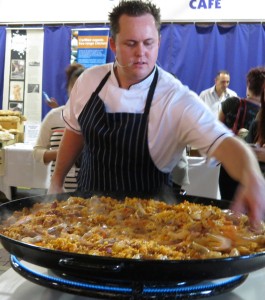 Approx. 50ml extra virgin olive oil
2 red capsicums, diced
2 onions, peeled & diced
2 cloves gar1ic, peeled & roughly chopped
¼ cup finely chopped parsley
2 ripe tomatoes, roughly chopped
1 small pinch saffron
1 tbsp smoked paprika
1 tbsp salt flakes
Freshly ground black pepper
2 black chorizo sausage, peeled and sliced
2 cups Sivaris bomba rice
200ml white wine
3 litres chicken stock
500g chicken thighs
500g mussels
500g cockles
500g king prawns, peeled and tails intact
1 lemon, cut into wedges
Heat the pan for a few minutes, add the oil and brush over the base and sides. Sweat the capsicums, onions and garlic in olive oil over medium heat. Allow to lightly brown.
Add the tomatoes and allow them to break down into the other vegetables.
Add the saffron, paprika and a good amount of salt and pepper and continue to cook until the aroma of the saffron is released.
Add the sliced chorizo sausage and fry for 5 minutes or so. While the chorizo and chicken are cooking, steam the mussels and cockles on the stove top. Drain and set aside for serving.
Pour the rice slowly into the pan. Fry the rice in the oil and juices from the sausage and sweated vegetables until the grains are all coated, then add the white wine.
From here on you can start to add the stock, one ladle at a time, until the rice is completely covered with liquid. Stir slightly to ensure rice is evenly spread out under the liquid.
Tum heat down to a steady simmer. Try not to stir the paella too much as you want a slight crust (socarrat) to form on the bottom of the pan. Test seasoning towards end of cooking and adjust if necessary.
Rice cooking time may vary, so keep adding stock as necessary. The rice should take about 20 minutes to cook, overall. About 10 minutes before the rice is done, add the prawns.
Finally add the pre-steamed mussels and cockles and turn off heat. Sprinkle some salt flakes over the top and serve with lemon wedges.
Recipe developed by FoodSA.