Timber buildings on stilts nestle against a rainforest backdrop at Club Med Cherating, metres away from waves lapping at a picturesque sandy beach.
It was to this glorious setting on the east coast of Malaysia that Sydney chef Carol Selva Rajah took her apron and her utensils to work as guest chef for a week.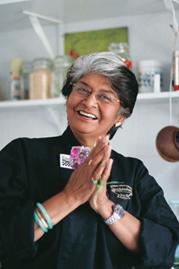 It was somewhat like taking coals to Newcastle, for Selva Rajah grew up in Malaysia and still has a wide circle of family and friends there.
But following the success of a series of cooking classes she held at Club Med Lindeman, off the coast of Queensland, she was invited to take her Malaysian delights to her home turf – well, almost home. She actually grew up at Port Klang, south of the Malaysian capital, Kuala Lumpur.
Selva Rajah is an authority on Nonya cooking, a fusion of Chinese, Indian and indigenous Malay cooking which had its origins in Malacca several hundred years ago.
An intriguing and delicious blend, Nonya cooking places great importance on textures, flavours and aromas.
A consultant to the hospitality and food-manufacturing industries, Selva Rajah has several cookbooks to her credit, including the colourful Makan-lah! (HarperCollins, 1996) which demonstrates how Malaysian cuisine is influenced by a melting pot of cultures – traditional Malay, northern Malay with its Thai influences, Indian, Chinese, and British, Dutch and Portuguese colonial.
Selva Rajah's life is similarly a fusion of cultures: her mother was of Indian descent but brought up by Hokkiens in Penang, while her father and late husband were ethnically Sri Lankan.
As part of her involvement at Club Med Cherating, Selva Rajah led a daily cooking demonstration for resort guests, as well as working as guest chef in the kitchen. This meant preparing all the dishes for the Malaysian section of the nightly buffet, the latter a highlight of the Club Med experience.
Selva Rajah prepared four different dishes, as well as a dessert, each night of her stay, including numerous salads, fish, prawn and squid dishes. Malaysia's east coast has a rich supply of seafood and much of the population is involved in fishing.
"(The) audience reaction was very good as people were surprised to see that Malaysian food was so different to Thai and yet had interesting similarities," she said.
The kitchen staff benefitted from the experience too, with Selva Rajah urging them to close their eyes and smell and taste the dishes to learn how to identify the essential elements.
One of the dishes brought back a flood of memories for one kitchenhand, who hadn't tasted it in years but remembered his grandmother making it. The dessert, made from split green peas and palm sugar, was described by Selva Rajah as "real comfort food".
Among the dishes she presented to resort guests were the ever-popular laksa and chilli crab, Nonya-style aromatic lime chicken, "blistered" eggs with sambal, a seafood noodle dish (Seafood Lime Koayteow) and stingray fins cooked on a banana leaf over the barbecue.
Food is an integral part of a Club Med holiday, its sumptuous buffets legendary. Offered at every meal, they always feature a staggering variety of dishes in eye-catching displays, often with a particular theme.
The French-based Club Med organisation reaches an important milestone this year as it celebrates its 50th birthday. Begun as a means of rekindling happiness and friendship for war-weary Europeans, it has grown into a global hospitality chain with more than 120 clubs in 36 countries.
Its holiday packages are always sold on an all-inclusive basis, with airfares, meals and beverages with meals included. Most of the clubs feature excellent sporting facilities and children's clubs, and despite common perceptions, guests are not pressured to join in any of the activities.
Many of the clubs are introducing culinary workshops, where, depending on the destination, guests can learn the secrets of Creole, Italian or Asian cooking. Throughout March, Club Med Cherating hosted Japanese, Chinese and Korean guest chefs after Selva Rajah's visit.
The architecture, style and décor of each club is designed to blend in with the local environment, the 325 rooms at Cherating having a stylish, tropical ambience with timber floors and brighly coloured soft furnishings.
The main restaurant overlooks the swimming pool and is open to the outdoors, with blinds that can be drawn during sudden tropical downpours.
Breakfast comprises a copious selection of fresh fruit and juices – including the watermelon juice which is one of the joys of travelling in Asia – freshly baked bread, croissants, cakes, flans, cereals, yoghurts, dried fruits and hot dishes.
Japanese and Malaysian breakfasts are also available, Selva Rajah urging me to try a typical Malaysian breakfast of coconut rice, dried anchovies, peanuts, sambal, cucumber and boiled eggs. This is usually one meal of the day when Asian food loses its appeal for me, but I had to concede that I felt great afterwards.
The club also has an Italian restaurant, open for dinner only, for diners who don't want the buffet experience every night. It may be a safe option for some and there certainly seemed to be plenty of patronage from the large European clientele, but I didn't venture into it and I can't imagine that many Australians would find it an attractive option.
More attractive is the club's Pantai Beach restaurant, located at a lovely beach on the other side of the headland from the main resort complex. Reached by a little shuttle train through the rainforest, it is open for lunch only, serving a buffet of hot and cold dishes in a serene and pretty setting.
A monkey scampered around the rafters of the excursions office as I booked to join a four-hour "kampong life" tour. It included the wet market at Kemaman, where a great assortment of vegetables and fruit vies for space with seafood and meat.
Chickens are slaughtered on the spot and bled in the Muslim tradition, the procedure enthusiastically demonstrated in front of a tour party of squeamish westerners.
Coconuts are freshly scraped and pulverised for creamy coconut milk, spices are ground and blended for the customer, and tamarind, jackfruit and lotus flower are readily available.
The tour also included a visit to a typical fishing village, where houses on stilts jut out over the water and the fish are laid out on bamboo rafters to dry in the sun.
The tour finished with a monkey being sent up a tree to fetch coconuts. In local tradition, the coconuts were dislodged by "Sally" and allowed to fall into a net below. As a reward for her efforts, Sally was given a straw to sip the juice from the coconut, which had been sliced in half like a cup. Very twee, but she did seem to enjoy the drink.
Here, on Malaysia's east coast, grand homes sit side by side with ramshackle bungalows, cows and goats wander across the road narrowly missing the latest-model 4WDs, and café tables spill out on to a pavement next to the greasy parts in a motorcycle repair shop.
And everywhere there are roadside eateries – mile upon mile of them. Later the same day, Carol Selva Rajah and I had the opportunity to join two of the Club Med staff, both Malay, who kindly offered to take us for an afternoon drive.
On the outskirts of Kemaman, we stopped at a roadside café where otak otak (spicy fish) and satar (minced fish without the chilli) were being cooked over an open fire. The Muslim call to prayer sounded as we sat down to enjoy these local specialities.
For the otak otak, the minced fish is mixed with a spicy paste, wrapped in coconut leaves and secured with satay sticks. For the satar, the fish is wrapped in pandan leaves which are folded in a triangular shape and secured on a long iron rod.
Variations of the dishes, made with different leaves and spices, can be found throughout Malaysia.
Fact file:
Club Med Cherating is 50km from Kuantan, the latter a one-hour flight from Kuala Lumpur.
LAKSA JOHORE
2 cans coconut milk
1 cup coconut cream to use at the end
2 cm length of shrimp paste
3 stalks lemon grass
3 cm galangal
3 cm ginger
1 cup grated fresh coconut or 1/2 cup desiccated
500 g school prawns
1 kg fish (ling)
2 tbsp oil
2 tbsp fish curry powder
1 tbsp chilli powder
3 pieces assam glugor or tamarind fruit
salt and pepper to taste
Garnishes:
4 shallot onions, sliced finely
6 limes or lemon
1 cucumber shredded
2 cups Vietnamese mint
1 stalk lemon grass
300 g beansprouts
2 onions
500 g noodles
2 tbsp chilli sauce
fried onions
Shell prawns. Mix heads with 3 cups of water and simmer for 5 minutes to make prawn stock. Strain to remove solids. Add enough cooled stock to the coconut milk to make 5 cups of liquid.
Pre-roast the shrimp paste. Grind the lemon grass, galangal, ginger to a paste. Crumble the roasted shrimp paste into the mix. Roast the desiccated coconut.
Clean fish and simmer with prawns until cooked. Debone and blend both in liquidiser.
Slice the ingredients for garnishes. Dry-fry the onions.
Heat the oil and fry the ground ginger, galangal, lemon grass and roasted shrimp paste till aromatic. Add the fish and prawn paste; stir till it sticks to pan. Add the curry and assam glugor and the prawn stock. Add the coconut cream and the roasted coconut. Simmer till cooked (20 minutes). Test the flavour, add water if it is too thick.
Blanch the noodles. Arrange in bowls with soup in another bowl and garnishes ranged around, like the moon and its satellites.
CRISPY FRIED CHICKEN
500g chicken thigh fillets, chopped into pieces
2 tbsp fish sauce
1/4 cup ginger juice
2 stems lemongrass, pounded
1/2 tsp freshly ground black pepper
1 tbsp rice flour
Mix together and allow to marinate for 1/2 hour. Heat 1/2 cup vegetable oil in a wok and deep fry chicken pieces until golden.
NONYA AROMATIC LIME CHICKEN
600gs chicken thigh fillets
2 tbsp chilli paste
2 Spanish onions, roughly chopped
3 cloves garlic
2 stalks lemongrass roughly chopped, bulbous end only
half tsp turmeric powder
2 tbsp oil
4 Kaffir lime leaves, thinly julienned
1 and a half cups coconut milk
2 tbsp tamarind puree or 2 tbsp lime juice
1 cup coconut cream
Garnish:
lime zest from one lime, could use lemon
Trim any fat from the chicken fillets and cut into medium-sized pieces. Blend the onions, garlic, chilli, lemongrass, turmeric together in a food processor or mortar and pestle to form a paste. Heat the oil in a wok over medium heat and saute the blended paste until aromatic. Add the chicken and kaffir lime leaves and stir-fry until the chicken has browned.
Add the coconut milk and the tamarind or lime, reduce the heat and simmer for 10 minutes or until the chicken is cooked. Add the coconut cream and cook until the liquid has reduced and is thick and aromatic. Pour on to a serving dish and garnish. Serve hot with rice or bread.
GRILLED STINGRAY FINS
2 tbsp oil
3 Spanish (red) onions, chopped
1 tsp shrimp paste, dry-roasted
1 tbsp chilli sauce
1 tbsp thick soy sauce (kecap manis)
2 cloves garlic, chopped
some lime juice
500g stingray piece, or whole fish
1 large banana leaf
kaffir lime leaves or pandan leaf, finely shredded
Blend the oil, onions, shrimp paste, soy sauce, garlic, sugar and 2 tbsp of the lime juice together in a food processor or mortar and pestle.
Coat the stingray or fish with the blended mixture and place on a banana leaf (the banana leaf prevents the stingray from burning). Place the leaf on the barbecue plate and cook, turning the stingray on the leaf until cooked. Serve the stingray on pieces of the banana leaf with the remaining tablespoon of lime juice sprinkled over and garnished with the kaffir lime leaves.
SEAFOOD LIME KOAYTEOW
200 g fresh, flat rice noodles
1 tsp oil in 1 cup (250 ml) water
half tbsp sambal oelek
2 tbsp teriyaki sauce
1 tbsp plum sauce
2 tsp fish sauce (nam pla)
2 tsp palm sugar
1 tbsp oil
3 cm length ginger, finely grated
3 cloves garlic, finely chopped
100 g fresh green prawns, shelled and deveined with tails left on
100 g squid, cleaned, halved and scored with diamond shapes inside
1 medium carrot, julienned
50g oyster mushrooms, thinly sliced
1 hard green mango (with skin) sliced in thin strips
half bunch long-leaf coriander or normal coriander leaves
juice of 2 limes
Place the noodles in a bowl, pour over the oil-water mixture, and loosen the noodles with your fingers. Drain in colander. If the noodles have been refrigerated, they may have become hard and could break on handling. This can be avoided by heating them in a microwave on medium for 3 minutes.
Mix the sambal oelek, teriyaki sauce, plum sauce, fish sauce and palm sugar together in a bowl. Set aside for later.
Heat the oil in a wok and saute the ginger and garlic on a high heat until they release their aroma (about 1 minute). Add the prawns and squid and cook on a high heat until the prawns start to turn red (about 2 minutes). Then add the carrots. When the carrots have softened, add the mushrooms. Maintaining a high heat, add the mango and coriander and toss everything together. You will need to work quickly so that the prawns do not overcook.
Add the noodles and the sauce mixture and toss, being careful not to break the noodles. Remove the wok from the heat. Pour in the lime juice and toss gently while the noodles are still hot.
SON-IN-LAW EGGS (KAI LOOK KOEI)
Oil for deep frying
8 hard-boiled eggs, peeled and halved
2 tofu squares (optional)
2 heaped tbsp palm sugar or sticky brown sugar
4 tbsp fish sauce (Nam Pla)
2 red or green Serrano chillies, seeded and cut into slivers
3 tbsp dried onion flakes, fried crisp-brown in a little oil, drained
sprigs of coriander to garnish
Heat the oil in a wok and deep-fry the eggs, flat side down, until the outsides are golden and blistered. Lift with a slotted spoon from the oil and put on a plate, lined with kitchen paper, to drain, yolk uppermost. Pour all the oil except 2 tbsp from the wok, and in it melt the palm sugar, stirring constantly. Add the fish sauce, still stirring. Reduce heat and let the sauce simmer 5 minutes until thick and brown, and well-blended. The sauce hould taste sweet-salty in a balanced combination. Place the eggs yolk uppermost on a dish. Mask with the sauce and chilli slivers and onion flakes and coriander. Serve as main course with rice.
All recipes by Carol Selva Rajah.