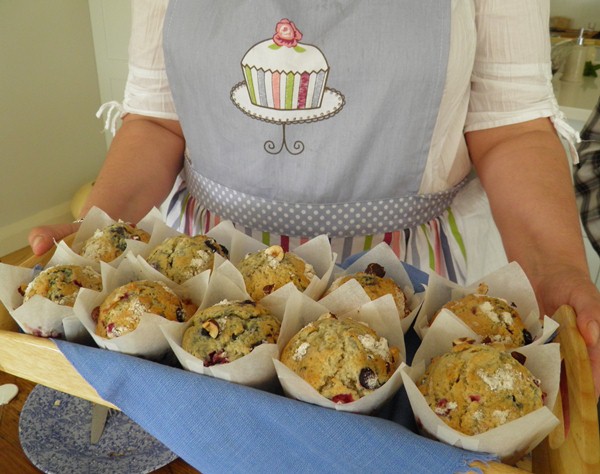 Our car has been heading up and down the Hume Highway quite a lot lately. But life is too short to miss out on important family events and so we found ourselves once again pointing the car in the direction of Sydney, this time for Aunt Edna's 80th birthday.
Cousin Cathy is a wonderful hostess, always turning out brilliant feasts with great aplomb and this one was no exception, with skewered prawns grilled on the barbecue, a deliciously light creamy quiche, roast chicken, vegetable lasagne, fried rice and a beautiful leg of ham.
The ham was glazed with maple syrup, honey and spices according to a Valli Little recipe that ran in the December 2010 issue of Delicious magazine. It's a terrific recipe, and I can't begin to tell you how sensational the glazed pears served alongside it are.
With Christmas coming up, now's the time to try it out for yourself, so here's a link to the recipe on the Taste website.
Still around for the morning after, we were treated to more of Cathy's hospitality with a leisurely brunch of baked eggs (a gem of a recipe) followed by berry muffins, fresh from the oven.
Cathy is writing out her favourite recipes by hand in two beautiful books, one for savoury dishes, one for sweet, so that she can one day pass them on to her children.
It's such a lovely idea, bringing back memories of the book my own mum created. I treasure that book because her handwriting provides a tangible link to her, long after her passing.
So, here are the two recipes we enjoyed from Cathy's collection.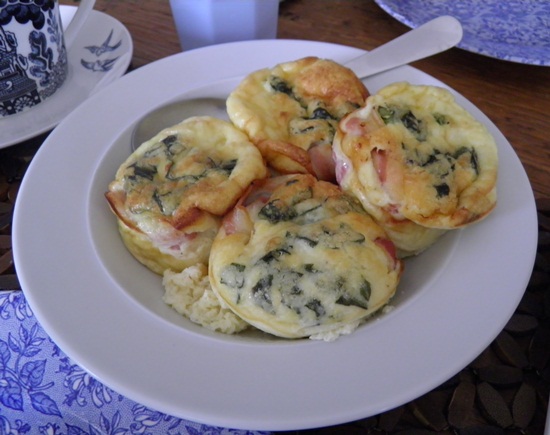 PANCETTA BAKED EGGS
Line 6 x ½ cup muffin tins with 2 to 3 slices of pancetta to cover base and sides. Whisk together 3 eggs, ½ cup cream, 1 tablespoon torn basil leaves, ¼ cup grated Parmesan and black pepper. Pour mixture into prepared tins.
The baked eggs are so simple to make and such a welcome variation from the usual fried or poached eggs. And believe me, they are so yummy they beat brunch in a café any day.
I'm never a great fan of muffins but served fresh from the oven, when they are warm and moist and full of lots of great oven-baked smells, they are something else again.
Use Crème Fraiche instead of the sour cream, if you like, and you could use flaked almonds instead of the hazelnuts.  Cathy used frozen mixed berries instead of the blueberries.
BLUEBERRY MUFFINS
2 cups plain flour, sifted

1 teaspoon bicarbonate soda
1 teaspoon baking powder
½ teaspoon cinnamon
½ teaspoon sea salt
¾ cup caster sugar
¼ cup vegetable oil
1 egg
1 cup sour cream
1 ½ cups fresh blueberries
½ cup flaked almonds to garnish
Icing sugar to sprinkle
Preheat oven to 190 degrees C. Grease muffin pan. Combine flour, bicarb soda, baking powder, cinnamon and salt. In another bowl, whisk sugar, oil, egg and crème fraiche. Add dry ingredients to wet ingredients, reserving 1 tablespoon of the dry ingredients. Toss this with half the blueberries. With a wooden spoon, combine for 30 seconds and add the remaining blueberries. Divide mixture into the muffin pan. Sprinkle with icing sugar and almond flakes. Bake for 25 minutes.