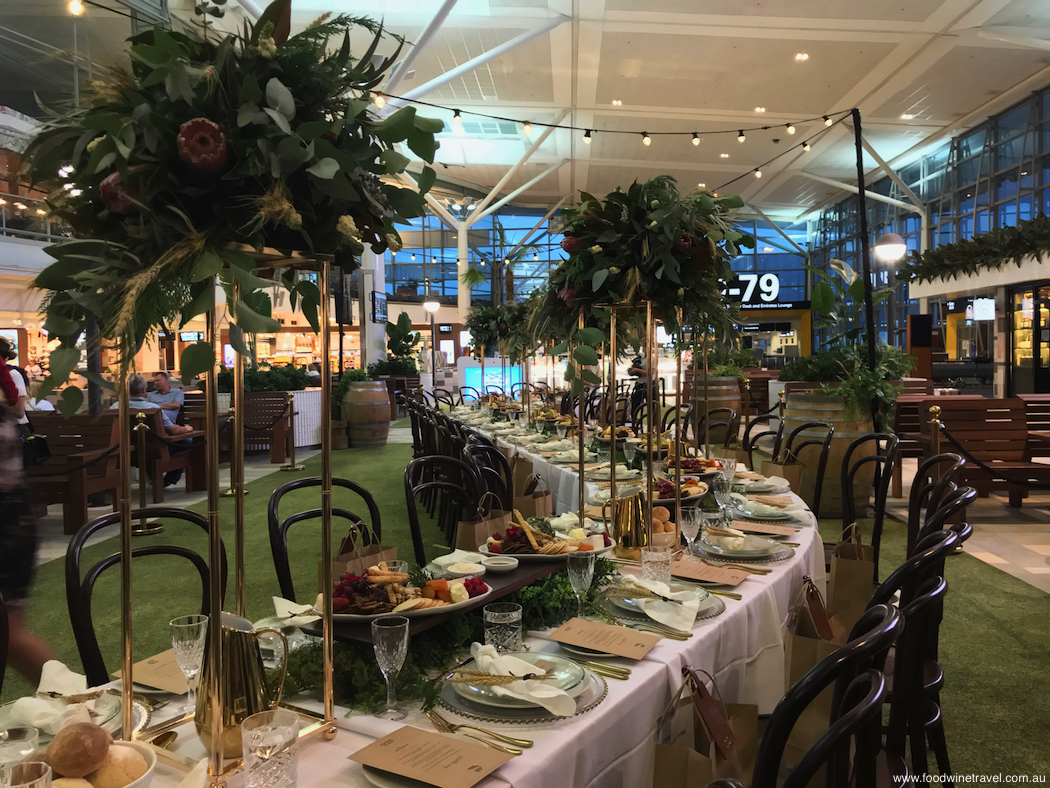 You hear a lot in the food world about "paddock to plate" but visitors passing through Brisbane Airport's international terminal can have an experience that is best described as "paddock to gate". Proudly showing off the wonderful food and beverages of south-east Queensland, retailers and restaurants in the terminal are offering visitors a unique experience that shows just how blessed we are to live in this part of the world.
Brisbane is the third largest airport in Australia, with about 5.6 million people passing through each year. About $45 million was spent on refurbishing the international terminal in 2015, and there will be further development across the domestic terminal in the next few years. The airport's much-needed dual runway is scheduled for completion in 2021.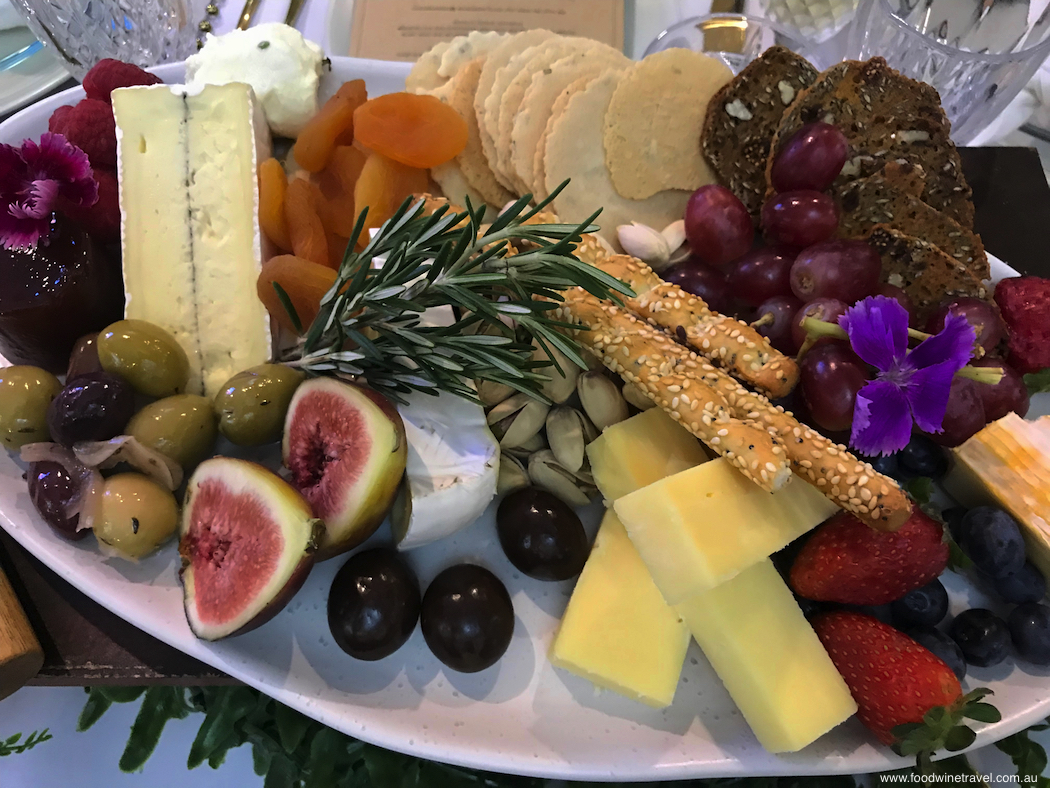 After the international terminal's facelift, the food and beverage on offer has evolved considerably, with award-winning producers of local meat, dairy, fruits, vegetables, eggs, craft beers, wines, breads, pastries, jams, condiments and deli items added to the line-up.
We had a chance to taste some of these wonderful products when the Brisbane Airport Corporation hosted a long-table dinner in the terminal's 'Village Green' ie. right in the heart of the terminal, surrounded by passengers coming and going.
With gorgeous place settings and vases of fresh flowers on a beautiful table winding its way through the middle of the terminal, I'm sure those passing through the airport had never seen anything quite like it before.
The corporation's head of retail, Trevor Hill, said the airport was pleased to offer a stage for local suppliers to showcase quality local produce to a growing international audience. "The concept came about to proudly support the brands of south-east Queensland. The brands that make Queensland and particularly Brisbane … we have a variety of great brands here."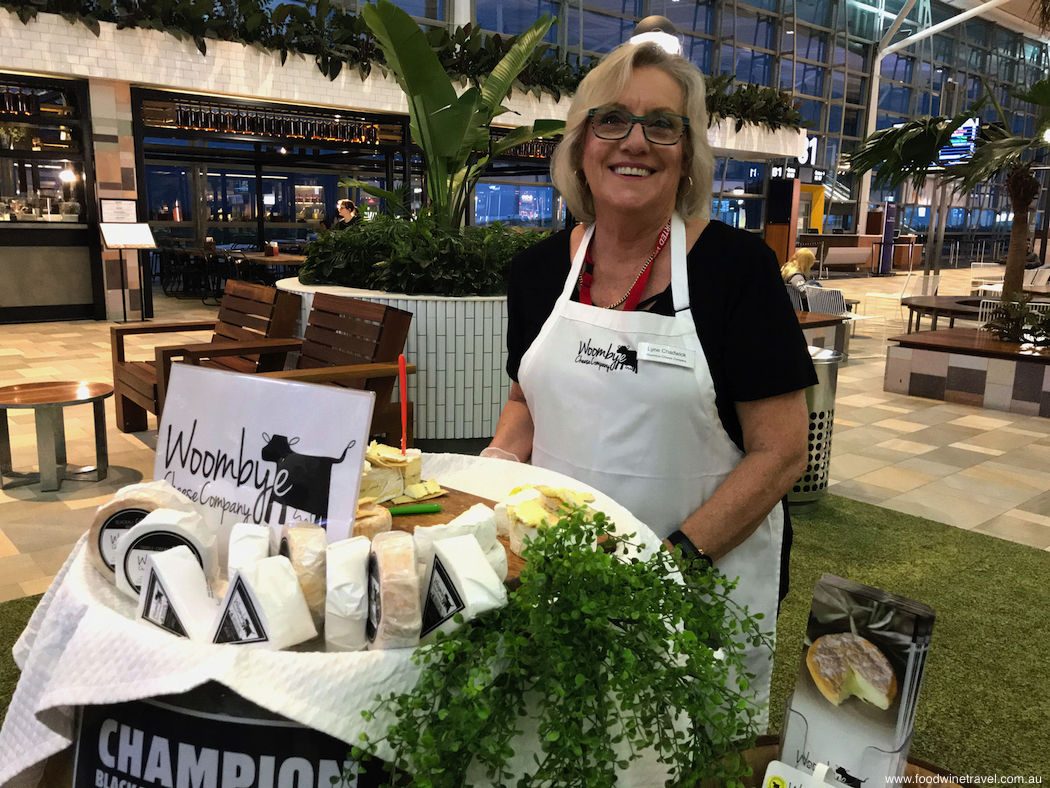 Among products highlighted at the dinner was Woombye Handcrafted Cheese, which produces a range of artisan cheeses on the Sunshine Coast including Camembert, Triple Cream Brie, Blackall Gold (washed rind), Truffle Triple Cream Brie and Vintage Cheddar. After sampling a beautiful platter of Woombye cheese with the compliments of Bar Corretoo, we were presented with shared mains prepared by South American chef, Cruz Hernan, with the compliments of Brisbane River Grill.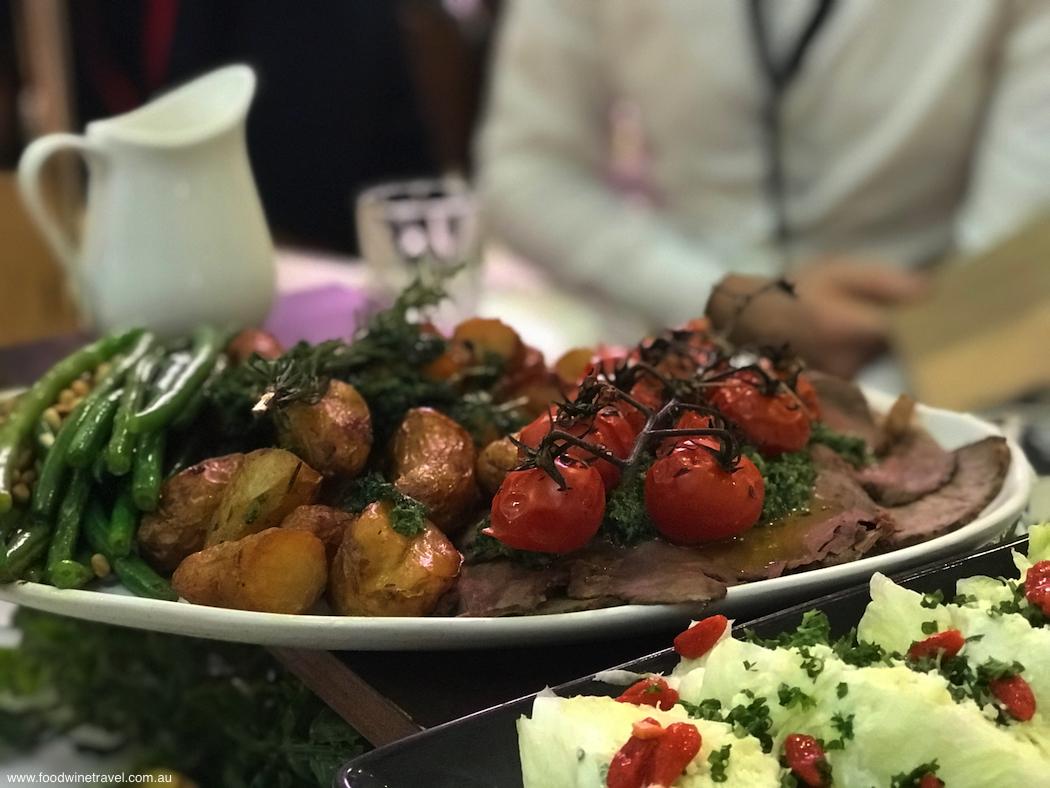 Brisbane River Grill has meticulously crafted its menu to feature beef from the Darling Downs, Queensland seafood and free-range eggs from Tamborine Mountain. The beef is the work of the Hughes and Dobbin families, whose passion for Australian beef is obvious in their breeding and raising of stock, and in their genuine "paddock to plate" experience.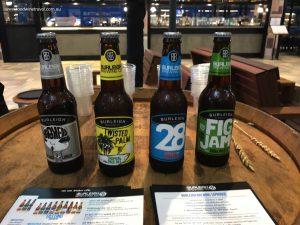 Their slow-roasted beef brisket was served with rosemary roasted kipfler potatoes, salsa verde and iceberg lettuce with buttermilk dressing – simple but delicious.
A selection of bread from Le Sebastian Bakery came with the compliments of another airport venue, The Botanist, and there were wines and beers from Burleigh Brewing Company, Newstead Brewing Company and Sirromet Wines.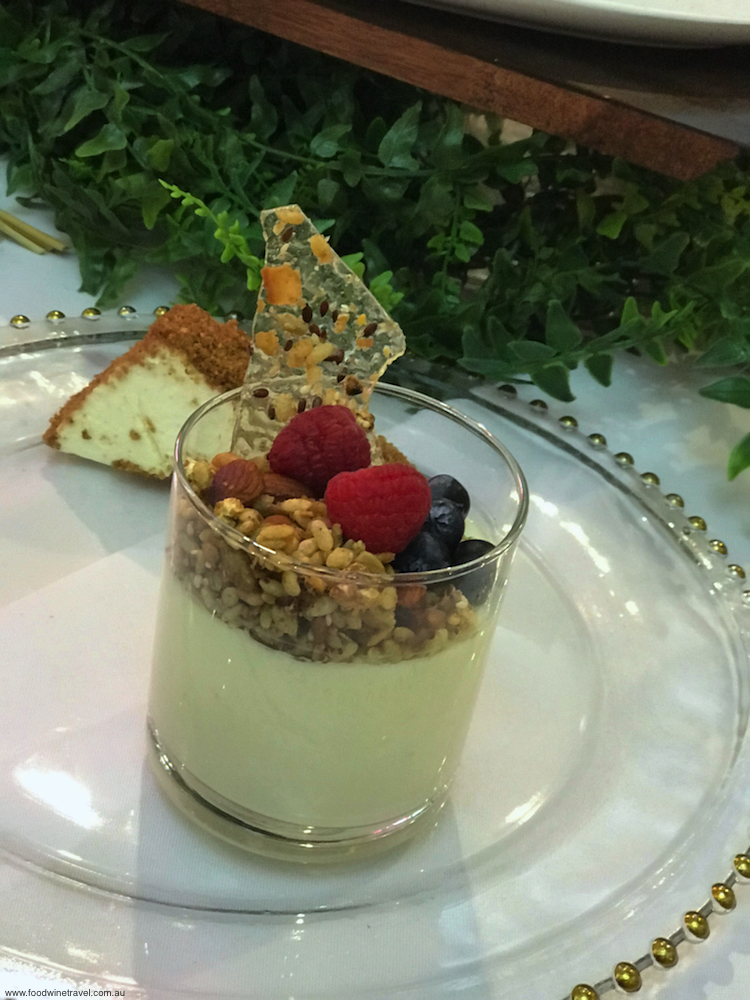 The Botanist was also responsible for the dessert, an awesome walnut and coffee cookie crusted goats cheese cheesecake, while Windmill & Co did a vanilla panna cotta with fresh local berries and a sprinkling of muesli from The Muesli Folk. Previously labelled My Muesli, The Muesli Folk do a range of different muesli (including a gluten-free one), all prepared with authentic maple syrup. Their products are available at Bar Corretto, as is locally roasted Merlo Coffee.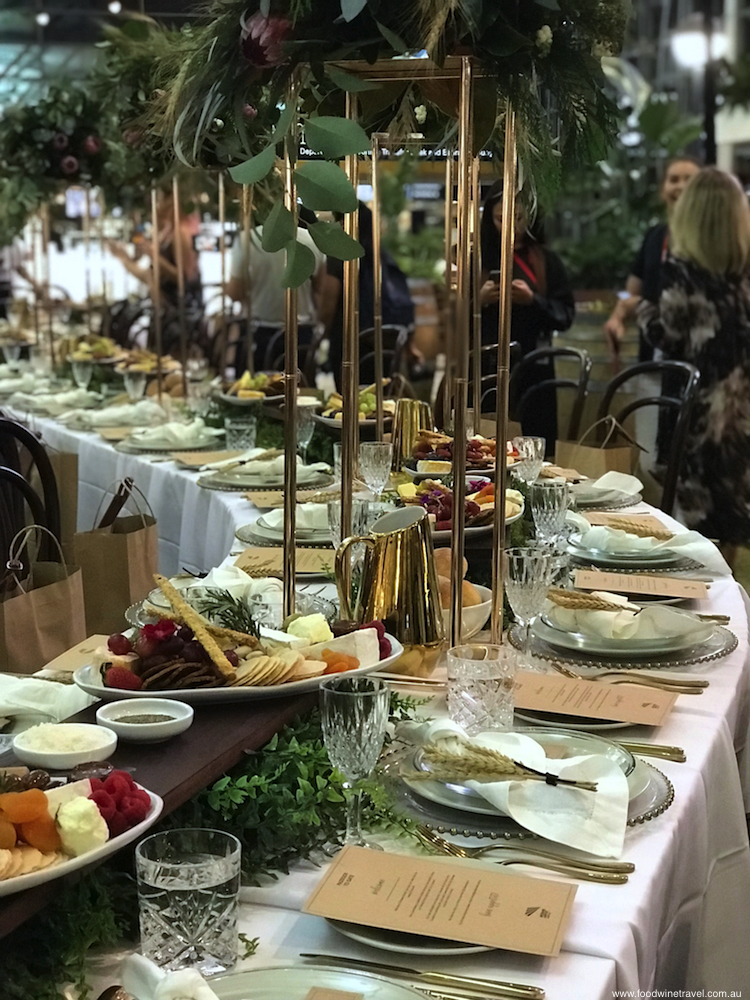 Other local products to look out for at the terminal include Fonzie Abbott coffee in The Market Place and beverages from Newstead's Green Beacon Brewery. Burger Urge uses Wild Breads from Darra and Gotzinger Bacon from Yatala, while Bar Corretto uses Maleny natural yoghurt in its Moroccan lamb tenderloin and Kingaroy Kitchen relishes and chutneys in its burgers.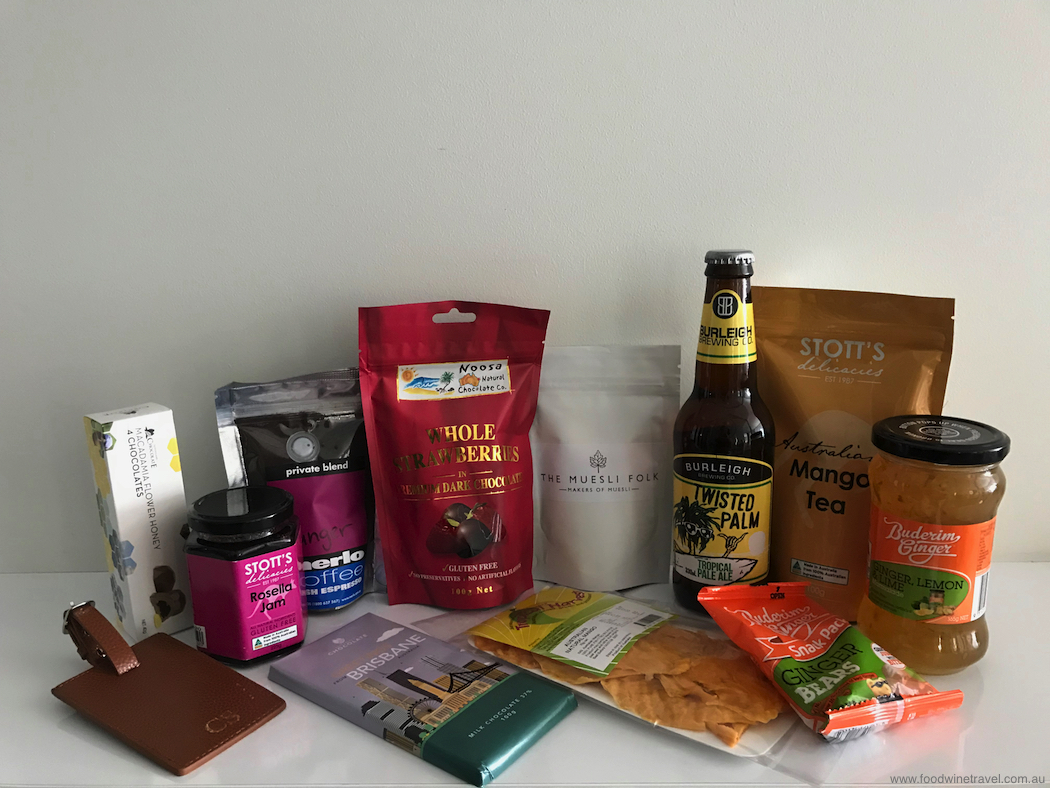 "The brands are so proud to be part of the terminal," according to Trevor, who says the Airport Corporation in turn believes that Queensland farms and suppliers produce some of the best products in the world. He described south-east Queensland as a "fruit and vegetable bowl" with some really great craft brewing and other fantastic products.
"It's all about creating an environment that encapsulates the personality of Brisbane and Queensland that is memorable, engaging, intriguing and a place people want to return to. There is nothing like it on offer at any other airport in Australia," he said.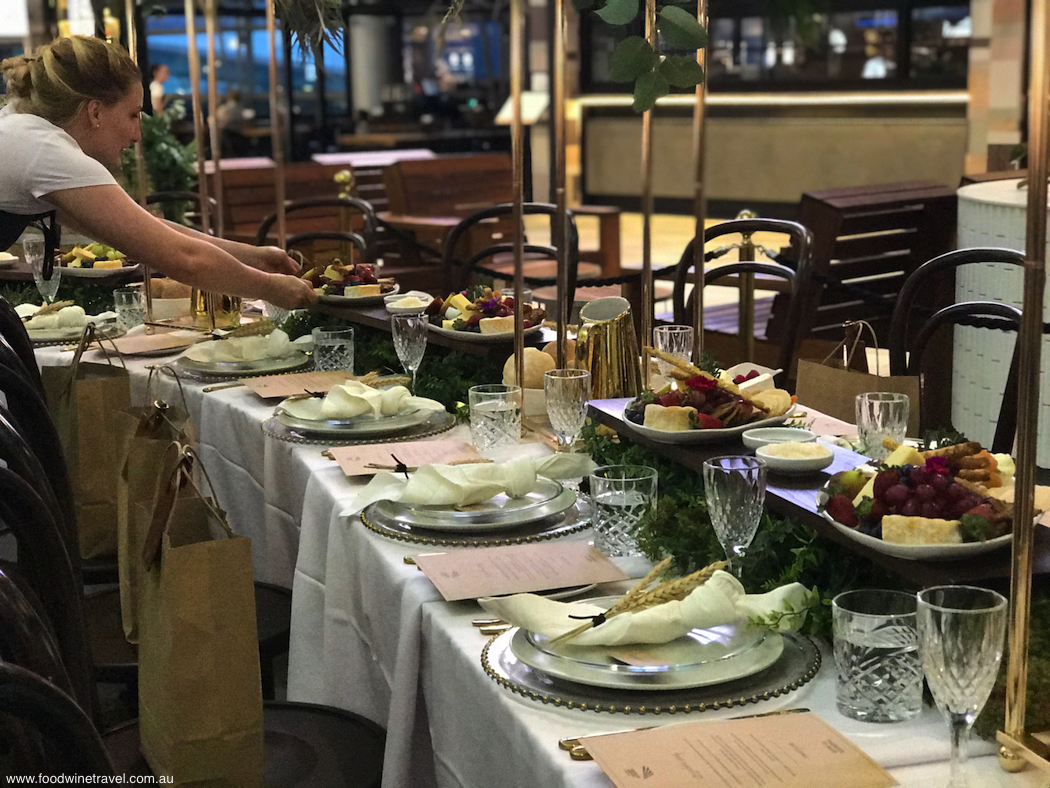 Food Wine Travel was a guest of the Brisbane Airport Corporation at the long-table dinner.
Check out this You Tube video on some of the producers featured at Brisbane Airport's international terminal: