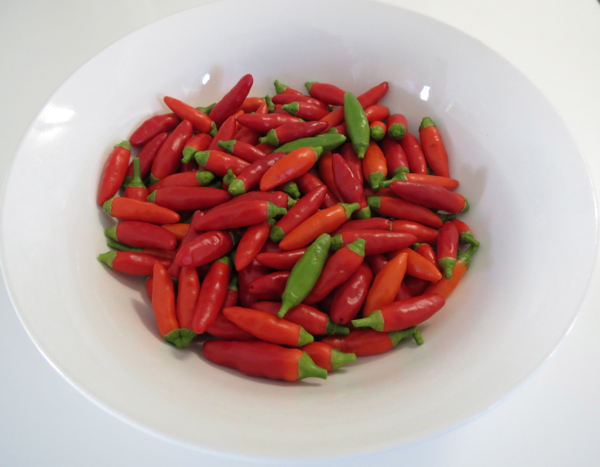 In My Kitchen in June, we're still dealing with mountains of chillies from our amazingly productive chilli bush. Celia, who has a lovely blog called Fig Jam and Lime Cordial, suggested last month that I freeze them.
I've taken her advice but I'm wondering how much loss of flavour there'll be? Time will tell.
Speaking of chillies, when I was in Adelaide last month I picked up a packet of chilli-flavoured Wiech's egg noodles. Wiech's has been producing fabulous egg noodles in the Barossa Valley since 1935 but the chilli noodles are a new line.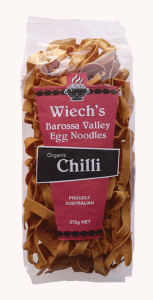 I love this product. The noodles have plenty of oomph but are not so hot that they burn your mouth. You can make a nice easy sauce for them by frying some garlic and onion, then adding some diced tomato, meatballs and a good splash of red wine – or should that be a splash of good red wine?
I've been using the chilli noodles with leftovers too. You might have read my blog post on the Biggest (and Sparkliest) Morning Tea my daughter hosted to raise funds for the Cancer Council.
As you'll have gathered from some of my other blog posts, I'm the queen of using up leftovers. At the end of our morning tea, we still had lots of little buns that had been filled with pesto, tomato and mozzarella.
We were never going to eat all the buns, so I scraped off the filling, put it in a frypan and gave it a bit of a stir with some olive oil. And so it became a sauce for the chilli noodles, making a deliciously light dinner.
In my kitchen in June, we've been enjoying ever so fresh hazelnuts from Lakeview Farm at Bungendore. I can't begin to tell you how beautiful and sweet they are.
We love quick and easy salads, and we usually make them up as we go along, using whatever ingredients we have on hand. This one was made with lettuce and wombok leaves, tomato and orange slices, olive oil and a sprinkling of those wonderful hazelnuts.
With some pan-fried salmon on the side and a glass of Chardonnay – nothing goes better with salmon than Chardonnay – it was quite a feast. Currently I'm drinking Frogmore Creek 2010 Chardonnay, a beauty from Tasmania with citrus and peach notes, great acidity and subtle oak. Yum!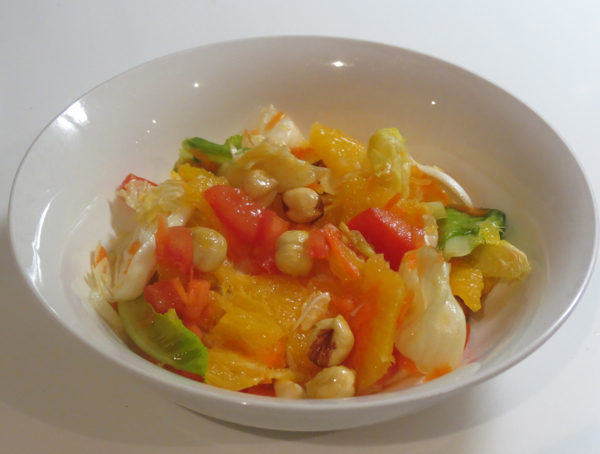 We do most of our shopping at the Farmers Market but sometimes we supplement it with ingredients from the garden or special goodies that I've picked up at the shops or on my travels. One evening recently, we sat down to a meal of roast chook and realized that absolutely everything on the plate was from the Farmers Market – the chook, the Josephine potatoes, the pumpkin, broccoli and incredibly sweet cauliflower. Heaven.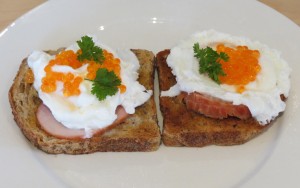 In my kitchen in June, we are enjoying Yarra Valley Caviar with poached eggs and ham on toast. You might have read my blog post about my adventures milking salmon. I brought this exquisite product back with me from that visit. This is the roe from young salmon that have never been milked before, and each little ball provides a salty 'pop' in the mouth.
And finally, I'm seeking some more advice. My wombok and other greens are being chewed by hungry insects. What can I do to keep the pests away (without resorting to any nasty chemicals)? All suggestions welcome!