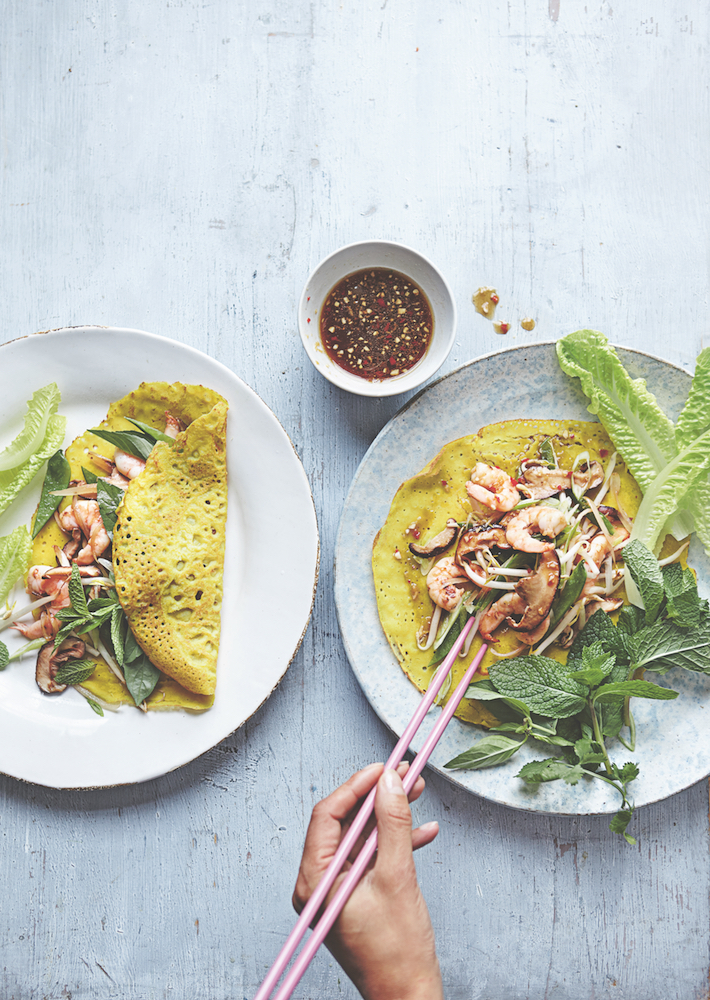 Almost every cuisine has a version of pancakes. They are probably one of the earliest foods, dating back to prehistoric times when flour and water were mixed together and cooked over a fire. One of the first recipes for a sweet batter cooked over a griddle is accredited to Roman gourmand, Apicus, in the fourth century, while pancakes have long been associated with celebration and festival. For Hannukah, the Jewish celebration of lights, for example, grated potato pancakes, latkes, are enjoyed.
Pancakes are also among the world's most popular street foods. Think of French crepes, Vietnamese banh xeo, South Indian dosa, Arabic atayef, and the popular Japanese okonomiyaki. Sudi Pigott has taken inspiration from countries all over the world for the pancakes recipes in Flipping Good!, published by Simon & Schuster. More than 25 countries are represented, with recipes as diverse as Bill Granger's Ricotta pancakes with banana and honeycomb orange butter; Potato blinis with a crab cocktail topping; Scottish oat pancakes; Persian-style saffron and sweet potato pancakes; and the fluffiest-ever American pancakes.
Gluten-free recipes
Gluten-free flours are used in many of the recipes, such as the Italian Farinata, a baked pancake made with chickpea flour; Fluffy coconut flour pancakes with apricots and maple syrup; Thai coconut and banana pancakes made with rice flour; and Vietnamese banh xeo, the recipe for which is featured here. The book is organized into chapters on breakfast and brunch, main meals, snacks and desserts, so you're sure to find something for any occasion. Author Sudi Pigott says most pancakes are quick to rustle up and generally inexpensive to make, even if their perfection requires a little prowess.
"Who says pancakes should only be eaten with lemon and sugar?" she says.
!! Buy Flipping Good  from Book Depository, with free delivery worldwide !!
Food Wine Travel gets a small commission on purchases through this link but it doesn't cost you any extra.
BANH XEO
Makes 6 pancakes, 24cm each
200g brown rice flour
½ teaspoon salt
1 teaspoon ground turmeric
300ml coconut milk
3 tablespoons groundnut (peanut) oil, or sunflower oil or rapeseed (canola) oil, for cooking
For the dipping sauce:
40ml lime juice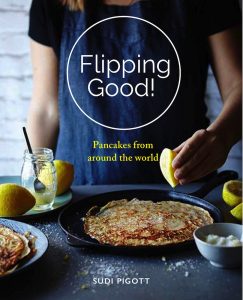 1½ tablespoons sesame oil
1 tablespoon brown sugar
1 tablespoon rice wine vinegar
1 tablespoon sweet soy sauce (kecap manis)
2cm piece of fresh ginger, peeled and grated
1 small Thai red chilli, or to taste, finely chopped
1 garlic clove, crushed
½ teaspoon salt
For the filling:
3 tablespoons groundnut (peanut) oil, or sunflower oil or rapeseed (canola) oil
1 onion, finely sliced
100g shitake mushrooms, finely sliced
150g mangetouts (snow peas), sliced into thin strips
150g raw prawns
150g beansprouts
3 spring onions, diagonally sliced
To serve:
1 Romaine lettuce
15g coriander leaves
15g mint leaves
15g Thai basil leaves
Preheat the oven to 100°C/gas mark ¼ and warm a plate to keep the pancakes warm while you make them. Put the rice flour in a bowl and add the salt and turmeric. Slowly pour in the coconut milk, whisking to ensure there are no lumps, until you have a batter the consistency of single cream. Add up to 150ml warm water to thin the batter, if necessary. Set aside to rest for at least 30 minutes or overnight.
To make the dipping sauce, put all the ingredients in a bowl with 50ml warm water and whisk together, ensuring the sugar is dissolved. Set aside.
To make the filling, heat 2 tablespoons of the oil in a large frying pan, add the onion and mushrooms, and cook gently until the onion softens and the mushrooms start to brown. Add the mangetouts (snowpeas) and stir to warm through but to retain their crispness. Remove from the pan.
Heat the remaining oil in the frying pan over a medium heat. Add the prawns and cook for 1–2 minutes until pink, then stir in the mushroom mixture. Keep warm with a lid over a very low heat.
To cook the pancakes, heat a large, heavy frying pan over a medium heat and add 1 tablespoon oil. Spread evenly with kitchen paper so that the oil covers the base very lightly. Turn the heat up to high and, when the oil is very hot, pour in 4 tablespoons of the batter, and immediately swirl it around so that the batter spreads out to the edges of the pan. The edges can be thinner than the centre of the banh xeo to encourage them to crisp.
Add a small handful of the mushroom mixture, with some beansprouts and spring onion. Cover the pan with a lid and cook for 3 minutes or until the banh xeo turns very crisp. It should be golden at the edges and coming away from the pan. Remove the lid and use a spatula to fold one half of the pancake over the other. Transfer to the warmed plate and keep warm in the oven. Repeat the process until you have six pancakes – the batter may need to be re-whisked after each banh xeo to ensure there are no lumps.
Serve the banh xeo with plenty of lettuce leaves, coriander, mint and Thai basil with the dipping sauce in small bowls on the side. The traditional way to eat banh xeo is to take a lettuce leaf, pile some herbs onto it, then break off a piece of the pancake and place it inside the leaf. Roll it up like a spring roll and dip it into the sauce.
Recipes and images from Flipping Good! Pancakes From Around The World , by Sudi Pigott, published by Kyle Books.em>
This story originally appeared in PS News online.