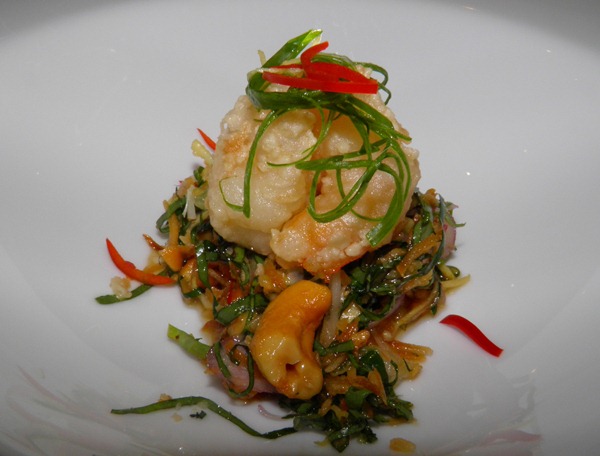 You might be surprised to know that 72% of the seafood consumed in Australia is imported.
Clearly there's a growing awareness of the importance of including seafood in our diet, and a just-released report confirms that the demand is, by and large, being met with imported seafood.
The report was produced by consultant Nick Ruello for the Seafood Importers Association of Australasia with funding from the Fisheries Research & Development Corporation.
Of course, you only have to look at the seafood display cabinets in supermarkets to know that species like Basa, now our largest selling imported fish, and Vannamei prawns, are the cornerstones of seafood sales in Australian supermarkets.
Now if you're anything like me you're probably wondering why a country with such a huge coastline can't support itself in seafood.
You might also be thinking that our best stuff is going overseas while lesser quality product is being brought in to fill the void.
Not so, says one of Australia's largest importers, George Kailis, who I was sitting next to at a lunch hosted by the Thai Trade Centre at Sydney's Spice I Am restaurant.
Kailis says the amount of product going overseas is negligible, and that Australia simply doesn't produce enough seafood to meet the local demand.
His company deals in both imported and Australian product, so he says he doesn't have a vested interest in trying to get people to eat imported seafood, he's just telling it the way it is.
And he's just one of many in the industry whose business now involves more imported seafood than Australian.
Kailis likes doing business in Thailand, where he says the people are good to do business with and there are stringent quality and food safety standards.
Thailand is the world's biggest exporter of frozen prawns and according to the Thai Trade Commissioner, Saowanit Pongsai, the secret to the country's export success is the quality of product and consistency of supply.
Certainly Spice I Am chef Sujet Saenkham has no hesitation in recommending the imported product, and the fabulous dishes he presented showed them off to great effect.
Thailand now supplies more than 20% of the seafood consumed in Australia and the Thai Trade Centre has produced a number of little cookbooks highlighting the use of seafood in traditional dishes.
One of their recipes, reproduced here, is for an old favourite. One of the most famous Thai dishes, Pad Thai can be found everywhere from street vendors to household kitchens.
Fact file:
Spice I Am – The Restaurant is at 296-300 Victoria St, Darlinghurst, Sydney NSW.
Phone +61 (0)2 9332 2445. www.spiceiam.com
Seafood Importers Association of Australasia: www.seafoodimporters.com.au
PAD THAI KUNG SOD (THAI FRIED NOODLES WITH PRAWNS)
Serves 5
1 tablespoon finely chopped shallot
1 tablespoon chopped garlic
8 tablespoon vegetable oil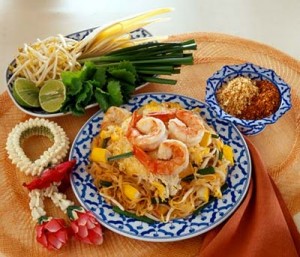 3 tablespoon fish sauce
4 tablespoon sugar
2 tablespoon dried shrimp
1 tablespoon white pepper
300 grams thin noodles
1 piece firm tofu, thinly sliced
3 eggs
500 grams  bean sprouts
50 grams salted turnip, finely chopped
2 limes, halved
150 grams chives, in 1 inch lengths
1 teaspoon red pepper flakes
5 black tiger prawns
Heat 3 tablespoons of vegetable oil in a pan and fry the garlic and shallot, then add the noodles and sprinkle with water until the noodles turn soft. Add the fish sauce and sugar, stir quickly. Do not let the noodles stick together. Leave noodles at the side of the pan. Heat another 3 tablespoons oil and add the salted turnip, tofu, fresh black tiger prawns and dried shrimps.
Stir and mix together with the noodles and leave at the side of the pan. Heat the remaining 2 tablespoons oil, crack the eggs into the pan and spread thinly. Mix in the prepared noodles, add chives and bean sprouts. Transfer to a serving dish and sprinkle with roasted peanuts, white pepper, and garnish with the uncooked chives and bean sprouts.
Tip: Soak the noodles for 2 to 3 minutes before cooking to soften. Gradually add the cooking oil. Constantly check the noodles. If they are still dry and hard, sprinkle with water or add more oil. For more flavour, add red chilli flakes and lime juice. Eat with the raw bean sprouts and chives.
Recipe from Taste Thai, produced by Department of Export Promotion, Thailand.